"Me" is a topic that preschoolers are always interested in learning more about. There's nothing young children like more than talking about themselves. In an All About Me theme, kids can think about their interests and the things they can do. They can think about how they are like people around them and how they are different. These books will be a big help to you when planning for an All About Me theme in your classroom.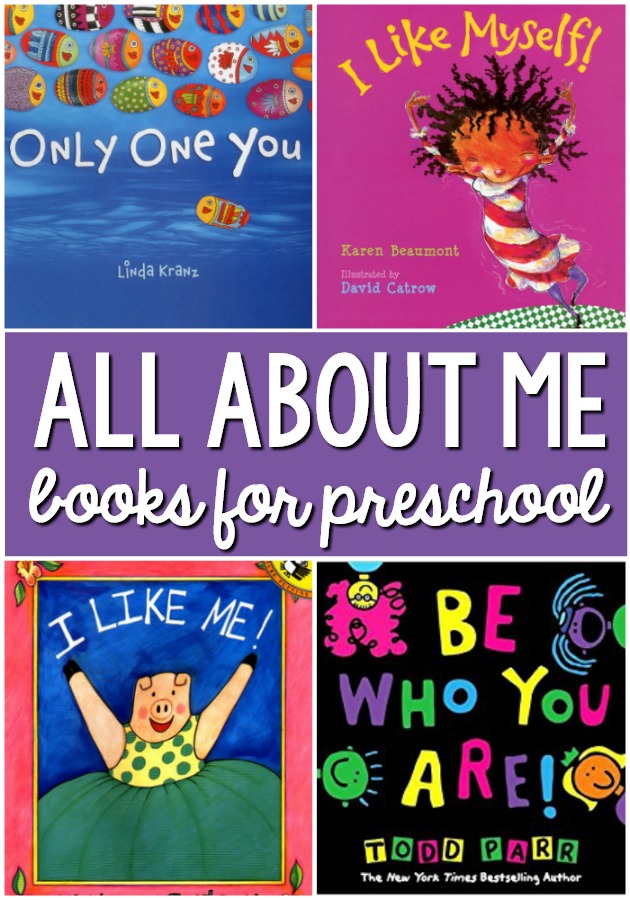 All About Me Books
I Like Myself! by Karen Beaumont
"I like myself. I'm glad I'm me. There's no one else I'd rather be." A celebration of being who you are and liking yourself for you.
I Can Be Anything by Jerry Spinelli
What to be when I grow up? The "jobs" in this book are straight from a child's imagination.
Marvelous Me by Lisa Bullard
Alex tells about a superhero you may not know – Marvelous Me.
Stand Tall Molly Lou Melon by Patty Lovell
Molly Lou Melon is not very tall, has buck-teeth, and sounds like a bullfrog. But her grandma encourages her to be herself…and she is. Then she moves to a new school. What will happen when a boy at school begins to call her names?
I Like Me! by Nancy Carlson
I am my own best friend. I enjoy doing things with myself. I take care of myself. No matter what I will always be me.
Incredible Me! by Kathi Appelt
Nobody else does things just like me.
Whoever You Are by Mem Fox and Leslie Staub
All over the world are people like you. There may be differences but joys are the same and pain is the same…all over the world.
It's Okay to be Different by Todd Parr
This book says "It's okay" if you are missing a tooth (or two), have a different nose, or even have no hair. It's okay to be different.
What I Like About Me by Allia Zobel Nolan
This book celebrates what could make kids insecure–freckles, big ears, braces, and so forth. it's great to be different!
I'm Gonna Like Me by Jamie Lee Curtis and Laura Cornell
This book encourages kids to like themselves–when they make mistakes, when they are chosen last, when they make a right choice, when they are just themselves.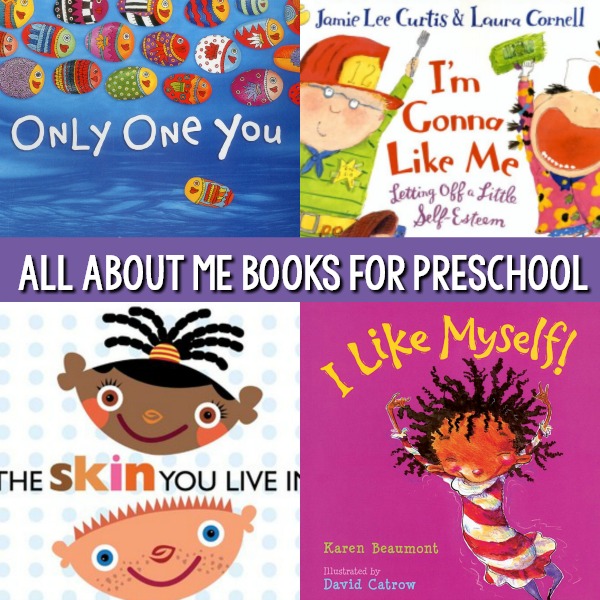 All About Me Books for Preschool
Be Who You Are by Todd Parr
Be who you are. Be confident. Be brave. Be proud of where you are from. Speak your own language. Everyone needs to be loved. Remember to love yourself.
Chrysanthemum by Kevin Henkes
Chrysanthemum loves her name, one chosen just for her. But girls at school begin to tease her about her different name. But a beloved music teacher makes a difference.
The Skin You Live In by Michael Tyler and David Lee Csicsko
Celebrating skin in different tones that holds each "you" in.
All About Me by National Geographic Kids
This simple book with photographs lists different parts of the body.
Only One You by Linda Kranz
Adri's papa and mama give him some advice about living and making the world a better place
You Be You by Linda Kranz
Adri notices that the fish around him swim in many different ways. He tells his parents about his discoveries. Mama encourages Adri to be himself.
When I was Little: A Four Year Old's Memoir of Her Youth by Jamie Lee Curtis
A girl thinks back to when she was little, a baby, and how she's different now.
Tell Me Again About the Night I was Born by Jamie Lee Curtis
A child asks to hear about the night she was born…and adopted by her parents.
ABC I Like Me by Nancy Carlson
A fun ABC book with descriptions of what children can be.
Shades of People by Sheila M. Kelly
Photographs and descriptive words to describe the different skin tones of people.
For an All About Me Theme, also check out these books about emotions and books about the human body.
Check your local library, used book stores, or online used books sellers to supplement your classroom library at a lower cost.