Apples are fun to explore in preschool. You could use these books about apples for the beginning of school, as part of a farm or harvest theme, with social studies theme of Johnny Appleseed and early America, or even a study of the seasons. Some of these apple books for preschoolers may be good additions to your classroom.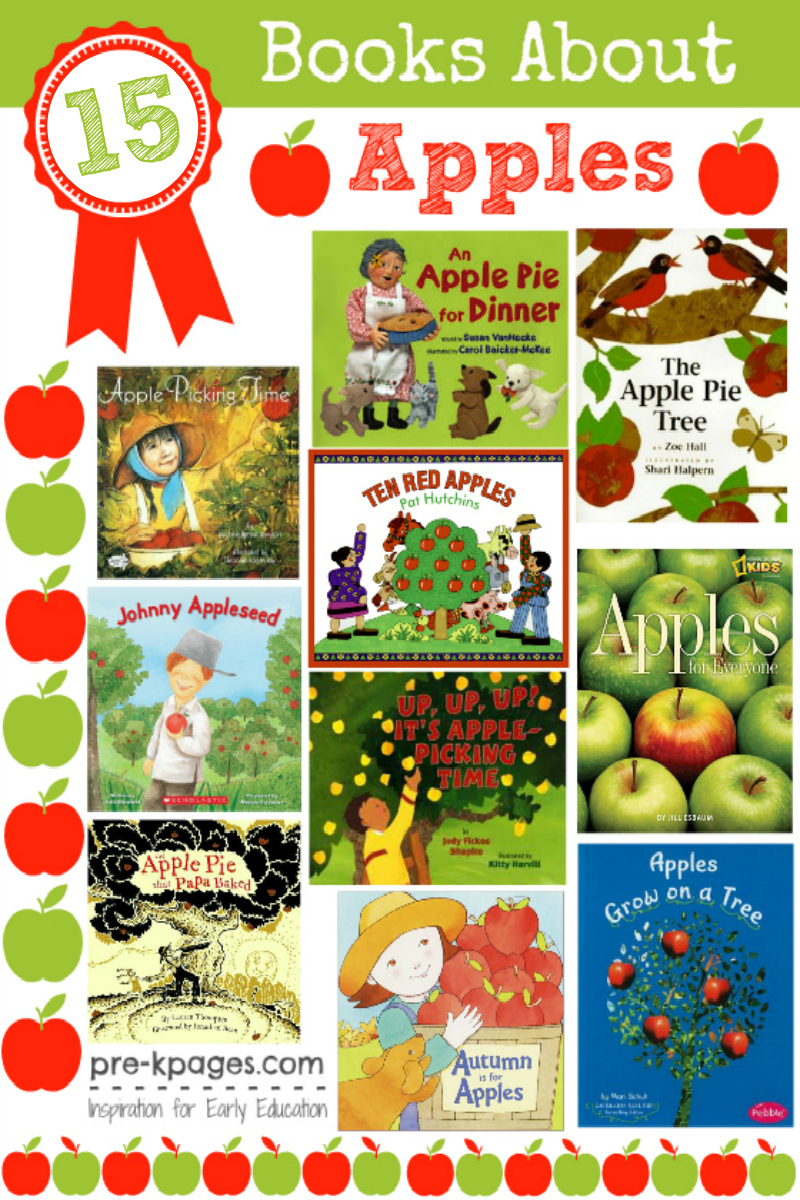 Apple Books for Preschoolers
The Seasons of Arnold's Apple Tree by Gail Gibbons
Arnold's special place is an apple tree. Throughout the seasons, Arnold visits his tree. He plays and works around it and sees the changes that happen to it.
The Apple Pie Tree by Zoe Hall
Two kids watch the apple tree in their yard change in the seasons. As the tree changes, they notice the changes with a family of birds, too. Soon they get to the best part – making apple pie.
Apple Farmer Annie by Monica Wellington
Annie is a farmer with an orchard of apple trees. Fall is a busy time for Annie. She picks the apples. Annie makes things from the apples. She trucks her homemade goods and apples to the city to sell. After a busy day at the market, Annie is home, tired but happy on her apple farm.
Autumn Is for Apples by Michelle Knudson
A simple rhyming book about a family's trip to the orchard to pick apples. The best apples are ones straight from a tree!
Up, Up, Up! It's Apple Picking Time by Jody Frickes Shapiro
A family travels from their home to their grandparents' apple ranch. They pick all varieties of apples, filling box after box. The family sets up the fruit stand to sell their apples. The family travels home after apple-selling day. They are surrounded by bags of apples to enjoy at home.
Apple Picking Time by Michele Slawson
It's time to pick the apples. Everyone in town gets up early and travels to the orchard to work. Anna works all day, determined to fill a crate on her own. A more detailed book about the hard work of picking apples.
Ten Red Apples by Pat Hutchins
A fun countdown book with repetitive text. The animals are eating the apples, one by one. Will there be one left for the farmer? And what about the farmer's wife? What will she do?
The Biggest Apple Ever by Steven Kroll
Mouseville School is having a contest. Who can bring in the biggest apple? Clayton and Desmond try to find the biggest apple. They work together to gather lots of apples, but none is larger than the one that James found. Then they have an idea, to make a surprise for their friends at school.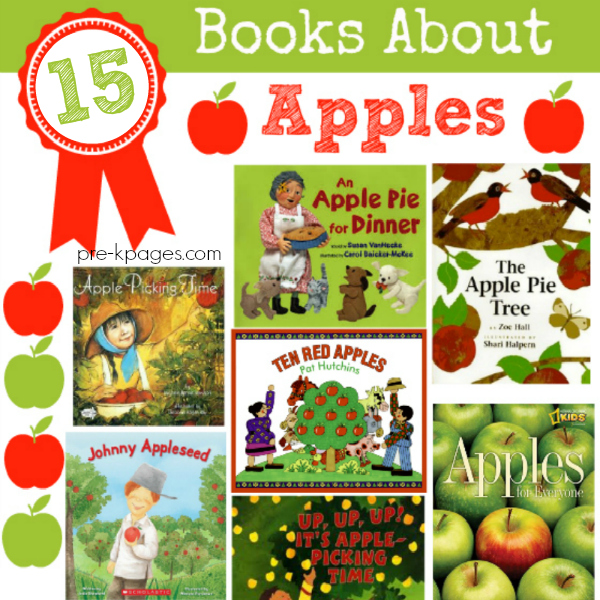 More Books about Apples
Apple Trouble by Ragnhill Scamell
Hedgehog builds a snug winter nest at the base of an apple tree. She's ready to snuggle in and sleep. An apple falls from the tree onto her back and sticks there. She cannot get it off. She cannot fit in her nest. Her friends try to help, but that help creates more trouble for Hedgehog. Goat ends up solving her problem and Hedgehog is soon snug and sleeping in her nest.
The Apple Pie that Papa Baked by Lauren Thompson
A building story in the manner of "The House That Jack Built." The repetitive text leads kids to think about parts of the apple tree and things that help trees grow.
Apple Pie for Dinner by Susan Vanhecke
Granny Smith wants to bake an apple pie for dinner. She has everything she needs…except apples. Gathering plums from her tree, she goes to see if she can trade for apples. She trades the plums for feathers and the feathers for flowers. Will she find the apples she needs? A fun book about perseverance and cooperation.
Apples Grow on a Tree by Mary Schuh
This informational book explains how apples grow on trees. Included photographs support the text to help kids understand how apples grow.
Apples for Everyone by Jill Esbaum
In this nonfiction book, photographs tell the story of apples from blossoms to small fuzzy apples to ripe apples at picking time. Good factual introduction for kids.
How Do Apples Grow? by Betsy Maestro
This nonfiction book contains more detailed information and scientific vocabulary. A great introduction to an apple's life cycle for older preschoolers and kindergartners.
Johnny Appleseed by Jodie Shepherd
A simple biography of Johnny Chapman, also known as Johnny Appleseed. This story of his life has easy text and good illustrations, great for younger readers/listeners.
More Apple Ideas