A favorite fall tradition in many preschool and kindergarten classrooms is making applesauce.  Today I'm going to share with you a super easy and healthy recipe for homemade applesauce for kids you can make in a slow cooker in your classroom!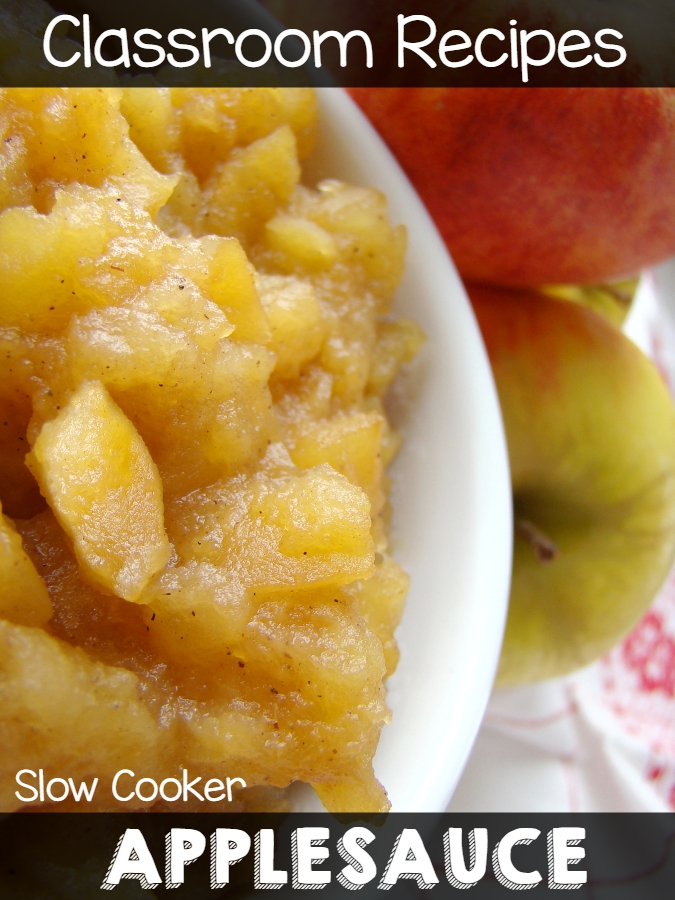 Supplies to Gather
I am not known for my great cooking skills, but there is one thing I do know how to do in the kitchen and that is use a slow cooker. I love using the slow cooker because it makes cooking with preschoolers so much easier.
Here are the supplies you will need to gather in advance to make your own applesauce:
Slow cooker (7-8 quart)
Knife
Measuring spoons
Spoon for stirring
Cups or small bowls for serving
Spoons for eating the applesauce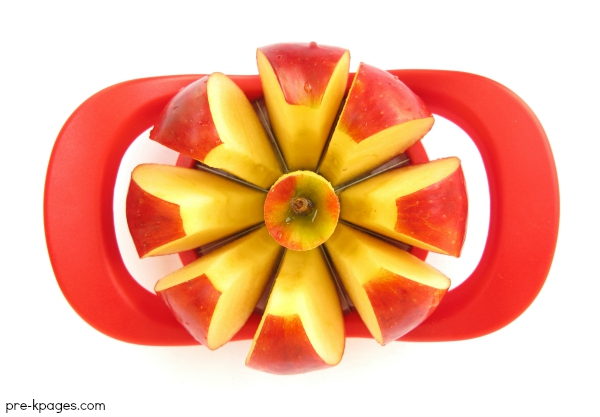 Applesauce For Kids Recipe Ingredients
One of the best things about this recipe is that it only has 4 ingredients- I told you it was easy!
14 of your favorite apples. Mix up the varieties to get a unique taste, some suggestions are Honey Crisp, Golden Delicious, and Gala
2 tablespoons fresh lemon juice
1 teaspoon ground cinnamon
1/8 teaspoon ground nutmeg
Feel free to adjust the amounts of cinnamon and nutmeg to taste. You can also adjust the number of apples and ingredients used if you have a larger, or smaller class.
As always, you should be aware of any food allergies in your classroom and adjust the recipe as necessary to accommodate these individual needs.
This recipe makes enough for a class of approximately 20 students.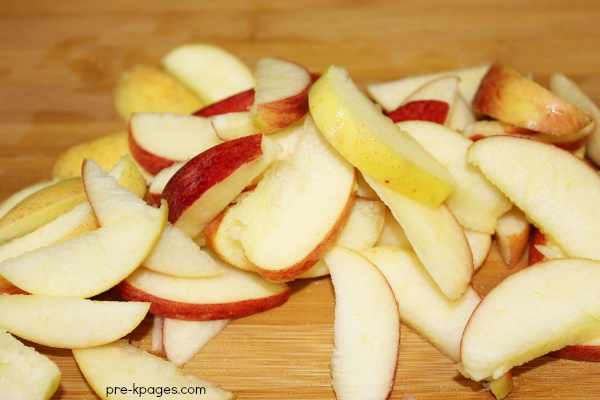 Applesauce Prep
Wash apples thoroughly
Peel and core apples
Cut apples into small chunks
Adults can peel, core, and chop the apples. Most kids prefer their applesauce without the skin because it makes for chunky applesauce but the choice is yours to leave the skin on your apples or peel them.
Kids can help with washing the apples and putting the cut and peeled apple chunks into the slow cooker.
They can also help sprinkle the cinnamon and nutmeg in the pot and stir.
Applesauce For Kids Recipe Cooking Directions
Put the apples, lemon juice, cinnamon and nutmeg into your large slow cooker and mix with a spoon.
Cover and cook on low for 4 hours until the apples are soft. Keep the slow cooker in a safe location where the children won't be able to reach it.
When the applesauce is done cooking, blend the mixture right inside the slow cooker with a handheld blender. Or you can use a potato masher.
When cool, serve in small cups or bowls and enjoy!
Kids can also help carefully serve the finished applesauce to themselves or others.
More Apple Ideas
Apple Print Number Line (Pre-K Pages)
Read the book Ten Apples Up on Top and create a life-size number line with apple prints.
Apple Hedgehogs: Fine Motor Activity (Pre-K Pages)
Use apple halves and toothpicks to create hedgehogs and develop fine motor skills.
Apple Counting Book (Pre-K Pages)
Make and count seeds on the numbered apples in this free printable book.
Apple Tree Alphabet Game (Pre-K Pages)
Identify letters on the tree and cover them with "apples" (pompoms); use a clothespin or tweezers to add fine motor practice.
Handprint and Fingerprint Apple Tree Art (Pre-K Pages)
Paint, trace, and cut to create an apple tree in this multi-step art exploration.