Johnny Appleseed's birthday is September 26. Why not celebrate with some fun apple activities? Here are 25 activities that focus on apples.
These activities are also great for beginning of school or fall themes, too!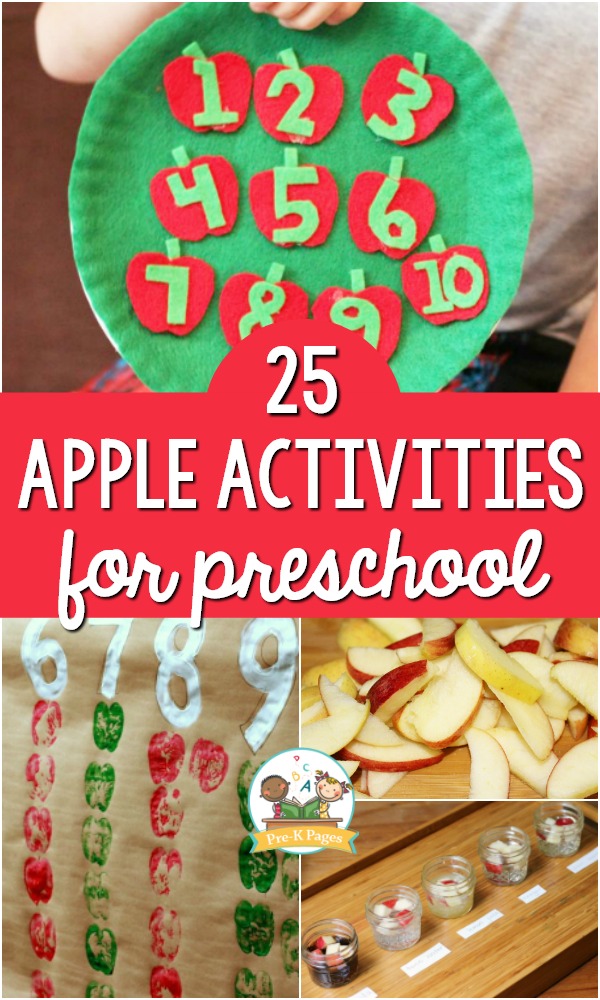 Apple Activities For Preschool
Apple Print Number Line (Pre-K Pages)
Read the book Ten Apples Up on Top and create a life-size number line with apple prints.
Apple Hedgehogs: Fine Motor Activity (Pre-K Pages)
Use apple halves and toothpicks to create hedgehogs and develop fine motor skills.
Apple Counting Book (Pre-K Pages)
Make and count seeds on the numbered apples in this free printable book.
Apple Tree Alphabet Game (Pre-K Pages)
Identify letters on the tree and cover them with "apples" (pompoms); use a clothespin or tweezers to add fine motor practice.
Handprint and Fingerprint Apple Tree Art (Pre-K Pages)
Paint, trace, and cut to create an apple tree in this multi-step art exploration.
Apple Pizza Snack Activity (Pre-K Pages)
Make (and eat) your own apple "pizza" using this fun interactive snack activity.
Apple Tree Play Dough Activity (Pre-K Pages)
Explore trees and apples using play dough (and a free printable).
Apple Science Experiment (Pre-K Pages)
Discover how different liquids affect apples.
Oatmeal Apple Sensory Play (Pre-K Pages)
Touch and smell while exploring materials in this apple sensory box.
Ten Red Apples: Counting Trees (Pre-K Pages)
Practice counting to 10 and counting down from 10 after making these counting trees inspired by the book Ten Red Apples.
Apple Theme Gross Motor Learning (Pre-K Pages)
Move your entire body while playing these apple-themed learning games.
Dramatic Play Apple Activities (Pre-K Pages)
Pretend to cook with apples or play in an apple orchard.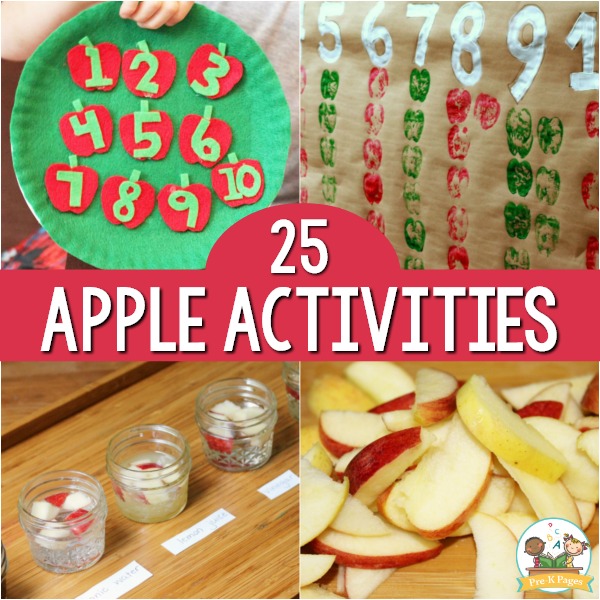 More Apple Themed Activities For Preschool
Apple Play Dough Counting Mats (Pre-K Pages)
Roll and count play dough apples to put on these printable trees.
Apple Visual Discrimination (Pre-K Pages)
Play this game to develop visual discrimination skills.
Apple Tree Scrunch Art (Teach Preschool)
Scrunch paper and use it to paint apples on tree trunks.
Making Apple Patterns (Teach Preschool)
Create patterns with red and yellow apples.
Apple Same/Different Cards (Prekinders)
Print these cards; on each card, identify the picture that is different.
Apple Math Fine Motor Game (Fun-a-Day)
Roll the numbered cube and use tweezers to count out that quantity of "apples."
Apple Bobbing Activity (Sunny Day Family)
Bob for apples without using your mouth!
Apple Pie Busy Bag (Study at Home Mama)
Pretend to bake cinnamon apple pies.
Stuffed Paper Apples (Buggy and Buddy)
Use sponge painting, lacing, and stuffing to create these fun 3-D apples.
Build Lego Apples (Little Bins for Little Hands)
Build apple shapes using interlocking blocks. How many different ways can you do it?
Ten Red Apples Sensory Bag (I Can Teach My Child)
Extend the book Ten Red Apples by making and using an apple tree sensory bag.
Bobbing for Apples Fine Motor Activity (Fantastic Fun and Learning)
Develop fine motor skills by using tongs to bob for apples.
Counting Apple Seeds (ABC Creative Learning)
Place the correct number of seeds on each numbered apple.
Bonus: Books for Apples and Johnny Appleseed Day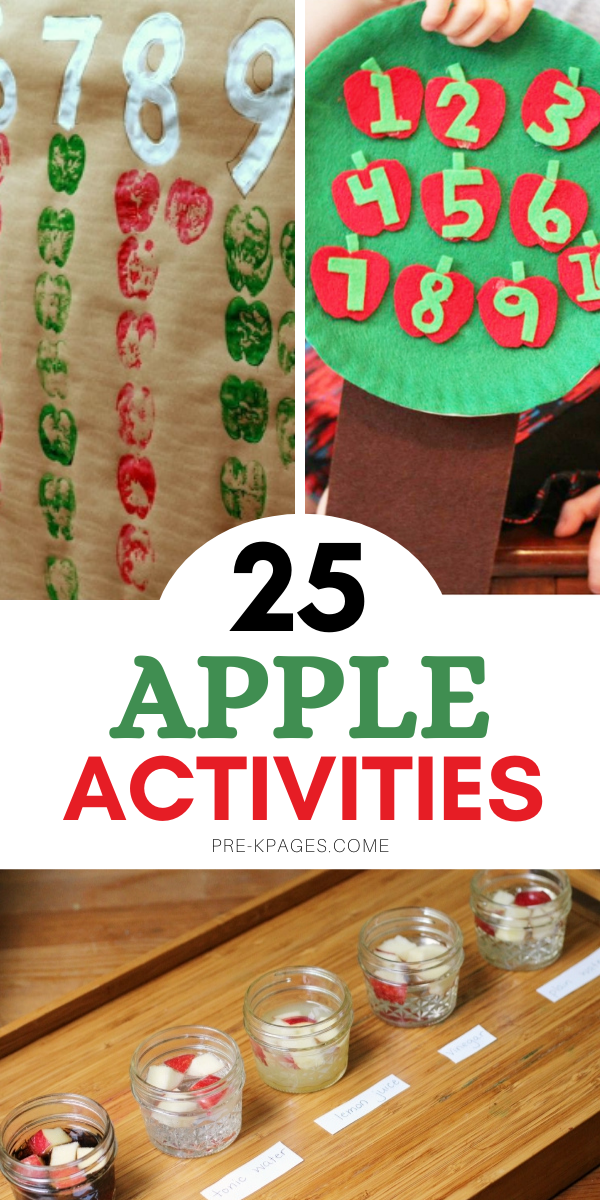 More Apple Ideas