Ten Apples Up on Top has been a favorite book in our house since we read the board book version when the girls were babies. It is one of the first books my nearly 4-year-old, Big M, memorized and started reading on her own, and 'reads' to her little sister, Lil' M. And now, even my 2-year-old reads it to herself.  We recently used this book as inspiration to create a life-size number line for classroom wall with apple prints.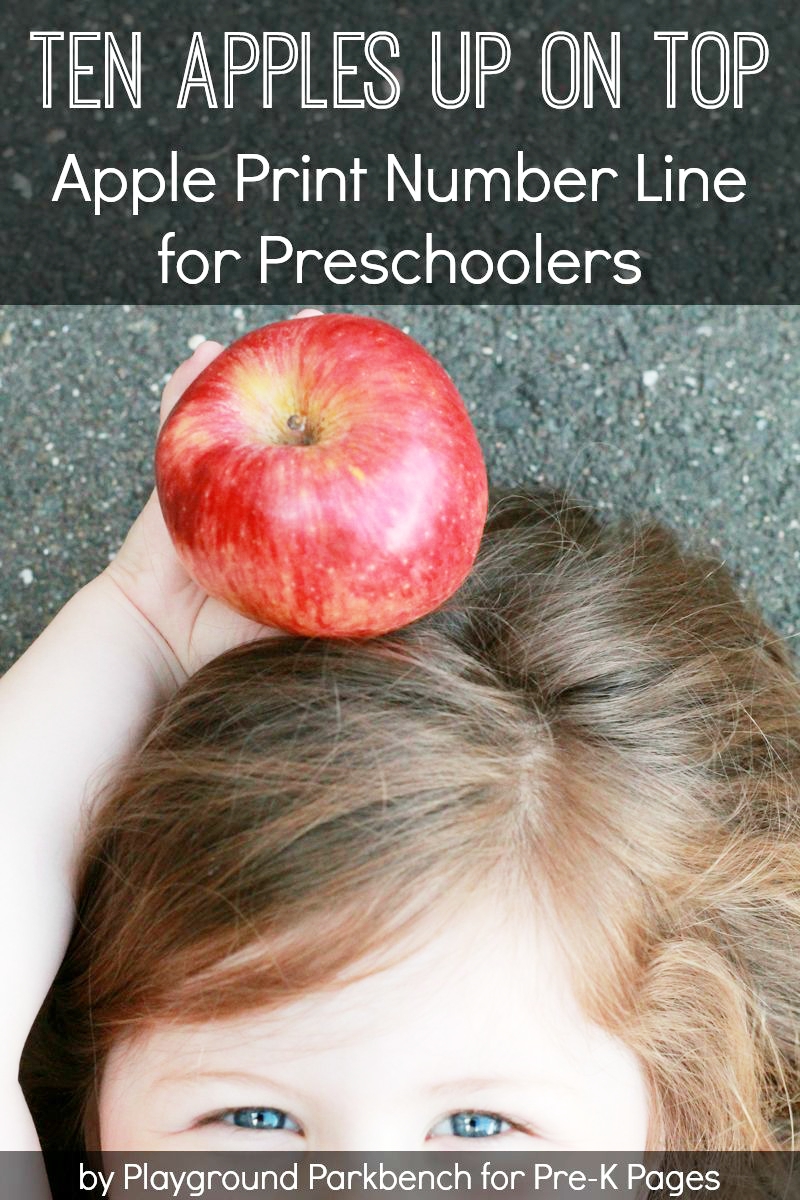 Early Math Skills
Ten Apples Up on Top is a great book to teach early math skills. I give Dr. Seuss full credit for teaching both girls how to count to 10 before their second birthdays!
Creating a number line for the classroom wall teaches preschoolers number sequencing and one-to-one correspondence as well as demonstrates written numerals are representative of groups of objects. The written numeral "3" is representative of three apples, for example.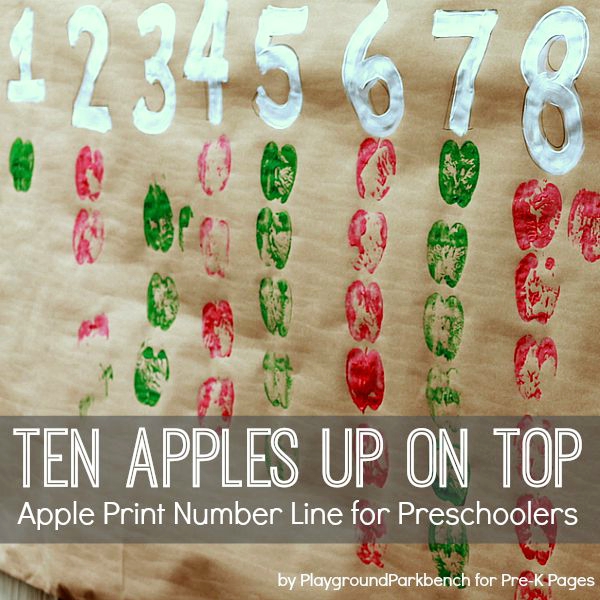 Apple Print Number Line For Classroom Wall Supplies
To make your number line, you only need a few basic supplies. It can also be easily created with a group of children, with children taking turns making apple prints.
Supplies:
Ten Apples Up on Top by Dr. Seuss
Red and green tempera paint
Apple
Paper plates
Craft paper
Painters' tape
Plastic forks (optional)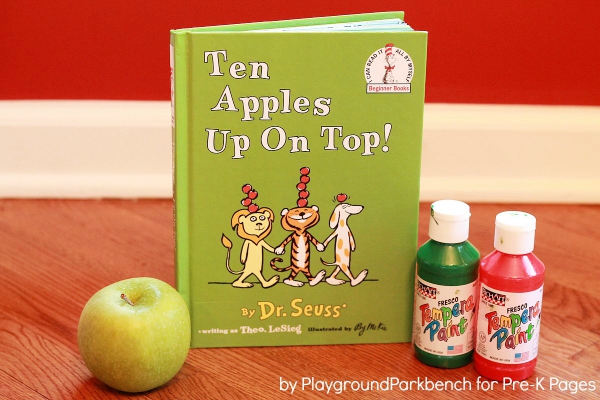 Preparing the Number Line For Classroom Wall
Using painters' tape, tape up a length of craft paper on the wall. We are big fans of using builders' paper for crafting. It tends to be less expensive, comes in bulk quantity, and is more durable to withstand lots of paint and glue. Write the numbers 1 – 10 across the top of your craft paper.
Next, cut your apple in half vertically. Squirt red and green paint on two separate paper plates, and swirl the apple halves around in it. After a little trial and error, we found it helpful to insert plastic forks in our apple halves to make it easier to lift out of the paint.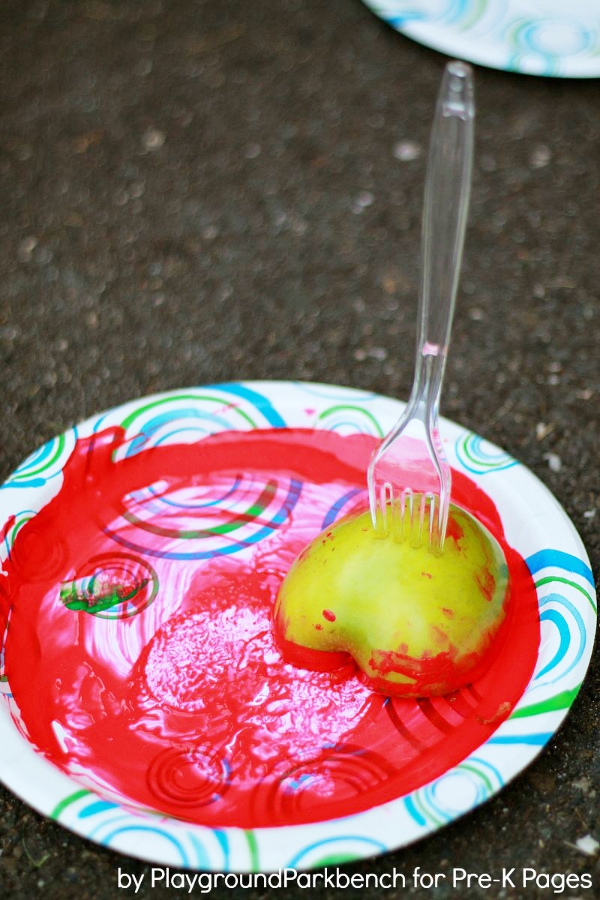 Making an Apple Print Number Line For Classroom Wall
Once it was set up, I let Big M start making prints. Encourage children to press the apple firmly to the paper, and reapply paint each time to get the best prints.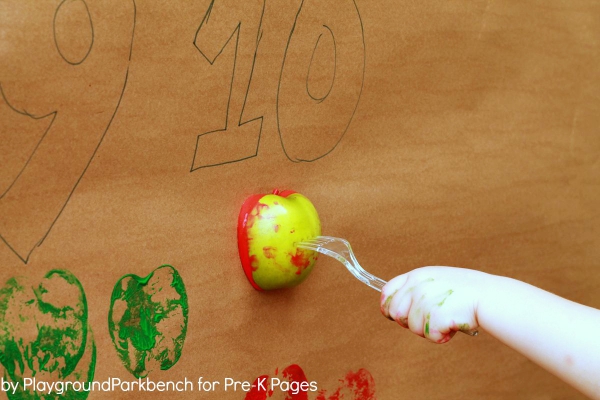 We alternated colors for each number to help make the groups of apples stand out. As she made her prints, we counted each one aloud and talked about how many MORE we needed. (This will build more number sense and introduce math vocabulary.)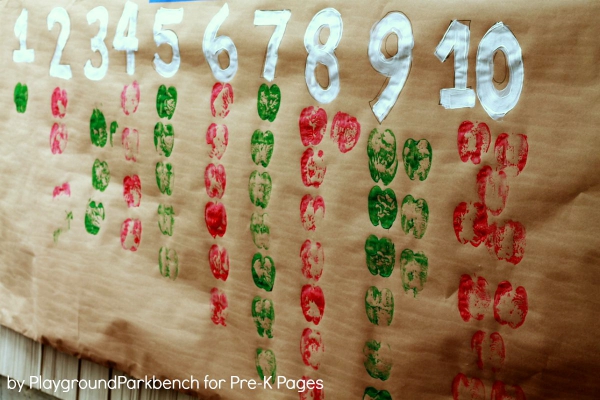 At our house, one of the biggest challenges is always keeping Lil' M entertained with her own version of a project. I set her up with her own paper, paint, brush, and apples. Big M thought her little sister's creation looked like the apple explosion at the end of the book!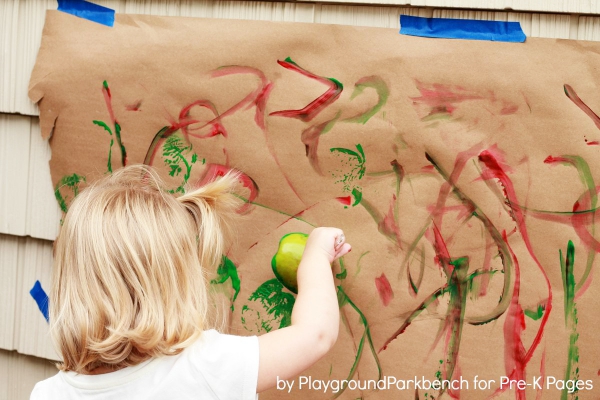 Hang your completed Apple Print Number Line in your classroom or home for continued learning and fun!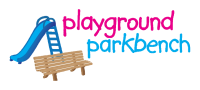 BIO: Meghan is a former hedge fund professional turned SAHM to Big M (nearly 4), Lil' M (2), and a baby boy due next month! She writes at Playground Parkbench, where she shares at-home activities for kids, parenting tips and financial savvy for the household CEO. Find her on Facebook, Instagram, Pinterest, and Twitter!
More Apple Ideas