Are you looking for preschool rhyming songs for kids? Here you'll find the best to nursery rhymes to help toddlers & young children learn important early literacy concepts and skills. These fun nursery rhyme preschool songs and videos can support the skills you're already teaching in your early childhood classroom.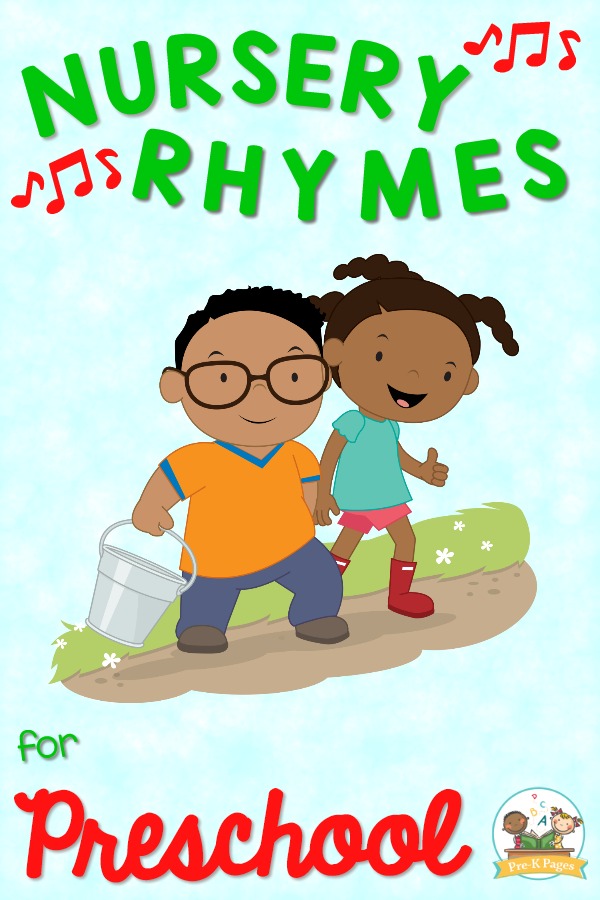 Benefits of Teaching Nursery Rhyme Songs in the Preschool Classroom
Some may think that nursery rhymes sound silly and they're just for babies. When in fact, nursery rhymes are very important and powerful learning tools for developing emergent literacy skills. The next time you say "Humpty Dumpty sat on a wall," just remember you're helping your young children become future readers!
 1. Nursery Rhymes Help Develop Literacy and Language Skills
Using nursery rhymes daily in your classroom will help your students develop oral language, phonological awareness, and eventually reading skills. Research has shown that a child's "ability to recite familiar nursery rhymes was both directly and indirectly related to later literacy and language abilities."
2. Rhymes with Movement Make it Easier to Teach Skills and Concepts
When you incorporate music and movement into your daily routine your day will go much more smoothly. When you provide your kids with opportunities to sing and dance throughout your day, it will be easier to teach your students the required skills and concepts.
Did you know that songs can help you introduce new concepts to your students and build background knowledge? True story! Music and songs can also help your kids develop important oral language, literacy, and vocabulary skills.
Try adding some music and songs to your circle time routine, classroom transitions, or whenever your kids need to refocus and get their wiggles out!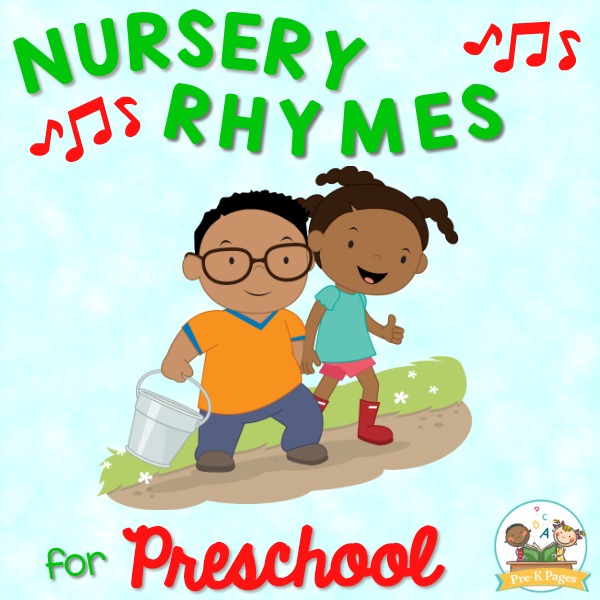 How do you teach nursery rhymes to preschoolers?
There are lots of great nursery rhyme songs and videos on YouTube to use in your classroom. But searching for and previewing all those nursery rhyme songs can take up a lot of your valuable time. If you don't have time to spare time, then you're in luck. I've already done all the hard work for you! Here are my favorite age-appropriate nursery rhyme songs that will get your kids dancing, singing and learning!
You can show these nursery rhyme songs and videos to your class on a smart TV, or by use an LCD projector and computer screen if you have them. If you prefer to use audio only, no problem. Your kids will love singing and dancing along to these fun nursery rhyme songs with or without a screen!
12 Best Nursery Rhyme Songs for Preschool

1. Humpty Dumpty
The repetition of this classic rhyme makes it a favorite with preschoolers.

2. Jack and Jill
In this version, Jack and Jill eventually get the pail of water…and find out why their mother wanted it.

3. Little Miss Muffet
Your preschoolers will enjoy acting out this rhyme as the girls in the video do.

4. Hickory Dickory Dock
As you sing this rhyme, pretend to climb the clock with the mouse.

5. Hey Diddle Diddle
In this version, the rhyme has multiple verses with even more fun with the cat, the cow, and the little dog.

6. Mary Had a Little Lamb
This video includes two versions. Your preschoolers can sing with the children on the screen or sing with just music.

7. Little Boy Blue
A calmer, quieter rhyme…which fits the "fast asleep" in the rhyme. Your preschoolers will enjoy the antics of the sheep and cow in this video.

8. Muffin Man
Your preschoolers will enjoy singing about the muffin man who lives on Drury Lane – and his neighbors the ice cream man and the fruit stand man.

9. Itsy Bitsy Spider
In this video, spiders of several sizes (itsy bitsy, great big, teeny weeny) climb up the water spout. Your preschoolers will enjoy the classic finger play with this rhyme.

10. Row Your Boat
Your preschoolers will enjoy singing with rhyme several times…and listening to it as a round.

11. Twinkle Twinkle Little Star
A gentle singing of the rhyme, with an additional verse.

12. Baa Baa Black Sheep
This version of the rhyme has a few additional verses for more rhyme fun.
Users are no longer able to create playlists of children's songs or music. But you can pin the image on this page to your music and movement or nursery rhyme board on Pinterest so you can easily find these songs again when you need them.
More Nursery Rhyme Ideas