Have you ever wished there was a way to get kids to pay attention while you read a story in your preschool or kindergarten classroom?
This collection of favorite books is sure to capture and hold the attention of any young child by inviting them to participate in some way.
Your kids will be actively engaged and participating in the read-aloud process as they press dots, shake pages and have fun as they learn!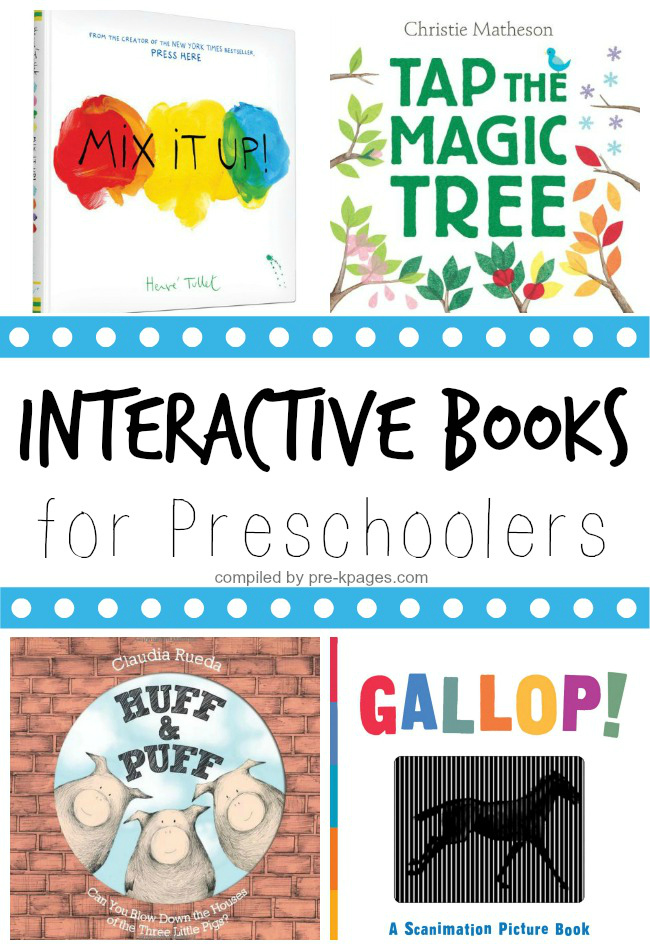 Interactive Books for Preschoolers
This collection of interactive books is an asset to any preschooler's home or classroom library.

Press Here by Herve Tullet – Each page of this surprising book instructs the reader to press the dots, shake the pages, tilt the book, and who knows what will happen next! Children and adults alike will giggle with delight as the dots multiply, change direction, and grow in size!

Mix it Up by Herve Tullet – Follow the artist's simple instructions, and suddenly colors appear, mix, splatter, and vanish in a world powered only by the reader's imagination.

Windblown by Edouard Manceau – Where did all these pieces of paper come from? Who do they belong to? The chicken is sure that they belong to him, but so is the fish, and so is the bird, and the snail and the frog…

Tap the Magic Tree by Christie Matheson – It begins with a bare brown tree. But tap that tree, turn the page, and one bright green leaf has sprouted! Tap again—one, two, three, four—and four more leaves have grown on the next page. Pat, clap, wiggle, jiggle, and see blossoms bloom, apples grow, and the leaves swirl away with the autumn breeze.

Don't Push the Button by Bill Cotter – There's only one rule in Larry's book: don't push the button. (Seriously, don't even think about it!) Even if it does look kind of nice, you must never push the button. Who knows what would happen? Okay, quick. No one is looking… push the button. Uh, oh.

Can You Make a Scary Face? by Jan Thomas – What kind of a face would you make if a tickly green bug were sitting on your nose? Or if it were—eek!—inside your shirt? Could you make a scary face to frighten it away? Or, even better, stand up and do the chicken dance? Yes? Then better get to it!

Gallop! by Rufus Butler Seder – Each page is a marvel that brings animals, along with one shining star, to life with art that literally moves. It's impossible not to flip the page, and flip it again, and again, and again.

Huff and Puff by Claudia Rueda – This interactive retelling of the Three Little Pigs story allows the reader to play the part of the big bad wolf. Three interior die-cut holes invite kids to huff, puff, and blow the pigs' houses down! The kind, surprise ending is also a delightful addition to an engaging story.

We're Going on a Bear Hunt by Helen Oxenbury and Michael Rosen – Full of delightful comedy and high drama, this classic tale of a brave family's joyous romp through sweeping landscapes is sure to engage your preschooler.
More Preschool Book Lists:
Best Winter Books for Preschoolers
Bear and Hibernation Books for Preschoolers
Valentine Books for Preschoolers