A study about houses and homes can be a great theme for the beginning of the year. Houses and homes can also support an About Me study or an exploration on families or the community. Check out these books to supplement any focus on houses and homes. (To supplement your classroom library inexpensively, check online used booksellers or your local library for these titles.)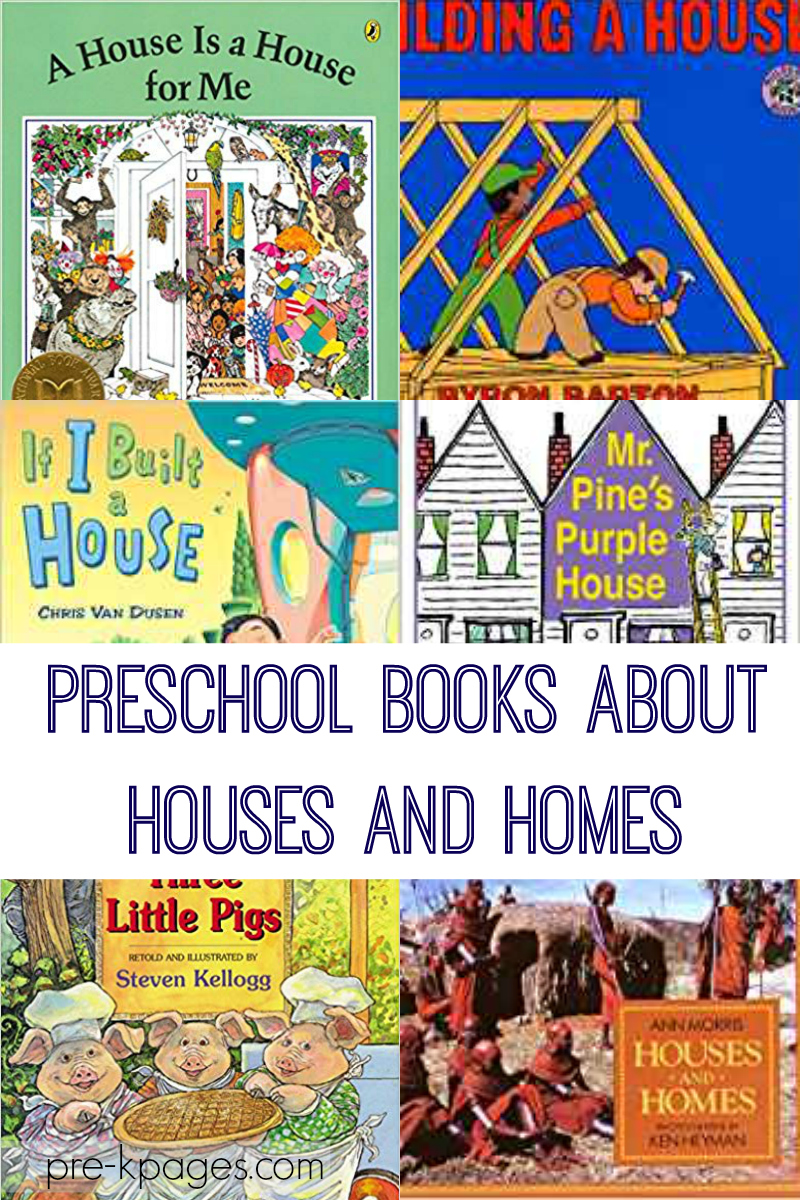 Books About Houses and Homes
A House is a House for Me by Mary Ann Hoberman
A fun rhyming book about all kinds of houses–from anthills and beehives to spider webs and corn husks. Even treehouses!
Building a House by Byron Barton
Simple text and simple illustrations show how a house is built, step by step.
How a House is Built by Gail Gibbons
A more detailed look at the steps for building a house. This book is full of construction vocabulary!
If I Built a House by Chris Van Dusen
A boy tells his mother the kind of house he would like to design. It's complete with an automatic kitchen, a race car room, and even a playroom that detaches and flies around. This book will stimulate your preschoolers' imaginations.
Whose House? by Barbara Seuling
A boy thinks about different animal houses – perfect for each animal but not for a boy. He decides his house is perfect for him.
The One Day House by Julia Durango
Wilson wants to make Gigi's house snug and cozy and colorful…one day. Then one day arrives, and everyone pitches in to help Wilson fix up Gigi's house.
Houses and Homes (Around the World) by Ann Morris
Photographs of all kinds of houses around the world – houses made of wood and houses made of mud; big houses and little houses; colorful houses and plain houses. But all houses are for families.
Home by Carson Ellis
Wonderful illustrations of all kinds of homes – in the country and in the city; real or fanciful; large and small.
The Three Little Pigs by Steven Kellogg
A retelling of the classic folktale. The pigs have a waffle business. Tempesto, the meanest wolf on the block, shows up to cause some trouble.
The Big Adventures of Tiny House by Susan Schaefer Bernardo
Tiny House is a small house with wheels. He travels all over, pulled by Big Truck. But he wonders if he can really be a home if he doesn't stay in one place. Tiny discovers all kinds of traveling house friends on his adventures.
The Three Pigs: An Architectural Tale by Steven Guarnaccia
In this retelling of the classic fairy tale, the three pigs live in houses that resemble houses by famous architects.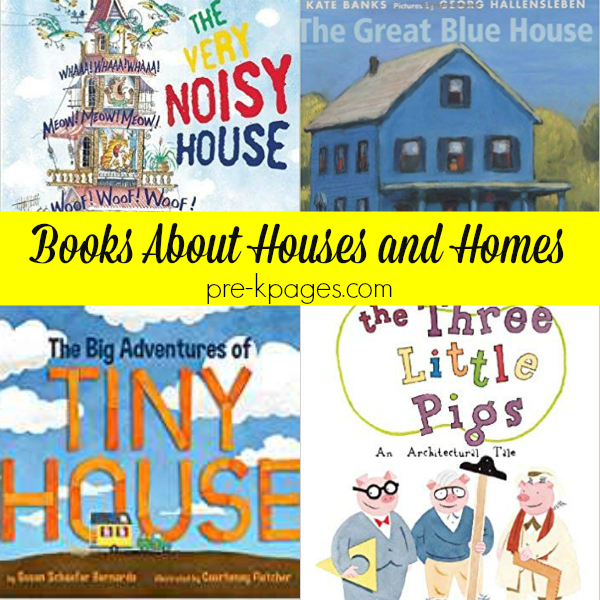 Preschool Books About Houses
Building Our House by Jonathan Bean
A girl and her family move from the city to a trailer in the country. There, in a empty field, her parents (along with other family and friends) build a house from foundation up. Lots of great illustrations show the process from beginning to completion.
My Home, Your Home by Lisa Bullard
Jayden will be moving into a new home with his mom. He explores different types of homes to decide what kind of place he'd like to live.
My House by Byron Barton
This book is ideal for younger preschoolers. Jim shows all the parts of his house.
Two Homes by Claire Masurel
Sometimes Alex lives with Daddy. Sometimes Alex lives with Mommy. He has two homes. The homes are different but each one is Alex's home.
This Is Our House by Hyewon Yum
A girl lives in the same house where her mother was born, the same house where her grandparents first lived.
This House, Once by Deborah Freedman
A look at the parts of a house and where those parts come from.
The Very Noisy House by Julie Rhodes
The story of a large old house filled with sounds and the residents who make those sounds.
The Great Blue House by Kate Banks
All during the summer, the great blue house is full of family. But when the weather turns cooler, the families leave and others take up residence.
A House in the Woods by Inga Moore
Four animal friends decide to build a house so they can all live there together. They call the beaver builders to help them.
Mr. Pine's Purple House by Leonard Kessler
Mr. Pine wants his house to look different from all the other houses on Vine Street. But whatever he does, everyone else does, too. So he decided to paint his house purple.
More Book Lists for Preschoolers