Preschool children love creating class books together. They get to see their pictures, art, and words in print. Reading books they have made with their friends is incredibly meaningful, making their literacy learning more impactful.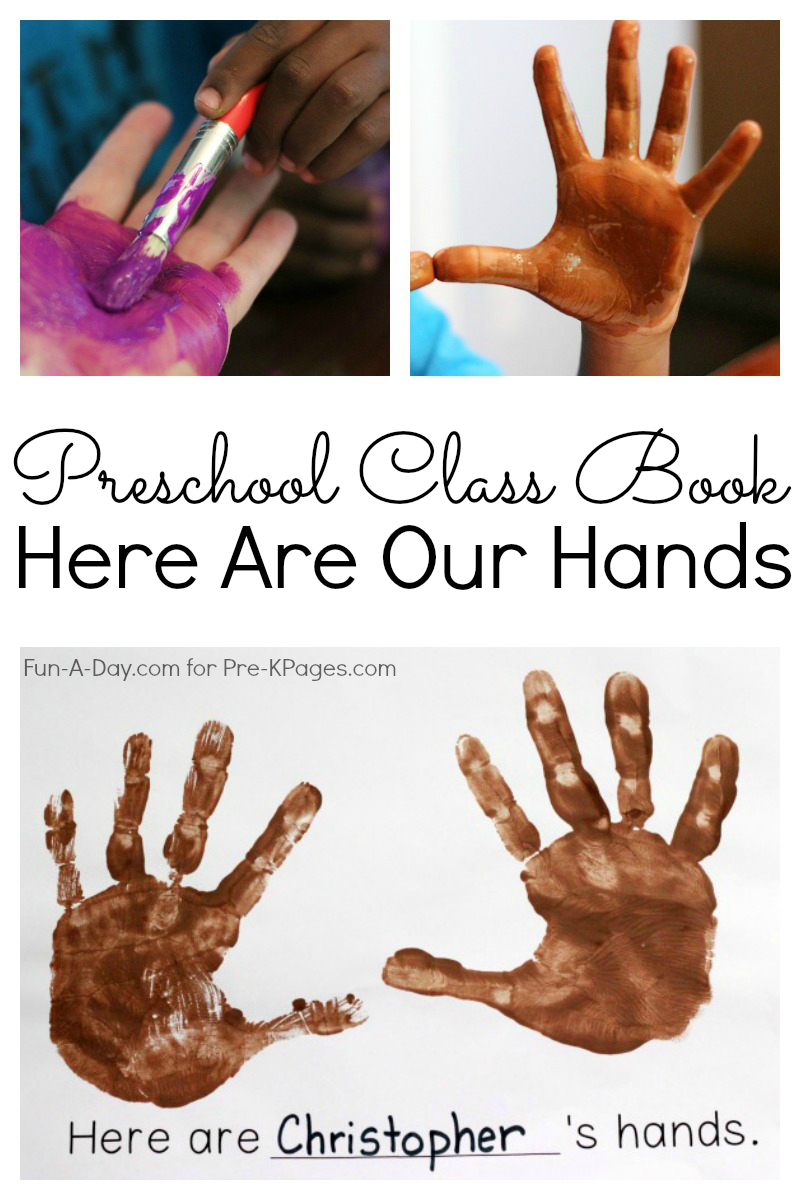 Making a Class Book
Use the kids' handprints to make a class book entitled "Here Are Our Hands." This would be great to make at the beginning of the school year when children are still getting to know each other. The book would fit very well during an All About Me theme, as well.
Materials
Preparation
Paints made specifically for multicultural skin tones work well when making this class book. If you don't have those paints on hand, use different combinations of brown and white to craft skin tones for each child. This would be a great learning activity to do with the kids, while discussing shades and how everyone's skin is different.
If you plan to hand write each page, grab the white construction paper and you're ready to go. If you choose to use the printable book pages, print those out ahead of time.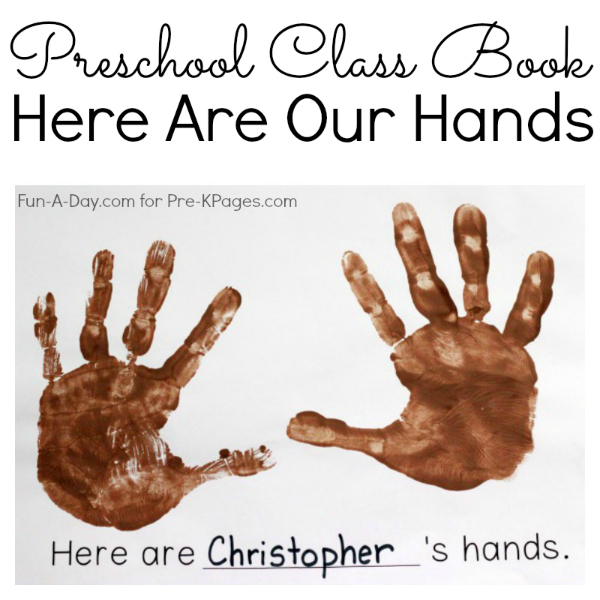 Making Handprints
Bring each child over individually for this activity. Help the child paint one of his hands or paint the child's hand yourself. This depends on your own preference and the needs of each child.
I like to chat with the kids at this point, talking about what they can do with their hands. It's always fun to hear their answers!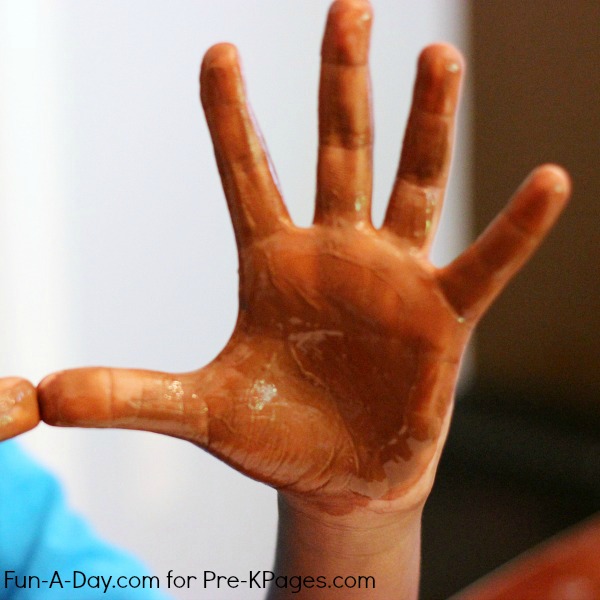 Carefully press a left handprint on the left side of the paper, and a right handprint on the right side. This can be done directly onto the printable page. You also can create the handprints on construction paper, cut them out, and glue them to the printable page.
Once the handprints are on the paper, it's time for some quick clean up. If there's a sink in your classroom, that's great! If not, I find baby wipes work wonders when creating painted handprints.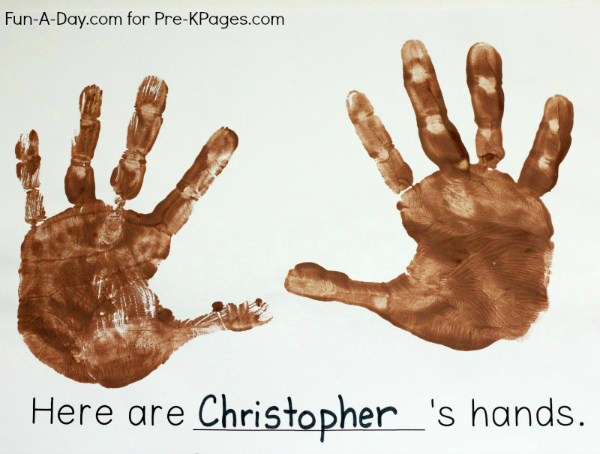 Adding the Words
Once everyone's handprints are dried, it's time to add the words to each child's book page. Grab a black marker and call each student over individually. You can either handwrite all of the words on each page, or you can use the free printable included with this post.
Write out "Here are (child)'s hands." on the bottom of the page, saying each word as you write it. If you're using the printable, point to each printed word and read it aloud and then say the child's name as you write it. Depending on each child, some of the students can help with the writing on their pages.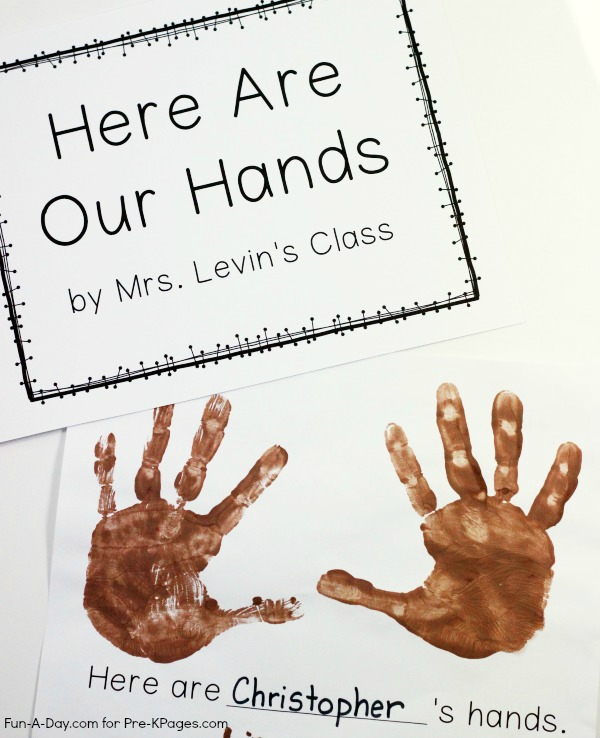 Putting the Class Book Together
After all of the kids (and teachers!) have a completed page, it's time to assemble the book. You can back each page on a piece of colorful construction paper, or you can leave the pages as they are. Consider laminating each page before making the book. Don't forget to create a title page for the class book, either handwriting it or using the printable cover page.
Put all of the pages together and bind them into a book. This can be done using a binding machine, using a hole punch and binder rings, or using a hole punch and yarn. Then it's time to read the class book together with the whole class before adding it to your classroom library!
What are the Children Learning?
As mentioned above, making class books are a wonderful way to teach a variety of preschool concepts. Here are just a few touched on with "Here Are Our Hands":
Left-to-right progression
Concept of a word
Sight words
Print conveys meaning
BIO: Mary Catherine is mama to an amazing son and an early childhood educator with over ten years' experience teaching pre-kindergarten and kindergarten. She's the creator of Fun-A-Day, where she writes about meaningful early learning ideas like bookmaking. Follow her on Pinterest and Facebook.
More Literacy Ideas—
Making Class Books – more ideas
Create a Shapes Photo Book
Writing Center in the Pre-K Classroom
Don't Let the Pigeon Play – template for a class book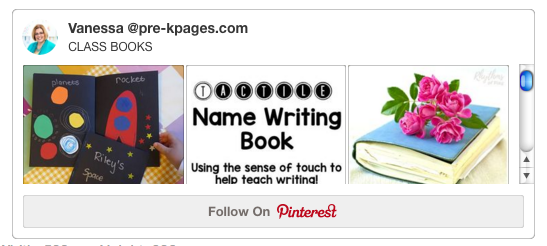 Follow my Class Books Pinterest Board for more great ideas!