Teaching preschoolers can be an expensive profession. Preschool learning takes "stuff" and we always seem to need more things for the classroom. Recently I wanted to put together a writing center, so I went to the dollar store to make the center as economical as possible.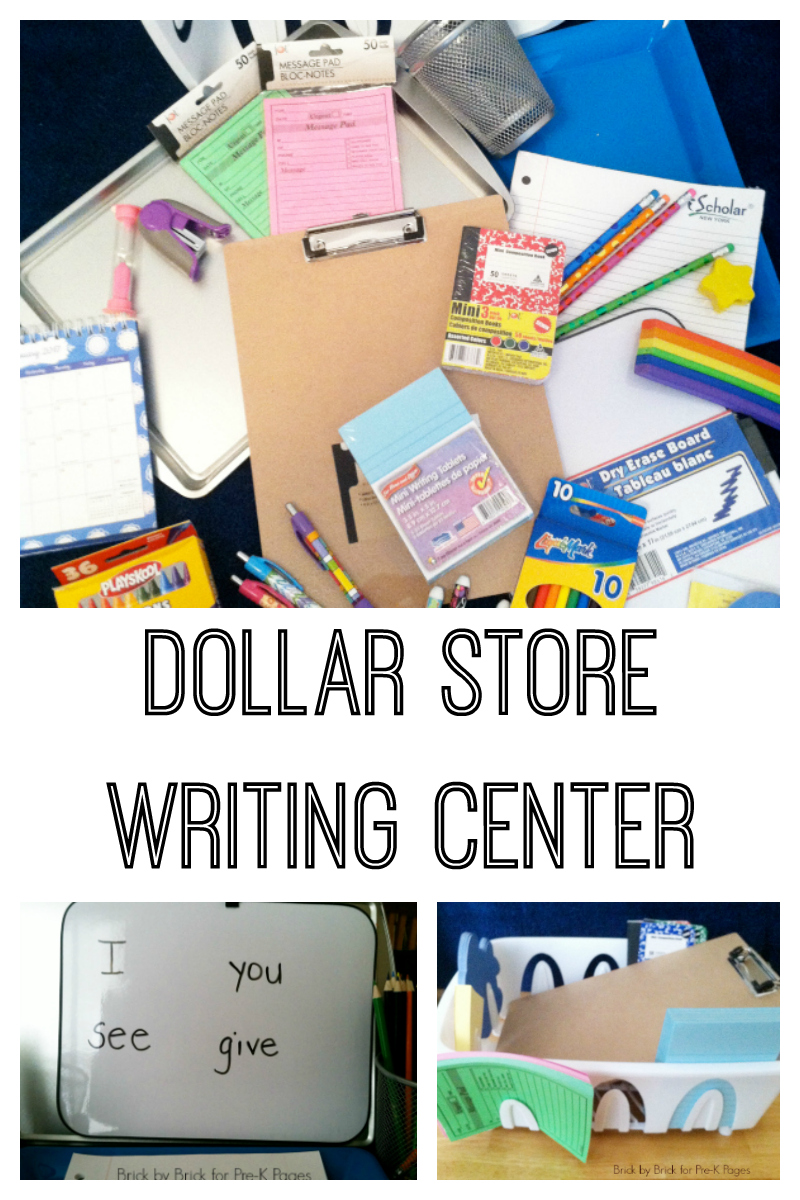 Preschool Writing Center
Why include a writing center in your classroom or play space? A writing center provides a place for preschoolers to put their thoughts and ideas into concrete form. They can draw and write what they are thinking. Preschoolers are beginning to understand that print is connected to the words we speak. They can explore and experiment with writing tools, paper, and print in a writing center. These emergent writing skills and concepts are important building blocks for future literacy.
The writing center can also be a supplement to learning throughout the classroom. Perhaps a child needs to take an order in pretend restaurant, note observations of a science experiment, or create a blueprint for a block structure. The writing center provides tools that can be used in all kinds of learning.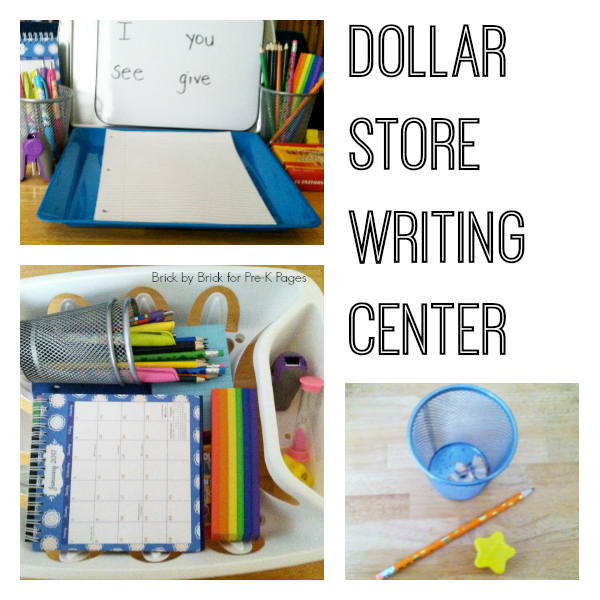 Dollar Store Writing Center
When I decided to build a new writing center, I went to a local dollar store. I decided to see what kind of center I could create by a single trip to one dollar store. Here's what I purchased on my trip.
Things to write with
Every center needs writing implements. A writing center could not function without some of these items.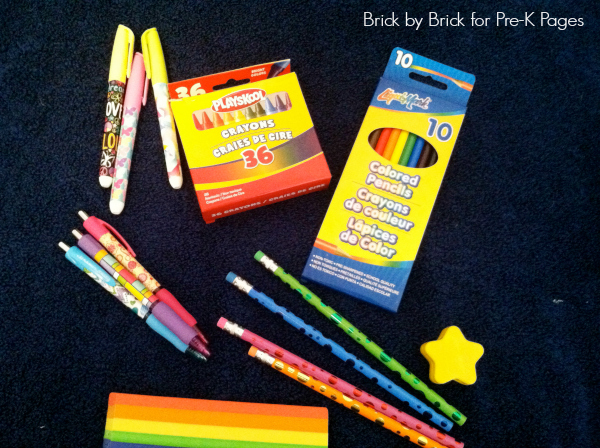 Pencils
Pens – I like click pens; less lids to keep track of.
Crayons
Highlighting Markers
Colored Pencils
Related Items: pencil sharpener, large eraser
Things to write on
Paper of some sort is needed, too. Different shapes and sizes are important.
Note: I really wanted plain white paper for the center, too. My dollar store did not have any. I will need to get this elsewhere to add to the center.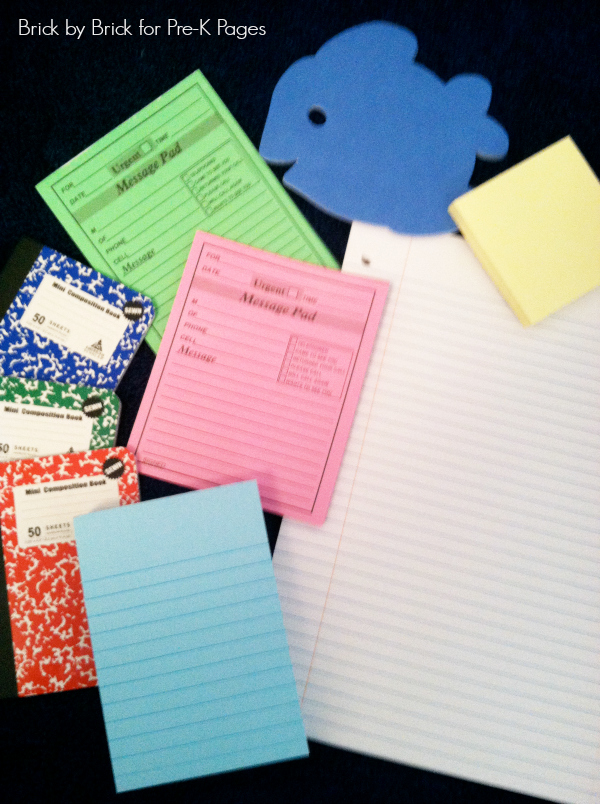 Self-stick notes
Small notebooks
Notepads
Lined paper
Message pads
Shaped paper (fish shapes)
Things to contain the resources
Organization is key in the writing center. I gathered a few different items to keep things under control and to make the center useful.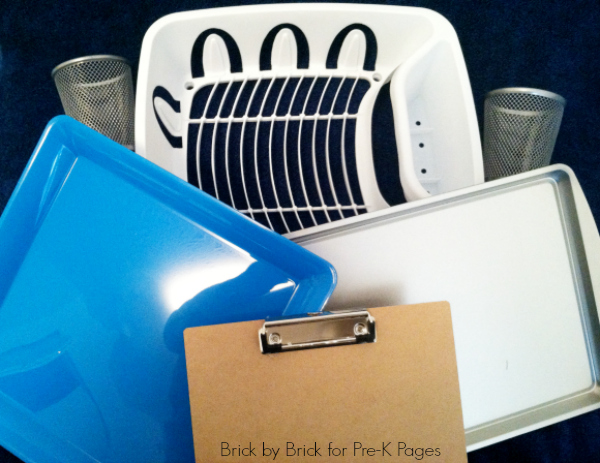 Cookie sheet – choose one that attracts magnets
Plastic tray
Pencil cups
Dish rack
Clipboard
A few special items
I had in mind the things I'd like for my writing center. These items are not things I planned to get but when I saw them I thought they would be good additions to the center.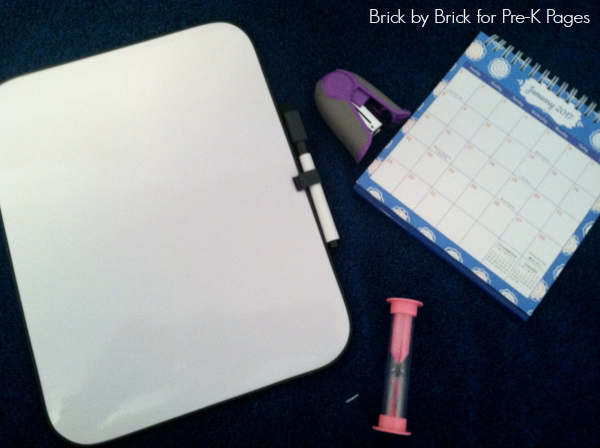 Dry erase board
Small monthly calendar
Stapler
Sand timer
Putting the Center Together
When you have all your items, it's just a matter of putting things together. I tried several different ways. Depending on space and needs, any of these arrangements would be workable.
But before we look at those, let's talk about one other way to make the center successful (for both you and the children). I purchased a pencil sharpener, so I need to plan for all those shavings. This sharpener catches the shavings; but it's small and will need to be emptied regularly. Plan for this and create a small trash can for your writing center. I decided to use one of the pencil cups for this.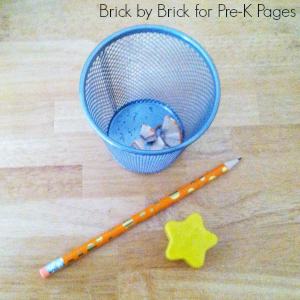 Kids can empty the sharpener without leaving the center. Later, the cup will be emptied into the classroom trash can. (This is a good tip when including scissors or stickers in the center, too. Small paper snips and sticker backs can go in this cup, too.)
Writing Center 1
This self-contained center uses the dish rack to hold almost everything. A small space could easily accommodate this center.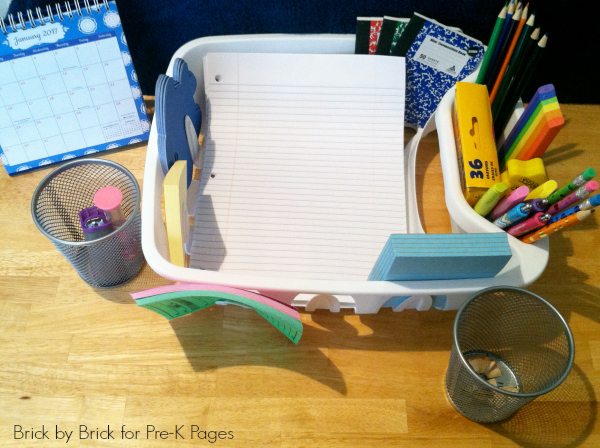 Writing Center 2
Another possible arrangement (without the large paper).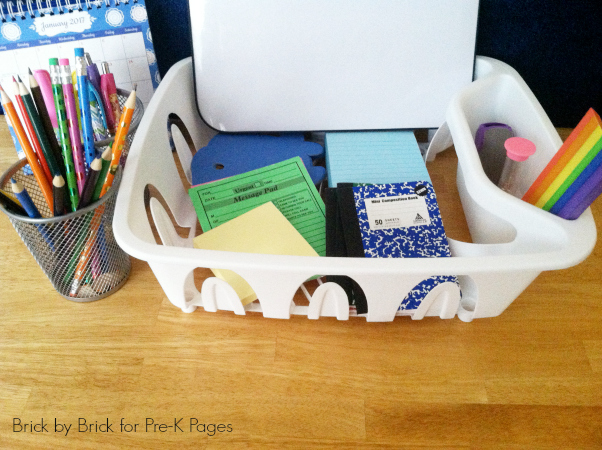 Writing Center 3
This center is a little more involved. The cookie sheet makes a great backdrop. I stuck the magnet board on it, but you could attach individual words or magnet letters or pictures to it, too. Print words on the dry erase board. Or place it in the center for kids to use themselves.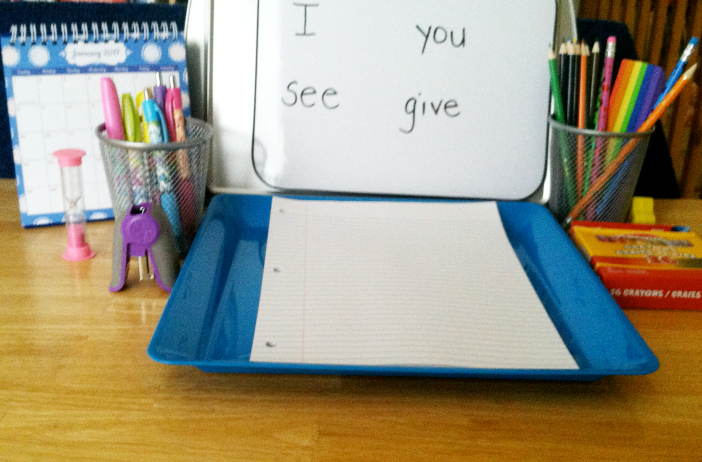 Place the dish rack nearby with the other tools and items.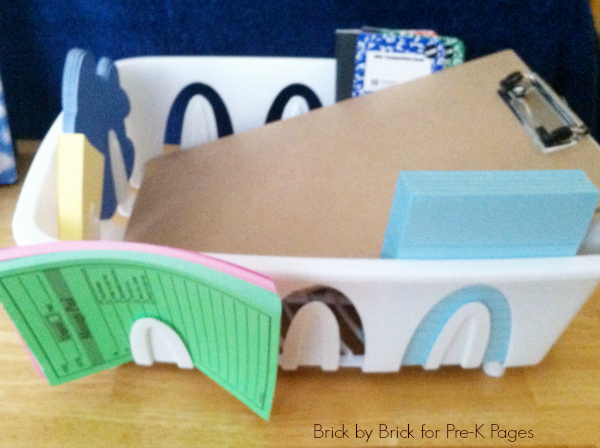 Other Ideas
In my current situation, I need centers to be portable and easily packed away. This center packs well; most things fit in the dish rack with others stacked on top of it.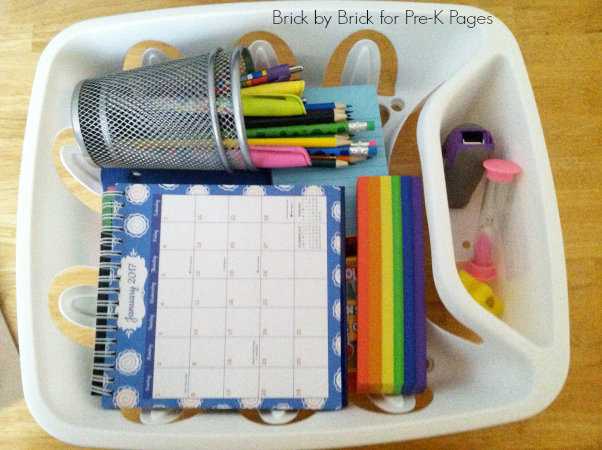 I looked at my dollar store for something to hold my portable center but there wasn't anything available. I'll add a plastic bin from another store to this center at some point, but everything did fit into the plastic shopping bag I received from the store.
This writing center is easily adaptable to different situations and different seasons. I saw Christmas cards and gift tags that I could add. I also saw a few words in the "teacher" section of the store that may be helpful additions later in the spring.
Cost for my writing center: $25.00.
BIO: Scott Wiley, an early childhood educator for over 25 years, is editor for Pre-K Pages. He blogs at Brick by Brick, exploring the connection between play and learning. Connect with Scott on Twitter, Facebook, and Pinterest.
Other Writing Ideas—
What's In Your Writing Center?
Writing in the Dramatic Play Center
Gingerbread Man Maps Writing Center
Moon Salt Writing Tray

Follow my Writing Pinterest Board for more great writing activities and ideas!