Today I'll be sharing pictures and descriptions of my writing center with you.
This is the second post in my "What's in your… center?" series, if you missed the first post titled What's in Your ABC Center? you can find it HERE.
Pictures of the Writing Center
At the top is a picture of the entire writing center and below I have included close-up pictures of each shelf and listed the materials pictured.
Materials to Stock the Writing Center
Cutting Practice: I collect the fronts of old greeting cards and place them in the writing center. Students cut the pictures out and glue them to paper and then write about their pictures. They are highly motivated to use the cards; it is one of their favorite activities at the writing center and a great way to practice fine motor and scissor skills. The thickness of the cards offers more resistance, which makes it easier for little hands to cut.
Alphabet Punches: Punches are another great way to practice fine motor skills as well as letter identification. Students punch out the letters in their names, names of friends, or words and glue them to paper.
Clipboards: Students place sheets of blank paper on the clipboards and walk around the room recording their observations or copying print.
Dry Erase Boards: The clipboards and dry erase boards are placed in stacking file trays for easy access.
Writing Center Supplies
Alphabet Stamps: The alphabet stamps are housed in ice cube trays for easy access and organization. Use a permanent marker to label each empty space in the tray with a letter and the students match the stamps to the correct space. The students enjoy stamping their names, names of their friends, or words.
Writing Center Sign: There is a sign in each center that lists the educational benefits of what we are learning. You can read more about these signs HERE.
Paper: Paper is an important part of any writing center. I have several different types of paper available for students to choose from; regular white copy paper, half sheets of copy paper, and half sheets of construction paper so they can make covers for any books they may create.
Sandpaper Letters: Students use half sheets of paper to create crayon rubbings of the sandpaper letters. This is great fine motor practice because holding the skinned crayon requires students to use the muscles in their hands and also the muscles in their shoulders and arms.
Pasting Pieces: The alphabet pasting pieces are always huge hit. Students like to glue the letters to paper and spell their names and the names of their friends or even words.
Writing Supplies
The writing supplies such as markers, pencils, scissors and glue are stored in a plastic drawer organizer. I have also used
this method
for storing and organizing markers. Each table in the classroom has a caddy stocked with crayons so I don't have a separate storage space for them in the writing center.
There is also a kid friendly stapler in the writing center that doesn't require staples. It only staples up to 3 or 4 sheets of copy paper at a time but that's usually plenty.
Here's a picture of one of the table crayon caddies below.

The Best Writing Tools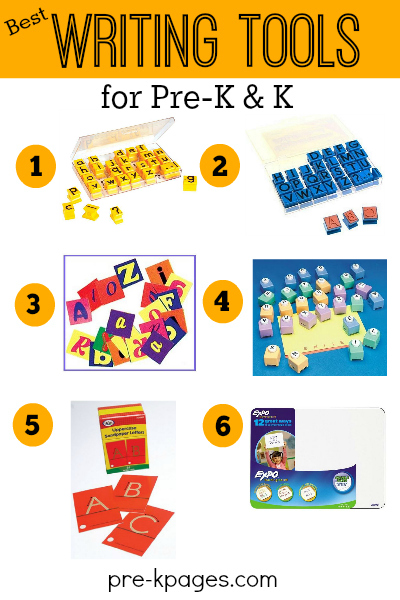 1. Lowercase Alphabet Ink Stamps
2. Uppercase Alphabet Ink Stamps
3. Pasting Pieces
4. Alphabet Paper Punches
5. Sandpaper Alphabet
6. Individual Dry Erase Boards
More Center Ideas:
ABC Center
Math Center