What do you enjoy in the art center? What do your preschoolers enjoy? An indispensable part of my classroom has become my easel. We usually just paint there, but easel painting is anything but "just" an activity for preschoolers. They can develop some great skills by regularly painting at the easel.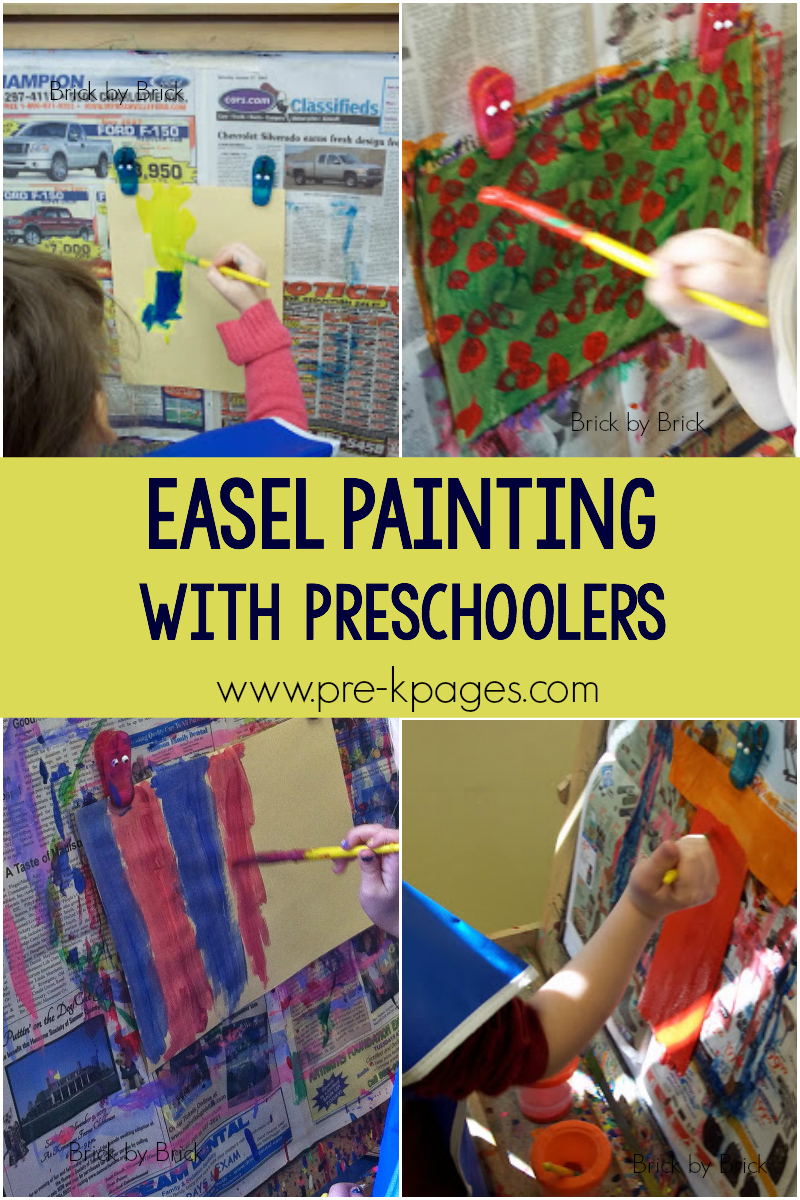 Easel Painting and Preschoolers
Painting develops literacy skills. Preschoolers make marks on a page to show their ideas or thoughts. They begin to understand how symbols can stand for other things–this is a house and this is me. These foundational understandings help prepare them for understanding the marks in a book are words that stand for something else.
When painting at the easel, preschoolers can develop responsibility. Our preschoolers learn to put on a smock before painting. While getting messy is a part of learning, we can minimize mess on clothing by using smocks (and we learn to be responsible for protecting our clothes). Our preschoolers also learn that paint goes on the paper and not the clips, easel frame, or tops of the paint cups.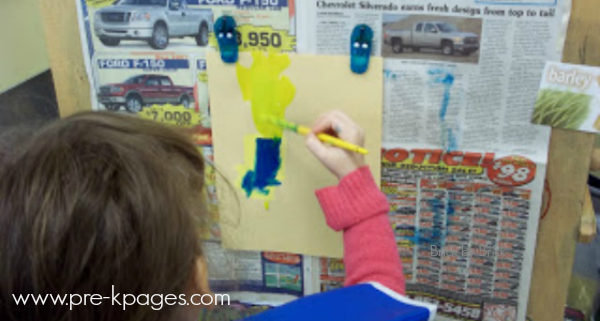 Painting can provide a great emotional outlet. A child who wants to work alone can find the easel a welcoming place. A child can use the easel to express whatever emotions he's feeling, with large movements or small ones, fast movements or slow ones.
Preschoolers need to work on both vertical surfaces and horizontal surfaces to develop gross motor and fine motor skills. A vertical surface allows the child to stand while working and to work on a surface at eye level. A larger area to work allows him to use larger movements to paint. He can develop more control over the marks he makes, learning to control the brush movements to make just the mark or shape he wants.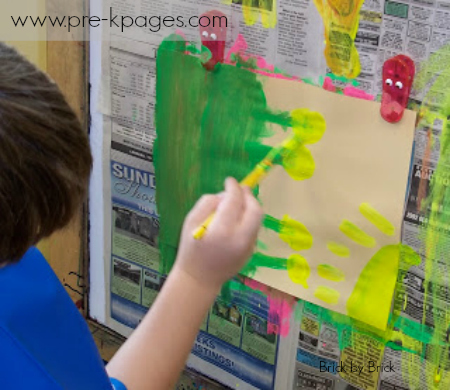 Since easel painting is limited to one child (or two if you utilize both sides), preschoolers learn patience and delayed gratification. If a child wants to paint but someone else is already there, she must wait for her turn. Many experiences in the preschool classroom contribute to this lesson, but easel painting can support learning to wait (which is one of the most difficult things for preschoolers to do).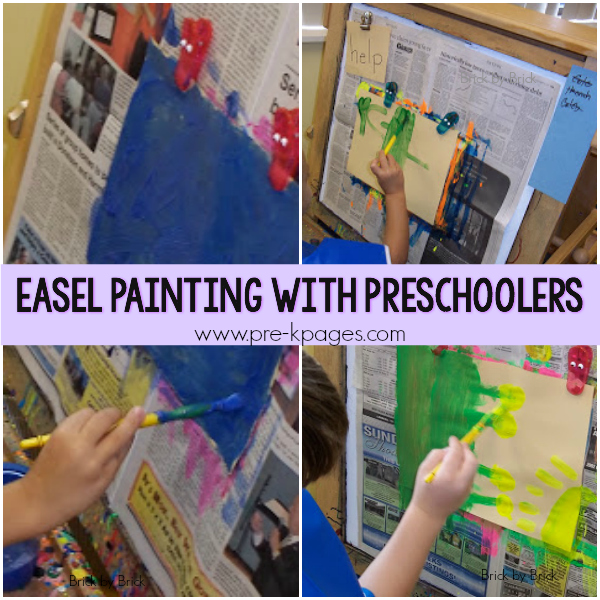 Tips and Tricks for Easel Painting
Here are a few tips that I've learned over the years as I paint with preschoolers weekly.
1. Cover the easel. We use newspaper or other scrap paper. Our easel has a washable surface. However, we found that we had to wash it after each painter. When covered, we don't have to clean the surface as much; we have less trouble with residual wet paint. We can remove a painting and add paper much faster; this is important when impatient painters are waiting.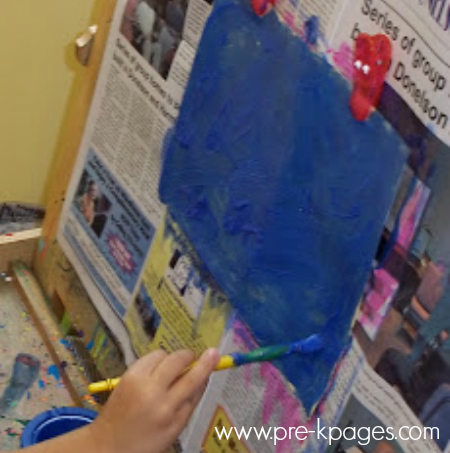 2. Limit color choices with new painters. At the beginning of the year, we provide only one color. We use paint cups with lids, so at the end of the session we seal the paint and put it out again the next week. Sometimes we use the same color for several weeks before changing it. Limiting to one color allows preschoolers to focus on technique – tapping the brush to remove excess paint, moving the brush and applying the right pressure to make marks, and so forth. As our painters become more experienced, we provide 2-3 colors regularly.
3. Sometimes, instead of different colors, offer different shades and hues of the same color. We put the same color in three paint cups. To one paint cup, we add white paint, making a lighter version of the color. To another cup, we add some black, brown, or blue, creating a darker version. Using different shades and hues encourages different types of color exploration.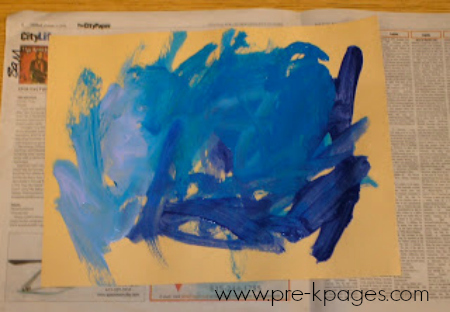 4. Plan a place for wet paintings to dry. Sometimes paintings will need a while to fully dry. Make sure you have a place for these to go and a plan to get them from easel to drying space.
5. Use the easel to support teaching and learning. Tape a picture and/or word to the upper corner of your easel for kids to see as they paint. Include something that connects to your classroom theme or the current season. Some kids all use it to inspire work and others will not use it at all. But with the picture or word there, opportunities arise for conversation.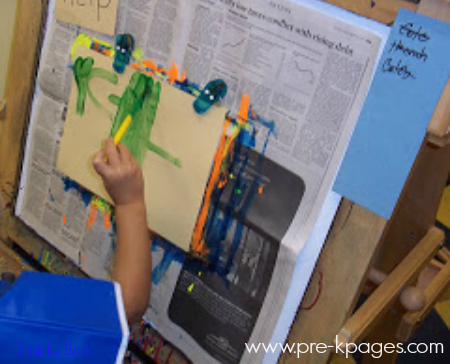 6. Add a waiting list. when our easel becomes really popular, I'll tape a piece of paper beside the easel. The children write their names on the list – to be next. (Or I'll write it.) Then they make another choice until the easel is available. When someone finishes painting, I ask the next child on the list if he is ready for a turn. If so, he move to the easel. If not, I skip his name and go on to the next one. This prevents a line of kids waiting or my brain trying to remember who is next. And waiting kids can check the list to see how long until their turn.
The easel can be a great part of your learning environment.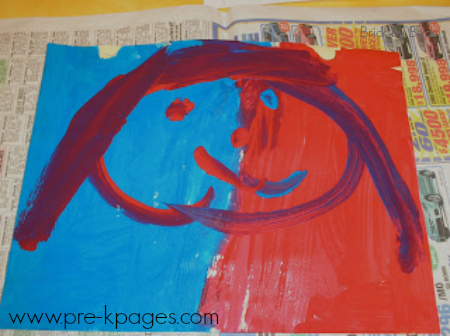 BIO: Scott Wiley, an early childhood educator for 30 years, is managing editor for Pre-K Pages. He is currently music teacher for 1s through 4s at a church preschool and teaches kindergartners weekly at the church. His blog Brick by Brick explores the connection between play and learning. Connect with Scott on Facebook and Pinterest.
More Teaching Tips