Preschool, pre-k, and kindergarten picture schedule cards.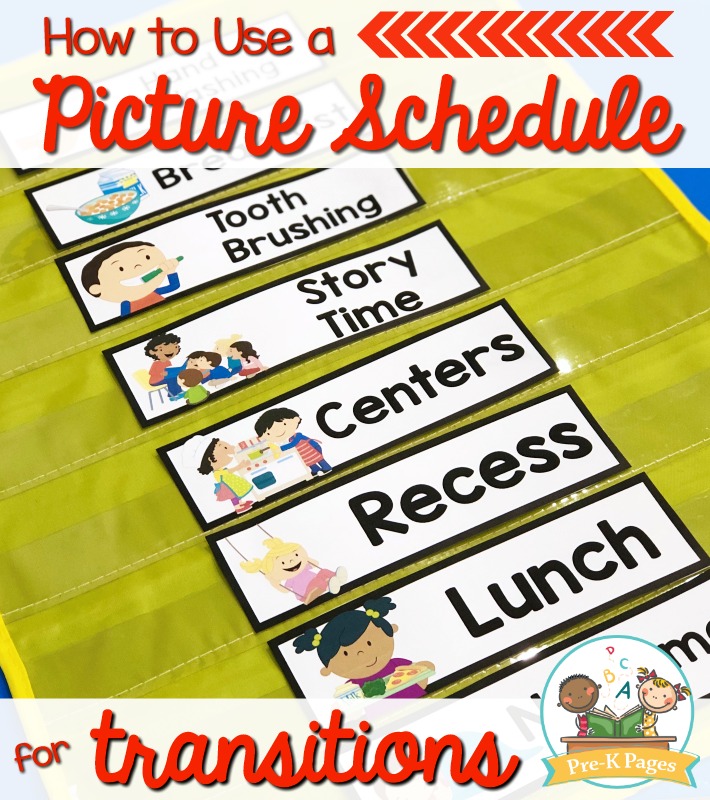 Daily Picture Schedule Cards
Having a picture schedule in a pocket chart is a must for all early childhood classrooms.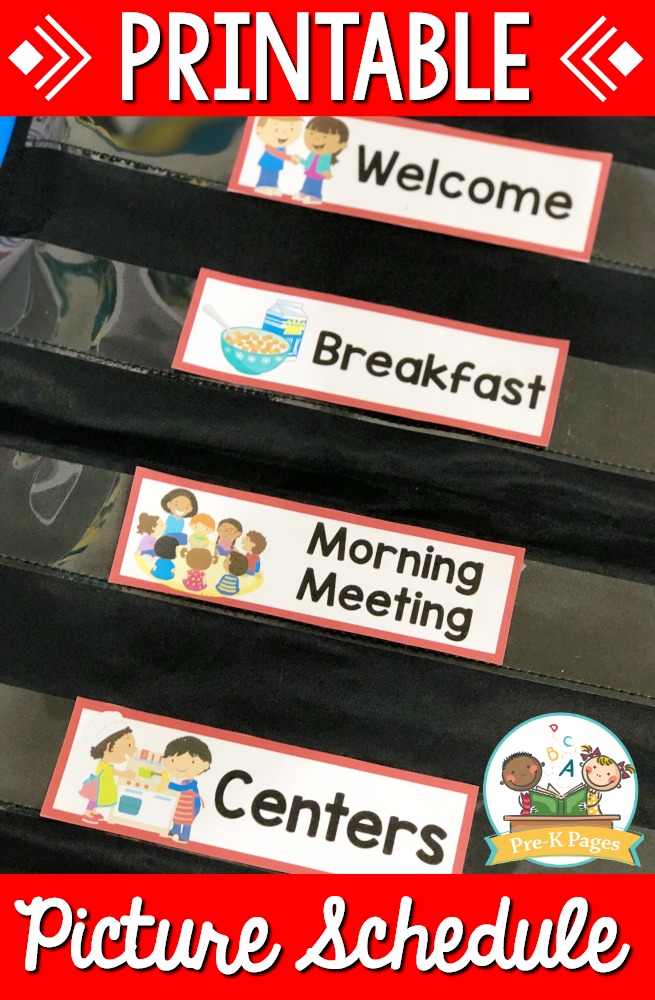 What is a Picture Schedule?
A daily schedule is displayed sequentially either in a pocket chart with a clothespin, or on a magnet or white board to indicate when transitions will occur.
The clothespin or magnet is moved to the next activity at the beginning of every transition to indicate what is happening next. Each activity is represented by a picture and the word on a card.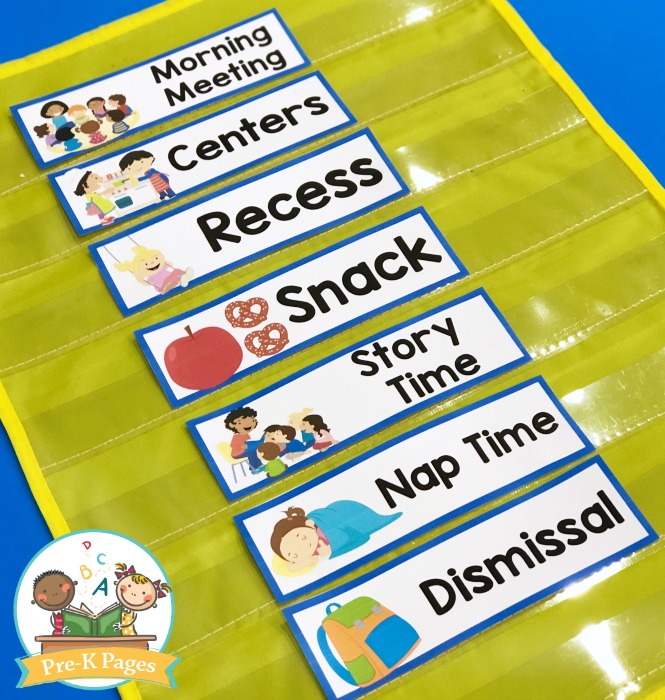 Why Use a Picture Schedule?
Using a pocket chart or board to display your picture schedule helps create smooth transitions by giving your little learners a visual reminder of what is happening or is going to happen next in class.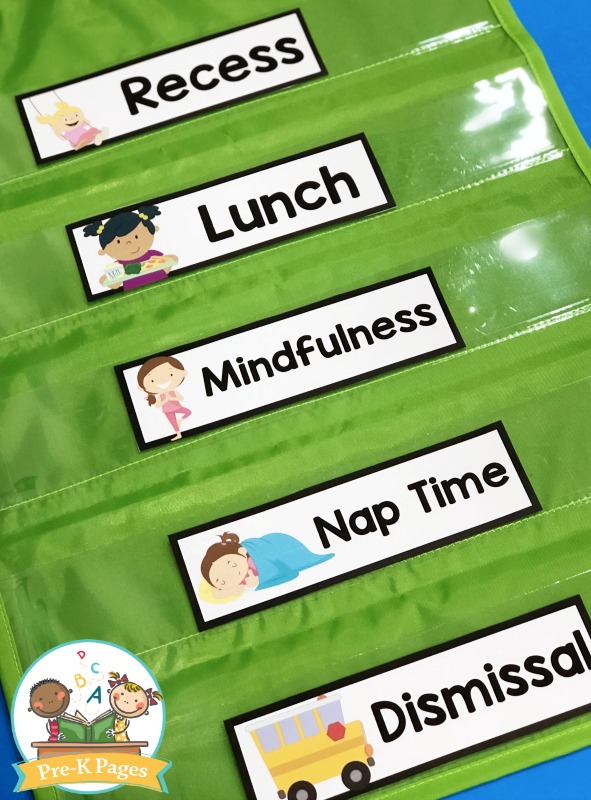 A picture schedule can help:
Ease separation anxiety by allowing children to see a visual representation of the day. When an anxious child begins to see the clip moving towards the bottom they know it is getting closer to the time when they will be reunited with their loved ones. How many times have you heard "I want to see my mommy!" on the first day of school? Or how about "When is lunch?" All of these problems are greatly diminished with the consistent use of a picture schedule.
Those students who have difficulty "finishing" a task and moving on to the next. The two to five minute gentle reminder paired with the physical movement of the clip and the song helps them with the transition process.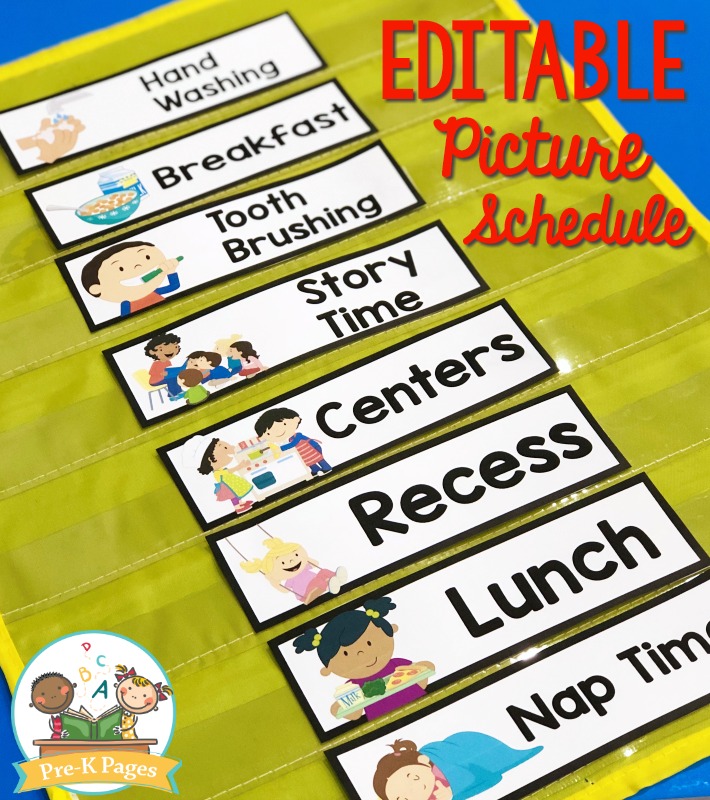 Establish a Consistent Routine with a Picture Schedule
A picture schedule can help your students learn the routines and procedures more quickly. When they are familiar with the routine you will save time on transitions and gain time for learning.
Just think, if you waste 5 minutes on average per transition and you have 8-12 transitions in a day (maybe more) that adds up quickly!
If you add up all the instructional minutes lost throughout the year you'll be shocked. A picture schedule will help you add more learning into your day so you can help your students meet the standards.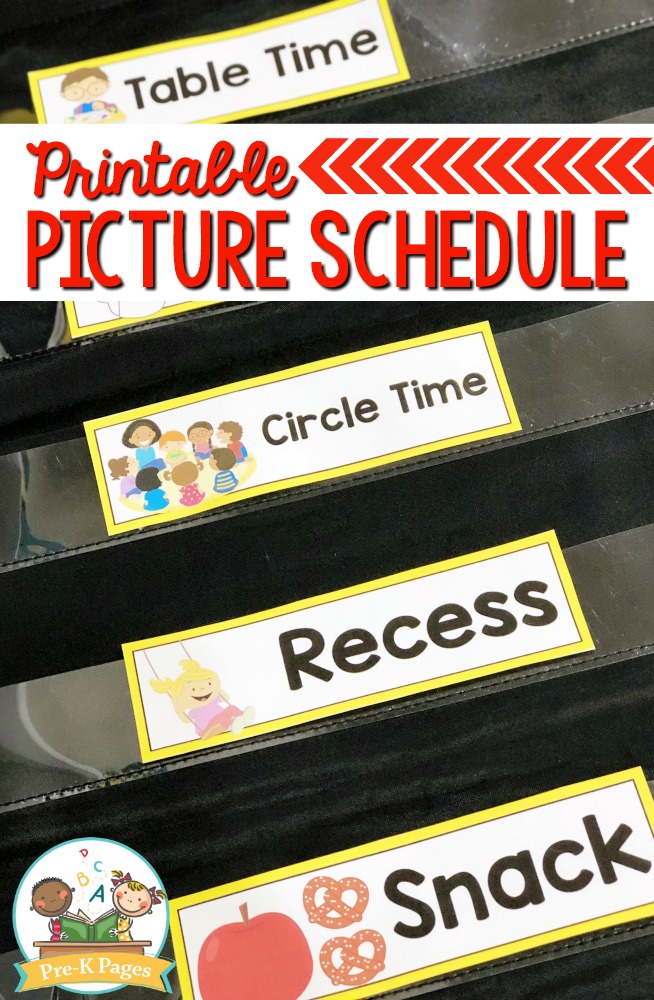 How to Use a Picture Schedule
First, hang the chart or cards in your large group area, at the student's eye level.
Next, place the picture cards in the order in which they occur, first to last.
Then, reference the chart each and every time you transition from one activity to the next. Say something like "It's almost time for Math; I'm going to move the clip down to Math in two minutes." Sing a quick chant or song when it's time to transition to re-direct the student's attention.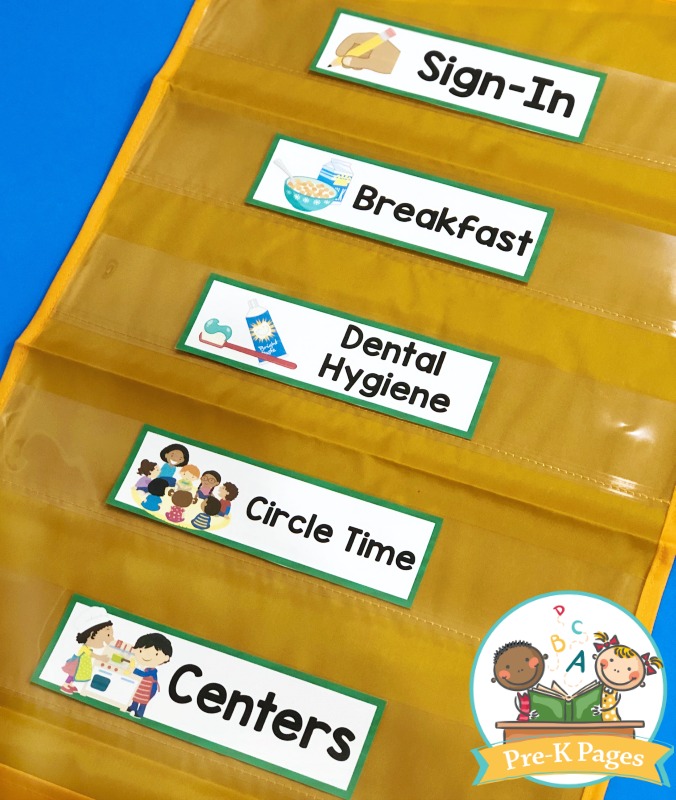 Picture Schedule Chant
The following chant is simple and does the trick:
Tune: Farmer in the Dell
It's time for math now,
It's time for math now.
Heigh-ho, did you know?
It's time for math now.
Just change the name of the activity each time you sing it. Soon your students will start to sing along with you as they transition.
When your students become familiar with the routine you can select a student to be the "schedule helper." The schedule helper is in charge of moving the clip when you begin to sing the transition song.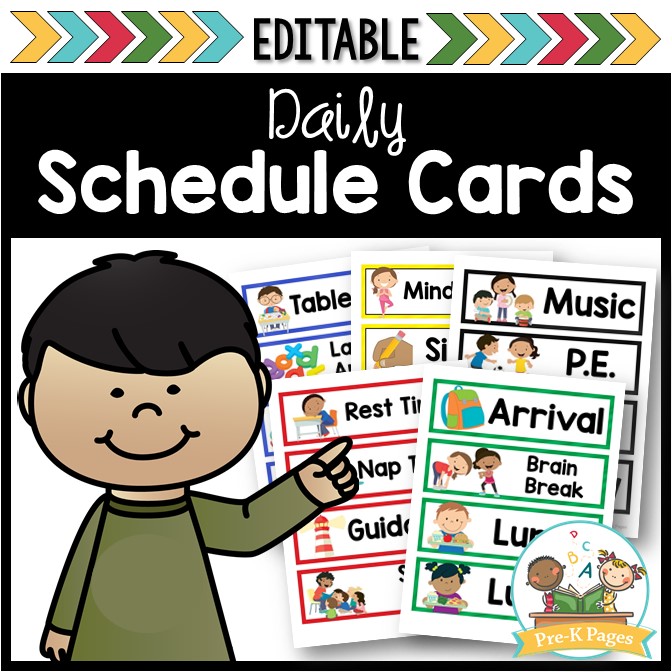 Creating your own picture cards doesn't have to be difficult or time-consuming, I've done all the hard work for you! Check out these editable schedule cards with 5 different color borders.
Each packet contains 20 pages and includes 67 editable cards for creating your own schedule. Packets are offered in PDF with fillable form fields for easily adding your own text.
Cards for the following activities are included:
Lunch (2 versions)
Snack
Recess
Playground
Circle Time
Math
Literacy Stations
Math Centers
Math Stations
Letter Work
Math Workshop
Literacy Centers
Word Work
Centers
Art
Music
P.E.
Gym
Library
Computers
Technology
Reading Workshop
Writing Workshop
Worship
Bible
Chapel
Calendar
Science (3 versions)
Dismissal (2 versions)
Breakfast
Morning Meeting
Table Time
Language Arts
Dental Hygiene
Tooth Brushing
Arrival
Brain Break
Hand Washing
Bathroom (4 versions)
Reading Buddies
Free Choice
Movement
Social Studies
Small Group
Prayer
Yard
Rest Time
Nap Time
Guidance
Story Time
Mindfulness
Sign-In
Religion
Yoga
Goodbye
Greeting
Welcome
All schedule cards are in PDF format. Each packet offers boxes that you can easily type text into for customization. To type your own text, place your cursor in the appropriate box and click, then type your text and hit enter.
More Teaching Tips from Pre-K Pages