Do your kids love playing bingo? Are you looking for ways to help your students learn to recognize and identify feelings and emotions? This printable emotions bingo game will help your preschool or kindergarten students begin to understand not only their own feelings and emotions, but those of others.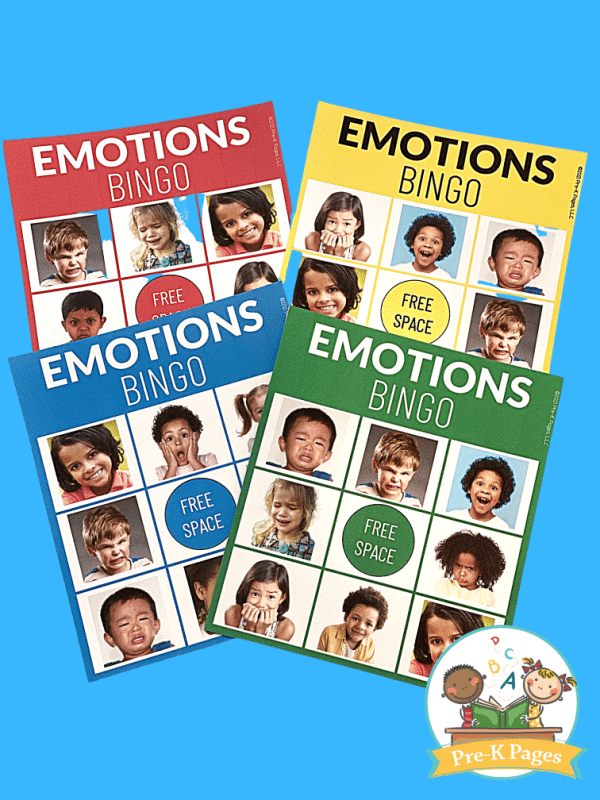 Emotions Bingo Game: Feelings Activities for Preschoolers
As young children begin to recognize and identify their own feelings and emotions and those of others, they're developing important social emotional skills they'll need to be successful in school, and life.
One component of social emotional learning is emotional regulation. Emotional regulation is being able to identify and name your own feelings and emotions, and ultimately being able to manage those emotions.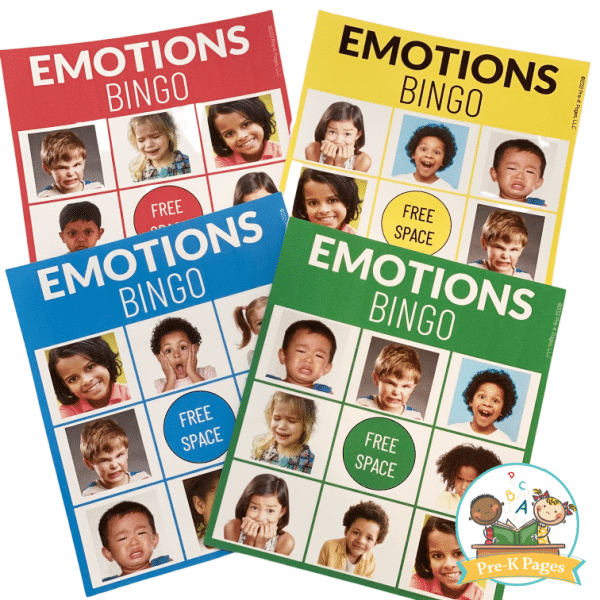 Feelings and Emotions Activities for Preschool
This printable bingo game will also provide your students with practice identifying facial expressions and responding empathetically to the feelings of others. Developing empathy is important because relating to how others are feeling can be very difficult for young children. Lack of empathy is a dangerous characteristic which can lead to antisocial or aggressive behavior later in life.
Emotions Bingo Game to Teach Feelings and Emotions
Here's what you'll need to get started playing this fun game in your own classroom.
Game Pieces (snapping cubes)
Printable Bingo Cards and Calling Cards (download freebie below)
Getting Ready to Play the Game
First, print the emotions bingo game boards and calling cards on cardstock and laminate for durability.
Next, cut out the game boards and calling cards. There are 6 different game boards included, each one featuring the same emotions in different locations on the boards.
This bingo game includes 6 different types of emotions:
Scared
Surprised
Sad
Happy
Angry
Excited
The pictures featured in this fun game are photographs instead of cartoon illustrations, this is important when first introducing your students to the concept of emotional regulation.
Each bingo game board has only 9 spaces, which is the perfect amount for young children with shorter attention spans.
Benefits of Playing Bingo
Just in case you have to defend the use of fun games like this in your classroom, bingo also supports the development of listening skills, self-regulation, and visual discrimination. There's plenty of learning that takes place when playing any bingo game!
But playing bingo with young children can be tricky, all that listening and following directions stuff is hard! I've had the most success playing bingo with small groups of young children.
Playing bingo as a small group activity is also more cost effective because you don't use as much ink printing mats and you don't have to buy as many manipulatives.
Playing the Game
Start by giving one feelings and emotions bingo mat to each child in your small group.
Next, place a bowl or basket of manipulatives to use as bingo chips in the center of the table so all the children can easily reach them. I like to use snapping cubes, but you can use whatever is most suitable for your kids.
Download the Feelings and Emotions Bingo Game

Other social emotional resources you may find helpful:
More Teaching Tips