Preschool field trip ideas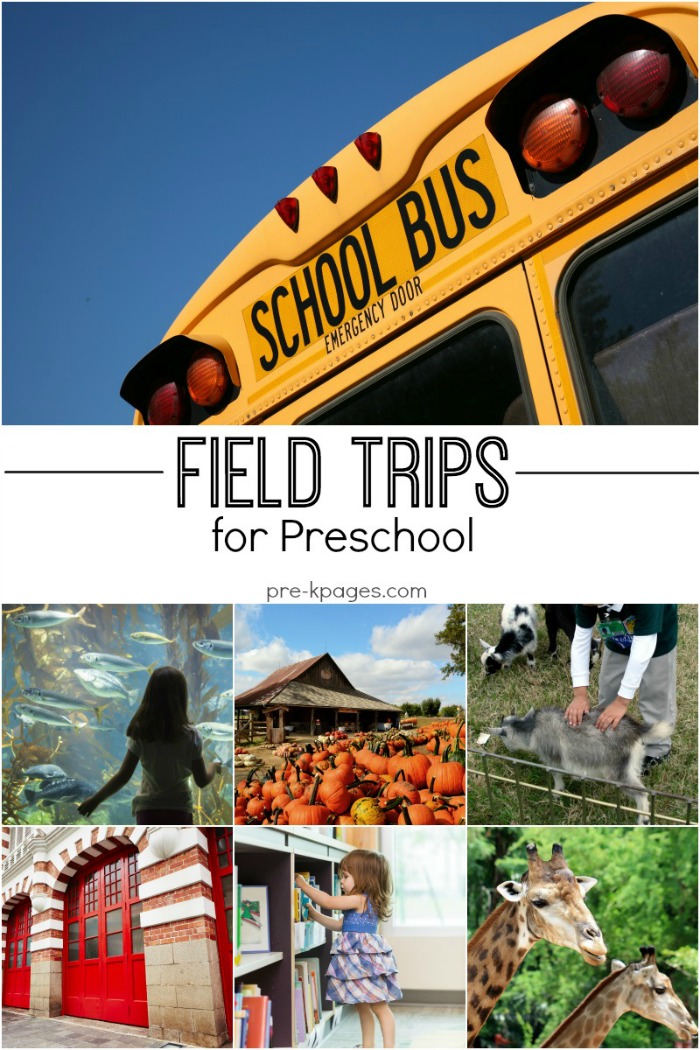 Field Trips for Preschool and Kindergarten
Field trips are not only lots of fun but they can also be very valuable learning experiences for young children.
They can help build background knowledge and vocabulary that are important for success in school and life.
Free Field Trip Ideas for Preschool and Kindergarten
Some field trips will require an entrance fee, but others may be free. Check with your local places of business to find out if they would be willing to offer your class a free "tour".
Bakery
Fire Station
Grocery Store
Home Improvement Store
Library
Nursing Home
Park
Animal Shelter
Beach (if nearby)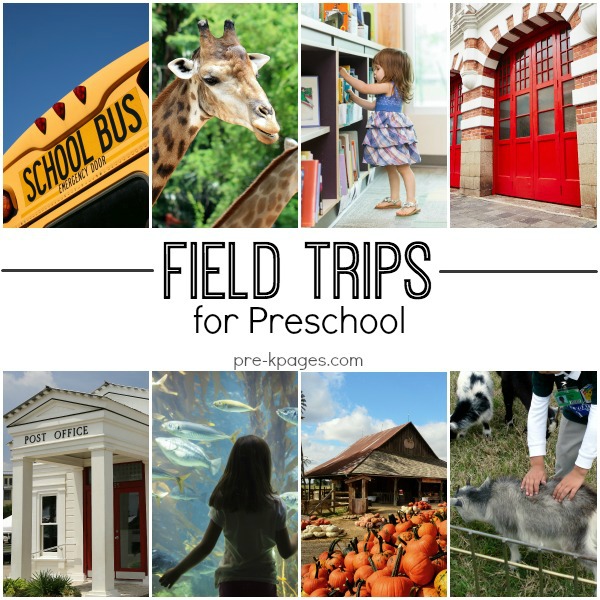 Fun Field Trip Ideas for Preschool
The following are popular places for field trips that usually charge a fee for entrance.
Apple Orchard
Aquarium
Children's Theater
Farm
Pumpkin Patch
Science Museum (designed for children)
Zoo
Ice Skating
Roller Skating
Kid-Friendly Bowling Alley
The ice skating, roller rink, and bowling alley trips could all be tied to academic science objectives.
Regional Field Trip Ideas
Different parts of the world may offer unique opportunities for field trips such as:
Coastal: Beach
Coastal: Lighthouse
Southwest: Rodeo
Wildlife Sanctuary
Planetarium
Field Trips that May Come to You
Some field trips may even come to your location if travel isn't possible or in your budget.
Agricultural Outreach Center (cows or other livestock)
Rodeo History and Education Center
Petting Zoo
Dentist
Wildlife Outreach Center (exotic animals)
Animal Shelter, ASPCA, or other animal group to teach about caring for pets
How to Plan a Field Trip
The following are some steps you can follow to help you plan for your field trip.
Check your school field trip policy and read it thoroughly before scheduling any field trips.
Determine the educational benefits of this particular field trip.
Check your school policy on field trip chaperones. The general rule of thumb is, the younger the child, the more chaperones you will need.
Calculate the distance from your school to the location you would like to visit.
If a fee is involved, calculate how much the field trip will cost per child. Don't forget to take into consideration any additional costs such as transportation or meals.
Ask permission from school administrators to book the field trip
Notify the parents of the date and cost of the field trip. Also let them know if you need chaperones and the procedure for signing-up.
Field Trip Questions
There are lots of questions to take into consideration when planning a field trip for young children. Here are some of the most common questions to consider.
What type of travel is allowed? Will you need to hire a school bus or can parents drive?
Can parents take their children home after the field trip, before returning to the school? (this will happen!)
What paperwork is needed for parents to volunteer as chaperones?
How many adults will you need to help chaperone the field trip?
Will this trip help your students meet academic goals? List the specific academic standards that this trip will help your students meet. Remember, most field trips will help develop vocabulary, which in turn supports reading.
How long will you be away from school? Calculate the travel time to and from your destination into your final number.
Will students be eating lunch on the field trip? If so, will they be bringing their own lunches, will the school be providing them, or will they be purchased on-site?
Do any students in your classroom take medication that will need to be administered on the field trip? If so, provisions will need to be made.
Can parent chaperones bring their younger or older children along on the field trip? If so, how will those children be transported to and from the location? How will payment be handled- if any?
Field Trip Preparation
While field trips are fun for the students, they often require extraordinary amounts of extra preparation and effort on the teacher's part. If something goes wrong you need to have a plan in place to occupy your students.
Every single minute of your trip has to be planned out in advance or chaos will reign. Expect the unexpected and prepare for delays such as waiting for a bus, waiting in lines, waiting for others to finish lunch.
As you can see, preparing for the trip in advance is only half the battle!
Preparing for Field Trips
Having something on hand to occupy your students on a field trip is a lifesaver.
Field trip recording sheets or scavenger hunts are a great way to keep your students alert and on-task as they look for the items listed.
You can give these forms to your students to complete during the trip or pass them out when needed.
Field Trip Scavenger Hunt Printables
These activities will provide students with practice paying attention to details, recalling events, and vocabulary development.
Picture cues are provided for non-readers so no reading is necessary to complete the activities.
Volume 1 of the 8 page Field Trip Recording Sheet packet includes scavenger hunts and recording sheets for the following field trips:
Fire Station
Aquarium
Pumpkin Patch
Farm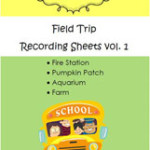 Printable scavenger hunts and recording sheets for field trips to Fire Station, Aquarium, Pumpkin Patch, and Farm.
More Teaching Tips from Pre-K Pages