I love Dr. Seuss. All of his books are fun to read aloud. The language play is a great way for kids to explore words and sounds and build literacy skills. Many classrooms celebrate Dr. Seuss' birthday on March 2 and look for different ways to incorporate parts of his books in their classroom activities. This fishing game could be used after reading all (or part) of One Fish, Two Fish, Red Fish, Blue Fish.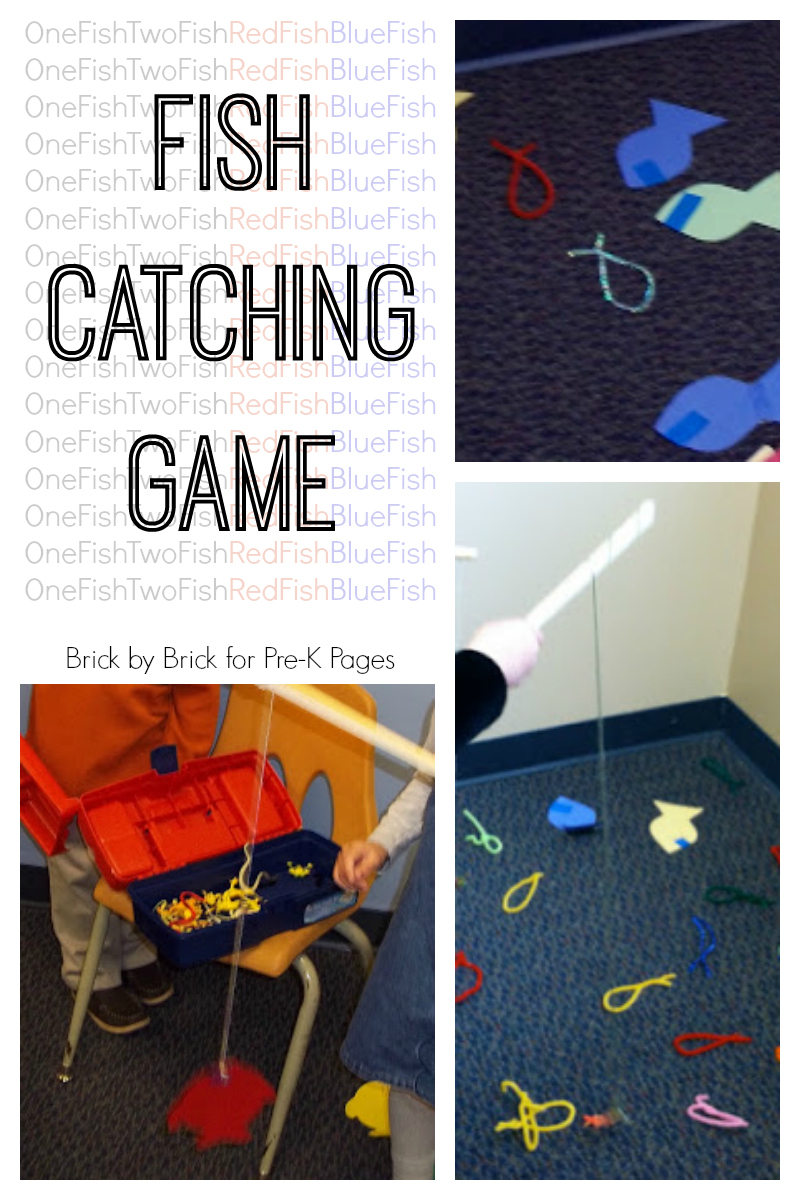 Make the Fishing Game
This game is easy to make. To make fishing poles, tie a length of yarn (12-18 inches) to the end of a dowel rod or long stick. To the other end of the yarn, tie a magnet. (I've had my magnets for a while; I think I got them at the craft store. Any fairly strong magnet with a hole in the middle should work, like these magnets.) Tie the magnets securely. I've used my fishing poles with 3s, 4s, and kindergartners and not had any difficulties with them.
For the fish, use chenille stems. Use different colors. Use sparkly and glittery ones as well as plain ones. I read on someone's blog years ago about using chenille craft stems for this and I have never looked back.
You can also cut paper fish shapes and slide on a paper clip. I always put masking tape over the paper clip – both to hold it in place and keep the paper clip out of little hands (especially for younger preschoolers).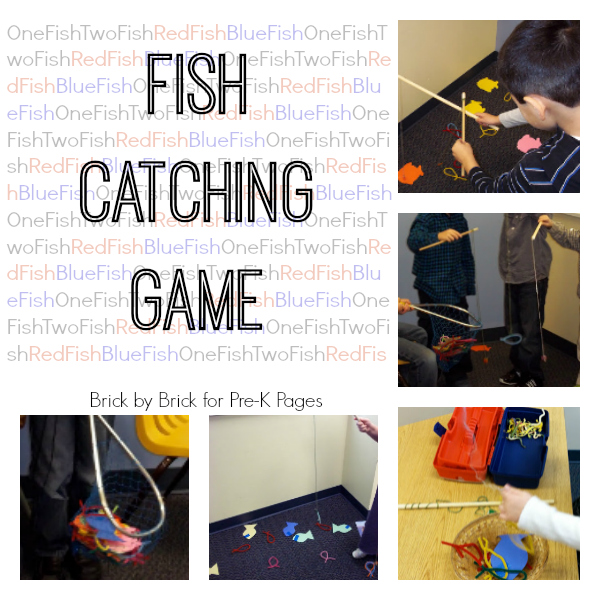 Catch Fish
Read just the fish portion of One Fish, Two Fish, Red Fish, Blue Fish. (No one said you must read all the book at one sitting!) Scatter your fish on the floor. You can create a "boat" by placing chairs near the fish. Or just invite preschoolers to drop and line to catch fish.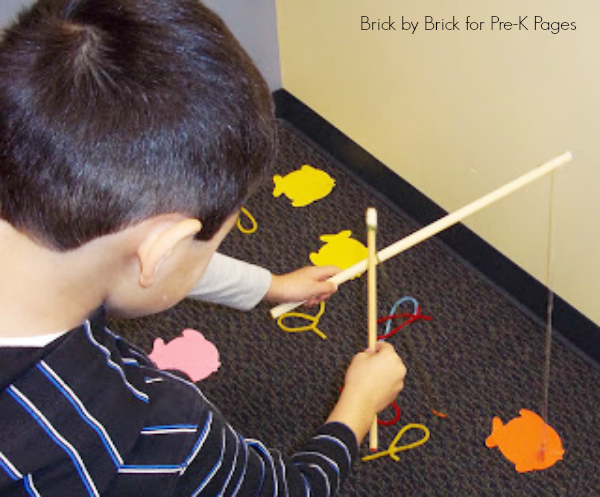 Connect to the book by saying, "Catch a blue fish. Catch a red fish. Catch just one fish. Can you catch two fish?" Call out other fish characteristics–other colors and shapes (thin fish, fat fish) and so forth.
If you use paper fish, you could print numbers or names on the fish and call out these fish for preschoolers to catch.
Exploring Fishing
This activity is also a great dramatic play activity. Provide a tackle box, a few plastic worm or frogs for bait, a small fish net, a basket or bucket for the "catch," and other related props.
Your preschoolers will enjoy pretending to have a day of fishing. They may want to count or sort the fish they catch…or just brag about their fishing exploits. Let them take the lead in what to do.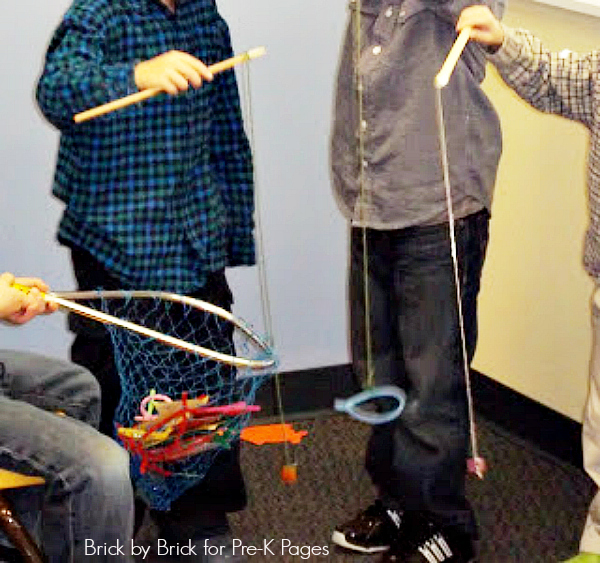 Describing Words
One of the best things about Dr. Seuss' book is that it uses great describing words (adjectives). You don't need to introduce the word "adjective" but you can help your preschoolers think about different words that are used to describe.
On a large piece of paper or an erasable board, print these words:
_______ fish and _______ fish,
We catch fish, you and me
_______ fish and _______ fish,
Toss them back into the sea.
As a preschooler catches a fish, ask him to tell you a word to describe his fish. Write the word on a card and place it in a blank. After you fill the blanks with caught fish, read the poem. Toss the fish back into the "sea" and remove the descriptions to play again.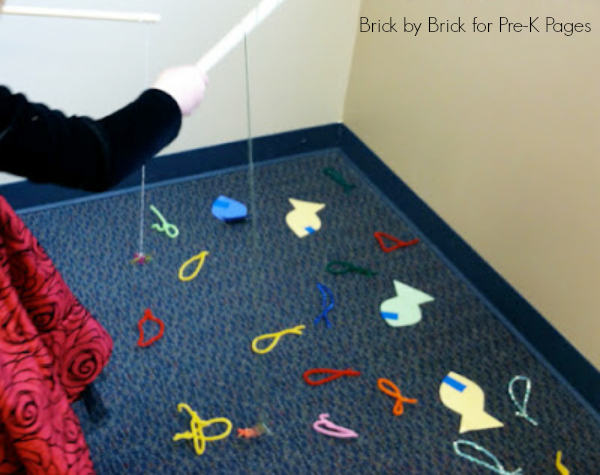 This fishing game can be a fun way to explore language or numbers or social play. Grab a fishing pole and see if you can catch one fish, two fish, red fish, or blue fish!
BIO: Scott Wiley, an early childhood educator for over 25 years, is editor for Pre-K Pages. He blogs at Brick by Brick, exploring the connection between play and learning. Connect with Scott on Twitter, Facebook, and Pinterest.
Other Book and Literacy Activities—
The Lorax: Planting Seeds with Preschoolers
Lunch: Retelling and Rewriting
Snowmen at Night: Coffee Filter Art
Retelling a Spring Book with Puppets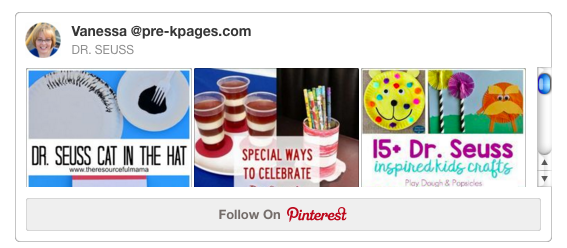 Follow my Dr. Seuss Pinterest Board for more great ideas!