The colors in the book Snowmen at Night by Caralyn Buehner are cool with blue moonlit snow and warm with glowing snowmen from the lights around the town. The pictures are very appealing and the story is a fun one to read.
After children enjoy story time with this popular winter tale, they can head to the art table to paint a nighttime sky and build a playful snowman of their own.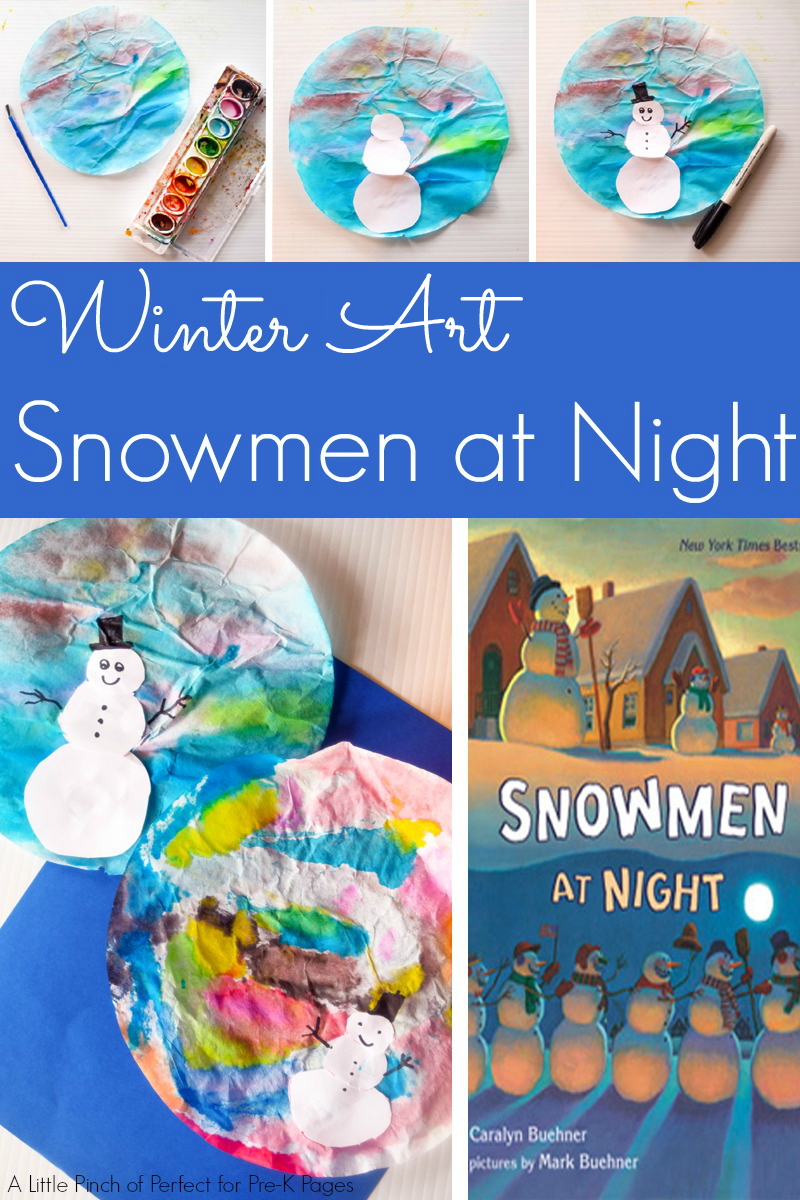 Snowmen at Night
If you don't have the book Snowmen at Night in your library yet, it is a fun, imaginative tale for kids that explains why snowmen look different each morning. It must be because they play games, ice skate, and of course – have snowball fights while the rest of the world is sleeping.
So many stories happen during the day, it was a fun change for my kids to create a nighttime scene. We talked about the different colors in the pictures and why the snowmen in the story are not plain white in the pictures.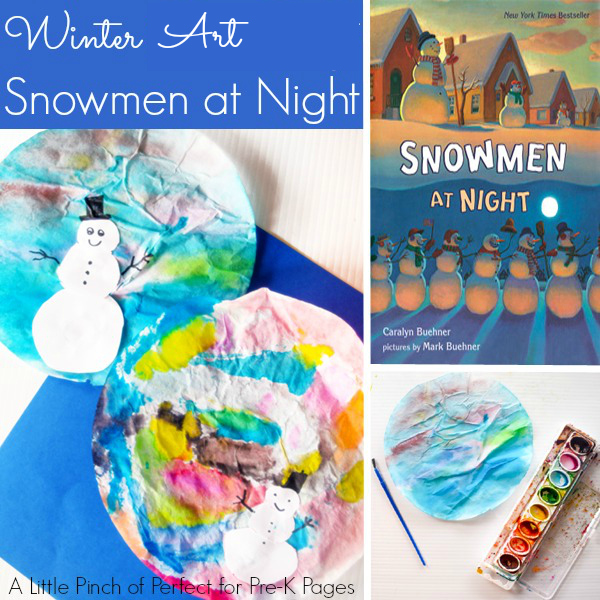 Coffee Filter Art
Supplies
Coffee filters
Watercolor paint
Water for cleaning brushes
Paintbrush
White paper
Scissors
Glue
Pens
Directions
Invite children to paint their coffee filters. Sometimes when we are enjoying a book-related activity, the kids like to look at the pictures in the book to get ideas about how they want their artwork to look. This time, my kids used their own inspiration and ideas and painted as they wanted.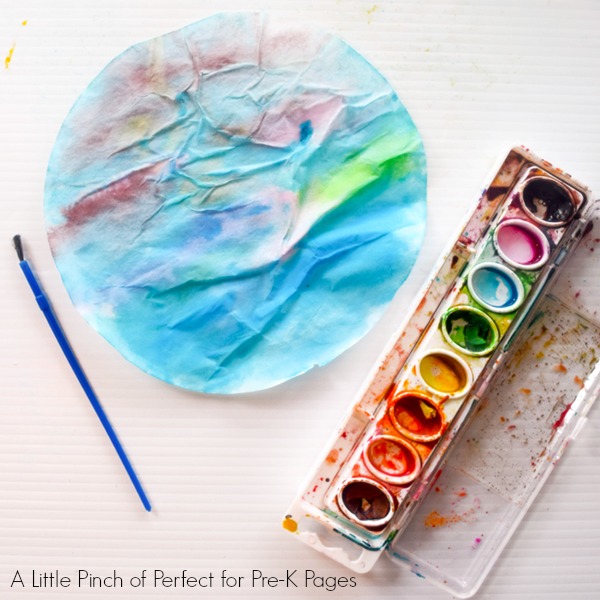 Since the coffee filter is absorbent, I reminded my kids to use lots of water with their watercolor paints to make the paint visible. After your children have painted their coffee filters with watercolors, set the filters aside to dry.
As coffee filters dry, invite children to draw circles on white paper for snowmen. Look at the book and note that the snowmen in the book are made with three circles. (Count the stack on a snowman. 1, 2, 3.) Children may want to make three circles, or more, or less for their snowmen.
If they choose, they could make several snowmen and depict them playing games just like in the book.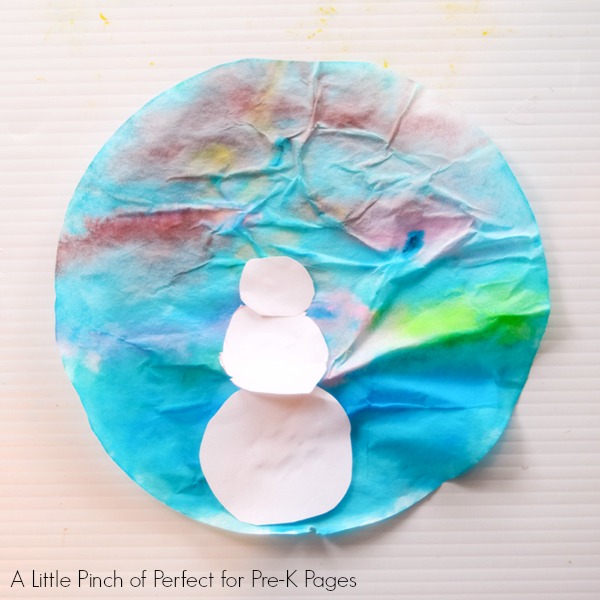 Making Coffee Filter Art
Help children cut out their white circles if they need help, and then glue the circles on top of the dried coffee filter. (Allow children to glue the circles as they choose, even if the end results do not look like snowmen.)
Offer colored markers for children to decorate their snowmen. To spark creativity, ask the children, "What would a snowman wear?". Make sure to place something under the coffee filter so the markers don't bleed through onto your table.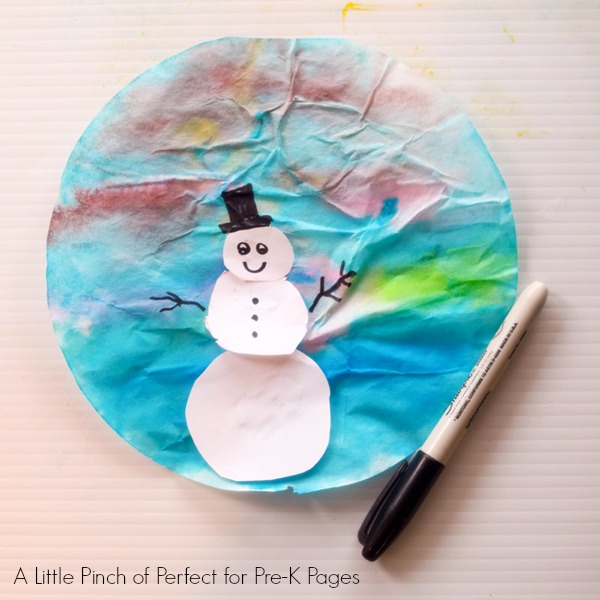 Once the snowman pictures are complete, hang them on a window to let the light behind the coffee filter make them "glow." These would make a wonderful wall display in the classroom too!
BIO: Katie stays busy homeschooling her two kids and sharing their fun educational activities, cute crafts, and free printables at A Little Pinch of Perfect. One of her kids' favorite shapes activities can be found here, Sorting Shapes Activity + Free Printable. Join her community of parents, caretakers, and educators who enjoy having fun and spending time with kids on Pinterest, Facebook, and Instagram.
More Winter Ideas