We all scream for ice cream! It's hard to find a little one who doesn't love the sweet creamy treat. I'll take a turtle sundae, please. Help kids build their fine motor skills while preparing a fine (motor) sundae after listening to a fun story about the ice cream truck. This activity is great for an ice cream theme, a summer theme, or just fun fine motor literacy play.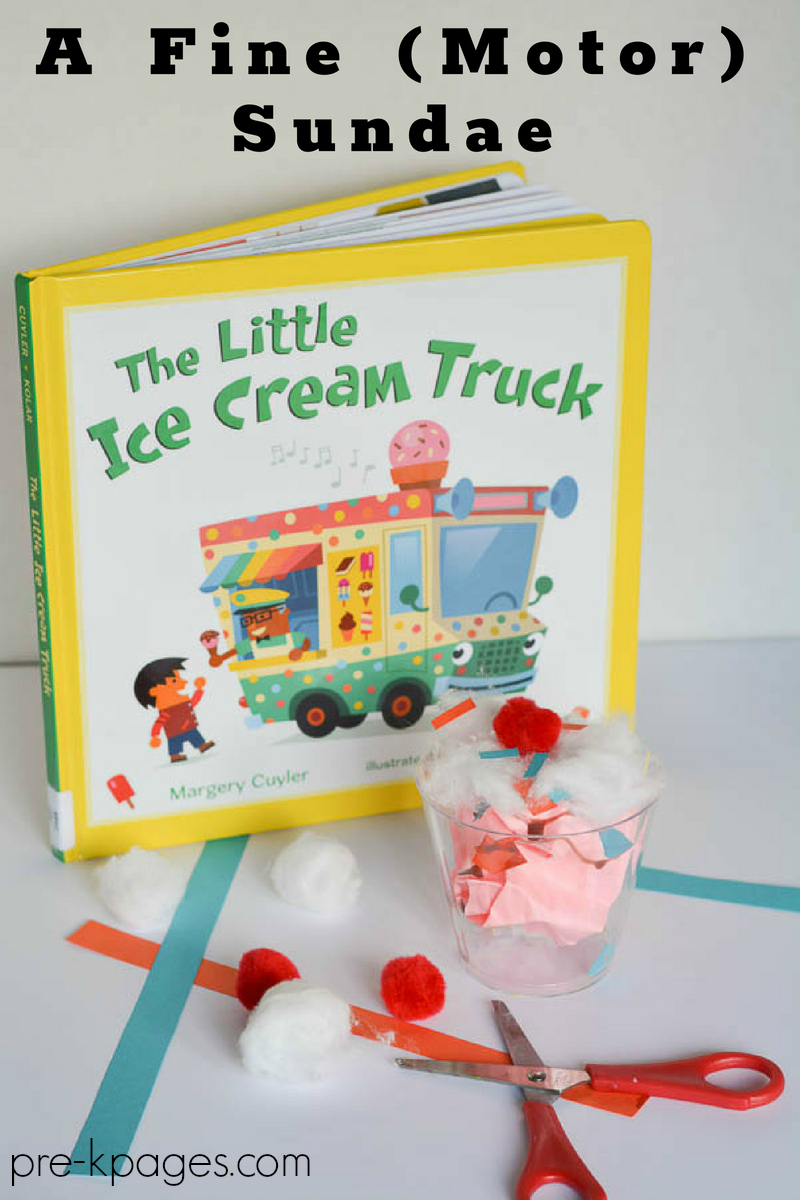 The Little Ice Cream Truck Book and Literacy Activity
The skills covered in this activity include:
Literacy
listening responsively to a book
following directions
strengthening fine motor skills
Materials Needed
clear plastic cups
colored paper or construction paper (pink, white, light green, or yellow)
white cotton balls
thin strips of colored paper
red pom-poms
scissors
bottled white glue mixed with brown paint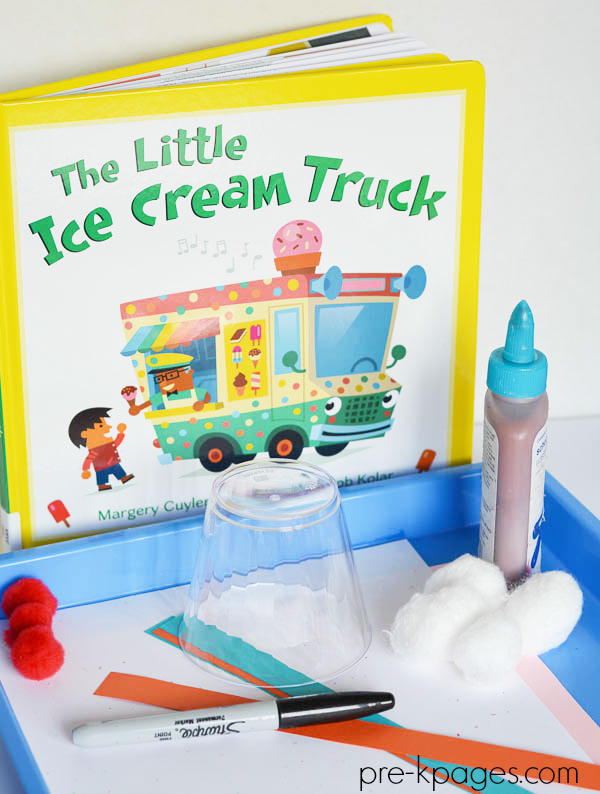 The Book: The Little Ice Cream Truck
Gather the kids together and show them the front of the book, The Little Ice Cream Truck by Margery Cuyler. Invite them to pretend they are licking an ice cream cone if they have ever seen an ice cream truck. Brainstorm different frosty treats you can get from an ice cream truck. You can write the list down and draw pictures on chart paper to model writing in front of the kids.
Read the story to the children. Pause and sing "Pop! Goes the Weasel" together when it is mentioned in the book.
From time to time, you can pause and have the kids count how many people are standing in line at the ice cream truck.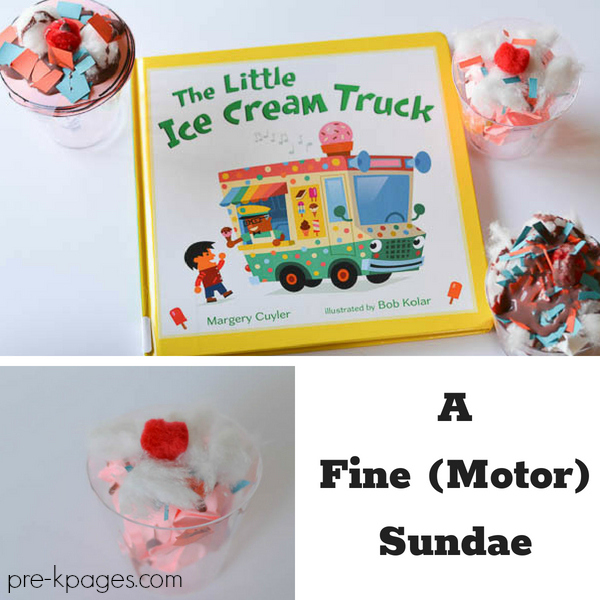 Making a Sundae Activity
Setting Up the Activity
Make the tinted glue by adding a little washable brown paint to the glue bottle. Stir with a stick to mix and replace the lid.
Set up materials so that students can work in small groups and share the tinted glue. (Each bottle of glue can be shared by 4-5 children.)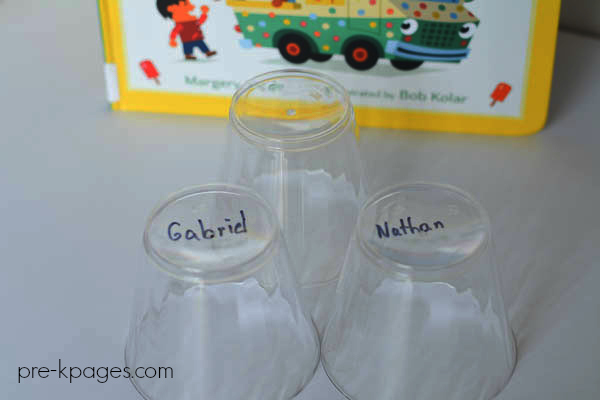 Write each child's name on the bottom of a cup with a permanent marker.
This activity can be done as a whole group activity or with small groups.
Starting the Fine (Motor) Sundae Activity
Tell the students they get to create their own sundaes using the materials on the table.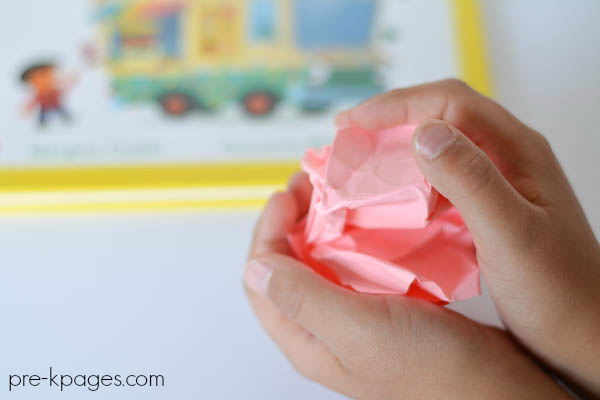 Invite children to take a large piece of colored paper and wad it into a ball to form the ice cream scoop. Tell them to place the scoop in the cup.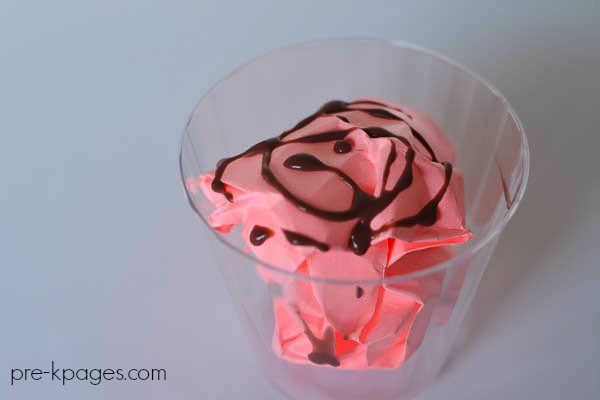 Help them drizzle the "chocolate syrup" (aka tinted glue) onto the scoop.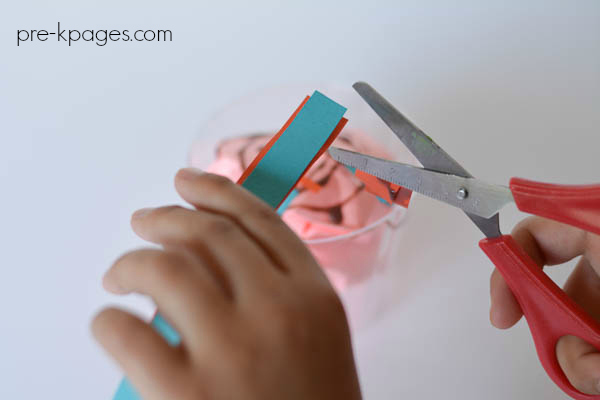 Invite kids to cut "sprinkles" from the paper strips. They can snip small pieces from a couple of different colors. They can sprinkle the paper pieces on the sundaes.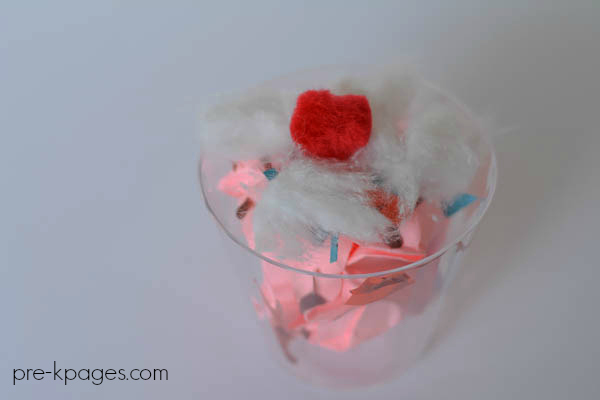 Show children how to tear a cotton ball apart to create whipped cream. They can add this to the sundaes.
Finally, they can top each sundae with a "cherry" (aka red pom-pom). Set the sundaes aside to dry.
Variations and Modifications
-If kids want fancier sundaes, you could use bowls instead of cups. That will allow multiple scoops of ice cream that can be drizzled with strawberry syrup (red glue), too.
-Create a how-to-make-a-sundae shared writing experience on chart paper with the kids after making the sundaes.
For more ice cream ideas, visit our posts on Ice Cream Books and Dramatic Play Ice Cream Shop.
BIO: Jodie is the creator of Growing Book by Book. She believes that we can meet the needs of all our growing readers. She guides you through developmentally appropriate book lists, reading and writing activities, and literacy-building tips for young children. Check out her Ultimate List of Preschool Books! You can connect with her on Facebook and Instagram.
More Fine Motor Activities