This invitation to make insects with play dough is a fine motor and sensory experience that will engage preschoolers in lots of play and learning!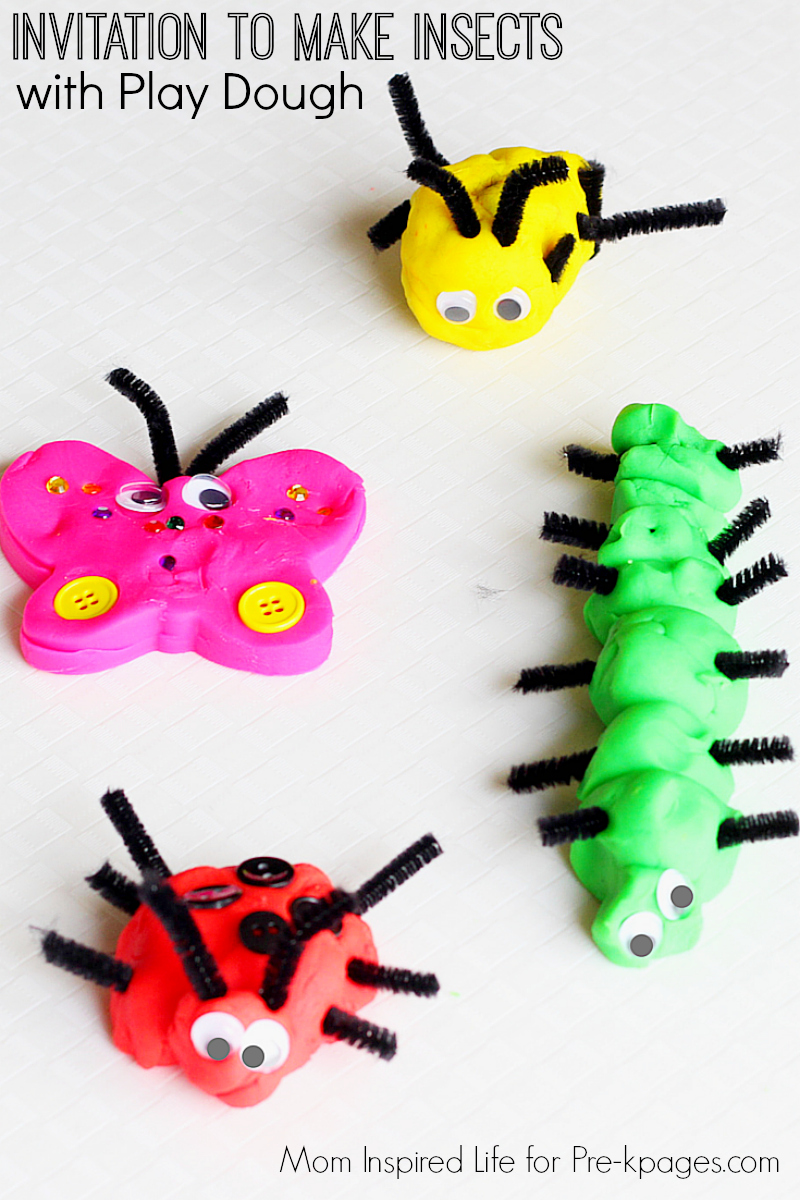 Develop Fine Motor Skills and Explore Insects
When children use play dough, they use their hands and fingers to pinch, pull, and roll it. The use of these small hand muscles will help them to develop fine motor strength and skills. While handling and manipulating the wiggly eyes, pipe cleaners, and sequins, children are given even more opportunity to develop these fine motor skills. Fine motor skills are important to the development of writing and other important life tasks.
In addition, children may also be introduced to simple life science. If they have been exposed to books or activities about insects already, they may use that knowledge to help them make their play dough insects. (Check out this insect book list.)
I think it is a great idea to include pictures of insects to go along with your play dough invitation. This way children have the opportunity to look at the cards and use them as a guide, if they would like.
For instance, when they look at a ladybug picture, they may decide to use the red play dough to make an insect and then add black buttons for spots. They may look to see how many legs a ladybug has and add the correct number of pipe cleaners.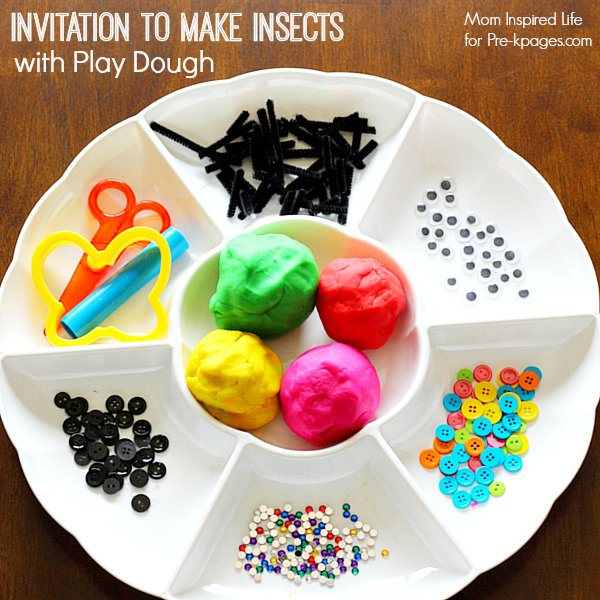 Set Up Your Play Dough Invitation
Supplies Needed:
Play dough in a variety of colors including red, yellow, and green
Wiggly eyes
Play dough tools (optional)
Cut your pipe cleaners into a bunch of 1-inch pieces; add some 2-inch pieces to serve as the antennae. You could also add craft foam wings for the bees. However, we just used pipe cleaners for wings. Place all of the materials on a tray.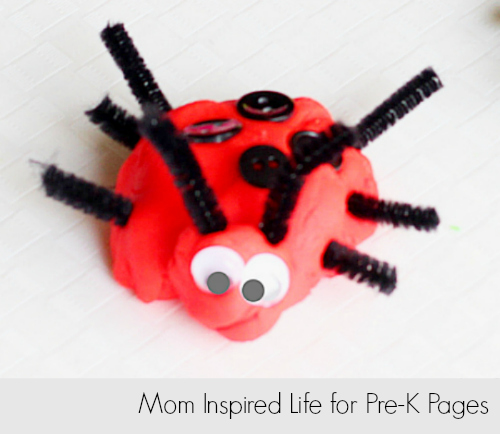 Making Insects with Play Dough
Invite your children to create insects with the supplies. Encourage them to explore the pictures and make their own play dough versions of those insects. Talk about insect body parts or things that insects do. Read a book about insects while your children work with the play dough.
This activity is a great way for preschoolers to explore, create, and develop fine motor skills while learning about insects!
BIO: Danielle is a former elementary teacher, a mom of two and now writes at Mom Inspired Life. For even more play dough learning activities, check out her Ladybug Life Cycle with Play Dough post or her Pond Life Play Dough Invitation. You can connect with her by subscribing to her newsletter or following her on Facebook, Pinterest, or Twitter.
More Insect Ideas