Who doesn't love ice cream? It's a preschool favorite and reading about it can be a lot of fun. Use these children's ice cream books to support dramatic play themes, explore community helpers, or think about summer. And the best part – no brain freeze!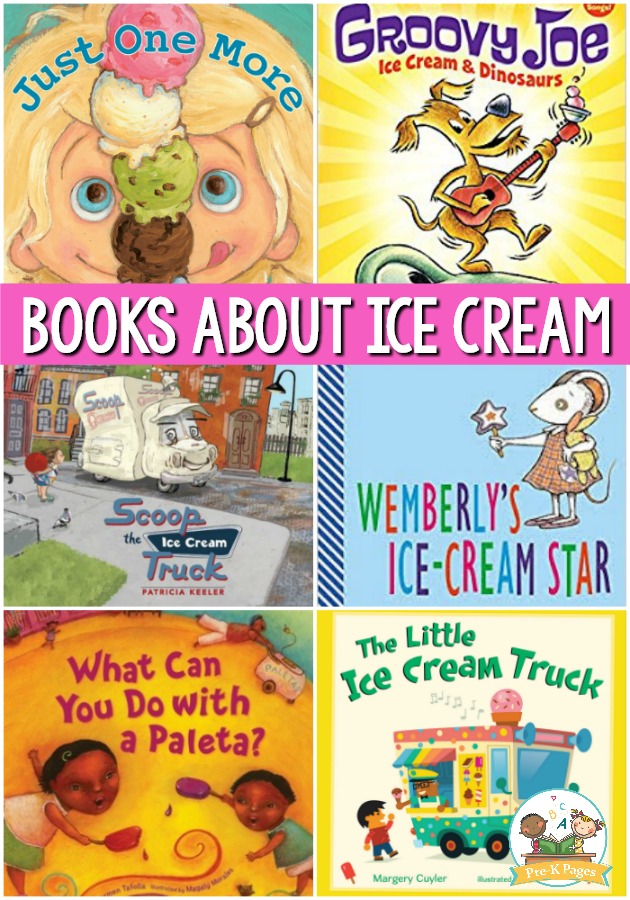 More Ice Cream Fun In The Classroom
Kids love ice cream, and that's why they will also love learning about ice cream especially as the nice weather begins to happen. If you are teaching a summer or ice cream theme in your classroom there are so many ways to incorporate ice cream into your theme. The Ice Cream Theme Activities for Preschool, like this  Dramatic Play Ice Cream Shop is the perfect accompaniment to these children's books about ice cream.
You can also incorporate some science with this Science for Kids: Ice Cream in a Bag activity, or incorporate fine motor practice with Ice Cream Theme Fine Motor Activity.
Kids Books About Ice Cream
When it's getting close to summer, or actually summertime there is nothing more fun than eating, I mean reading, about ice cream! And these children's book about ice cream are fun, engaging reads for your preschoolers to enjoy!
Wemberly's Ice-Cream Star by Kevin Henkes
Wimberly worries that her ice-cream star will drip on her dress. She worries about how to share the ice cream with her stuffed friend Petal. So Wimberly devises a solution.
Just One More by Jennifer Hansen Rolli
Ruby always wanted "just one more." But sometimes one more can be one too many.
Let's Find Out About Ice Cream by Mary E. Reid
Explore the process of how ice cream is made.
From Cow to Ice Cream by Bertram T. Knight
Photographs and simple text detail the steps in making ice cream in a factory.
The Ice Cream King by Steve Metzger
Teddy and his mom visit a new ice cream shop. Mom says Teddy can have anything he wants. Teddy becomes the ice cream king, ruling over an ice cream land. But he's all alone.
Ice Cream Summer by Peter Sis
A boy writes to his grandfather about all the learning he his doing in the summer. But his adventures all seem to include ice cream.
Groovy Joe: Ice Cream and Dinosaurs by Eric Litwin
Joe is enjoying some ice cream when he is interrupted by dinosaurs. What does Joe say? "It's awesome to share!"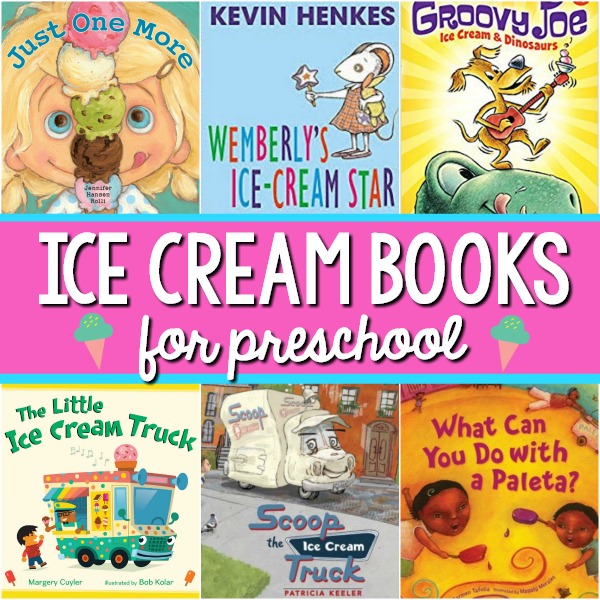 More Kids Books About Ice Cream For Preschool
These preschool ice cream books are sure to be loved by your pre-K and kindergarten students in the classroom!
Should I Share My Ice Cream? by Mo Willems
Elephant tries to decide if he should share his ice cream with Piggy. But he takes a little too long to decide.
The Little Ice Cream Truck by Margery Cuyler
The Little Ice Cream Truck drives all over the city, making sure everyone has ice cream.
Gorilla Loves Vanilla by Chae Strathie
In his shop, Sam can rustle up any unusual request "as quick as a wink." But Gorilla wants only vanilla ice cream.
Curious George and the Ice Cream Surprise by H.A. Rey
It's a hot summer. George would like some ice cream from the ice cream truck but it isn't around when he looks for it.
Scoop the Ice Cream Truck by Patricia Keeler
Scoop is an older truck and doesn't seem to fit in with the newer models. Can he find a place where he fits?
What Can You Do with a Paleta? by Carmen Tafolla
A young girl hears the paleta wagon in her barrio.
Find these books at your local library or shop online for used books to keep your costs down.
More Book Lists for Preschoolers