If you're looking for a super fun, hands-on literacy activity to motivate your preschoolers to practice letter recognition skills, you're in the right place!
This alphabet letter hunt makes the perfect companion activity to go along with the classic children's book, Going on a Bear Hunt by Helen Oxenbury and Michael Rosen.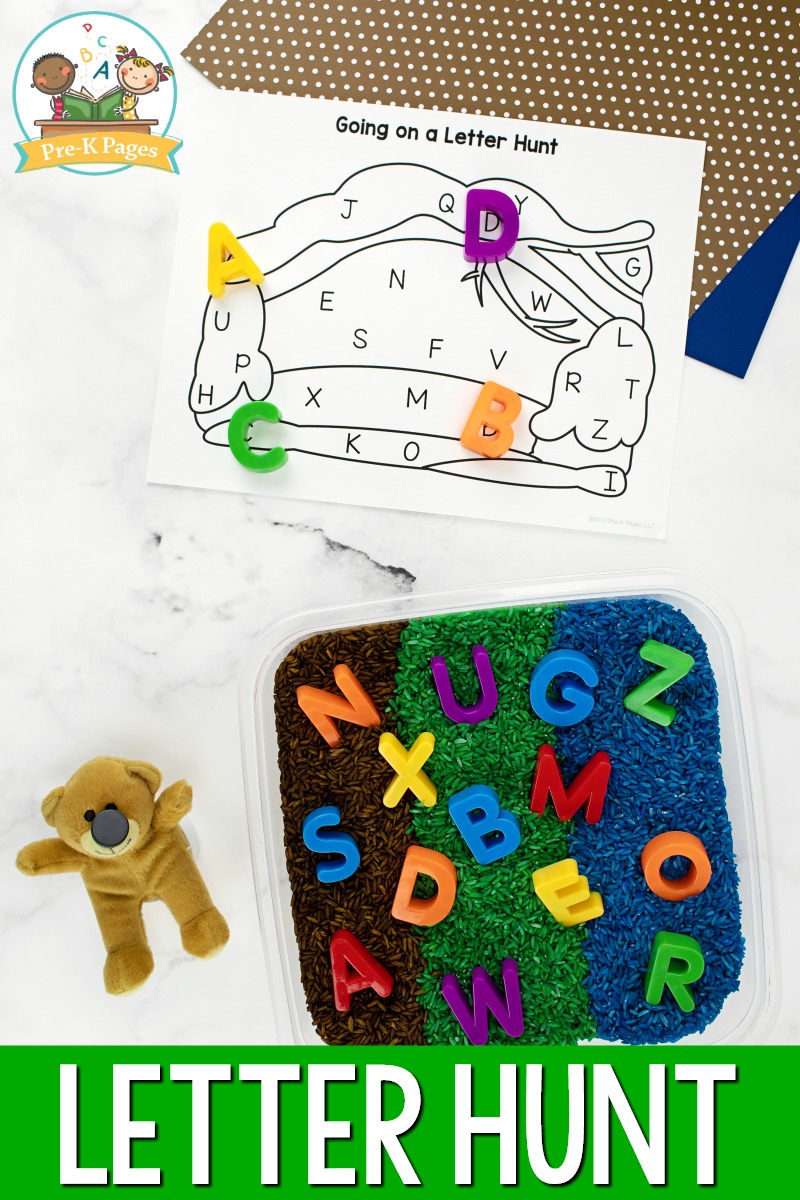 Going on a Letter Hunt
Going on a Bear Hunt is a perfect example of an interactive book, it's a treasure trove of learning and fun for young children! There are so many ways you can use this classic picture book in your classroom to spark interest, increase engagement, and support learning.
The way you read the story aloud to your students is the key to making this read-aloud experience fun and memorable. Your little learners will have a blast chanting the story along with you and making all the movements with their bodies. When they engage with this interactive story, your kids will be developing important early literacy skills such as rhyming, fluency, and reading with expression. They'll also be practicing positional words and onomatopoeia.
Alphabet Letter Hunt
You can capitalize on your student's excitement and and interest in this story by extending their learning with this alphabet letter hunt. When it comes to fun and engaging alphabet activities, it doesn't get much better than this one!
The best thing about this activity is that you don't have to save it just for your spring, bears, or hibernation theme, you can do it any time of the year.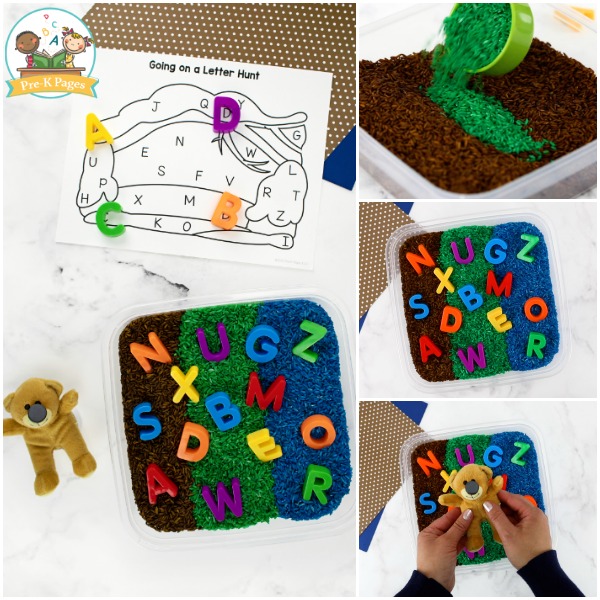 Activity Supplies
Here are the supplies you'll need to set up this activity in your own classroom. I used rice as my sensory bin filler, but you can use whichever filler you prefer.
Of course, if you have students who still put things in their mouths then you may consider using a magnet wand for your letter hunt activity instead of the little bear.
After reading the book Going on a Bear Hunt aloud to your class several times, your kids will be eager to participate in this activity!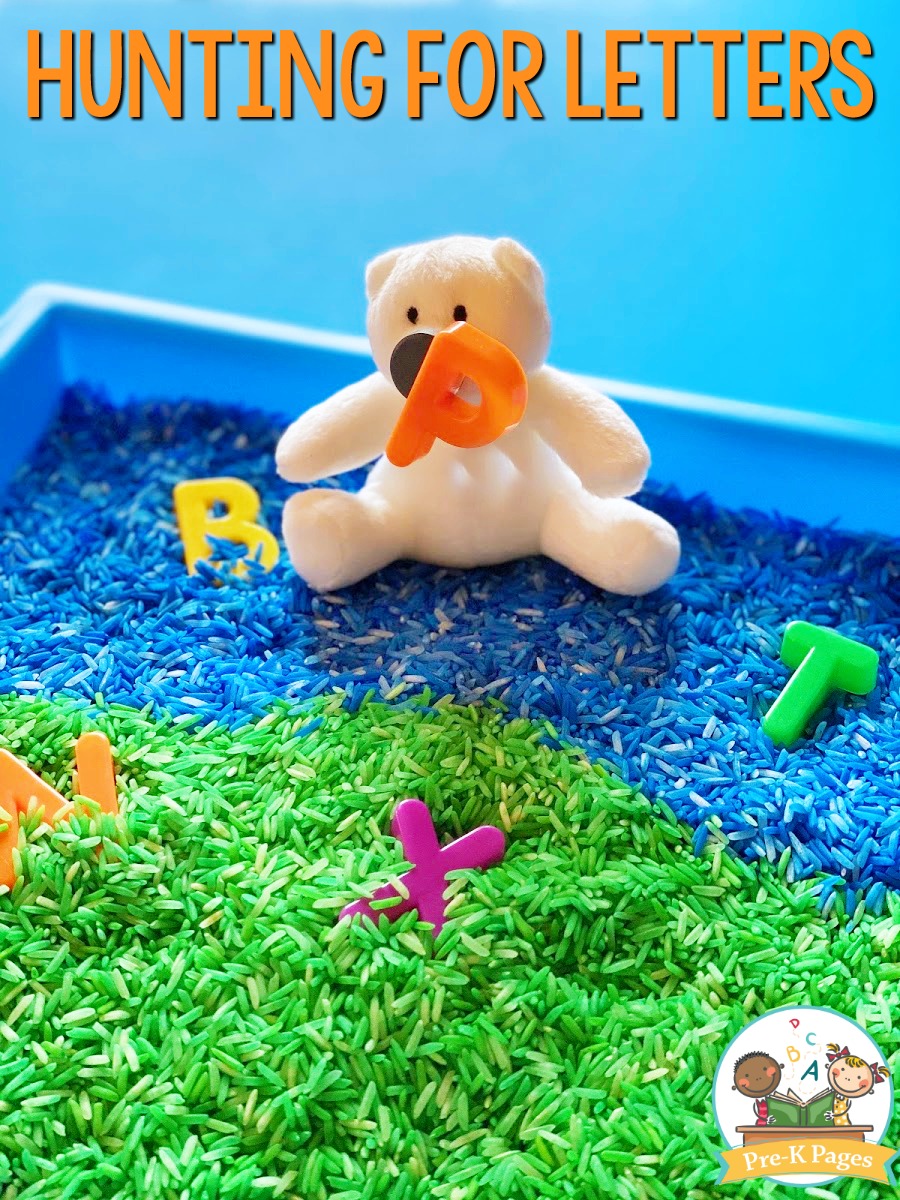 Letter Hunt Early Literacy Activity
Start by filling your sensory bin or tub, I chose to use rice, but you can use whatever you prefer. If you choose to use rice, pour it into a plastic zip top bag, and add liquid watercolor, mix and then lay it out on a flat surface to dry. The green rice represents the grass in the story, the blue represents the water, and the brown represents the mud.
After your rice is dry, you can add it to your sensory bin along with your magnetic letters. You could also add a disposable bowl to represent the cave for extra fun!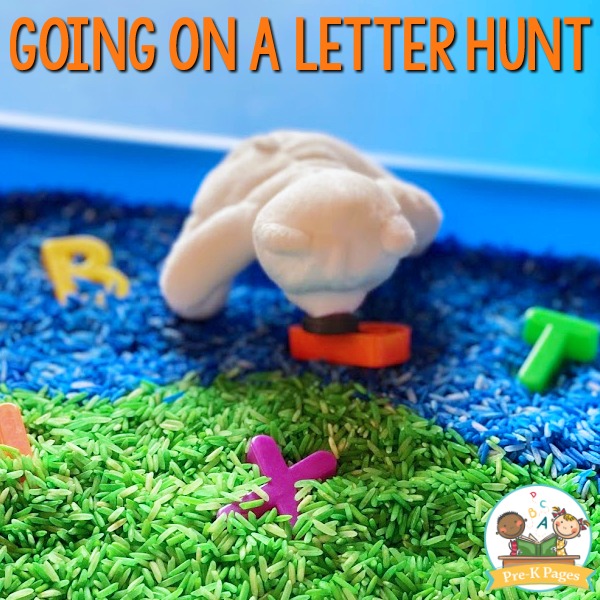 Next, secure a magnet to the nose of your stuffed bear with a glue gun or e6000 glue. Then, invite your students to use the bear to "find" the letters of the alphabet in the bin. The magnet on the bears nose will attract the magnetic letters.
When they find a letter, invite your kids to locate the matching letter on their recording sheet and use a bingo dauber or highlighter to mark it off.

More Literacy Ideas