The literacy center is an important part of any early childhood classroom. But who really wants to go to the literacy center when there are blocks and dramatic play to choose from?
Select materials, tools, and toys for your literacy center that will engage your young learners and support the development of skills like letter identification and phonological awareness. If the literacy center is filled with fun, hands-on activities they will come!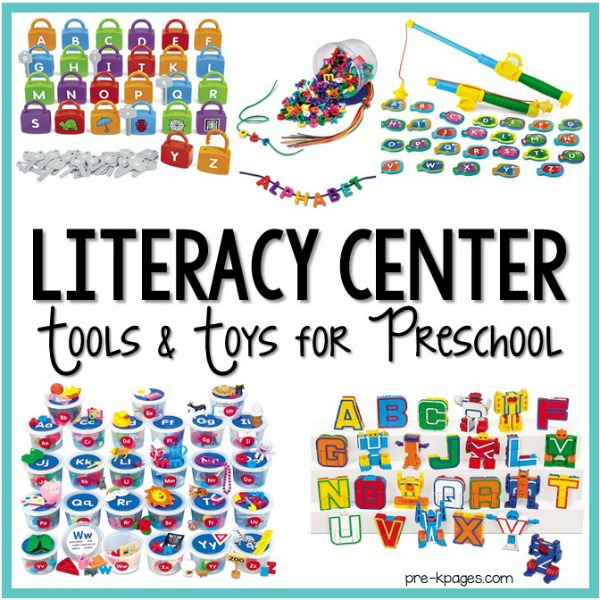 Literacy Center Tools
Here are some of the most popular materials and those that children enjoy using in the literacy center over and over again.
Catch a Letter Magnetic Fishing Game
This is by far the most popular item in my literacy center year after year. I have absolutely no idea why, but kids ages 3-5 are just drawn to it like moths to a flame!
Alphabet Learning Locks
How cool are these ABC locks? They're so much fun I even enjoy playing with them! Kids love to match the keys to the locks and open them up.
Alphabet Sounds Teaching Tubs
I seriously use these tubs so often that I don't think I could teach without them. Each of the 26 tubs, one for each letter of the alphabet, contains 3-D objects beginning with that letter sound. Kids learn best when they have hands-on materials, these tubs are highly engaging and effective for teaching letter sounds.
Alpha-Bots
Alpha-Bots are a brilliant concept! They're like Transformers for the letters of the alphabet and kids of all ages are captivated by them.
Upper and Lowercase Lacing Letters
Invite your little learners to use these letters beads to create their names, their friends names, or even sight words. Provide them with chenille stems for lacing – you'll thank me later!
Magnetic Letter Construction
These magnetic pieces are perfect for your magnet center! Whether you have a cookie tray, oil drip pan, or a full-blown magnetic whiteboard your kids will have a blast building letters with these magnetic shapes.
Magnetic Letters Set
You can never have too many magnetic letters, they're a basic staple in every literacy center. I like this set because it's large enough for an entire class and comes with a handy sorting case.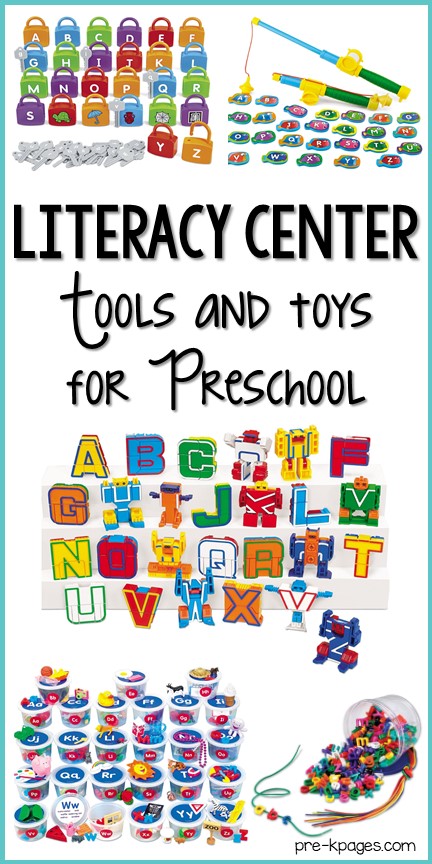 More Literacy Ideas from Pre-K Pages