This fun, hands-on alphabet soup literacy activity using magnetic letters is a big hit with young children in preschool and kindergarten.
When we provide children with opportunities to manipulate three-dimensional letters daily, they begin to internalize the shape and feel of the letters. This familiarity leads to the ability to name letters rapidly. Dr. Marilyn Adams (Beginning to Read) says that fluent letter recognition is one of the most important factors for future reading success.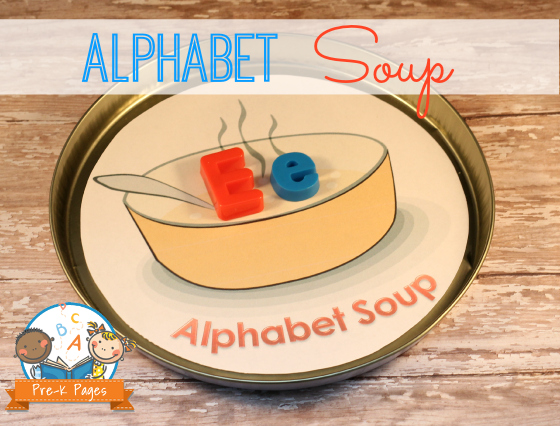 Supplies to Make Magnetic Alphabet Soup
Stove burner covers (dollar store)
Soup printable (download freebie below)
Laminating film
Scissors
Tape or hot glue
Two bowls to hold letters
How to Prepare the Magnetic Letter Alphabet Soup Activity
First, download the soup printable below and print one copy for each stove burner cover you will be using in your small group. Next, laminate and cut out each soup picture and attach to the inside of the burner covers with tape or hot glue. Then, place the uppercase letters in one bowl and the lowercase letters in another bowl.
In case you're not familiar with stove burner covers they can be found at most dollar stores. They are made of metal and are round to fit over the burners on electric stoves. My dollar store sells them in sets of three so depending on the size of your small group you may need to spring for two sets.
I also suggest providing an alphabet model to support those children who may need additional help matching the letters. The Bolder Alphabet border pictured above by Trend Enterprises is my favorite alphabet model. You can attach these borders to the edges of the table or a nearby wall. You could also create your own alphabet model by typing or writing the alphabet on a piece of paper.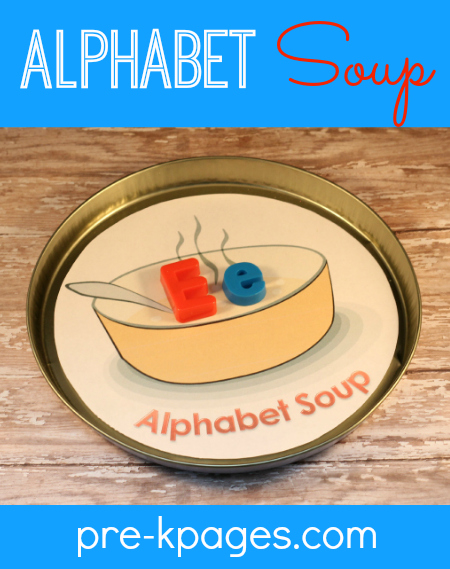 How to Use the Magnetic Alphabet Soup Activity
Begin by placing the bowls of letters in the middle of your small group table. Give each child in your small group one burner cover. Demonstrate how to take one letter out of the uppercase bowl and place it on the burner cover, then find the matching letter in the other bowl and place it next to the uppercase letter.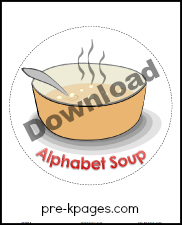 Click on the image above to download your free alphabet soup printable.
Differentiation
As the teacher, you are familiar with the developmental levels of your own students. If they are not ready for matching upper to lowercase letters you can easily differentiate this activity by having them match upper to uppercase. Students who need more of a challenge can match lower to lowercase; older students can spell sight words.
More Alphabet Activities:
How to Teach the Alphabet with Lego Duplo Blocks-Do your kids love Lego Duplo blocks? I've never met a preschool or kindergarten child who didn't! So why not teach the alphabet by leveraging this interest and using this classic toy as a vehicle?
Alphabet Sensory Play Activity-Do your kids love hands-on sensory activities? Then they'll love searching for and finding letters of the alphabet in this fun sensory bin. This alphabet sensory bin play experience is the perfect way for your little learners to boost those letter recognition skills.
Alphabet Books for Preschool-Alphabet books are a fun way to introduce letters (and often words that begin with those letters).
Alphabet Mystery: Alphabet Scavenger Hunt- Today I'm sharing with you a fun and interactive alphabet scavenger hunt activity to go along with the book Alphabet Mystery by Audrey Wood. In this book, a group of lowercase letters go on an adventure to find the missing letter x.
Printable Puppy Chow Recording Sheet-Literacy center set-up and organization ideas with pictures for your Preschool, Pre-K, or Kindergarten classroom.
Follow my Alphabet board on Pinterest for more great ideas!