Mouse Count by Ellen Stoll Walsh is a wonderful book for animal-loving preschoolers who are learning to count. Mouse Count inspired this activity that helps children practice counting to ten while also working on their fine motor skills – and it's lots of fun too!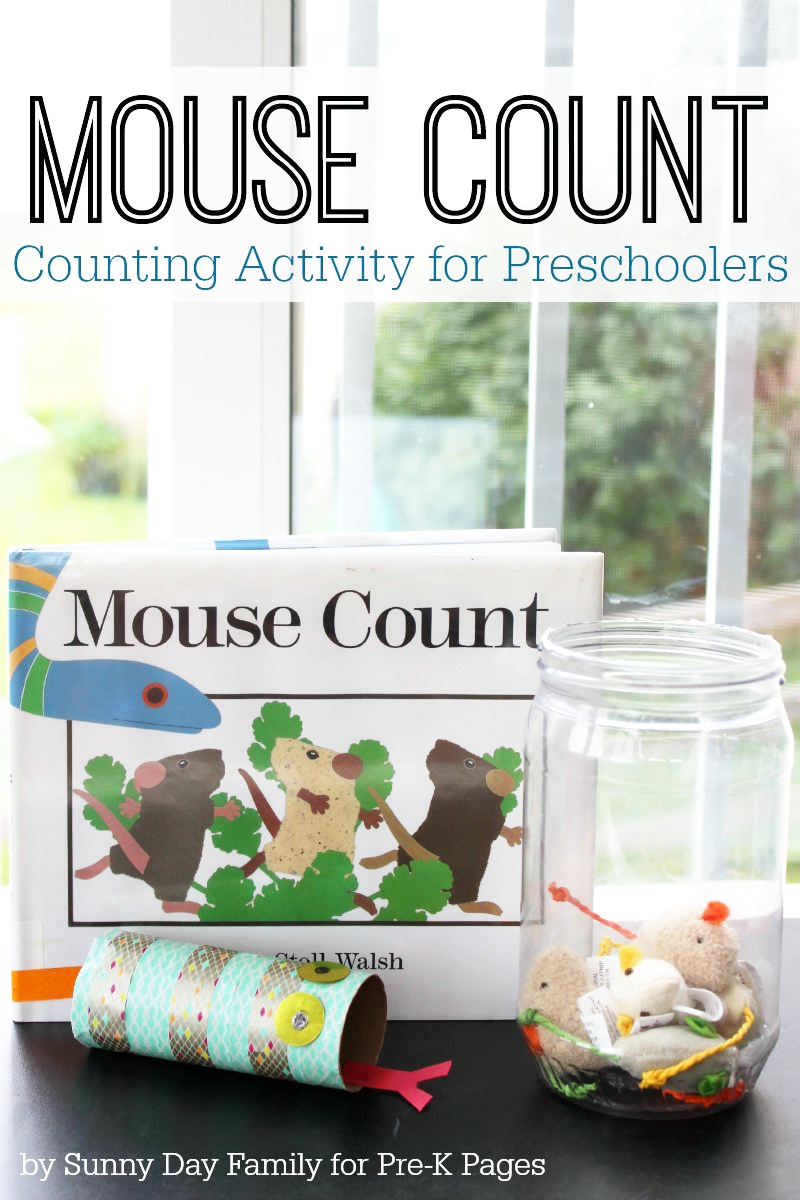 Mouse Count by Ellen Stoll Walsh is the story of a hungry snake who collects mice in a jar for his dinner. He counts along as he adds each mouse to his meal, but he gets a little too greedy and ends up losing them all!
This counting activity for preschoolers combines counting to ten with fine motor work and hand-eye coordination in a fun way that fans of Mouse Count will love. These are all important skills that should be nurtured during the preschool years.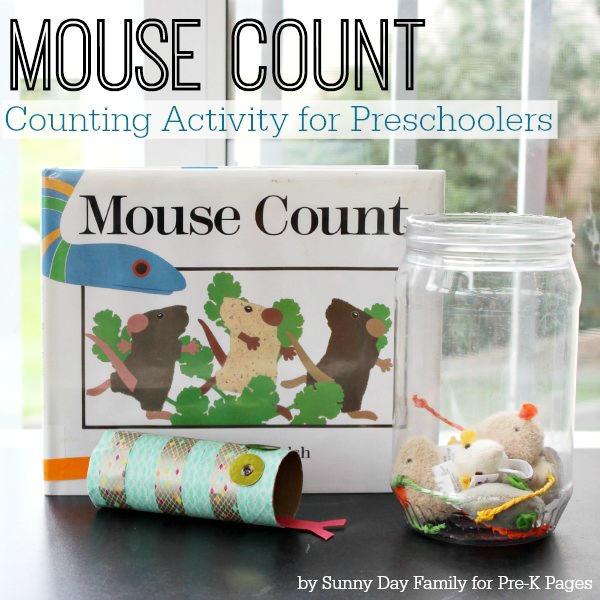 Preparation
Supplies Needed:
Book Mouse Count by Ellen Stoll Walsh
Empty jar (a clean peanut butter jar works great or a similar jar if you have peanut allergies in your classroom)
10 small furry mice (substitute large pompoms if needed)
Cardboard Roll Snake – made with a paper roll, washi tape, and construction paper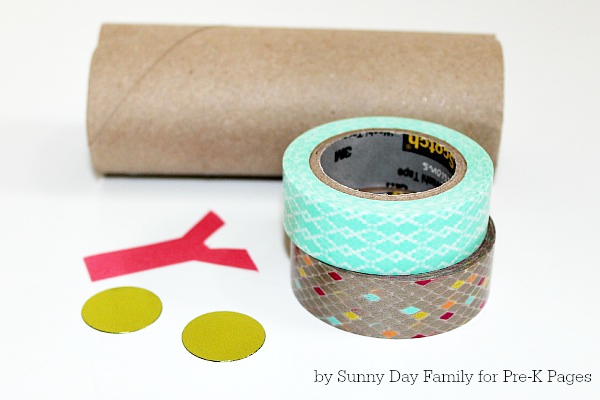 First make your Cardboard Roll Snake by covering a toilet paper or half of a paper towel roll in washi tape. Make sure to use two kinds of tape so that your snake has stripes! Cut a tongue and eyes from construction paper and glue them to the roll.
Play
Once your snake is done you are ready to play! Set out your snake, furry mice, and empty jar. After reading Mouse Count, invite the children to fill the jar with the mice. To make it extra fun and to add some fine motor practice, have them use the snake as a tube to drop the mice into the jar.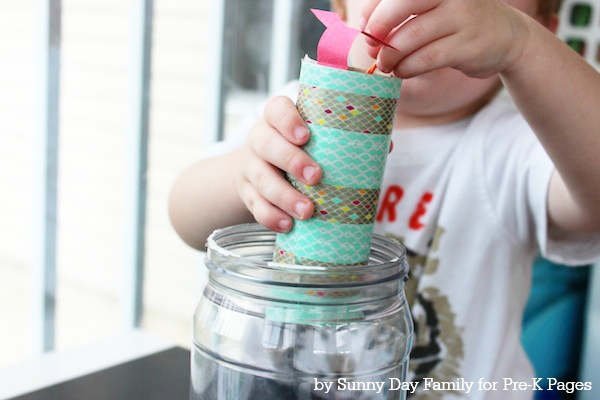 Encourage the children to count the mice as they drop them into the jar. This is wonderful practice for counting to ten and one-to-one correspondence.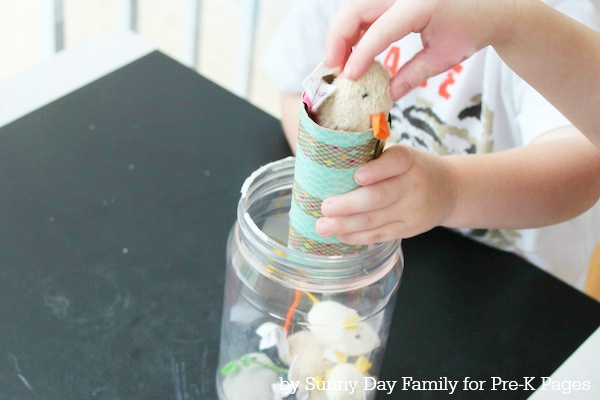 When all the mice are in the jar, invite children to dump the mice back out onto the table – just like the mice escape in the story.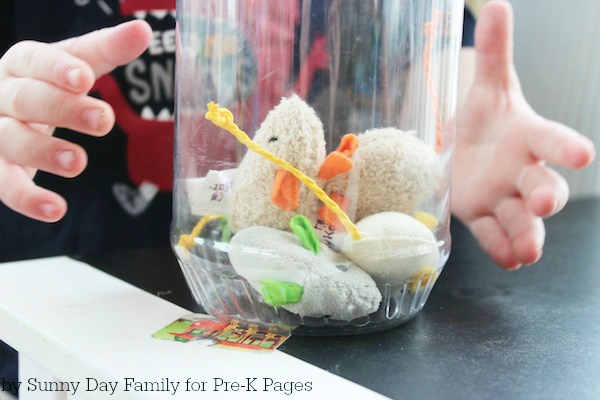 Now that the mice are back on the table, you can start all over again!
For additional fine motor practice, add tweezers or tongs for preschoolers to use to pick up and drop the mice into the jar.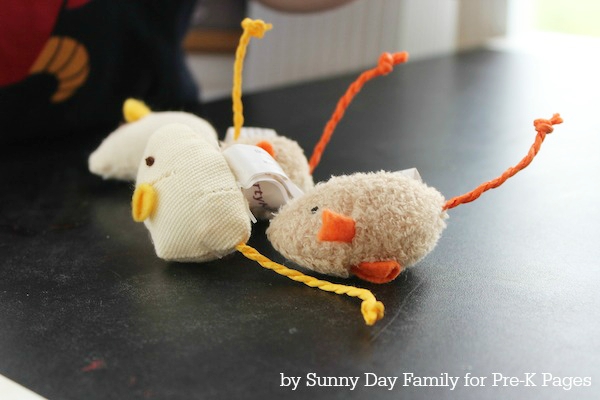 This activity helps children work on not only counting, but also fine motor skills and hand-eye coordination. And it is so fun that the children will want to do it over and over again. We loved doing this Mouse Count activity and hope that you will too!
BIO: Laura is a mom to twin boys and the author of Sunny Day Family, where she shares fun activities and easy organizing tips. She has a passion for early literacy and all things kids' books! Connect with her on Facebook, Pinterest, Instagram, and Twitter.
More Numbers and Counting Ideas—
How Do Dinosaurs Count to Ten? Activity
Ten Black Dots: Counting and Grouping Circles
Dog Bone Counting Game
Ten Red Apples: Counting Trees
Math Picture Books for Preschoolers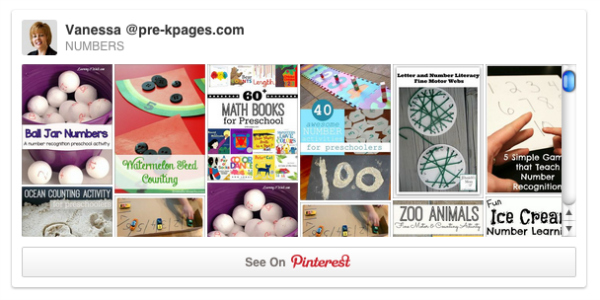 Follow my Numbers Pinterest Board for more great ideas!