There are so many great books for teaching math concepts in preschool and kindergarten, the problem is finding good ones!
Here are more than 60 of my favorite books that can be used to introduce basic math concepts to young children.
I compiled this list so you can easily find good books to support math concepts at home or in your classroom, I bet your local library has many of these titles!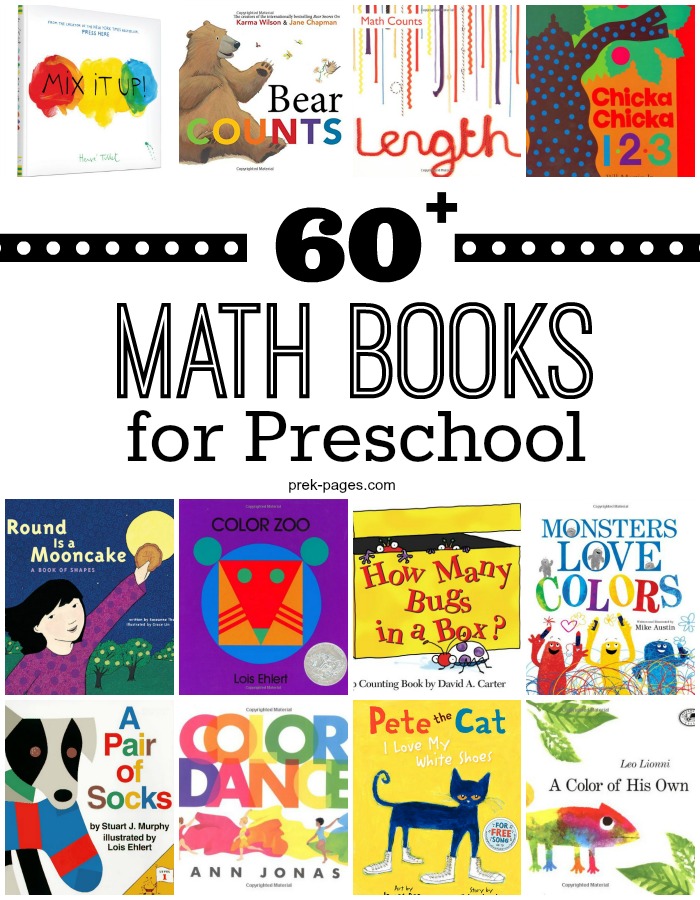 Counting and Number Sense
1. Bear Counts by Karma Wilson – Numbers, numbers everywhere. Can you count along with Bear?
2. Chicka, Chicka 1,2,3 by Bill Martin Jr. and John Archambault – 1 told 2 and 2 told 3, "I'll race you to the top of the apple tree."
3. Counting by Henry Pluckrose – aims to promote discussion about the illustrations and encourage further investigation. The book also contains notes for teachers and parents.
4. Feast for 10 by Cathryn Falwell – A counting book that features an African-American family shopping for food, preparing dinner, and sitting down to eat.
5. Fish Eyes: A Book You Can Count On by Lois Ehlert – Brightly colored fish introduce young children to counting and basic addition.
6. How Do Dinosaurs Count to Ten? by Jane Yolen – Come along for some BIG fun as your favorite dinosaurs delight young readers with their playful antics. How do dinosaurs count to ten? Over and over and over again!
7. How Many Bugs in a Box? by David A. Carter – Inside each bright box are bugs to count from one to ten. Bugs fans will laugh and learn as they lift open the boxes and find colorful, comical bugs that pop out, run, eat — and even swim!
8. How Many Snails?: A Counting Book by Jr. Giganti Paul – A series of simple questions directs young readers to determine the differences between seemingly similar objects, encouraging them to develop powers of observation, discrimination, and visual analysis.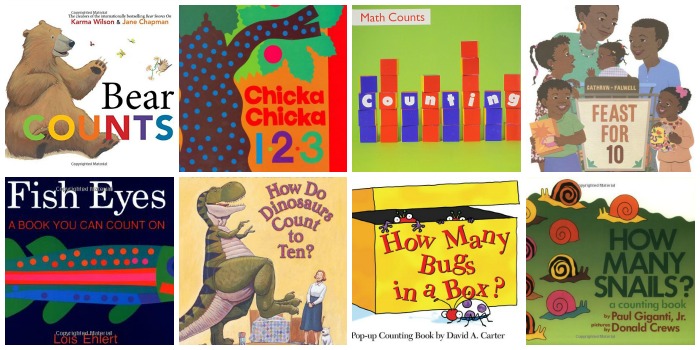 9. Mouse Count by Ellen Stoll Walsh – counting forward and backward in a suspenseful story that will keep young readers guessing.
10. One Duck Stuck: A Mucky Ducky Counting Book by Phyllis Root – Down by the marsh, by the sleepy, slimy marsh, one duck gets stuck in the muck . . . Can two fish, tails going swish, help? What about three moose, munching on spruce?
11. Teddy Bear Counting by Barbara Barbieri McGrath – Bears tumble in! Count teddy bears from one to twelve, name their colors, and even form three primary shapes–square, circle, and triangle. Then count down to zero as the bears trot away.
12. Ten Black Dots by Donald Crews – What can you do with ten black dots? "One dot can make a sun or a moon when day is done. Two dots can make the eyes of a fox…".
13. Ten Red Apples by Pat Hutchins – Ten red apples hanging on a tree. Yippee, fiddle-dee-fee! But they are not there for long. Horse, cow, donkey, pig, hen, and the other farm animals each eat one. "Save one for me," calls the farmer. But what about the farmer's wife?
14. The Doorbell Rang by Pat Hutchins – Each ring of the doorbell brings more friends to share the delicious cookies Ma has made. This terrific and suspenseful read-aloud picture book about friendship, sharing, and cookies can also be used to introduce basic math concepts to young children.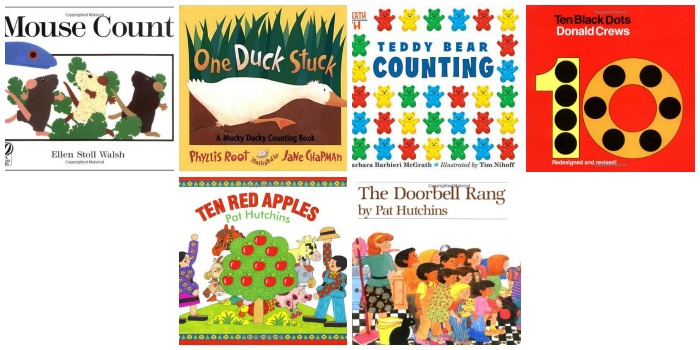 Patterns
1. Animal Patterns by Nathan Olson – Raccoons and caterpillars, fawns and cheetahs, bees and peacocks. In Animal Patterns, you'll explore the animal world to find patches, stripes, dots, and other critter patterns. How many patterns can you "spot?"
2. City Patterns by Nathan Olson – Giant skyscrapers, checkered taxi cabs, and stretching sidewalks all have patterns. Search high and low to find repeated shapes, colors, and other fun patterns in the city.
3. Farm Patterns by Nathan Olson – From big red barns to golden hay bales, farm country is the perfect place to find patterns. Search rolling fields, white fences, and a rooster's comb for repeating shapes and colors in Farm Patterns.
4. Food Patterns by Nathan Olson – The dark swirl of seeds in kiwi fruit, the red rings inside an onion, the line of peas in a pod. In Food Patterns, you'll spot deliciously repeated colors and shapes in all your food!
5. Lots and Lots of Zebra Stripes by Stephen R. Swinburne – open your eyes and look for patterns in water and on land, in the air and on the ground, and in your own neighborhoods.
6. Pattern Bugs by Trudy Harris – Each section of the book consists of a repetitious rhyme about a bug on a two-page spread full of bright pastels and friendly dark colors, followed by a second spread that shows a close-up of the insect.
7. Pattern by Henry Pluckrose – aims to promote discussion about the illustrations and encourage further investigation.
8. Pattern Fish by Trudy Harris – The rhyming prose and brightly colored cartoon fish inhabit a world of patterns, beginning with the simplest AB pattern and growing increasingly complex. Upon closer inspection, the patterns can be seen echoing throughout, as pictures both express and reinforce the pattern of the words.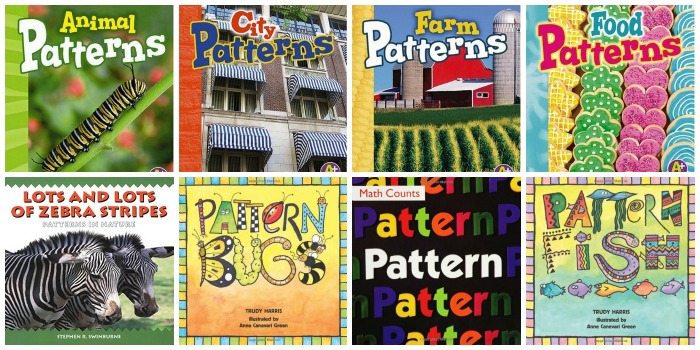 9. Patterns at the Museum by Tracey Steffora – This book teaches readers what patterns are, and encourages them to look for patterns in the world around them.
10. People Patterns by Nathan Olson – When colors or shapes repeat, you've got a pattern! Look closely at polka-dotted shirts, beaded hairdos, and striped jerseys, and you might spot a people pattern. Can you make a pattern? Check out People Patterns to find out!
11. Plant Patterns by Nathan Olson – From tiny seeds to green leaves to blooming buds, plants have all kinds of patterns. Can you find patterns in tulip fields, cactus needles, and dandelion seeds? Check out Plant Patterns and see what patterns sprout up!
12. Teddy Bear Patterns by Barbara Barbieri McGrath – The teddy bears are back—this time to teach readers all about patterns.


Sorting
1. Sort it Out! by Barbara Mariconda – Packy the Packrat's mother has had enough! It's time that he sorts through his ever-growing collection of trinkets and puts them away.
2. Sorting at the Market by Tracey Steffora – This title uses simple text and vivid images to introduce readers to different ways objects can be sorted.
3. Sorting by Henry Pluckrose – It aims to promote discussion about the illustrations and encourage further investigation. The book also contains notes for teachers and parents.
4. Sorting by Lynn Peppas – An introduction to sorting things into sets.
5. The Button Box by Margarette S. Reid – An imaginative little boy explores the many pleasures that can be found in–and made from–his grandmother's button box.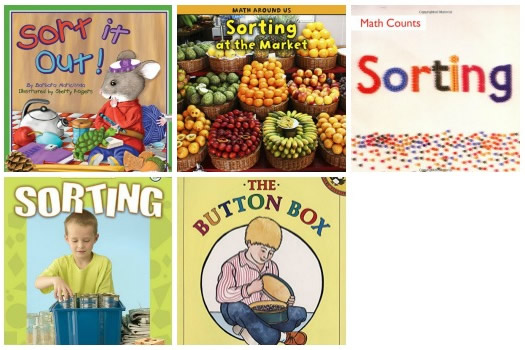 Colors
1. A Color of His Own by Leo Lionni – Elephants are gray. Pigs are pink. Only the chameleon has no color of his own. He is purple like the heather, yellow like a lemon, even black and orange striped like a tiger! When another chameleon suggests they travel together, he learns that companionship is more important than having a color of his own. No matter where he goes with his new friend, they will always be alike.
2. Bear Sees Colors by Karma Wilson – Colors, colors everywhere! Can you find colors just like Bear?
3. Cat's Colors by Jane Cabrera – What is Cat's favorite color? Is it green, like the grass where he likes to walk? Or yellow, like the sand on a sunny beach? Children who are learning new colors can join in Cat's fun, as he explores the colors all around him.
4. Color Dance by Ann Jonas – The girl in red, the girl in yellow, the girl in blue, and the boy in black and white are all set to stir up the rainbow. Watch them create a living kaleidoscope, step by step by step.
5. Color Zoo by Lois Ehlert – Shapes and colors in your zoo, lots of things that you can do. Heads and ears, beaks and snouts, that's what animals are all about. I know animals and you do too; make some new ones for your zoo.
6. Dog's Colorful Day: A Messy Story About Colors and Counting by Emma Dodd – Dog starts off the day with one black spot on his ear. But it seems that wherever he goes, he runs, rolls, and trots right into colors. As he wanders around town, Dog collects spots made of red jam, blue paint, pink ice cream, and more. When he finally arrives back home, Dog has ten different colored spots. And then it's bath time for this colorful canine, who makes learning colors and numbers easy, messy, and fun!
7. Freight Train by Donald Crews – count freight cars as you watch a freight train passing.
8. Green by Laura Vaccaro Seeger – How many kinds of green are there? There's the lush green of a forest on a late spring day, the fresh, juicy green of a just-cut lime, the incandescent green of a firefly, and the vivid aquamarine of a tropical sea.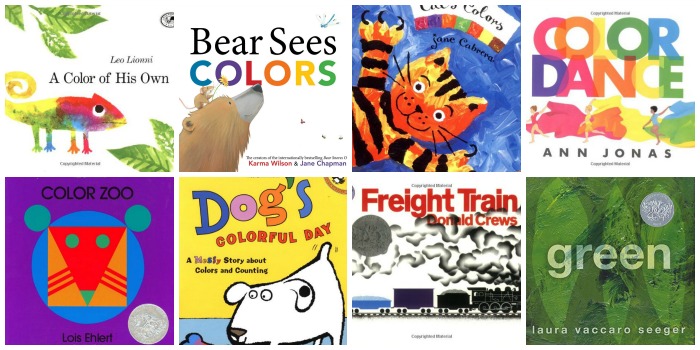 9. Green Is a Chile Pepper: A Book of Colors by Roseanne Greenfield Thong – Green is a chile pepper, spicy and hot. Green is cilantro inside our pot. In this lively picture book, children discover a world of colors all around them: red is spices and swirling skirts, yellow is masa, tortillas, and sweet corn cake.
10. How Do Dinosaurs Learn Their Colors? by Jane Yolen – Dinosaur colors start with red: A red fire truck stuck under the bed, A purple towel left on the floor, A green sign taped to the closet door…
11. Lemons Are Not Red by Laura Vaccaro Seeger – Lemons are not Red. Apples are red. Lemons are yellow. . . . Clever cutouts in the pages make a simple, original, and utterly beguiling introduction to color.
12. Little Blue and Little Yellow by Leo Lionni – Little blue and little yellow share wonderful adventures. One day, they can't find one another. When they finally meet, they are overjoyed. They hug until they become green. But where did little blue and little yellow go? Are they lost?
13. Mix It Up! by Herve Tullet – An irresistible invitation to mix it up in a dazzling adventure of whimsy and wonder. Follow the artist's simple instructions, and suddenly colors appear, mix, splatter, and vanish in a world powered only by the reader's imagination.
14. Monsters Love Colors by Mike Austin – Did you know that monsters love to scribble, scribble, mix, dance, and wiggle! Why? Because monsters love to make new colors!
15. Mouse Paint by Ellen Stoll Walsh – One day three white mice discover three jars of paint–red, blue, and yellow. Both parents and children alike will appreciate this lighthearted presentation of a lesson in color.
16. Pete the Cat: I Love My White Shoes by James Dean and Eric Litwin – Pete the Cat goes walking down the street wearing his brand new white shoes. Along the way, his shoes change from white to red to blue to brown to WET as he steps in piles of strawberries, blueberries, and other big messes! But no matter what color his shoes are, Pete keeps movin' and groovin' and singing his song…because it's all good.
17. Red Is a Dragon: A Book of Colors by Roseanne Thong – a young girl finds a rainbow of colors in her everyday life.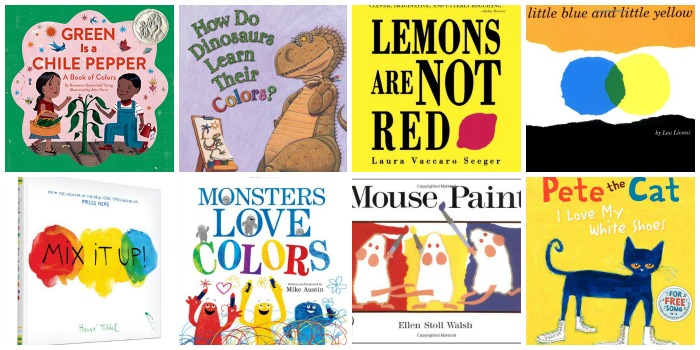 Shapes
1. A Star in My Orange: Looking for Natures Shapes by Dana Meachen Rau – Looking for Natures Shapes
2. Mouse Shapes by Ellen Stoll Walsh – What can you make with one oval, two circles, and eight triangles? Just ask three clever mice–who even find a funny way to trick a sneaky cat.
3. Perfect Square by Michael Hall – A perfect square is transformed in this adventure story that will transport you far beyond the four equal sides of this square book.
4. Round is a Mooncake: A Book of Shapes by Roseanne Thong – A little girl's urban neighborhood becomes a discovery ground for all things round, square, and rectangular in this lyrical picture book.
5. Round Is a Tortilla: A Book of Shapes by Roseanne Greenfield Thong – In this lively picture book, children discover shapes all around them: rectangles are ice-cream carts and stone metates, while triangles are slices of watermelon and quesadillas.
6. Shape by Henry Arthur Pluckrose – Photographs of familiar objects introduce basic shapes of squares, circles, rectangles, and triangles.
7. Shape by Shape by Suse MacDonald – What am I? I lived a long, long time ago. I had round eyes… lots of sharp teeth…
8. Shapes in the Kitchen by Tracey Steffora – This book encourages readers to look for shapes all around them, even in the kitchen!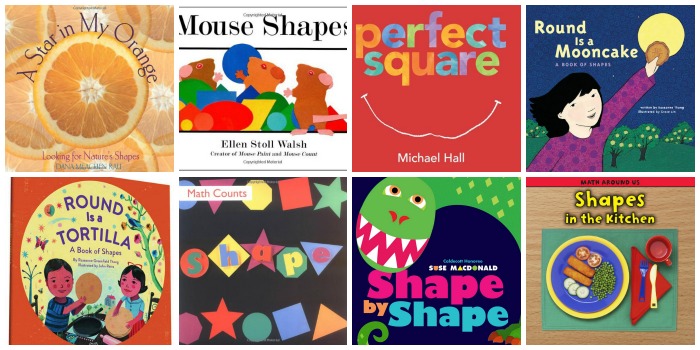 9. Shapes, Shapes, Shapes by Tana Hoban – Whenever you are — inside or outside — there are shapes to discover. Look around. How many circles, squares, stars, triangles, hearts, and rectangles can you see? They are everywhere!
10. So Many Circles, So Many Squares by Tana Hoban – After you read this book, you will find yourself seeing circles and squares everywhere. And they will surprise you — because they will be where you have often looked before. You will have changed — and begun to see.
11. The Greedy Triangle by Marilyn Burns – Bored and dissatisfied with his life, a triangle visits a local shapeshifter to add another angle to his shape. Poof! He becomes a quadrilateral. But then he gets greedy and keeps adding angles until he's completely transformed.
12. The Shape Of Things by Dayle Ann Dodds – Rhymes and colorful illustrations reveal how simple shapes come together to form houses, boats, and lots of other things in the world.

Other
1. A Pair of Socks by GREAT SOURCE – Does a polka-dotted sock match a striped sock? Young children will learn about matching, an important early math skill, as a lonely striped sock searches the house for its mate. They will may even be inspired to practice this skill in their own sock drawers!
2. Balancing Act by Ellen Stoll Walsh – Two mice make a teeter-totter. They're balancing just fine, but then along comes a frog. Can they make room for one more friend on their teeter-totter? What about two? What about more? Then a big bird comes along and wants to play too. Better watch out!
3. Cubes, Cones, Cylinders, & Spheres by Tana Hoban – Cubes, cones, cylinders, and spheres. They are all around us all the time. In our houses, on our streets, in our hands.
4. Is It Larger? Is It Smaller? by Tana Hoban – introducing the youngest reader to the idea of size relativity.
5. Length by Henry Pluckrose – introduces the concept of length and how to measure it.
6. More, Fewer, Less by Tana Hoban – Look at the stacks of brightly colored teacups, the racks of shiny new shoes, the bin full of mouth-watering candies. Where are there more? Or fewer? Or where is there less? The questions and answers depend on what (and how) you see.
7. Size by Henry Pluckrose – illustrations encourage further investigation. It includes notes for teachers and parents.
8. Weight by Henry Pluckrose – encourages the younger reader to consider weight. The book also includes notes for teachers and parents.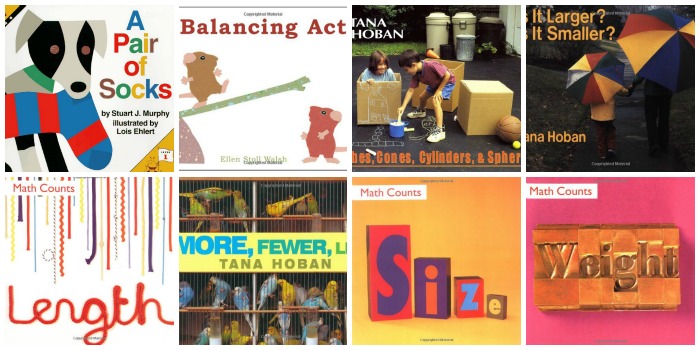 Do you have a favorite that isn't included on this list? Tell me the title and author in the comments below and I'll add it to the list!
More Math Ideas from Pre-K Pages