The basic foundation of math is understanding numbers and quantities. One of the best ways to develop these understandings, or number sense, is through handling objects and counting them.  We can listen to preschoolers recite numbers in order, but we want them to apply that to counting objects and understand that those numbers represent quantities of items. Counting games and activities encourage preschoolers to "play" with numbers and quantities and build math skills and number sense in natural ways. These ideas can help you build math and counting skills with preschoolers.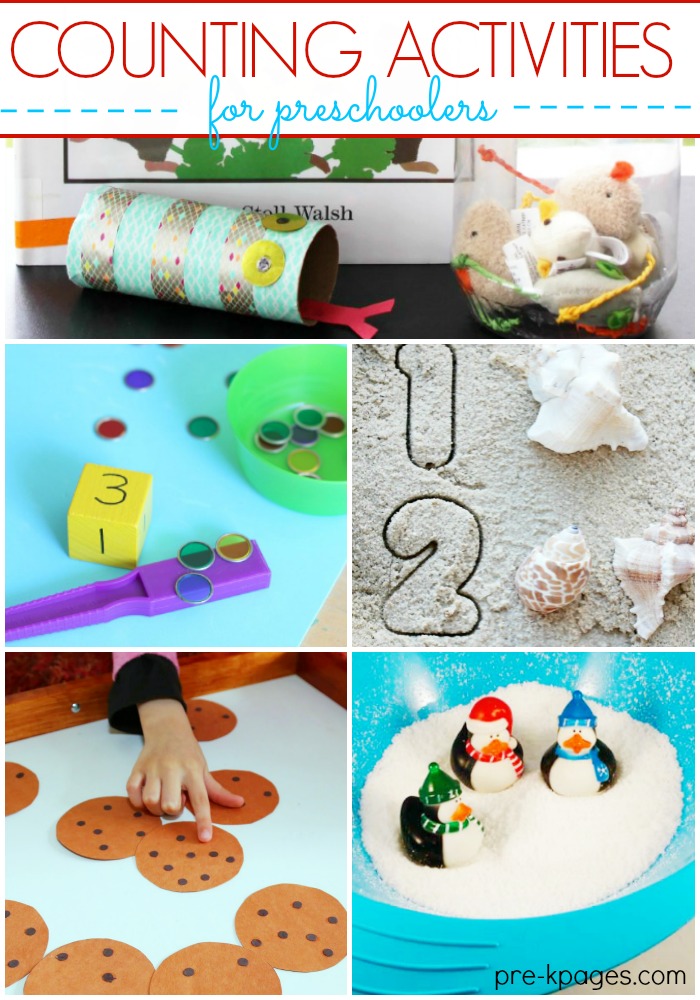 Counting Games and Activities
These 40 preschool math games include counting games and various number activities. They are perfect to help build counting skills and math skills in your preschoolers and kindergarten students.
1. Dog Bone Counting Game (Pre-K Pages) – This is a fun, hands-on counting game for students in your preschool, pre-k, or kindergarten classroom.
2. Farm Animal Counting Activity (Pre-K Pages) – What could be more fun than Counting Feet with farm animals?
3. Printable Counting Book (Pre-K Pages) – Identifying and naming numbers can be a difficult skill for young children in preschool and kindergarten.
4. Homemade Counting Board Game (Pre-K Pages) – This homemade game can help preschoolers develop math concepts while playing a game together.
5. Mouse Counts Game (Pre-K Pages) – Mouse Count inspired this activity that helps children practice counting to ten while also working on their fine motor skills – and it's lots of fun too!
6. Fire Truck Counting Game (Pre-K Pages) – In this activity, children will explore fire trucks and firefighters with a counting game.
7. Penguin Counting Game (Pre-K Pages) – This Penguin Counting Game is the perfect addition to any winter theme, lots of fun for young children and great practice for counting, number sense, and one-to-one correspondence.
8. Ocean Theme Counting Activity (Pre-K Pages) – The best preschool activities allow children to be interactive and hands on while they explore new concepts. We've developed a fun, easy to prepare ocean theme counting activity to do just that.
9. Nursery Rhyme Number Game (Pre-K Pages) – This nursery rhyme activity relates to "Baa Baa Black Sheep" and encourage number recognition and counting, important math concepts.
10. Digital Counting Activities Using Google Slides (Teaching Mama) – This resource has digital counting activities, which is perfect for the preschool and kindergarten age.
11. Button Counting (Busy Toddler) – Grab a deck of cards for this fun button counting math activity.
12. Football Counting Game (Sunny Day Family) – With a die, football printable, and some yogurt Danimals it's a fun counting game your preschoolers will love.
13. Snowman Hole Punch Counting (JDaniel4's Mom) – Use your hole punch to create these snowmen and work in a fun counting activity to go along with it.
14. Ladybug Busy Bag (Preschool Inspirations) – Work on counting with your preschoolers with these adorable paper ladybugs.
15. Cookie Counting Game (Still Playing School) – Have your kids practice counting chocolate chips with these paper chocolate chip cookies.
16. Counting Snowballs (Fun-a-Day) – This easy counting cotton balls activity is a great math activity for your preschoolers.
17. Race to Fill the Cup (Mom Inspired Life) – Have fun filling a cup with these adorable erasers.
18. Count and Compare (Stir the Wonder) – Use these fun Farm Animal Rainbow Counters to inspire young children interested in animals or to go along with a farm theme!
19. Little Miss Muffet Path Game (Preschool Spot) – This fun activity is based on the nursery rhyme, Little Miss Muffet.
20. Tally Marks with Pencils (Munchkins and Moms) – Have fun practicing making tally marks with #2 pencils.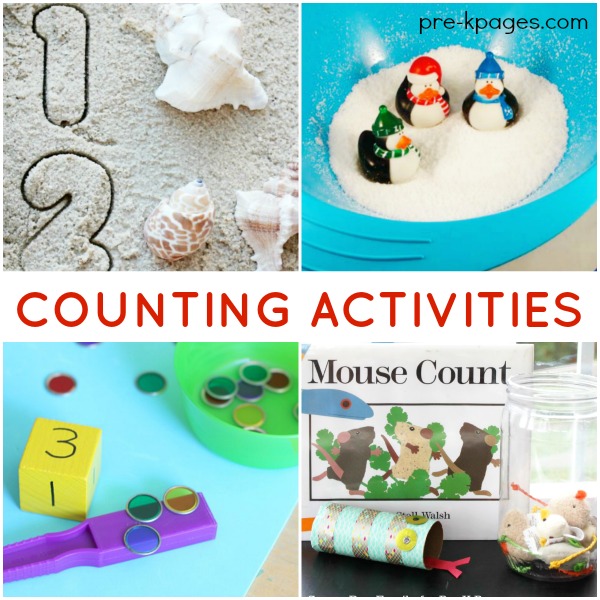 Counting Games and Number Activities For Preschoolers
More preschool math games to enjoy! These counting games and number activities will be definitely enjoyed by your preschoolers and build their math skills.
21. DIY Counting Boxes (Parenting Chaos) – Label containers with numbers and then have your preschooler fill each bucket with the labeled number of items.
22. Play Dough Numbers and Counting (Little Pinch of Perfect) –  This activity is simple to set up and a great way to expose young kids to numbers and lets them visually see the difference in amounts. The activity can be adapted for different skill levels by making smaller or larger numbers.
23. Passing Car Count (Prekinders) – In this activity, we watched for red & blue cars as they passed by on the street. Children recorded the cars they saw by marking dots on their sheet with a corresponding color crayon.
24. Ways to Teach Counting (Prekinders) – Here are 15 ways to teach counting skills in Pre-K.
25. Ants on a Log Game (Teach Preschool) – DIY "ants on a log" counting game with the children then invite the children to draw their own ants on a log…
26. The Math Box (Teach Preschool) Create a simple math box and then watch as your preschoolers love filling it and practice their counting skills.
27. Counting and Addition Tray (Imagination Tree) – Set  up an open-ended maths activity for kids using counting manipulatives, play dough and a dice, in a dip tray!
28. Simple Montessori Counting Activity (My Mundane and Miraculous Life) – This simple counting activity with rocks, your child can work on number recognition.
29. Things to Count With (Pre-K and K Sharing) – Repurpose what you have and count items with your preschooler!
30. How Many Blocks Long? (Brick by Brick) – This is a fun activity where your preschooler can see how many block longs they are and practice counting as they do it.
31. Make Groups of Numbers (Teach Me Mommy) – This simple counting activity is easy to setup, can be played with one or more children and it is fun too!
32. Count and Smash Activity (Stir the Wonder) – The great thing about play dough besides that it is just fun, is that it is also a great way to work on fine motor skills, work in some math skills, and get some sensory input and it can be used in many ways for hands-on learning!
33. Activities with Counting Blocks (Educators' Spin on It) – These are 8 math and counting activities for your preschooler to enjoy.
34. Where the Wild Things Are Game (Mom Inspired Life) – While playing, children practice counting, learn one to one correspondence and even get some fine motor practice.
35. Listen and Spray Game (Fantastic Fun and Learning) – This activity is great for counting practice but also for fine motor practice.
36. Race to Lose a Tooth Game (Toddler Approved) – This fun dental theme inspired activity with marshmallows is a fun counting game for your preschoolers to enjoy.
37. Roll and Count (Buggy and Buddy) – Here's a counting math game for kids perfect for practicing one-to-one correspondence. It's super easy to make and lots of fun for the kids!
38. Count Forward and Back Game (Fantastic Fun and Learning)- This preschool math game would be perfect during St. Patrick's day and March in your classroom.
39. Build a City Game (Learning 4 Kids) If your preschooler loves playing with Legos then they will love this math game.
40. Mystery Mitten Tactile Counting Game (Preschool Toolbox) – Gather some real mittens and come play a tactile mystery mitten counting game to encourage early math intuition with tactile support!
Also check out the free Winter Play Dough Counting Mats and our other thematic counting mats.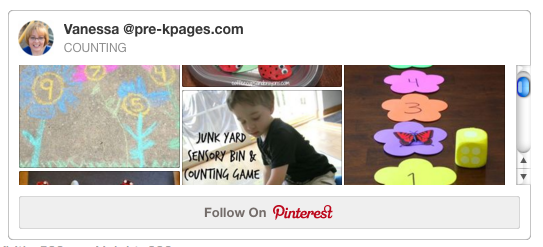 Follow my Counting Pinterest Board for more great ideas!