A fun way to practice counting is with the book Ten Red Apples by Pat Hutchins. I love reading this fun book to preschoolers. Today, I'll be sharing counting activities to use with this book.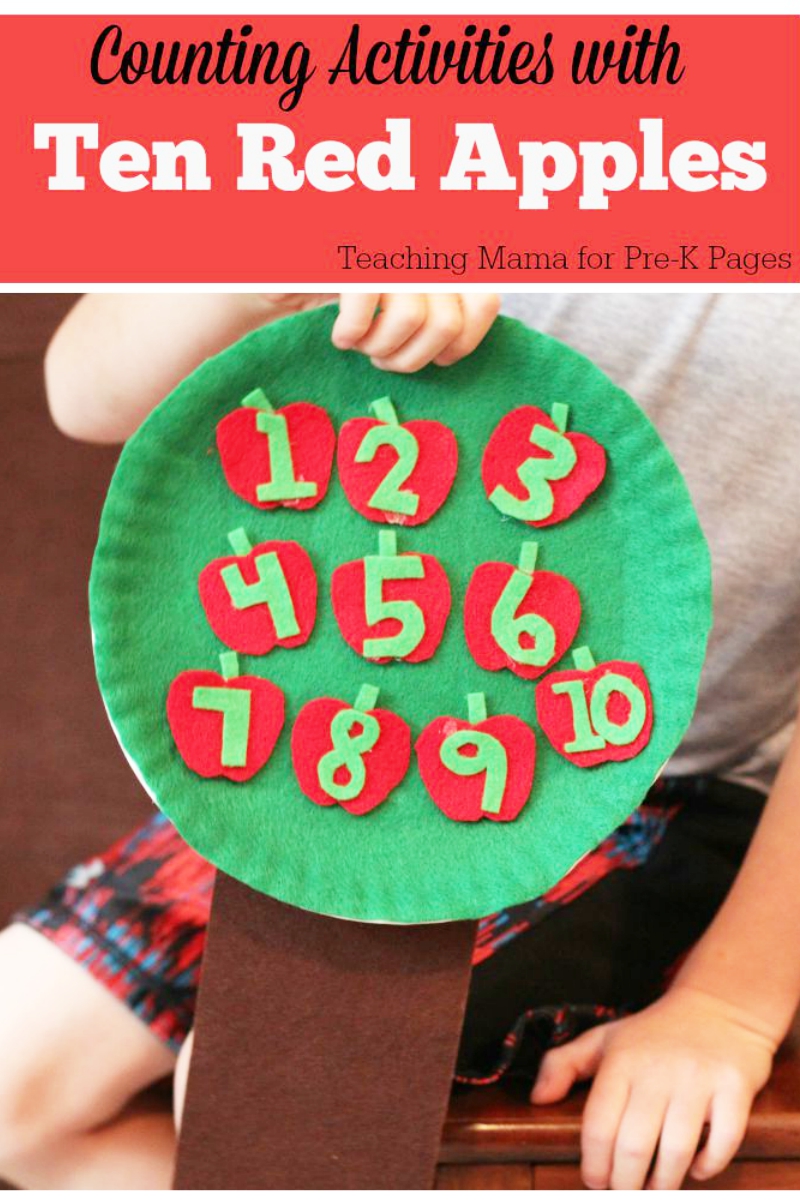 Ten Red Apples by Pat Hutchins is a book about a farmer and farm animals who pick apples from a tree. They start with ten apples and count down until there are no apples left. It's a cute book with fun phrases for the kids to recite along with the teacher.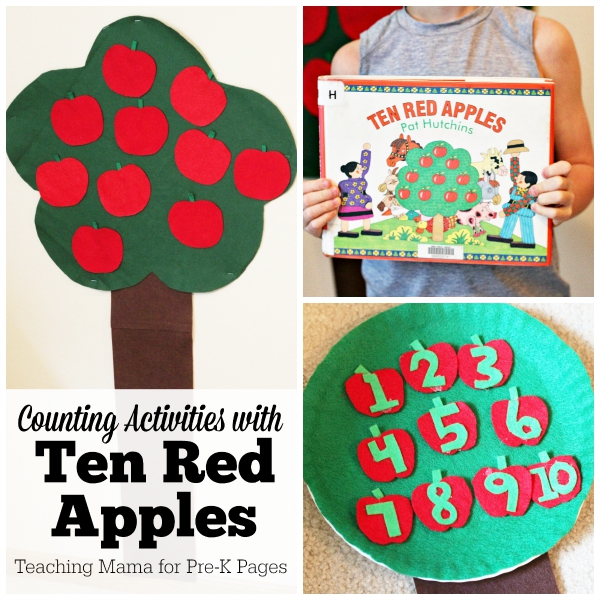 Read and Count
For this activity, create a giant felt tree with felt apples. Start with ten apples on the tree and as you read the story, take down the apples. Practice counting the apples with the children after you take apples down from the tree.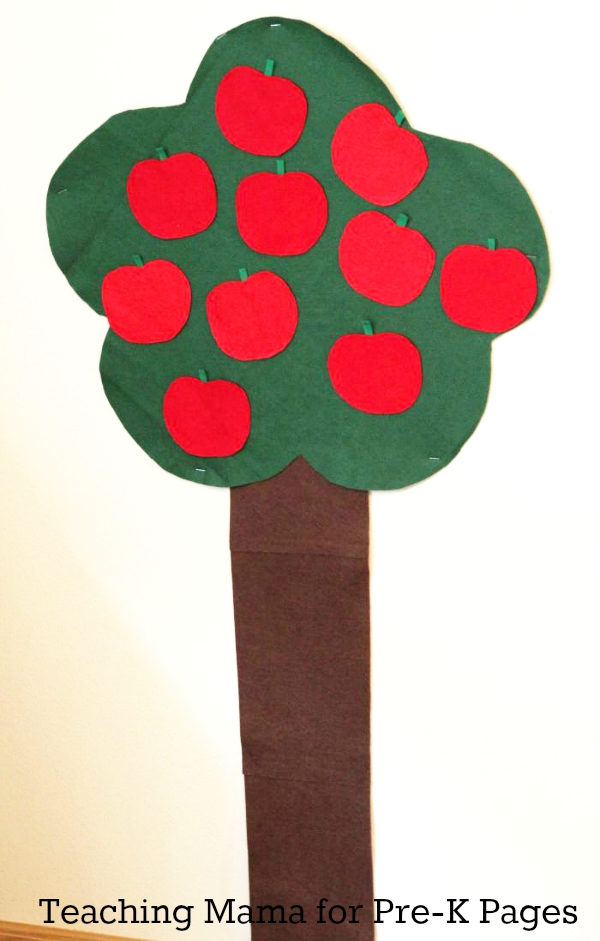 This activity is a great way to practice counting, visualizing quantities, and practice subitizing. (Subitizing is recognizing or indentifying a small quantity without counting. For example, recognizing a number on the side of a numbered cube.)
After reading the book Ten Red Apples aloud, have the children create their own counting apple trees.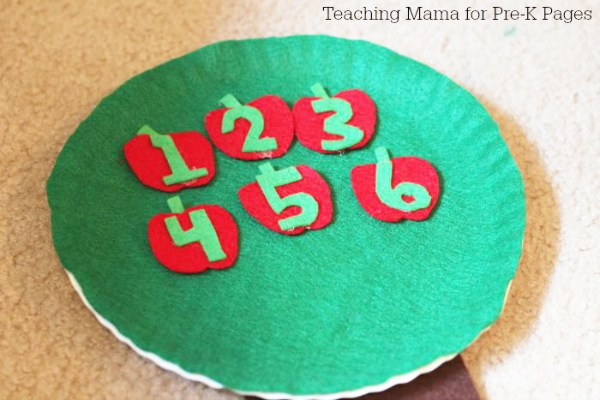 Making an Apple Tree
For the apple tree craft, you will need the following:
paper plate
green felt
red felt
brown felt
felt glue
To create the apple trees, glue a piece of green felt onto the paper plate. Trim around the plate's edge to create a circle. Next, glue on a piece of brown felt to the paper plate for the tree trunk. Cut ten apples out of red felt. Add a little green stem from felt and glue on the felt numerals 1-10 onto the apples.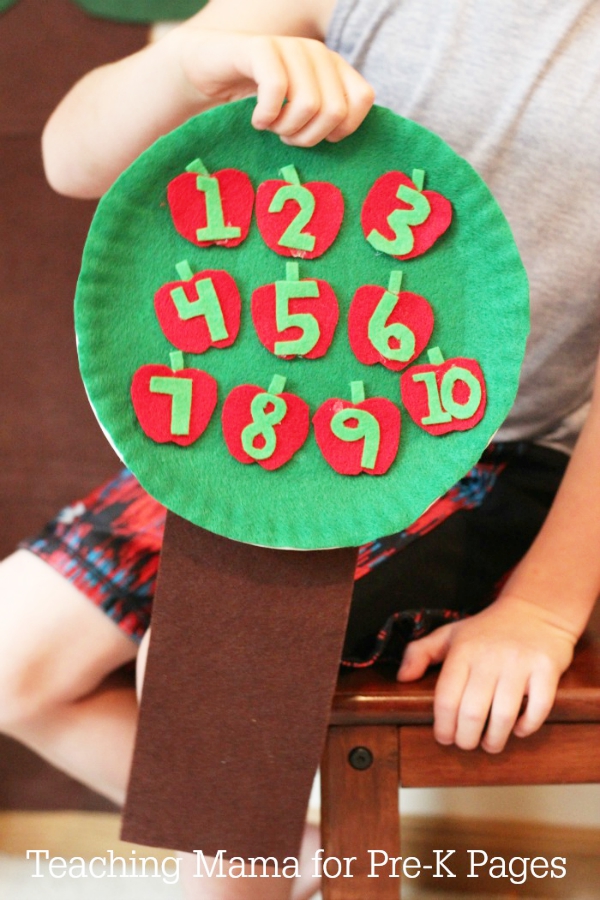 After creating the counting tree, invite the child practice counting with the apples. Read Ten Red Apples again; children can take off the apples as you read the story.
Here are some other ideas for using the counting apple tree:
place the apples in order from 1-10
place the apples in reverse order from 10-1
put even numbered apples onto the tree
put odd numbered apples onto the tree
turn the apples over (so numbers aren't showing) and place a small group of apples onto the tree. Have the child practice identifying the number of apples without counting.
I highly recommend reading Ten Red Apples aloud to preschoolers. My kids loved the book and these activities would be perfect for fall!
BIO: Angela is the writer of Teaching Mama, where she shares hands-on learning activities for babies, toddlers, and preschoolers. She is a former teacher, turned stay-at-home-mom to 3 wonderful boys. She is also the author of The Preschool Journey, a resource for preparing your child for Kindergarten. You can connect with her on Facebook,Pinterest, or Instagram.
More Apple Ideas
Apple Print Number Line (Pre-K Pages)
Read the book Ten Apples Up on Top and create a life-size number line with apple prints.
Apple Hedgehogs: Fine Motor Activity (Pre-K Pages)
Use apple halves and toothpicks to create hedgehogs and develop fine motor skills.
Apple Counting Book (Pre-K Pages)
Make and count seeds on the numbered apples in this free printable book.
Apple Tree Alphabet Game (Pre-K Pages)
Identify letters on the tree and cover them with "apples" (pompoms); use a clothespin or tweezers to add fine motor practice.
Handprint and Fingerprint Apple Tree Art (Pre-K Pages)
Paint, trace, and cut to create an apple tree in this multi-step art exploration.
Apple Pizza Snack Activity (Pre-K Pages)
Make (and eat) your own apple "pizza" using this fun interactive snack activity.
Apple Tree Play Dough Activity (Pre-K Pages)
Explore trees and apples using play dough (and a free printable).