Spring and summer are the perfect time to create an outdoor obstacle course for kids. Not only will they love the challenge, they will also be working on gross motor skills. I'm excited to share this fun obstacle course with you! This is an all-levels obstacle course, which can be made easier or more difficult based on the child's age and gross motor skills development.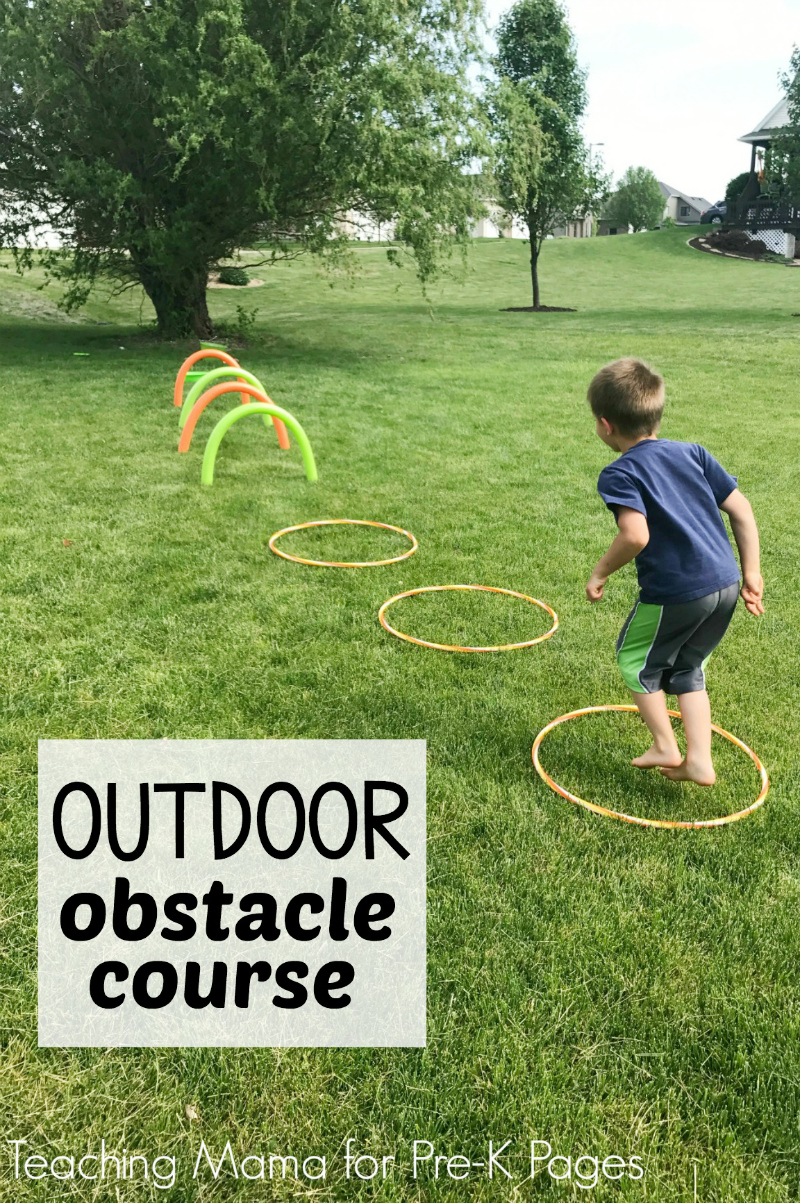 Benefits of Obstacle Courses for Gross Motor Development
This activity is great for working on gross motor skills. These skills work the large muscles of our body, which we use for walking, jumping, skipping, and more. As children grow, so do their abilities to control and move their muscles. Children need lots of time to play and build strength in their bodies. Working on gross motor skills helps a child gain strength and confidence in his/her body. It also encourages physical activity, which is important for a healthy lifestyle.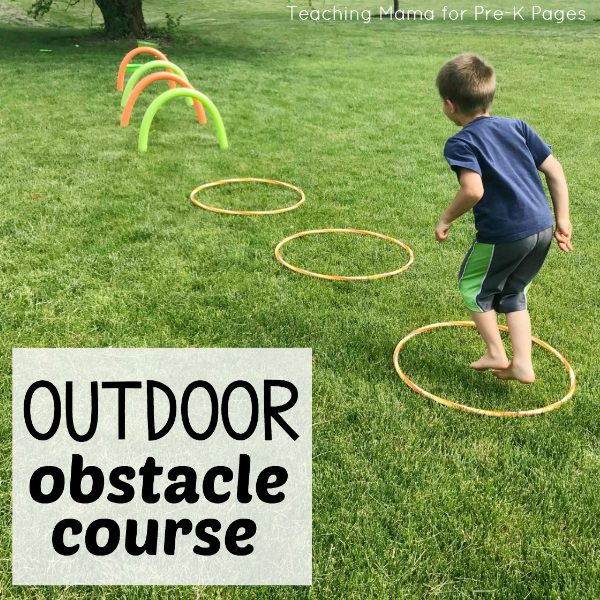 Outdoor Obstacle Course For Kids
Here's what you need for this obstacle course:
3 hula hoops
4 pool noodles
8 pens
water balloons
2 buckets
catcher net
timer (optional)
I recently discovered reusable water balloons. These are so great because they don't leave waste on the ground and they are very easy to use! You fill a bucket with water, put the water balloon under the water while pushing the clear plastic flap inward so the water can fill the balloon. When it's filled, bring the balloon above the water and the flap will close on its own. As an alternative, use large sponges or foam balls.
To set up this course, begin by laying three hula hoops in a row. Make tunnels out of pool noodles. These are so easy to make! Poke a pen into the ground. Slide one end of the pool noodle over it; the pen will go into the hole in the middle of the pool noodle. Do the same thing for the other side and you have a tunnel!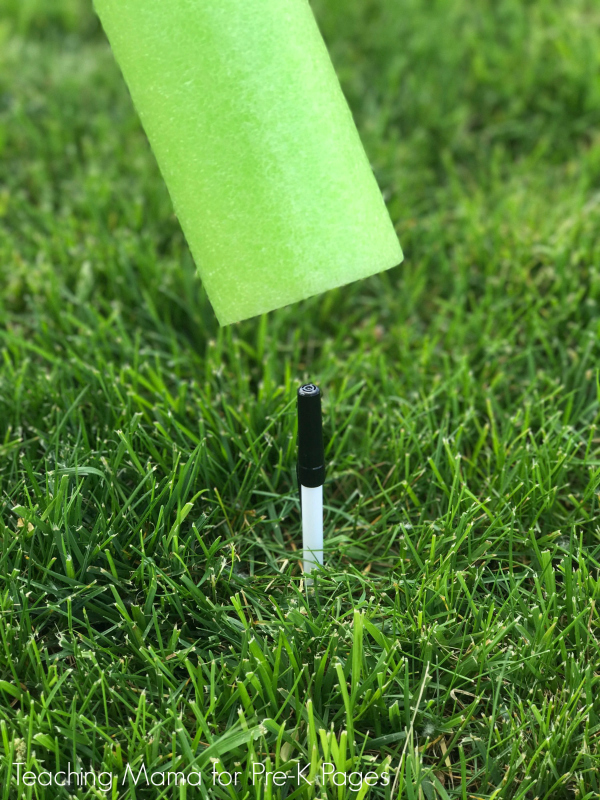 Set a bucket of water balloons in front of the tunnels. Put another bucket about two feet away. Lay the catcher nets next to the second tunnel.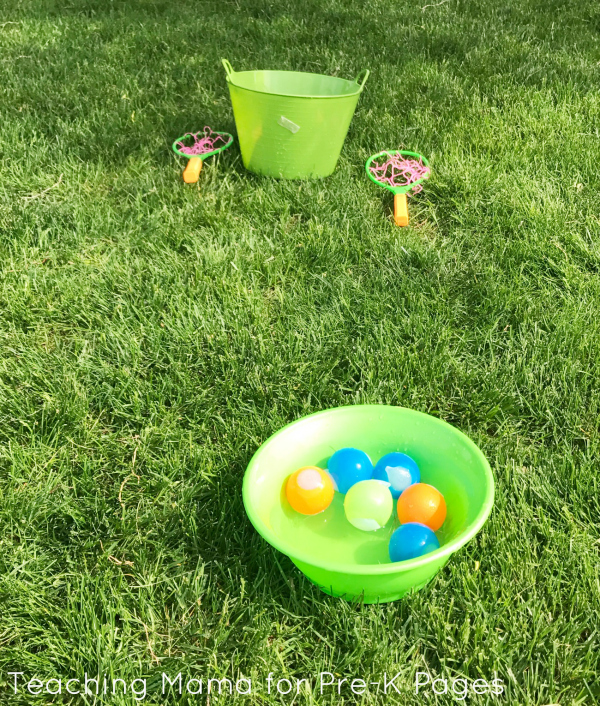 After everything is set up, have your children try it out! You could time them as they race, or set up two of these courses to have them race against each other.
Obstacle Course Activity Plan
Here's how the course goes:
Hop into the center of each hula hoop. Crawl through the pool noodle tunnels.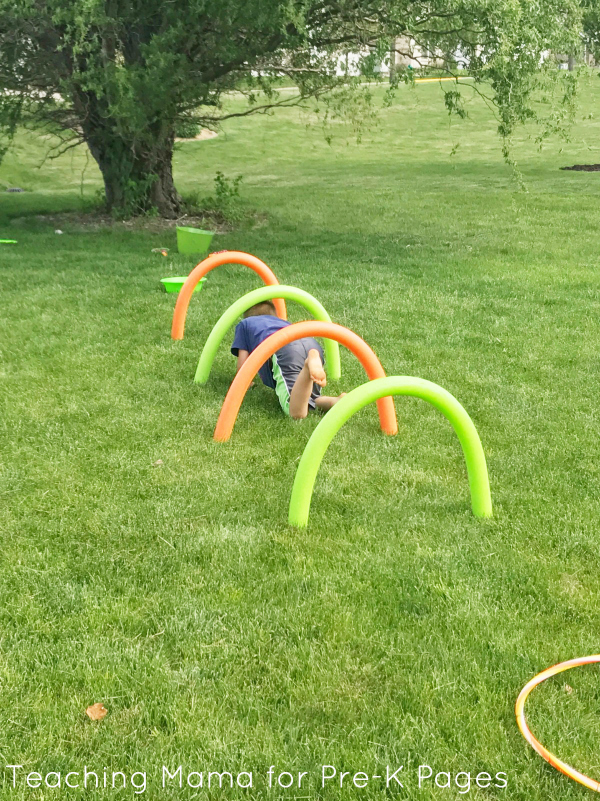 If you have older children, you could have them jump over the pool noodle tunnels or alternate jumping and crawling.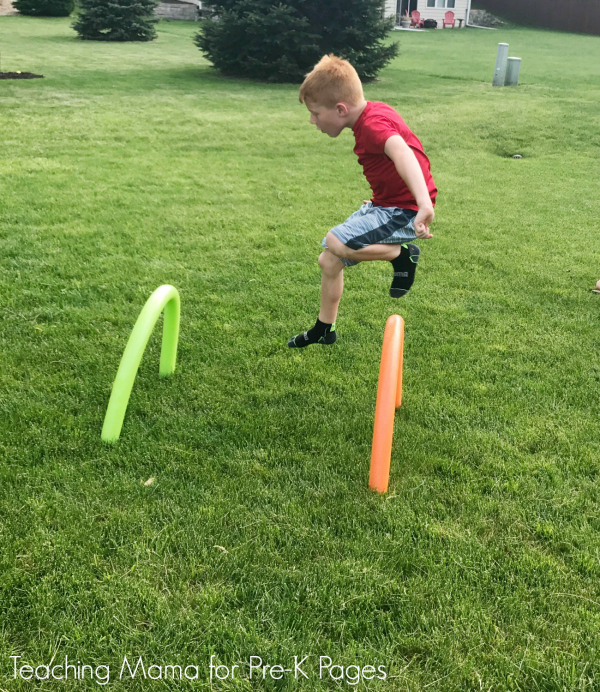 Throw the water balloons to the opposite bucket until you get three into the bucket.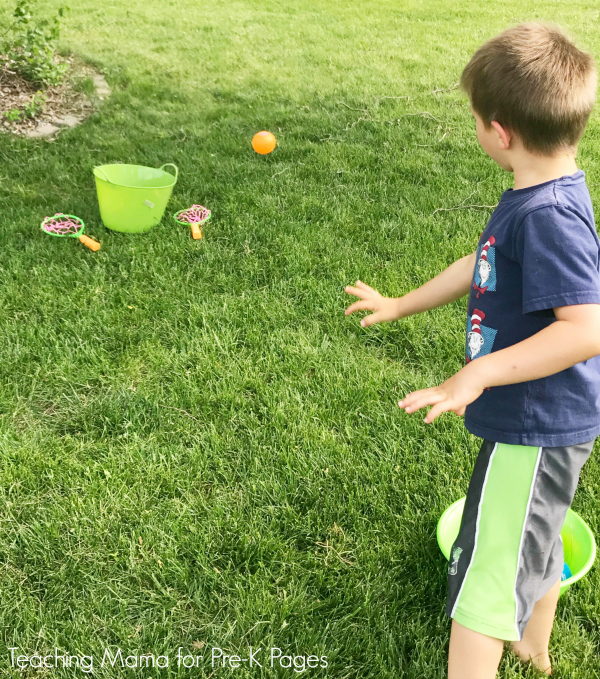 Run to the second bucket and scoop one water balloon into the catcher net. Then run back to the starting line.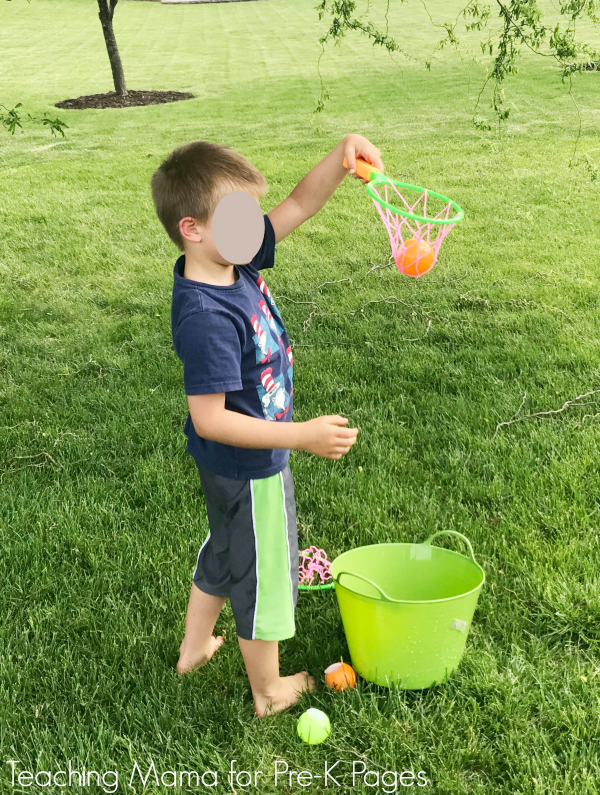 My children had a blast with this obstacle course! The best thing about obstacle courses like this is that they are easily modified. You could add more obstacles to this course or adjust activities to meet the needs of your children. I would love to hear what other ideas you have for this obstacle course!
BIO: Angela is the writer and creator at Teaching Mama, where she shares hands-on learning activities for babies, toddlers, and preschoolers. She is a former teacher, turned stay-at-home-mom to 3 wonderful boys. One of her favorite summer activities is Soap Foam Sidewalk Paint! You can connect with her on Facebook, Pinterest, or Instagram.
Other Gross Motor Ideas—
Gross Motor Beach Ball Game
Walk the Line Outdoor Movement Game
Spring Movement Games
Science for Kids: Body Shadows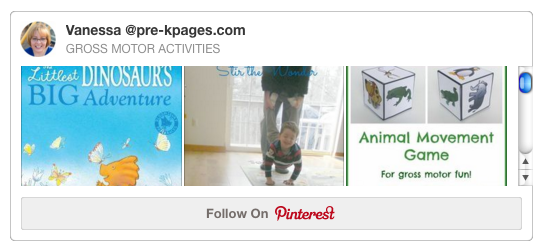 Follow my Gross Motor Pinterest Board for more great ideas!