Whenever there is light, there is a shadow with you! Why do you have a shadow? Why is your shadow a different size at different times of the day? What is a shadow? How is a shadow made? Do all objects have shadows?
Let's use our bodies to explore the science behind shadows while incorporating fun movement games too.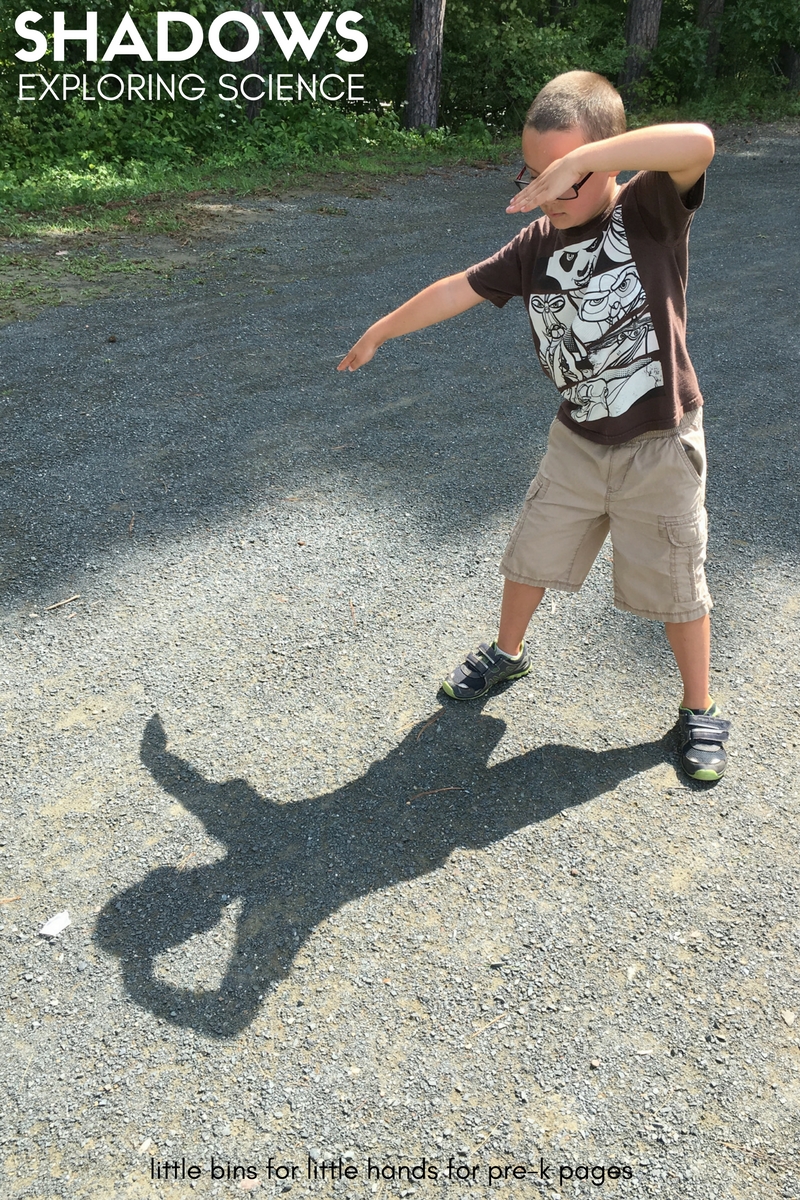 Body Shadows Science Activity
Using shadows for science play is a great way for kids to explore the physical sciences. When kids use their bodies to explore shadows they're having fun learning experience that cost nothing more than getting outside and playing. You may even want to try this at different times of the day to catch the sun in different positions. If it's a rainy day, try a flashlight indoors instead!
Supplies
Your body
A sunny outdoor day
Flashlights if you can't get outside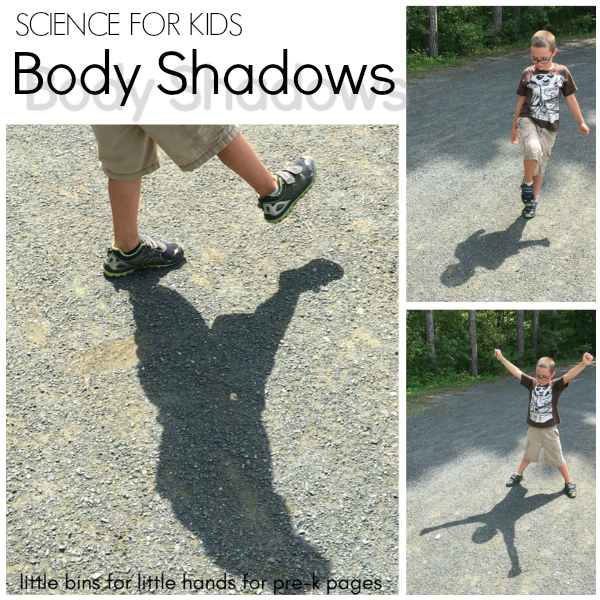 Body Shadows Activity
Exploring shadows with body movements is a great way to get kids active and excited about learning, it's a full body experience! You can play fun shadow games by calling out different shapes, letters, or numbers and inviting the kids to do their best to create them in shadow. Or, call out movements like standing on one foot, reaching up high to touch the sky, and walking on all fours. Ask kids to make up their own ideas, too. Dancing around with your shadow is also fun! All of these movements will help develop body awareness.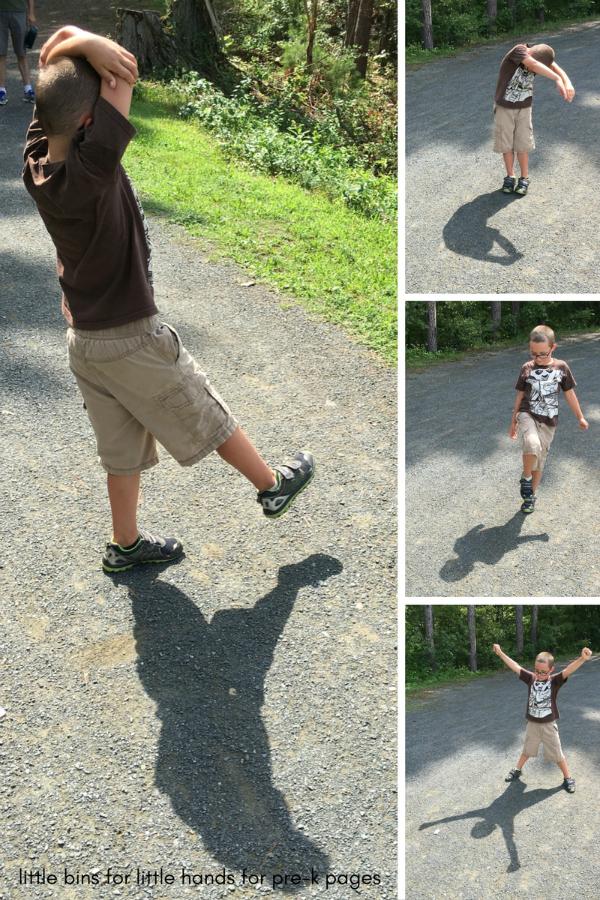 We incorporated one of our favorite silly songs into our shadow play, which made the shadow movements extra funny. Sing the song: Head, Shoulders, Knees, and Toes to get all of your kids moving and examining their shadows.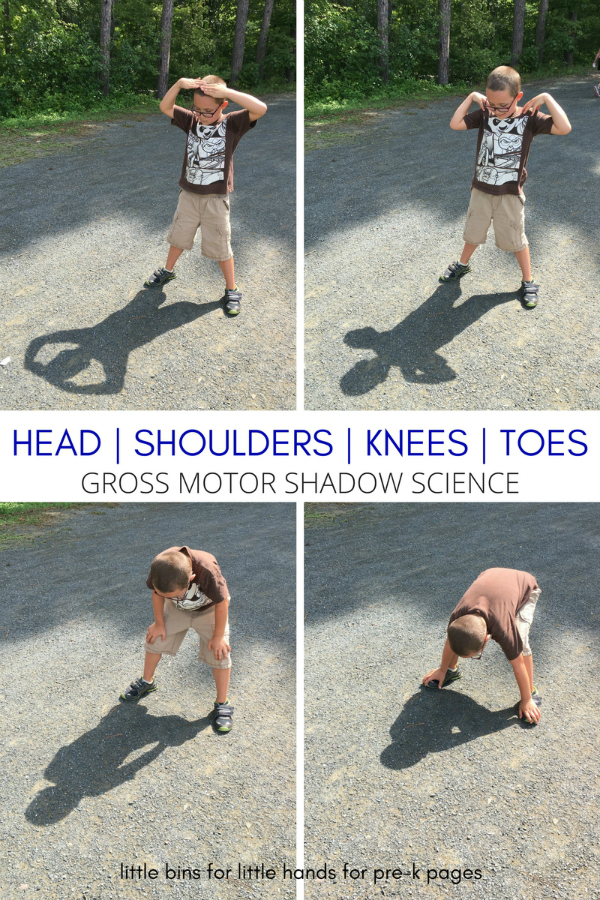 If possible, tale a few pictures for the kids to look at afterwards. Invite kids to draw a picture of themselves with their shadows.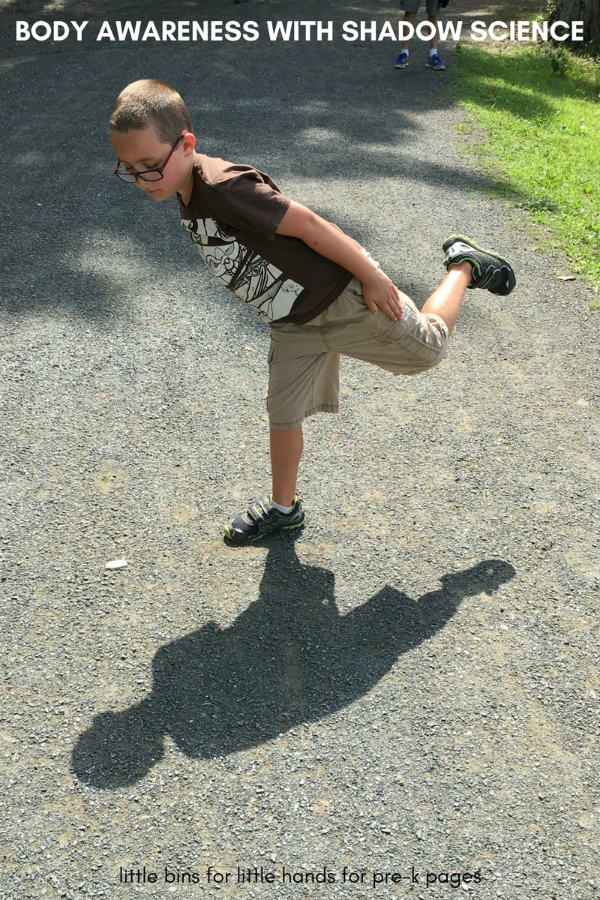 Shadow Science for Kids
At the beginning of this post, I asked a few questions about shadows, so now it's time to explore the science behind shadows!
Many objects have shadows including our bodies! Since light cannot pass through a body, it creates a shadow. When we are outside enjoying this body shadow science activity, the sun is our light. If you are indoors, use a flashlight. You will notice at different times of the day shadows are different. Longer, shorter, or no shadow at all. So the size of the shadow depends on the angle of the light shining on it. We know the sun moves to different positions over the course of the day. When you move, your shadow moves with you because you are changing the shape of the area the light passes through.
Can you find other things outside and inside that have shadows? What happens if light can pass through an object; is there still a shadow? A sundial is also another fun activity for exploring shadows and a great extension to our outdoor body shadow science activity!
GET MOVING WITH BODY SHADOW SCIENCE OUTDOORS!
BIO: Sarah is the creator of Little Bins for Little Hands where she shares simple science experiments, STEM activities, and tactile sensory play recipes. She is also the proud mom of a busy little boy. Check out their favorite science experiments and STEM projects all year long! You can connect with her on Facebook and Pinterest.
More Science Ideas