Spring is in the air. It's time to get outside, soak up the sunshine and get young children moving while learning with these spring movement games. Incorporating outdoor play into learning is a win-win for kids' health and academic growth.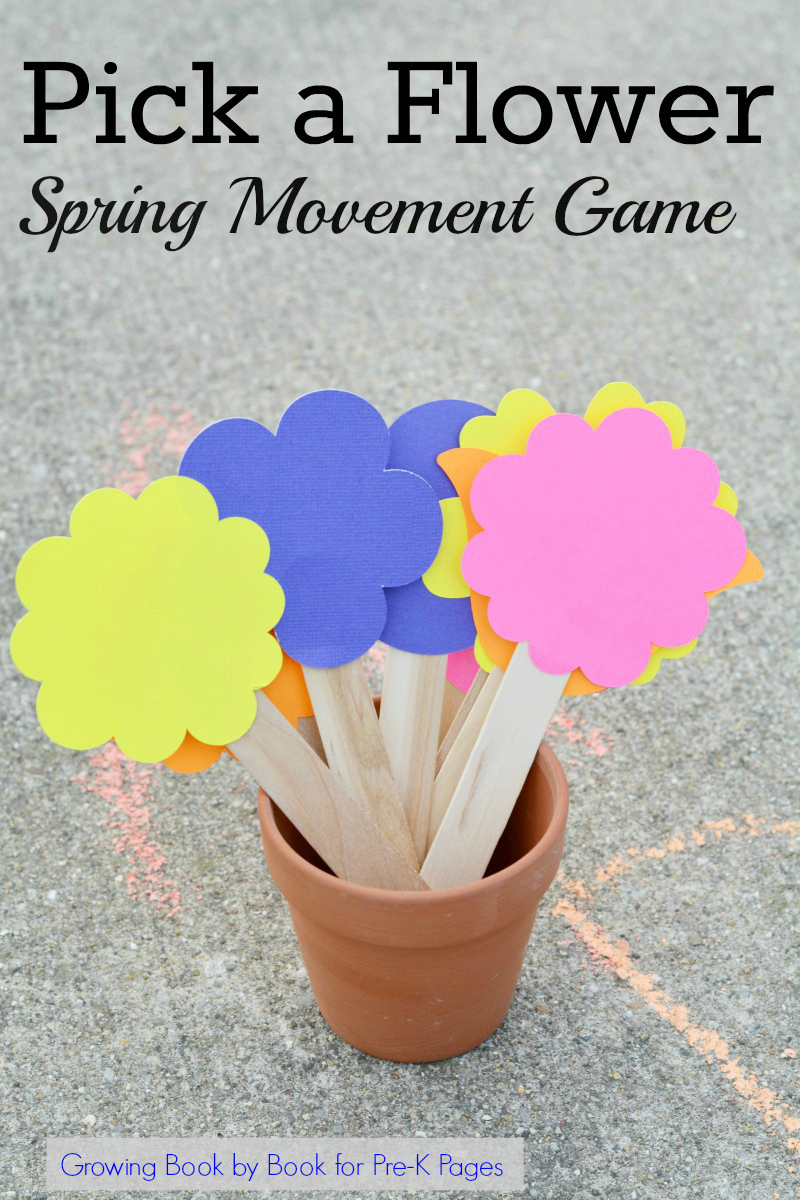 Spring Movement Games
This is a fun and active movement game to work on gross motor and literacy skills. And, you only need a few supplies to prepare the whole group activity.
Spring Movement Game with Flowers
In the Pick a Flower game, children will move in different ways to travel from one letter of the alphabet to another letter during each round of the activity.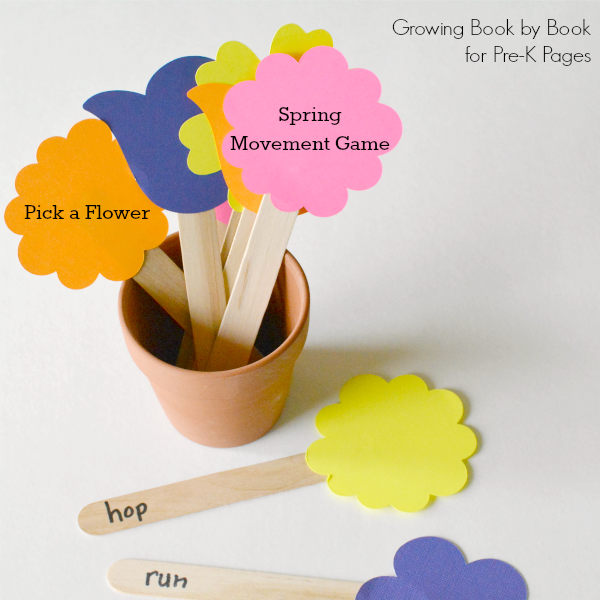 The skills covered in this activity include:
Literacy
demonstrating knowledge of the alphabet and letter sounds
following directions
Gross Motor
demonstrating basic locomotor skills (jumping, running, etc.)
Preparing the Pick a Flower Movement Activity
Materials Needed
20 construction paper or cardstock flowers in four different colors
20 craft sticks
20 glue dots
permanent marker
sidewalk chalk
1 small flower pot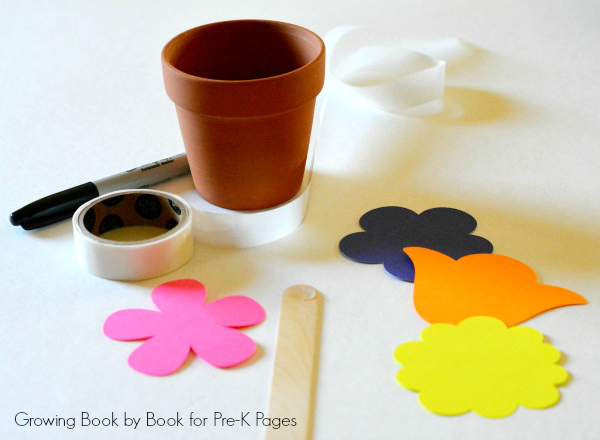 Setting Up The Movement Activity
Attach a flower to each craft stick using a glue dot.
Choose one flower group of the same color and write one of the following words (run, hop, walk, skip, and gallop) on each of the sticks in that group. Repeat for the remaining colors.
Place your flowers in a flower pot.
Outside you will need to draw 4-8 letters of the alphabet on the playground or another concrete area. Space the letters out so that the kids can't get to them too quickly. (If you have a grassy area instead, print the letters on plastic plates or tape paper with letters to cones.)
Playing Pick a Flower
Now, it's time to play. Divide the kids into four teams. Assign each team a color that corresponds to the colors in your flower pot. You may even give each student a sticker that matches the team color. Invite each team stand together.
Pull out a flower from the pot and announce it to the children. For example, if you pull a yellow flower with the word hop on it, say, "Yellow team please hop to the letter ___ (fill in with a letter that is drawn with chalk)."
Continue to pull all the flowers sending teams moving all over the playing area. The activity is over when all the flowers have been picked and completed.
Variations
1. Let individual students pull a flower from the pot and give the direction to the appropriate team.
2. Instead of announcing the letter to travel to, say the letter sound instead.
3. Use numbers or shapes instead of letters.
What other ideas do you have for extending the spring movement activity?
BIO: Jodie is the creator of Growing Book by Book where she shares book lists, reading and writing activities, and literacy-building tips for young children. She is also the proud mom of 2 little boys–check out their literacy ideas for preschoolers! You can connect with her on Facebook and Instagram.
More Movement Games
There are so many ways you can include movement games into your lessons! Here are a few more ideas to get your preschoolers and kindergartners up and moving!
Walk the Line Outdoor Movement Game- This outdoor movement game is super simple to set up, but tons of fun. It's an excellent way to develop gross motor skills in young children. My kids had a blast playing it! It could be a quick-and-easy addition to your field day, too.
Indoor Recess Games and Activities for Preschoolers– Here are more than 30 ideas for games, music, and movement activities that you can do indoors and still keep active preschoolers moving and having fun.
Spider Web Gross Motor Activity– Spiders fascinate children! Our kids love learning all about arachnids include how they make and move on their webs. We created several gross motor activities for our preschoolers to try on a larger than life spider web! Our active play extended the learning about these captivating (pun intended) creatures!
Outdoor Obstacle Course– Spring and summer are the perfect time to create an outdoor obstacle course for children. Not only will they love the challenge, they will also be working on gross motor skills. I'm excited to share this fun obstacle course with you!
More Spring Ideas
Spring Splat Art (Pre-K Pages) – Gather your kids together, cover as many surfaces as you can, lay out the supplies and stand back. Splat art might be messy, but it's fun and beneficial in many areas of your preschoolers development.
Retelling a Spring Book with Puppets (Pre-K Pages) – sing puppets, along with other storytelling props, is an easy and fun way to make books come to life for preschoolers. We've found a wonderful book to incorporate into puppet storytelling and it's perfect for Spring!
Flower Play Dough (Pre-K Pages) – Kids love play dough any time of the year, spring, summer, winter or fall. When you make your own play dough you can get creative with your colors and ingredients to make it extra fun for your kids.
Flower Alphabet Match (Pre-K Pages) – This alphabet activity will have children learning about uppercase and lowercase letters with a fun spring twist.
Beginning Sounds Activity (Pre-K Pages) – This spring flower beginning sounds sort activity is a hands-on way for children to practice identifying the beginning letter sound in a word. It's the perfect addition to your spring lesson plans!
Pretend Play Garden (Pre-K Pages) –  I love pool noodles, they're very inexpensive and they can be used for many things.  These pool noodles with contoured edges are just what I have been looking for to create a dramatic play garden!
Coffee Filter Butterflies (Pre-K Pages) – This a classic kids craft, but it's also super easy to make and uses supplies you probably already have on hand.
Raising Butterflies (Pre-K Pages) – Young children are often filled with wonder and amazement at the natural world around them. This innate curiosity makes raising butterflies the perfect science experience for preschoolers to do in the spring.