Going outside to play ball is always lots of fun! This gross motor beach ball game gives preschoolers the opportunity to explore a number of basic physical skills. While your children can use any type of ball that you might have on hand, beach ball will probably be easiest for most young children to use. Using a beach ball makes this activity perfect for a beach, ocean, or summer theme.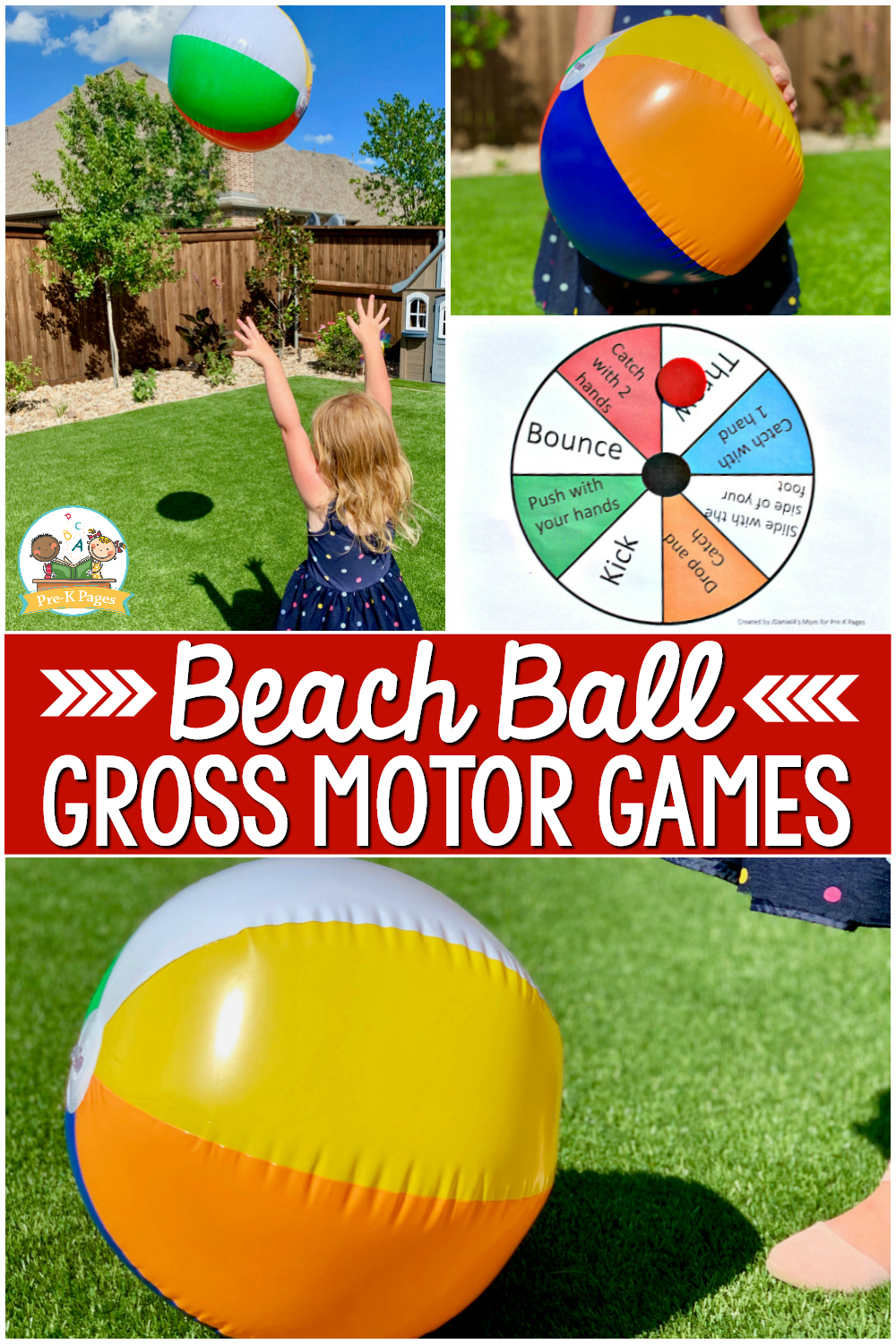 Gross Motor Beach Ball Game
This fun game (and independent play with a ball) helps strengthen those gross motor skills like running, walking, skipping, climbing, throwing – all those whole body movements. Playing games like this one can help children develop hand-eye coordination and overall body control, coordination, and balance. Plus, this type of play is great for relieving stress and increasing fun!
Preparing the Gross Motor Beach Ball Game
Prepare the Game Board
On a piece of paper, draw a circle and divide the circle into sections. On each section, print different types of movements to do with the ball. Some possible movements: Throw, Catch with one Hand, Catch with two Hands, Kick, Bounce, Slide with Your Foot, Push with Your Hands.
If you plan on using the game board over and over again, you will want to print it on card stock or heavyweight paper. Laminate the game board to make it even more durable.
Choose an Object to Toss
Choose an object for your kids to toss onto the game board. We used a plastic counter, but you could also use a small rock, a metal washer, a bean bag, a coin, or even a large button.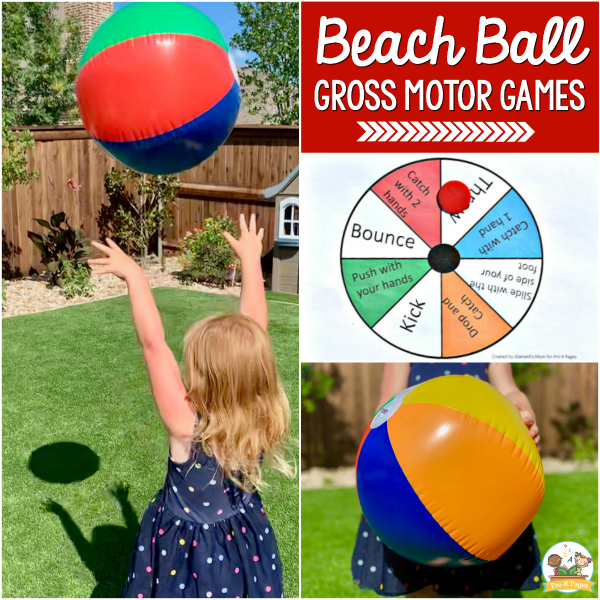 Playing the Gross Motor Beach Ball Game
You can play the game on the grass or a paved play area. We have played the game in both types of spaces. The beach ball will bounce better on the paved area! Several of the other actions will work well in both types of play spaces. If you want to make this gross motor beach ball game totally beachy, play it in a sandbox. No matter where you play it with your kids they will be sure to have fun!
Toss the counter and see where it lands. Then move with the ball!
When the counter lands on catch the ball with one hand area, your children will toss the ball into the air and try to catch it with one hand. If tossing and catching would be too challenging for your age group, you can toss the ball to them. Encourage them to use one hand to catch.
When the counter lands on the word throw, your children can throw the beach ball over or underhand. They can throw to a friend or to you.
Your children can catch a ball thrown to them, or they can toss it themselves and catch it with two hands when the counter lands in the two hands space.
Create your own ways to move with the ball. Look for fun ways to move and learn together.
One final tip: To make the ball easier to catch, do not inflate it completely. Leaving it slightly less inflated makes it easier to grab and slows down the roll of missed catches.
Contributed by Deirdre
Here are a few more gross motor/movement posts—
Cowboy Gross Motor Activity
Walk the Line Outdoor Movement Game
Spring Movement Games
Apple Theme Gross Motor Learning
More Ocean Ideas