Supplement your classroom library this spring with books about Easter. This list of books helps build vocabularies and broaden the experiences of your preschoolers. Enjoy an Easter theme this spring in your classroom. For more economical ways to extend your library, check out your local library or used booksellers for these titles.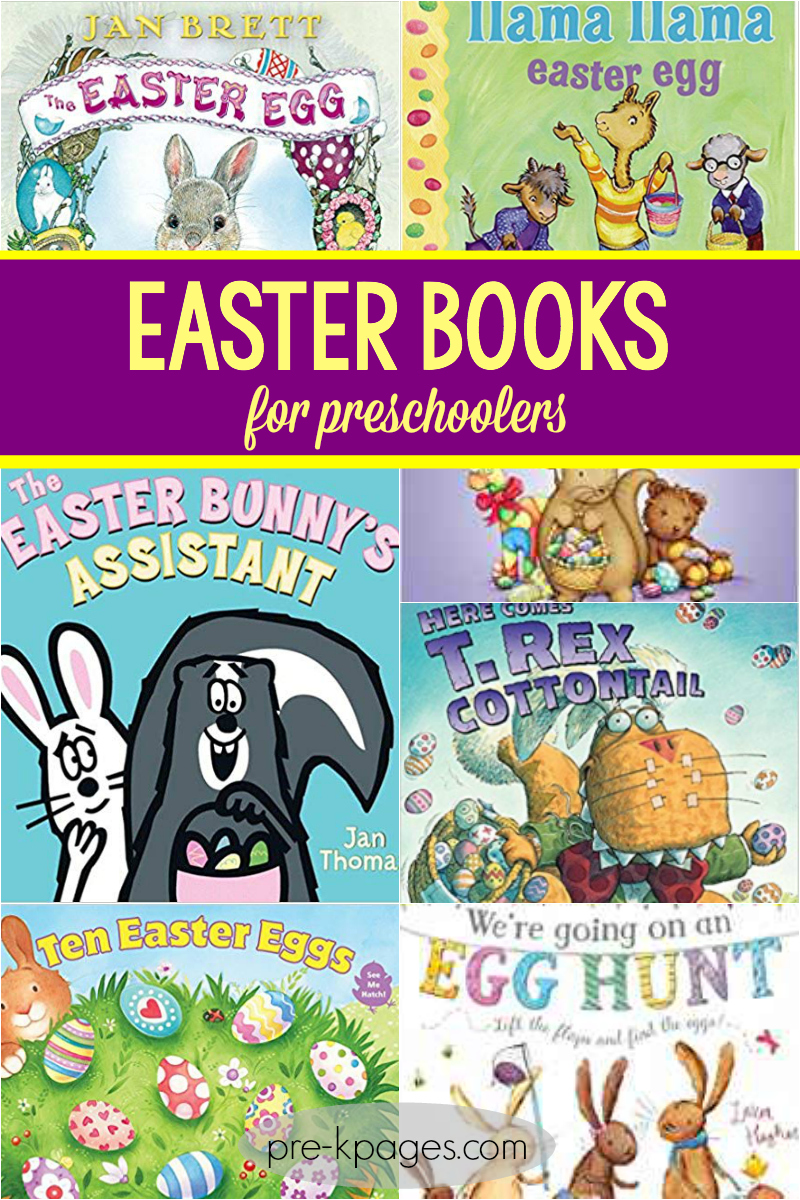 Books About Easter for Preschool
The Easter Egg by Jan Brett
All the rabbits are decorating eggs to be judged by the Easter Rabbit. Hoppi tries to think of the egg he could decorate. Then he encounters a robin egg dropped from the tree. Hoppi decided to help.
Ten Easter Eggs by Vijaya Bodach
Count down from ten to one as eggs hatch into cheeping chicks.
Five Little Bunnies Hopping on a Hill by Steve Metzger
Five bunnies enjoy hopping on a hill until one takes spill. What other spring adventures will the bunnies get into?
Here Comes T. Rex Cottontail by Lois G. Grambling
Peter Cottontail is sick. T. Rex is ready to fill in. What could go wrong?
Best Easter Egg Hunt Ever by Dawn Casey
Rabbit and her friends are searching for the most special egg of all.
Happy Easter, Mouse! by Laura Numeroff
Mouse finds eggs all over his house. Where did they come from?
Peter Rabbit's Happy Easter by Grace Maccarone
A tale of how Peter Rabbit became the Easter Bunny.
Splat the Cat Where's the Easter Bunny by Rob Scotton
Splat is on a search to find the Easter Bunny. Will he succeed?
Llama Llama Easter Egg by Anna Dewdney
Llama and his friends have fun on Easter morning.
Duck and Goose Here Comes the Easter Bunny by Tad Hills
Duck and Goose look for the perfect place to hide so they can watch the Easter Bunny do his work.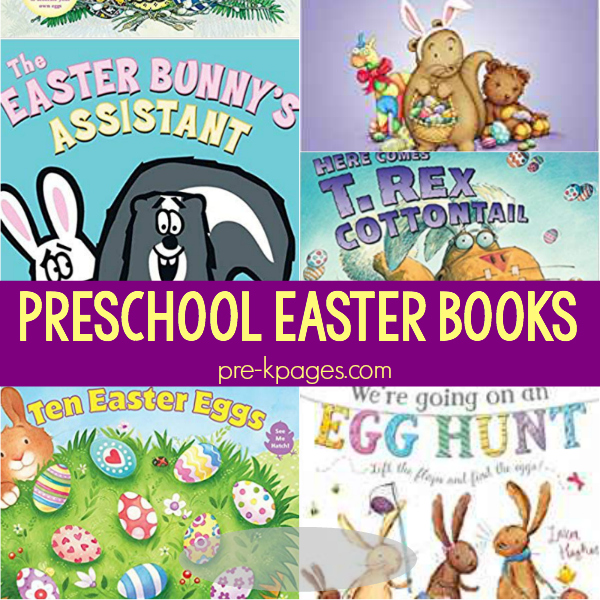 Preschool Books for Easter
The Easter Bunny's Assistant by Jan Thomas
The Easter Bunny has an assistant, Skunk. Skunk finds all the steps of decorating eggs so exciting. But when Skunk gets excited, something happens.
Here Comes Peter Cottontail by Steve Nelson
A book version of the familiar Easter song.
We're Going on an Egg Hunt by Laura Hughes
A springtime version of the traditional "Bear Hunt," rabbits search for eggs and encounter obstacles.
The Country Bunny and the Little Gold Shoes by DuBose Heyward
A classic book about Little Cottontail who dreams of becoming one of the Easter bunnies. It seems unlikely as she grows up and becomes a mother. But then one day, Grandfather Bunny chooses her.
The Night Before Easter by Natasha Wing
The classic Christmas poem is redone into an Easter version in this fun book.
The Biggest Easter Basket Ever by Steven Kroll
Desmond and Clayton each want to win the contest for biggest Easter basket. Along the way, they discover that working together may be a better idea.
Pete the Cat: Big Easter Adventure by Kimberly and James Dean
In his basket, Pete finds a note. The Easter Bunny needs Pete's help!
The Itsy Bitsy Bunny by Jeffrey Burton
An Easter twist on the "Itsy Bitsy Spider."
Otter Loves Easter by Sam Garton
Otter receives lots of candy and goodies for Easter. But she is told that she should share with her friends. Sharing is very hard to do.
The Easter Bunny's Helpers by Anne Mangan and Tamsin Ainslie
A variety of Australian animals assist Easter Bunny in delivering eggs.
More Book Lists for Preschoolers