Rabbits are familiar animals for preschoolers. Maybe you have a rabbit as a class pet or children in your class have bunnies. Our furry friends provide many learning opportunities and make a great topic to study in the spring or as a part of any animal study. Check out these books that feature rabbits. (Check your local library or used booksellers online or in your town for inexpensive supplements to your classroom library.)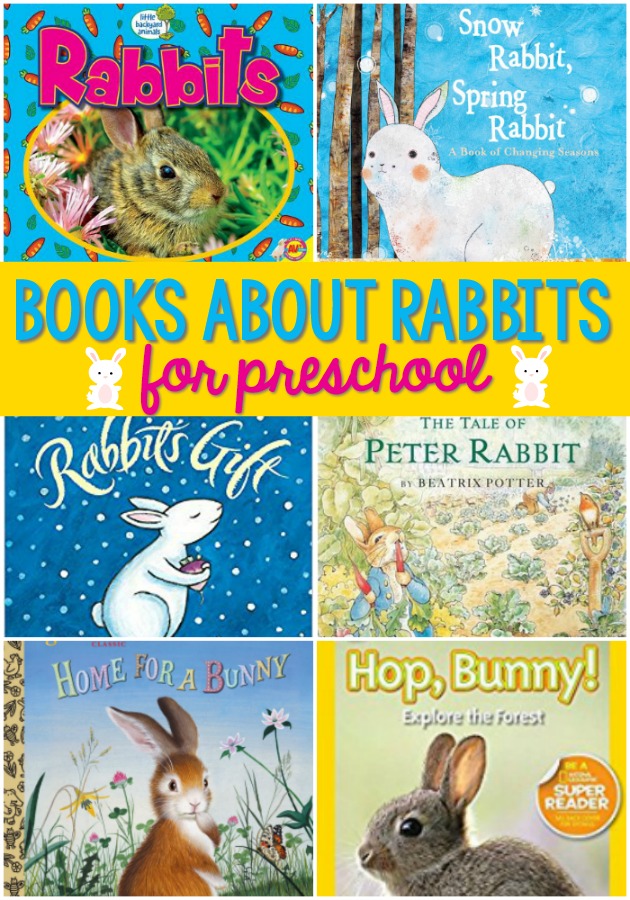 Books About Rabbits
White Rabbit's Colors by Alan Baker
White Rabbit finds cups of blue, red, and yellow paint and begins to play in the colors.
Bunny's Noisy Book by Margaret Wise Brown and Lisa McCue
Bunny wakes up and hears all kinds of sounds. What was that?
Snow Rabbit, Spring Rabbit by Il Sung Na
Animals do different things when the winter comes. And all the animals know when it is spring. Including the rabbit.
Quiet Bunny by Lisa McCue
Quiet Bunny loves to hear the sounds of the forest. He makes no sound of his own and wishes he could.
The Tale of Peter Rabbit by Beatrix Potter
The classic story of Peter Rabbit and his trouble in Mr. MacGregor's garden.
Home for a Bunny by Margaret Wise Brown
It's spring! A bunny searches for a home just right for him.
Rabbit's Gift by George Shannon
Rabbit finds an extra turnip as he looks for food in the winter. He takes it to Donkey's house to share.
Ten Little Rabbits by Virginia Grossman
This counting book features rabbits involved in different Native American traditions.
Brown Rabbit's Shapes by Alan Baker
Brown Rabbit receives a package and discovers many different shapes on it and in it.
Welcome to the World of Rabbits and Hares by Diane Swanson
This book contains a lot of facts and information about rabbits and hares. While it may not be ideal for a read-aloud, it does provide lots of information and photographs for children.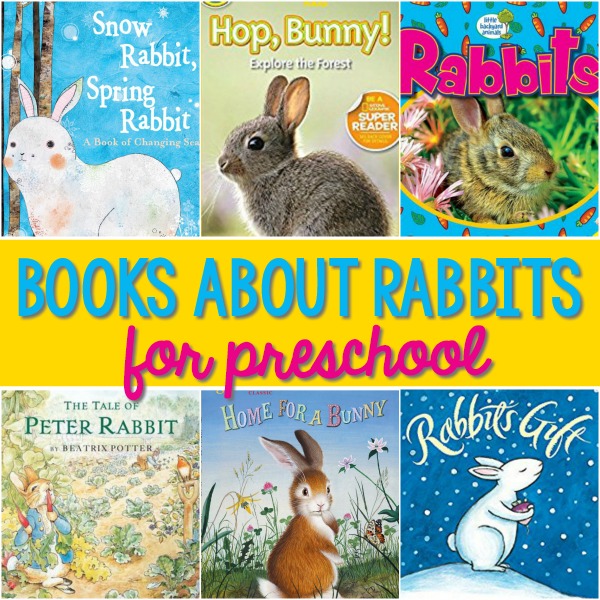 Preschool Rabbit Books
Rabbits by G.G. Lake
Learn more about the rabbit, its life cycle, and its habitats in this non-fiction book.
Hop Bunny! Explore the Forest Susan B. Neuman
Clear photographs and simple text lead beginning readers and non-readers to explore what a rabbit sees in the forest.
Rabbits by Mari Schuh and Gail Saunders-Smith
This book explores needs and lives of rabbits and how they survive even in our backyards.
See How They Grow: Bunny by DK Publishing
Learn about the first six weeks in the life of a rabbit.
What Does Bunny See? by Linda Sue Park
Bunny hops along the garden path and sees lots of colors and varieties of flowers.
Pet Rabbits Up Close by Jeni Wittrock
Take a close-up look at a rabbit and its different body parts.
A Baby Rabbit Story by Jeni Wittrock
Learn what it is like for a baby rabbit and how he grows up.
Rabbits (My First Pet) by Cari Meister
This book explores what rabbits need and how to care for a rabbit as a pet.
Pet Rabbits: Questions and Answers by Christina Mia Gardeski
Through these questions and answers, your preschoolers can discover many facts about rabbits.
Rabbits by Heather Kissock
Follow the growth of a rabbit from baby to adult.
More Book Lists