Shapes are found, identified, and drawn in all preschool classrooms! Discovering just how often circles, squares, and triangles occur in our everyday life make them relevant to children. When a concept is applicable to the learner, it is easier to retain the knowledge. Let's show our students shapes all around them!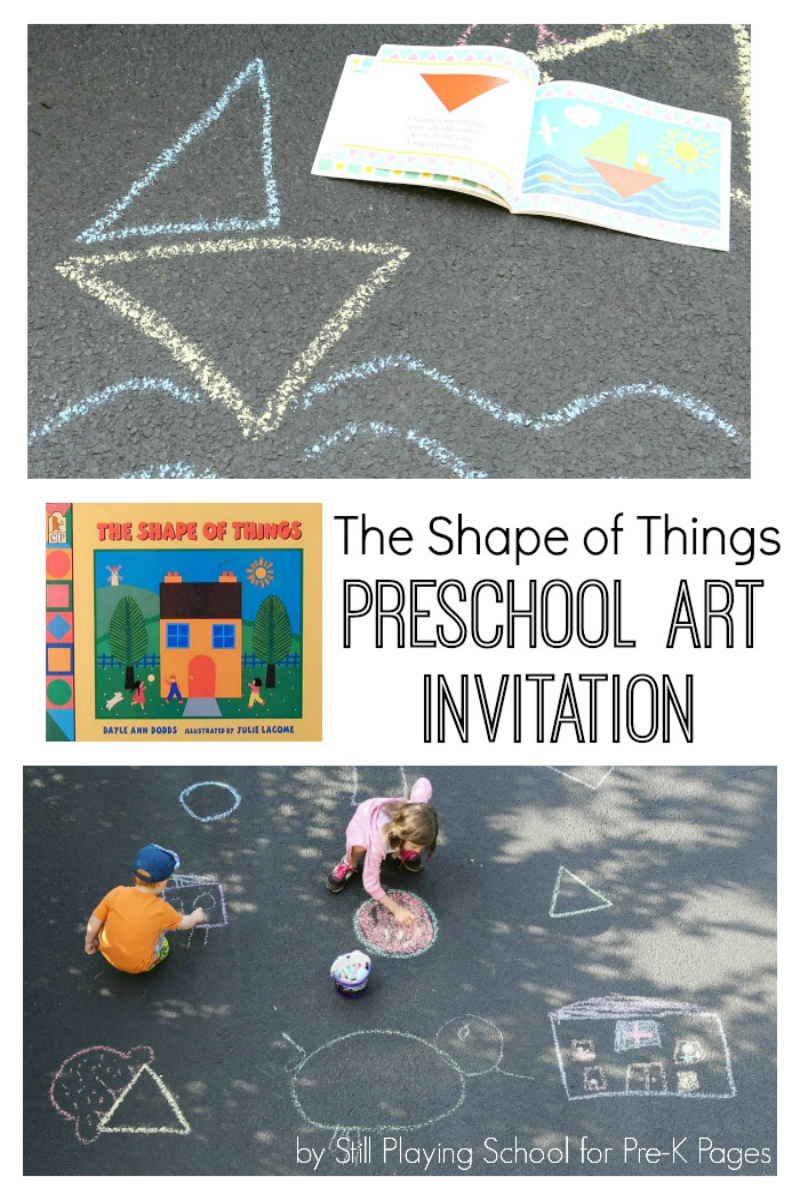 The Shape of Things
The Shape of Things by Dayle Ann Dodds presents two-dimensional shapes with bright illustrations and repeated rhyming phrases. The repetitive pattern of this book allows preschoolers to become active participants in the reading. Shapes are identified, then turned into art as details are added in an inspiring creative way. This provides the perfect opportunity for an invitation for kids to create with shapes, too!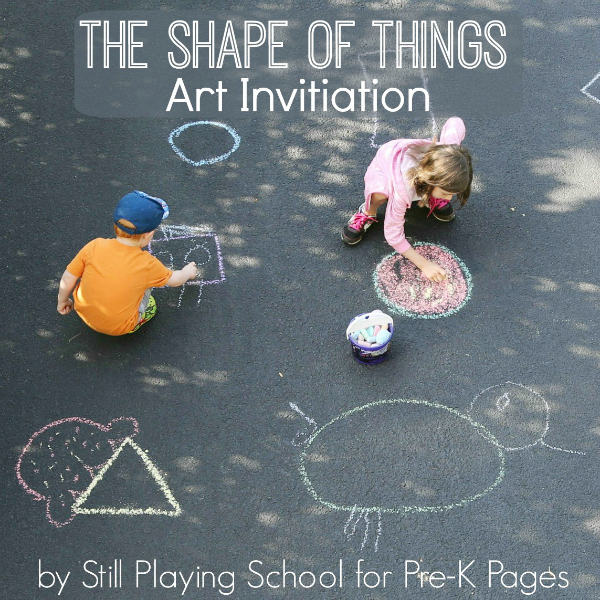 Explore Shapes
You will need: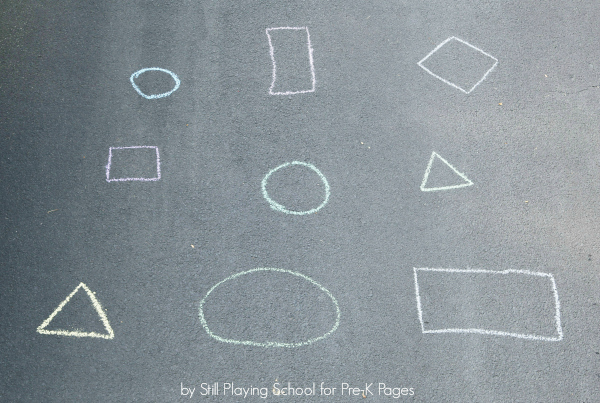 After reading The Shape of Things with your preschoolers, take them outside to discover shapes that a teacher (or other adult) has drawn with sidewalk chalk. Take a walk around the shapes identifying them by name as you go. You can even assess children's knowledge by inviting them to participate in gross motor play on the shapes. "Can you hop on a circle? Great! Now tiptoe to the closest triangle."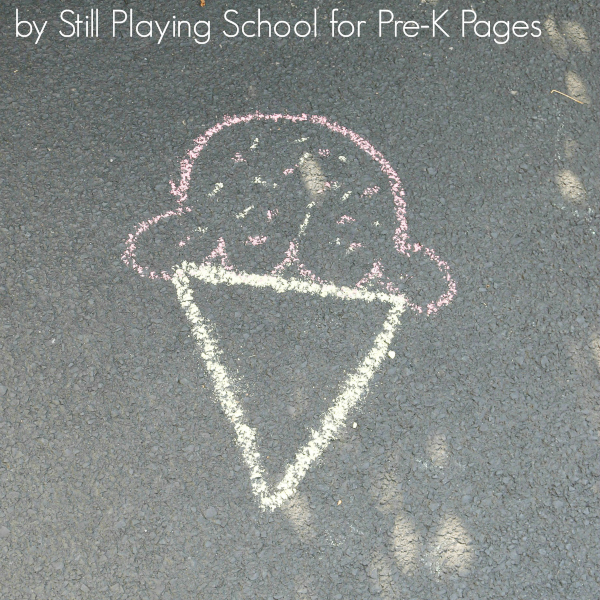 Remind children how the illustrator in The Shape of Things turned regular two-dimensional shapes into beautiful art by adding details. Choose one shape and demonstrate this creative exercise. "What could a triangle become? I'll turn this triangle into an ice cream cone by drawing a scoop on top! Yum!"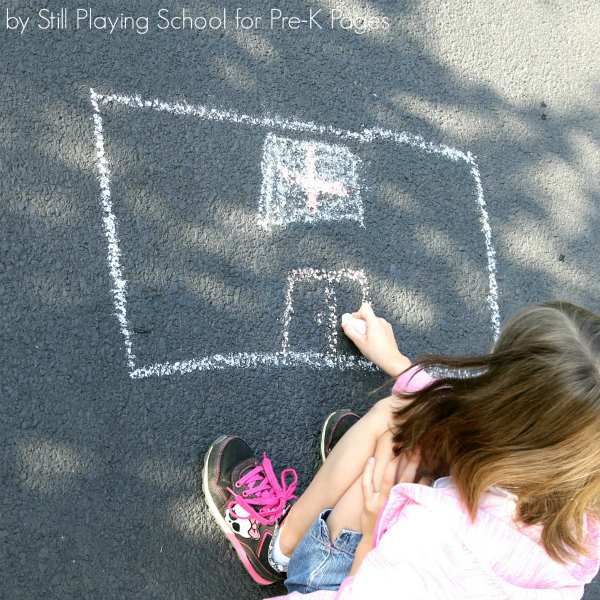 Transform Shapes into Pictures
Hand out the chalk and invite children to turn the shapes into their own creations! We turned a rectangle into a hospital, an oval into an elephant's body, and a circle into a pizza. If students need prompting, you can name categories that they might remember from the book or be inspired to create themselves. "Can you think of a food that is a circle? What about something that travels from place to place? A place that you like to visit? Can you draw an animal with that shape?" Be sure to invite kids to look back at the book for even more inspiration!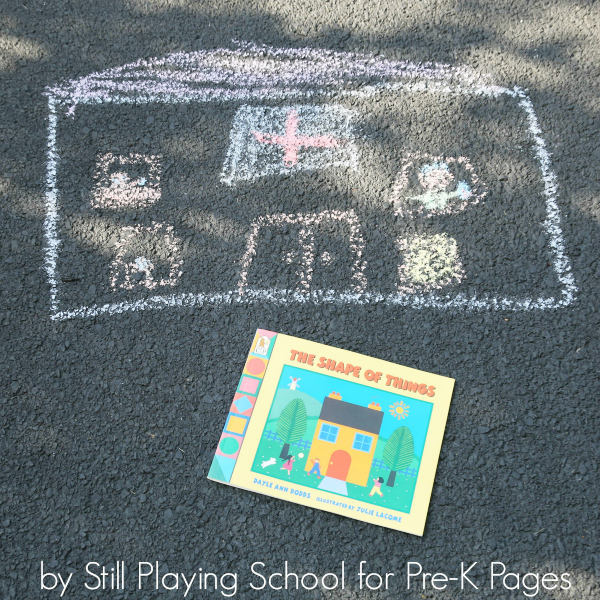 Take a before and after picture of the shapes to see the creativity behind this art invitation for kids! I'm sure children would be delighted to show and tell their parents and caregivers what they drew, too.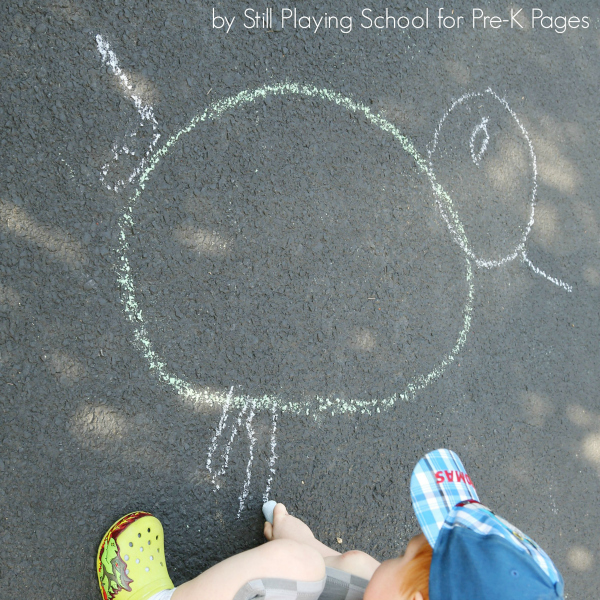 BIO: Devany LeDrew is a former kindergarten teacher who writes at Still Playing School where she shares play based learning activities. She specializes in fine motor activities and has co-authored two books of fine motor ideas! Follow Still Playing School for more engaging educational ideas on Facebook, Instagram, Pinterest, and Twitter!
More Ideas for Shapes—
Shape Wands Math Activity
Make a Tortilla Shape Snack
Create a Shapes Photo Book
Shape Exploration for Kids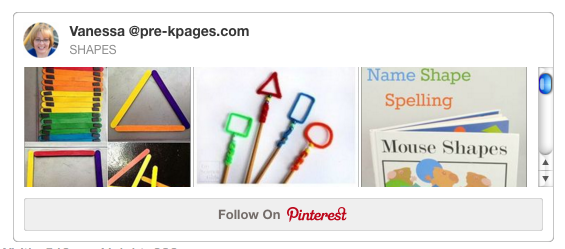 Follow my Shapes Pinterest Board for more great ideas!