Make some shape wands and turn your home or classroom into the perfect place for kids to learn and identify shapes. As kids seek and find shapes in their environment, they are not only learning shapes, but they are also working on visual skills, learning vocabulary to describe the world around them, and observing that certain objects are the same shape for functionality.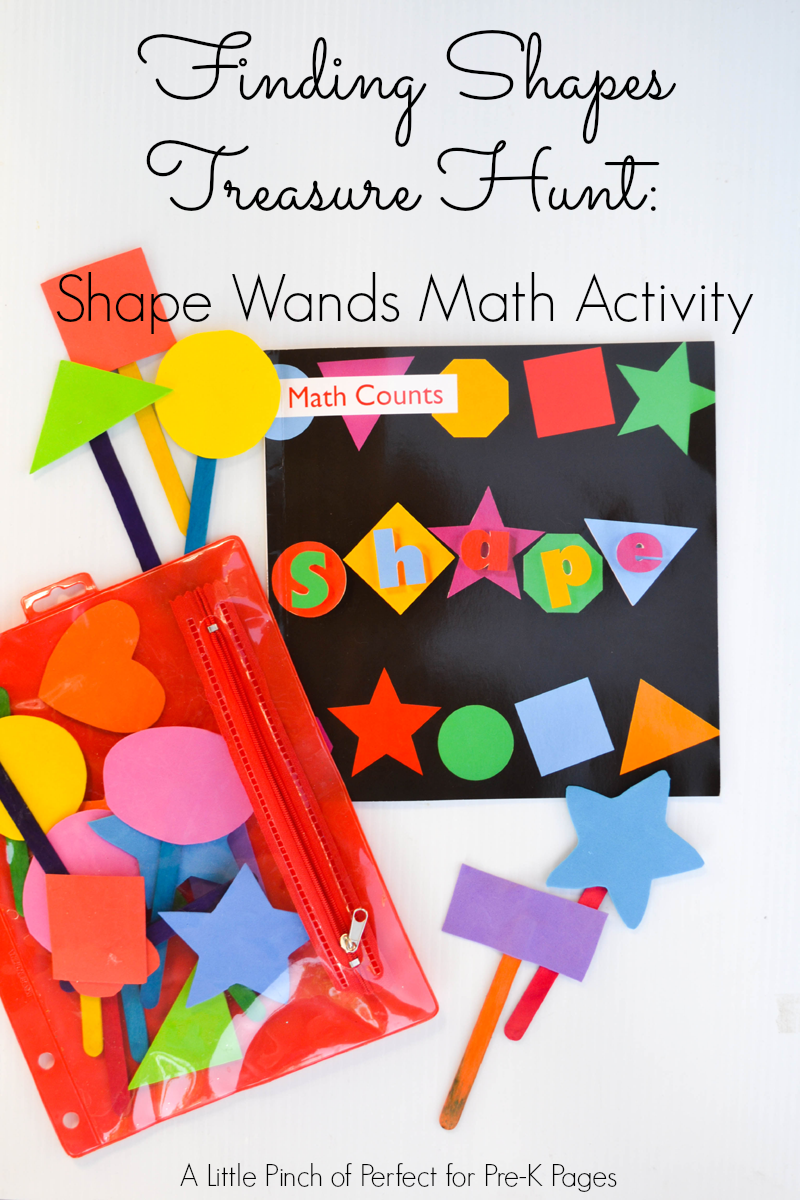 Read the Book Shapes
Because we love adding books to our learning activities we read, Shapes by Henry Arthur Pluckrose. The book starts out with pictures of colorful shapes and asks kids to trace and compare them. It ends with photos of real life places and objects asking kids to see what shapes they can find which is the perfect introduction to this activity.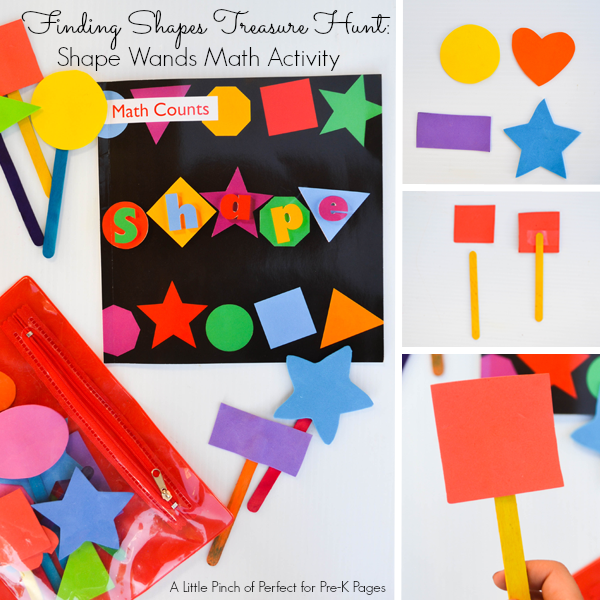 Shape Wands Math Activity
Supplies
Craft foam
Craft sticks
Tape
Scissors
I always have a hard time cutting out cardboard so for this activity I used foam. Another great thing about the foam is it won't bend or rip from overly excited kids. If you don't have craft foam on hand, leftover cereal boxes or laminated craft paper would work, too.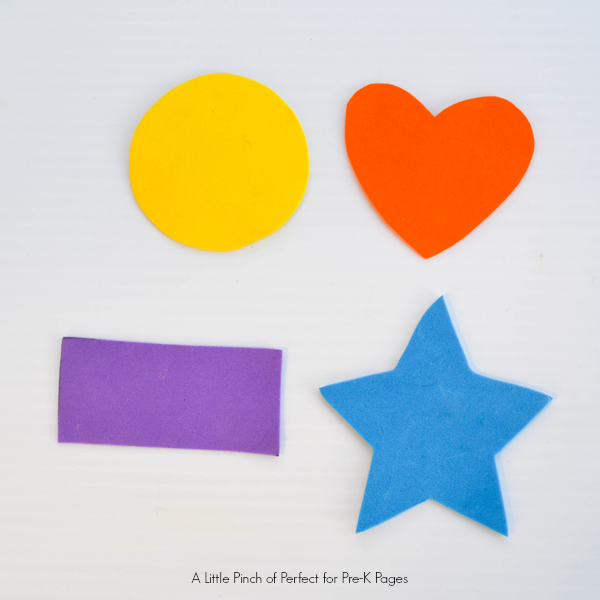 To prep this activity, cut out shapes from craft foam. I used cookie cutters to trace the shapes and then cut them out with scissors. If you don't have cookie cutters you could trace tangrams or free-hand draw them. I made each of my kids a set of shapes–including a circle, oval, triangle, square, rectangle, and heart.
Tape or glue each shape to a craft stick to make the shape wands.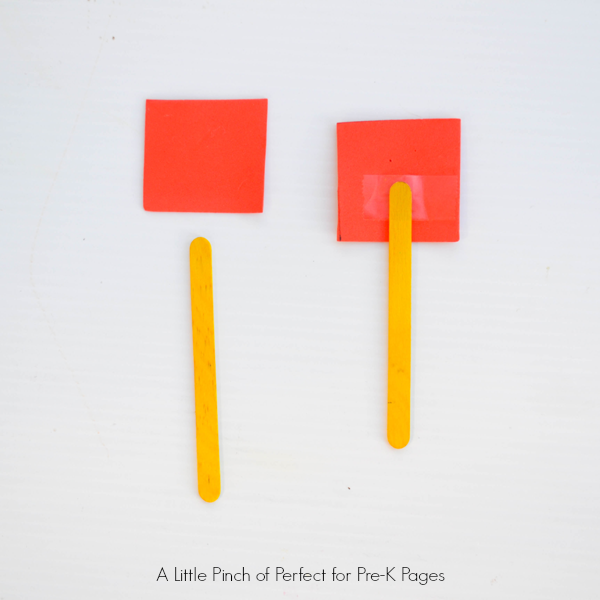 Shape Hunt
Kids can work as a team or each choose a shape to hunt for. Each of my kids wanted to have a different shape to find. As we found shapes we counted them. You could give kids a tally sheet to keep track of how many shapes they find and write the total down once they are done searching.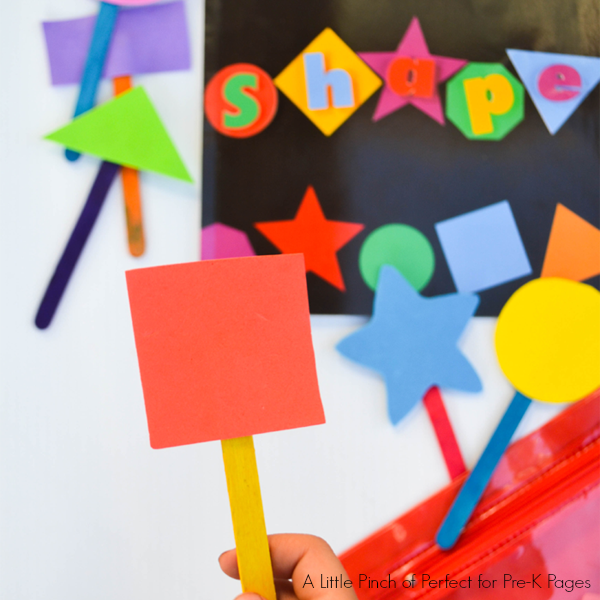 As we walked around the house with our shape sticks, we pointed to the matching shapes in our environment. Surprisingly it took a while to find a square because most things in our house are rectangular. All the doors in our house are rectangular and all the wheels in our house are circular. We discussed why certain shapes are better for the job than others. They thought it was funny to think about trying to ride a bike with a square wheel!
Now it's your turn, go find out how many rectangular doors you have and more!
BIO: Katie stays busy homeschooling her two kids and sharing their fun educational activities, cute crafts, and free printables at A Little Pinch of Perfect. One of her kid's favorite shapes activities can be found here, Sorting Shapes Activity + Free Printable. Join her community of parents, caretakers, and educators who enjoy having fun and spending time with kids on Pinterest, Facebook, and Instagram.
More Ideas for a Shapes Theme—
Make a Tortilla Shape Snack
Shape Exploration for Kids
Create a Shapes Photo Book
Perfect Square Shapes Art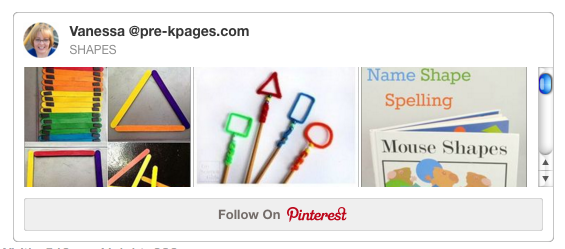 Follow my Shapes Pinterest Board for more great ideas!