Prepositions are words that describe position and spatial relationships. Growing in understanding of these types of relationships is an important part of general math understanding.
Position words are related to sequence, like numbers (before, after, between). These words are also related to shape and space, important concepts for geometry and other higher math understanding. These books can help your preschoolers begin to understand prepositions and the meaning of these important words. These words are sometimes referred to as positional words.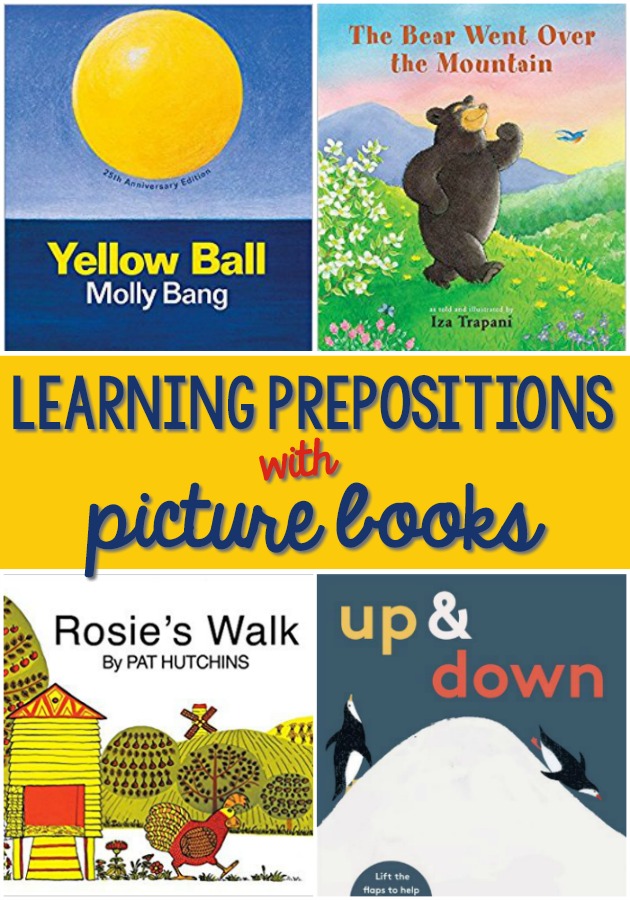 Picture Books to Teach Prepositions
The Bear Went Over the Mountain by Iza Trapani
A book of the traditional song with a senses twist.
Where is Bear? by Jonathan Bentley
Yellow Ball by Molly Bang
Simple text with large simple pictures tell the story of a ball that floats away from shore but eventually ends up home again. Words describe the ball in relation to other things.
Underwear, by Jenn Harney
Rosie's Walk by Pat Hutchins
Rosie the hen walks all over the farm (that includes all kinds of prepositions). But she is unaware of what's happening right behind her. Illustrations will encourage discussion and using additional prepositions and positional words.
Cat Up, Cat Down, by Catherine Hnatov
Up & Down by Britta Keckentrup
Little Penguin goes on a journey to see his friend. This flap book is great with prepositions (and opposites).
The Greatest Gymnast of All, by Stuart J. Murphy
The Bouncing Ball by Deborah Kelly
A bouncing ball travels down the street and a great many other places.
Two Little Trains, by Margaret Wise Brown
We're Going On a Bear Hunt by Michael Rosen
The traditional story about going on a bear hunt and encountering various obstacles that must be overcome.
Hike, by Pete Oswald
Along a Long Road by Frank Viva
A bike ride on a long road goes up and down, in and out a tunnel, over a bridge, and back again.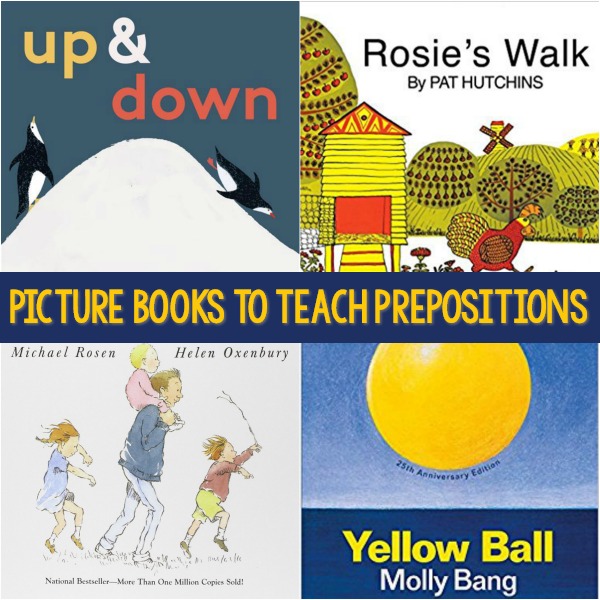 Preposition Books for Preschool
Itsy Bitsy Spider
A version of the familiar fingerplay
Jack and Jill,
A fun version of the nursery rhyme
Grand Old Duke of York, by Nicholas Ian
A version of the classic song
Around the House the Fox Chased the Mouse, by Rick Walton
A fox chases a mouse around the house…and through, into, under, and out many places.
Joey and Jet, by James Yang
A boy and his dog play fetch, and the ball really travels.
Up, Down and Around, by Katherine Ayres
A fun book about growing a vegetable garden.
Piggies in the Pumpkin Patch, by Mary Peterson and Jennifer Rofe
Mischievous pigs run around the farm yard.
Elephants Aloft, by Kathi Appelt
Rama and Raja go on a balloon adventure.
Over and Under the Rainforest, by Kate Messner
Over and Under the Pond, by Kate Messner
Up and Down in the Dirt, by Kate Messner
Over and Under the Snow, by Kate Messner
Where is Jumper? by Ellen Stohl Walsh
You can look for these books at your local library or order used copies to keep costs down.
More Book Lists