We read and loved The Hidden Alphabet by Laura Vaccaro Seeger! This alphabet based children's book inspired us to make our own artwork using letters. Our painting sticker activity required fine motor skills as well as knowledge about the letter shapes and alphabetical order.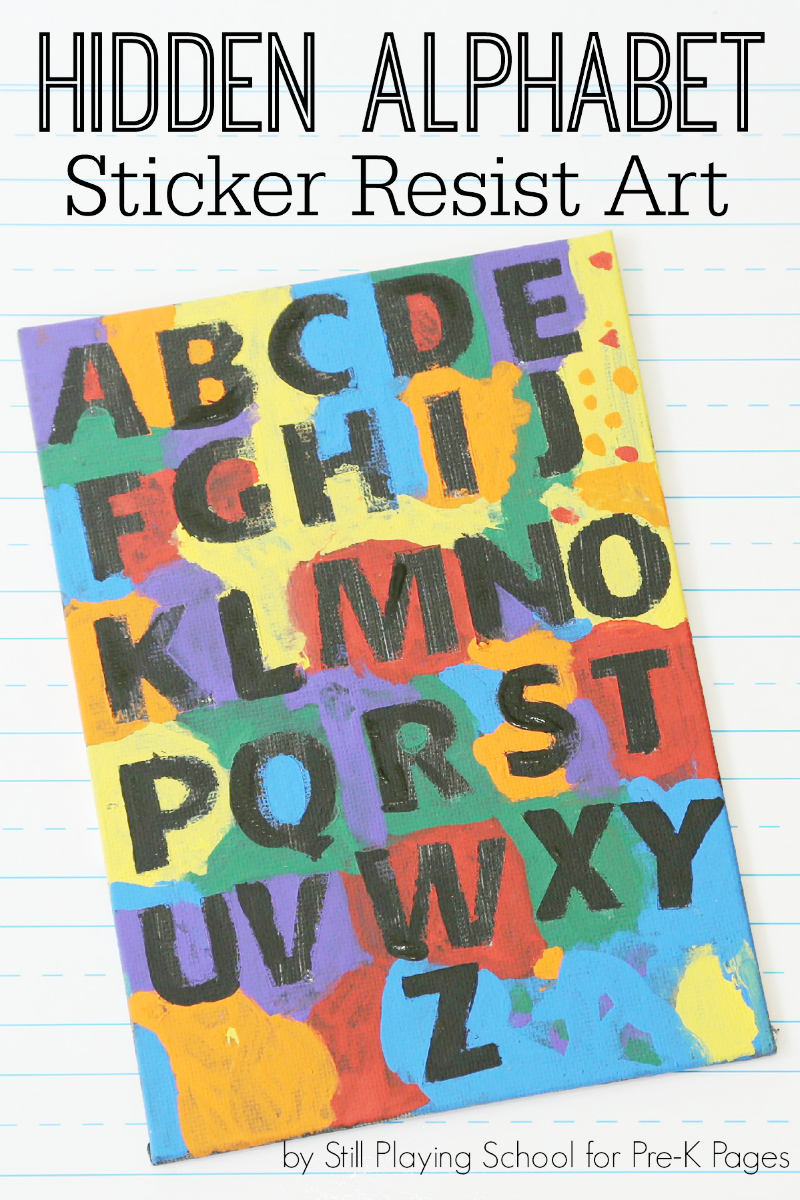 Amazon links included below.
Thinking About Letter Shapes
The alphabet book, The Hidden Alphabet associates letters with items that begin with the corresponding letter sounds. The illustrations use negative space creatively to represent the matching items. If you haven't read this book yet, we highly recommend it!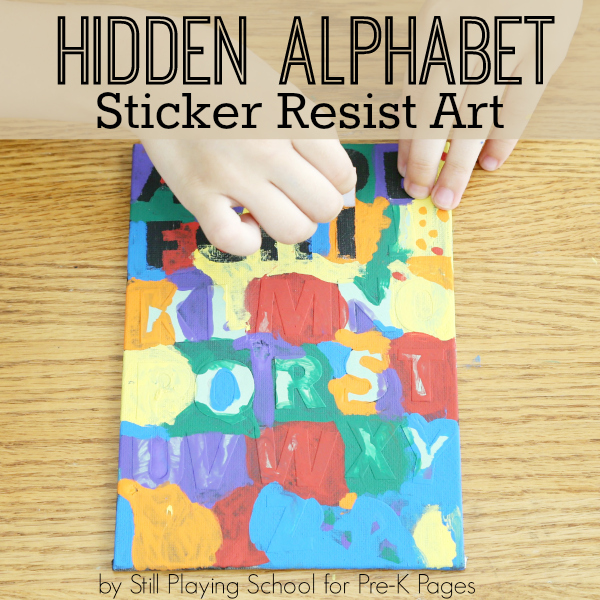 While reading The Hidden Alphabet we discussed the shapes of different letters. We tried a resist technique with our painting to continue the theme of negative space and letter shapes. It was the perfect way to extend the learning concepts from the story!
Preparation For This Painting Sticker Activity
You will need:
We painted a white canvas black but you could also begin with a black canvas.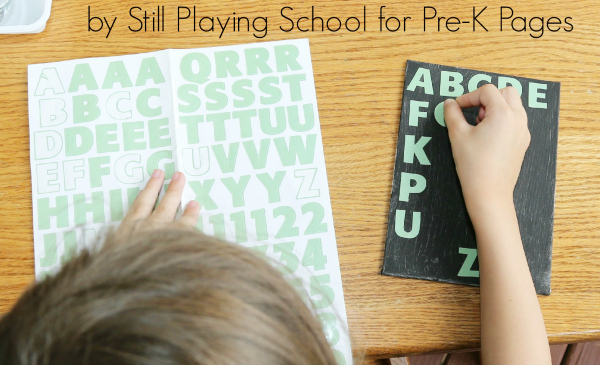 When the black paint was dry, we added our letter stickers in alphabetical order. I found our letter stickers at the dollar store! I helped our preschooler plan out the spacing we would use to place the stickers on the canvas. We counted the letters of the alphabet and decided how many letters we could fit in each row.
As she placed the stickers, our preschooler needed to say the letters in alphabetical order, find the next letter she needed on the sticker sheet, and place it on the canvas in the correct place. Little did she realize how much learning was packed into her fun art project!
Be sure that the stickers are down firmly. Peeling, placing, and pressing stickers is fantastic fine motor practice!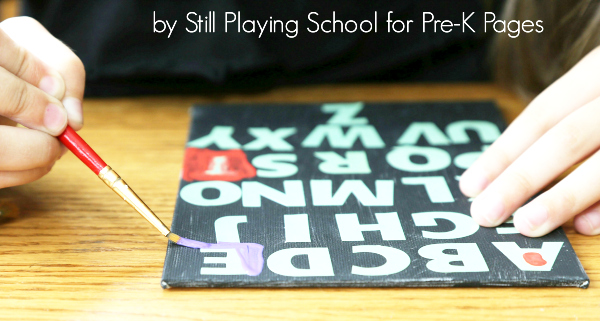 Painting and Peeling The Stickers
We used acrylic paint on our canvas. We painted directly over the stickers as we again discussed the shape of the lines in the letters.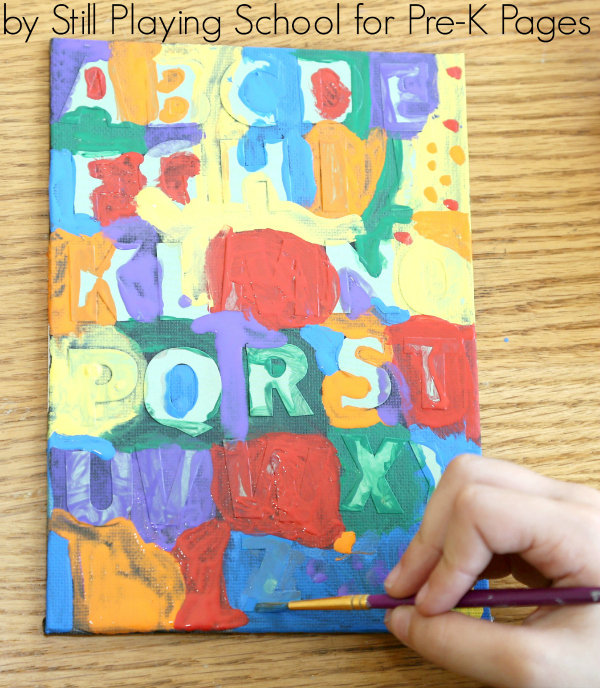 Once the paint was dry we carefully pulled off the stickers. I started peeling them off and allowed my preschooler to do the rest. A bit of the color seeped under the stickers so we did touch up some of the letters with black paint but I love the effect of the colors blending in some places!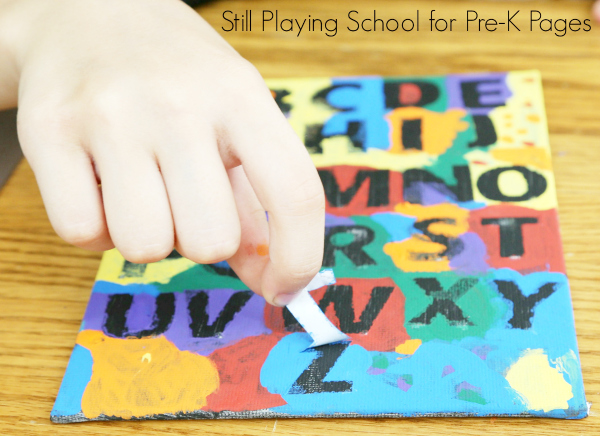 For a classroom of students you could have each child paint his or her name or work on a collaborative piece of artwork for your reading center or library area after reading The Hidden Alphabet by Laura Vaccaro Seeger.
BIO: Devany LeDrew is a former kindergarten teacher who writes at Still Playing School where she shares play based learning activities. She specializes in fine motor activities and has co-authored the book 99 Fine Motor Ideas! Follow Still Playing School on Facebook, Instagram, Pinterest, and Twitter!
More Alphabet Letter Ideas—
Chicka Chicka Boom Boom: Alphabet Activity
LMNO Peas: Alphabet Discovery Bottle
Alphabet Mystery: Alphabet Scavenger Hunt
Dinosaur Alphabet Matching Activity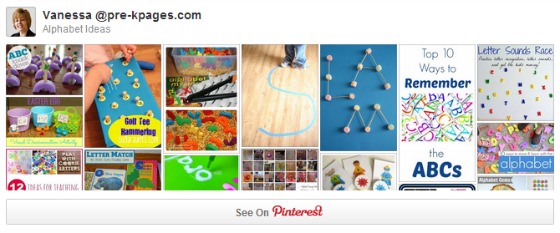 Follow my Alphabet Pinterest Board for more great ideas!