Do your kids need help developing their visual discrimination skills?  This apple printable fits nicely with a fall theme and will help young children in preschool, pre-k, and kindergarten develop those tricky visual discrimination skills.
Keep reading to grab your free printable!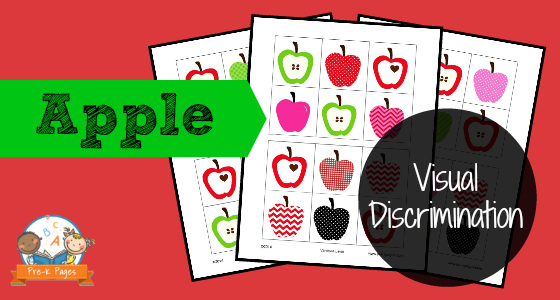 Visual Discrimination Activities
Have you ever shown a child a letter, like uppercase F and the child has identified the letter as an uppercase E? This is an example of a child who may be struggling with visual discrimination skills.
Letters that have similarities like E and F can be confusing for many young children who are being introduced to the letters of alphabet for the first time.
Visual discrimination is the ability to correctly identify the similarities and differences in objects or symbols by sight.
Developing visual discrimination skills will help young children be able to identify letters and numbers quickly, or fluently.
Supplies Needed:
You will need small manipulatives for this activity such as flat floral marbles, bingo chips, or Unifix cubes.
Preparing the Visual Discrimination Activity
First, print out the pages on cardstock.
Next, laminate the pages for durability and cut each page in half, there are two task cards per page.
Apple Visual Discrimination Activity
Place your manipulatives like bingo chips, floral marbles, or Unifix cubes in a container in the middle of your small group area so all children will have easy access to the materials.
Show the children how to look at each card and find the two images that are the same. Demonstrate how to place one manipulative on top of each of the images that are the same.
Ask the children to tell you how the other images are different.
Give one task card to each child in your small group and invite the children to place the manipulatives on top of the images on their cards that are the same.
This is a quick activity so be sure to explain that they can trade cards with a friend after they have finished each card.
Another idea is to make an entire set of cards for each child in your small group. Use a hole punch and a book ring to create a booklet of task cards for each child. As the child completes a card he or she can flip to the next page to continue.
Apple Printable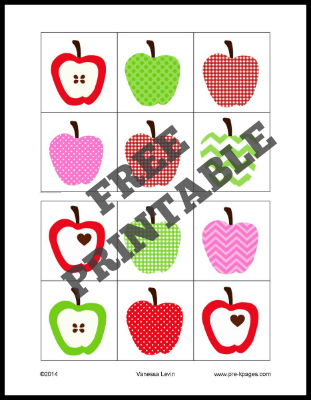 Click on the picture above to download the apple visual discrimination activity.
More Apple Ideas