Rhyming is a great way to build foundational literacy skills. As preschoolers hear and say rhymes, they are beginning to hear sounds within words and identify when those sounds are the same. (This builds phonological awareness.) Preschoolers can develop their oral skills as they say rhymes. Rhyming books help children begin to predict what is coming or predict what word will end the sentence. These predictive skills are also important pre-reading skills. Plus rhymes are fun!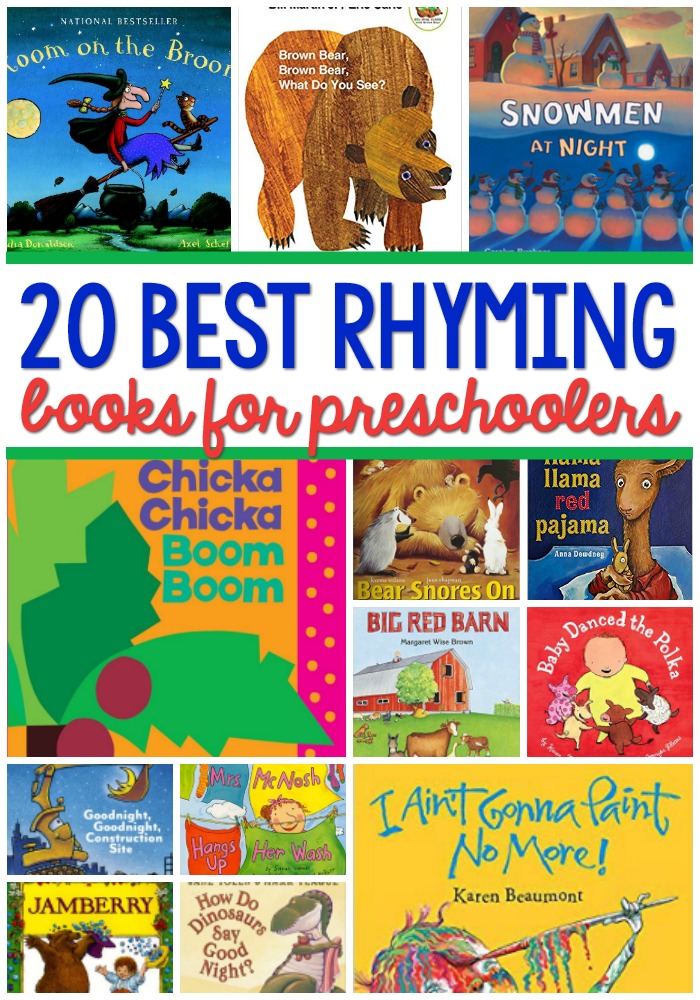 Rhyming Books for Preschoolers
Bear Snores On by Karma Wilson
Chicka Chicka Boom Boom by Bill Martin, Jr. and John Archembault
Llama, Llama Red Pajama by Anna Dewdney
Goodnight, Goodnight, Construction Site by Sherri Duskey Rinker
I Ain't Gonna Paint No More by Karen Beaumont
How Do Dinosaurs Say Good Night? by Jane Yolen and Mark Teague
Room on the Broom by Julia Donaldson
The Big Red Barn by Margaret Wise Brown
Snowmen at Night by Caralyn Buehner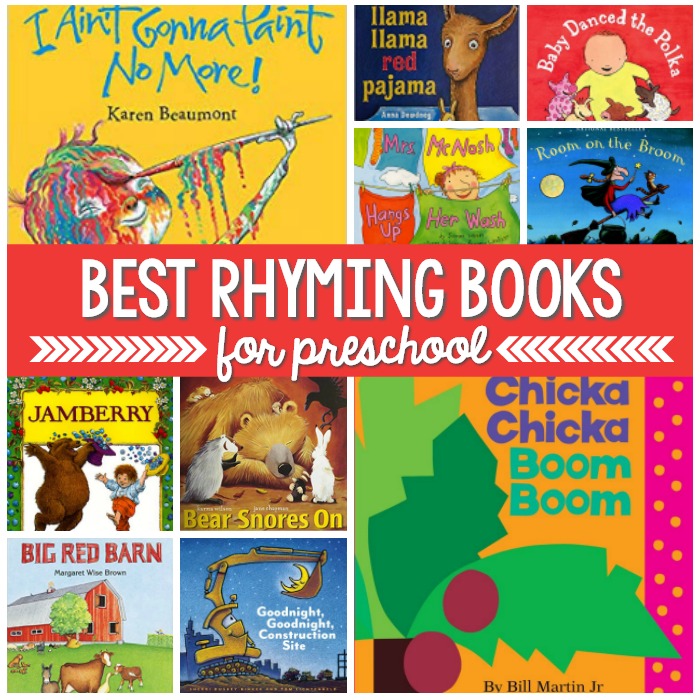 Best Children's Books That Rhyme
Goodnight Moon by Margaret Wise Brown
Brown Bear, Brown Bear by Bill Martin Jr.
Baby Danced the Polka by Karen Beaumont
Groovy Joe: Ice Cream and Dinosaurs by Eric Litwin
Jamberry by Bruce Degen
Mrs. McNosh Hangs Up Her Wash by Sarah Weeks
Clap Your Hands by Lorinda Bryan Cauley
Mouse Mess by Linnea Aspline Riley
Ten Apples Up on Top by Theo LeSieg
Green Eggs and Ham by Dr. Seuss
Enjoy these rhyming picture books with your kids and build those early literacy skills!
Do you have a favorite rhyming book? Leave a comment below, we'd love to read some new books!