One of the most popular centers in many preschool classrooms is the block center. Blocks stir children's imaginations. Preschoolers can create complicated structures. They can explore pattern and symmetry and balance. Play in the block center can build important skills and concepts. Adding books like the ones below brings more literacy into the block center and can cause preschoolers to think beyond their own experiences to create.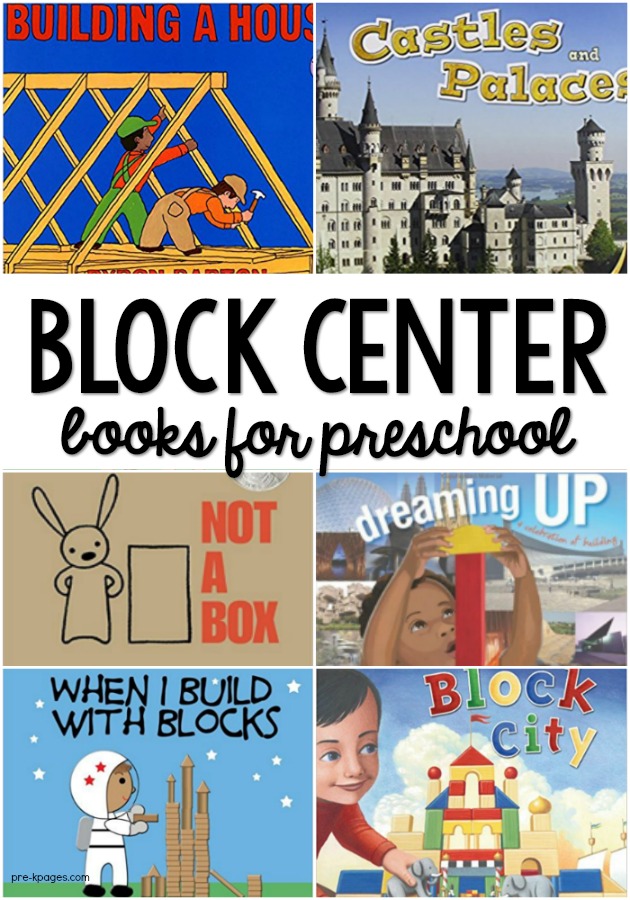 Books for the Block Center
When I Build with Blocks by Niki Alling
The pages of this book hold inspirational block structures and imaginative worlds for those structures. The block center is our favorite place to be!
Dreaming Up: A Celebration of Building by Christy Hale
The simple rhyming text celebrates children's different types of building and construction and then shows photographs of real buildings that use similar construction styles or techniques. A great look at different types of architecture.
Not a Box by Antoinette Portis
In a child's hands…and imagination…a box can be anything. This book celebrates the power and possibilities of imagination.
Block City by Robert Louis Stevenson and Dawn Heston
A poem by Stevenson comes to life with illustrations. A boy builds his own town by the sea.
I Read Signs by Tana Hoban
This book is filled with photographs of familiar signs. Encourage children to read the signs they know and possibly create signs of their own.
Signs in My Neighborhood by Shelly Lyons
Simple text explains what signs are and what different signs mean, accompanied by photographs of signs in neighborhoods.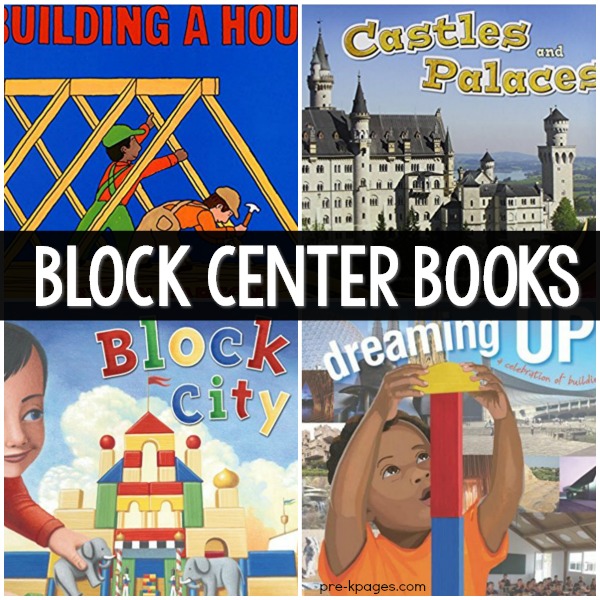 Books to Add to Your Blocks Center
Building a House by Byron Barton
Simple text and simple illustrations show how a house is built, step by step.
How a House is Built by Gail Gibbons
A more detailed look at the steps for building a house. This book is full of construction vocabulary!
Castles and Palaces by Sally Lee
This book includes photographs of real castles and palaces, showing interesting architecture and buildings that may inspire your builders.
Billions of Bricks: A Counting Book About Building by Kurt Cyrus
This isn't a traditional counting book. Different types of skip counting are used but the focus is on building with bricks. The rhyming rhythmic text and detailed illustrations will engage your preschoolers.
Jack the Builder by Stuart Murphy
Jack starts with two blocks and builds a robot. He keeps adding more blocks to make new creations. But, at the end, he ends up with a pile of blocks. A fun book that includes counting and imagination.
If I Built a House by Chris Van Dusen
A boy tells his mother the kind of house he would like to design. It's complete with an automatic kitchen, a race car room, and even a playroom that detaches and flies around. This book will stimulate your preschoolers' imaginations.