Spring is a time to think about and talk about animal life cycles. Many animals lay eggs; these animals are called oviparous. Children may naturally think of chickens or other birds that lay eggs. But birds are not the only oviparous animals. Read these books with preschoolers to learn more about eggs and the animals who lay them.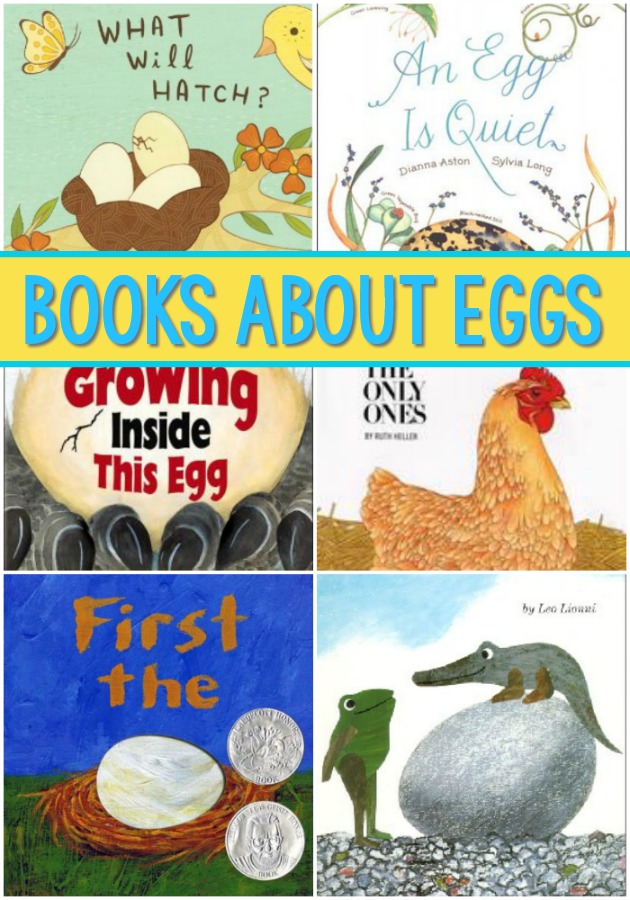 Books about Eggs
Chickens Aren't the Only Ones
by Ruth Heller
This book covers all kinds of animals who lay eggs–birds, reptiles, amphibians, insects. And even a couple of mammals.
An Egg is Quiet by Dianna Hutts Aston
A look at all kinds of eggs and the ways they look and feel.
An Extraordinary Egg by Leo Lionni
Three frogs live on Pebble Island; one frog, Jessica, is always exploring. One day she brings home an egg. "It's a chicken egg!" another frog says. When the chicken hatches, it's green and scaly. The "chicken" joins Jessica on her explorations until they discover someone else on the island.
First the Egg by Laura Vaccaro Seever
This book examines life cycles with "first…then" repetition.
The Golden Egg Book by Margaret Wise Brown (don't let this one fool you, it's not really an Easter book)
A lonely bunny finds an egg. He hears something in the egg. He tries to help break the egg but it won't break. What could be inside that egg?
Guess What is Growing Inside This Egg by Mia Posada
Clues in the rhyming text will lead children to guess what animal is inside each egg.
Whose Egg? by Lynette Evans
The illustrations and text in this book give clues to whose egg is shown. Lift the flaps to see who is inside.
Hatch, Little Egg by Edouard Manceau
Everyone is gathering to watch the little bird hatch. They are so excited. When the egg cracks and opens, they are all surprised.
Egg by Kevin Henkes
Four eggs sit together. Three hatch birds; the birds fly away. The other does not crack. The birds come back and wait, trying to help it hatch. When it does, there's a surprise. This book with limited words is easy for young children to follow and create the story.
Tillie Lays an Egg by Terry Golson
Tillie likes to explore all over the farm…and lay her eggs in the most unusual places.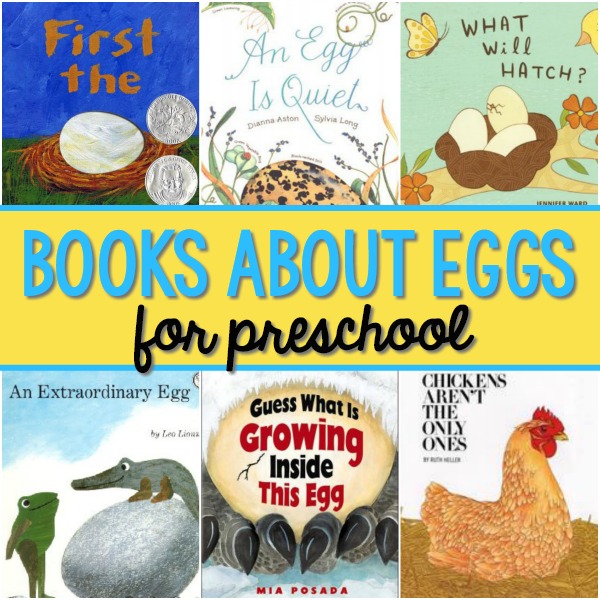 Preschool Books About Eggs
Hank Finds an Egg by Rebecca Dudley
This wordless book tells the story of Hank, a small bear who finds an egg in the forest. He tries several different ways to return the egg to its nest.
See How They Grow: Chick by DK Publishing
Pictures and simple text show a chick, from hatching to eight weeks old.
See How They Grow: Duck by DK Publishing
Follow the growth of a duckling from hatching to three months old.
Ten Eggs in a Nest by Marilyn Sadler
Red is excited about being a new father. When a baby chick hatches, he rushes to get a worm for the chick. When he returns, there's a surprise–more chicks! A fun counting/addition book.
What Will Hatch? by Jennifer Ward
Children can see eggs of all types and guess what will hatch from the egg.
Pig's Egg by Katherine Sully
Pig feels left out. All of his friends are hatching eggs and he does not have an egg. Then, while eating dinner, Pig finds his own egg to hatch.
The Odd Egg by Emily Gravett
Duck does not have an egg like all the other birds. Duck finds an egg different from the others. When it hatches, there's a surprise.
When Blue Met Egg by Lindsay Ward
One day while Blue is sleeping in her nest, something wet lands by her. She sees Egg. She tries to find Egg's mother but cannot. So Blue and Egg become friends. As the weather gets warmer, Egg is getting smaller. Blue is worried. What will happen? A fun adventure that takes place in the city.
Flap Your Wings by P.D. Eastman
A boy finds an egg on the path. He sees an empty nest and places the egg there. But Mr. and Mrs. Bird return home and find an egg that is not theirs. But they decide to hatch it anyway.
Shake a Leg, Egg by Kurt Cyrus
One egg in the goose's nest has yet to hatch. Everyone is waiting for this last baby to join to world.
Find these books at your local library or shop for used books to keep your costs down.
More Book Lists for Preschoolers