Friendships in the preschool years are often very fluid. Today two children may be best friends and tomorrow they may have new best friends. However, learning how to get along with others and how to treat others with kindness are important social skills for preschoolers to learn. Sometimes adults will say "Be kind" or "Get along" but may not explain how children should do those things. These books can help children understand how to act as friends and how to treat others with kindness. These friendship books can also be helpful in building positive behavior in your classroom.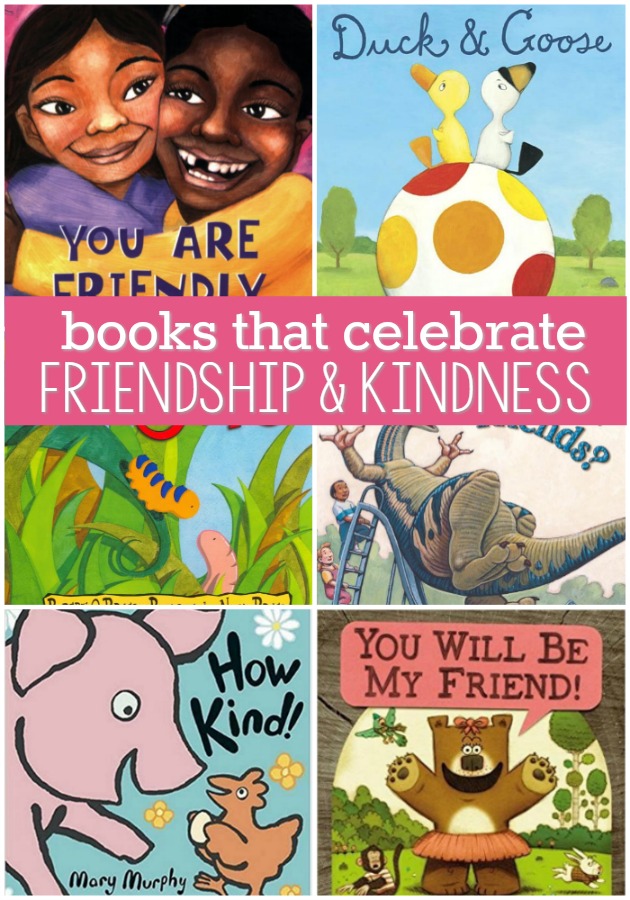 Books About Friendship and Kindness
Swimmy by Leo Lionni
Swimmy is a black fish in that lives in a school of little red fish. One day a large tuna swallows all the fish in the school except Swimmy. He quickly swims away, discovering lots of wonders under the sea. He finds a new school of fish but these little fish are too scared to swim out in the ocean. Swimmy teaches them to work together to outsmart the big fish.
Stick and Stone by Beth Ferry
Stick and Stone are each alone. When Stick helps Stone, they become friends. Later Stone helps Stick, too. Because best friends rock!
Sick Day for Amos McGee by Philip C. Stead
Amos McGee visits his friends each day at the zoo. One day he is sick and stays in bed. His friends are worried and come to find out what is wrong. A good book about friendship and showing care.
How Kind by Mary Murphy
Hen gives Pig a gift. That kind act leads Pig to be kind to someone else. And the kindness continues to spread to others.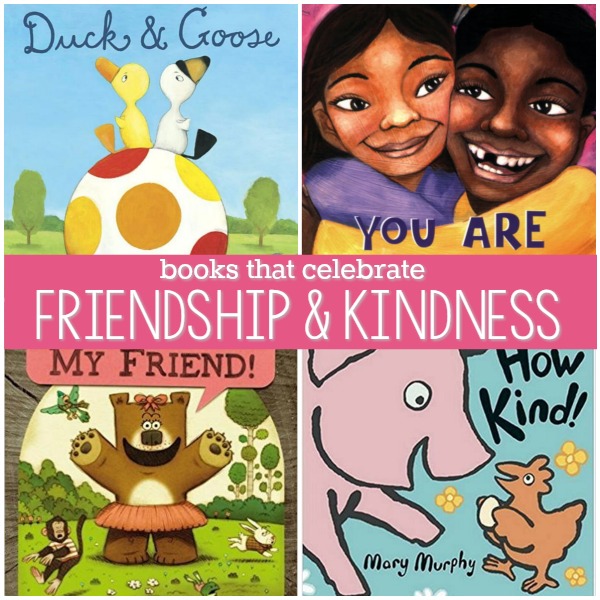 The Kindness Quilt by Nancy Elizabeth Wallace
After Minna's teacher reads the story "The Lion and the Mouse," she encourages the children to do kind acts and draw pictures of what they do. Minna thinks and thinks. Then she makes her pictures into a quilt. The kindness quilt grows and grows at school as more children do kind things.
The Lion and the Mouse by Jerry Pinkney
A wordless version of Aesop's fable. A lion shows kindness to a mouse and later the small mouse returns the kindness by saving the large lion. Friends can be kind no matter how small they are.
Duck, Duck, Goose by Tad Hills
Duck and Goose are friends. Duck meets a new friend, Thistle, that seems to complicate the two friends' play. Can they all be friends together?
You Will Be My Friend! by Peter Brown
Lucy decides to make a new friend. But it is harder than it looks. (And shouting, "You WILL be my friend" doesn't work.)
You Are Friendly by Todd Snow
This book helps children know different ways they can be friendly. Pictures and words can help children understand how to build social skills.
How Do Dinosaurs Play with Their Friends? by Jane Yolen
"What if a dinosaur's friends come to play? Does he mope, does he pout if he can't get his way?" Using fun illustrations of huge dinosaurs on bikes and slides, this book examines what not to do and what to do when playing with friends.
Bob and Otto by Robert O. Bruel
Bob and Otto are friends who enjoy eating and playing together. Until one day Bob has to climb up the tree. And Otto begins to dig through the earth. After many days, Bob has changed. Will their friendship last?