Reading books with children is a key way to develop early literacy skills. Books with repetitive words and phrases or predictable text and rhymes allows children to participate in the reading experience immediately. They will begin to "read" and say the repetitive phrases with you. They will guess the ending word in a book with rhyming text. Use these books with your preschoolers to build solid foundational literacy skills.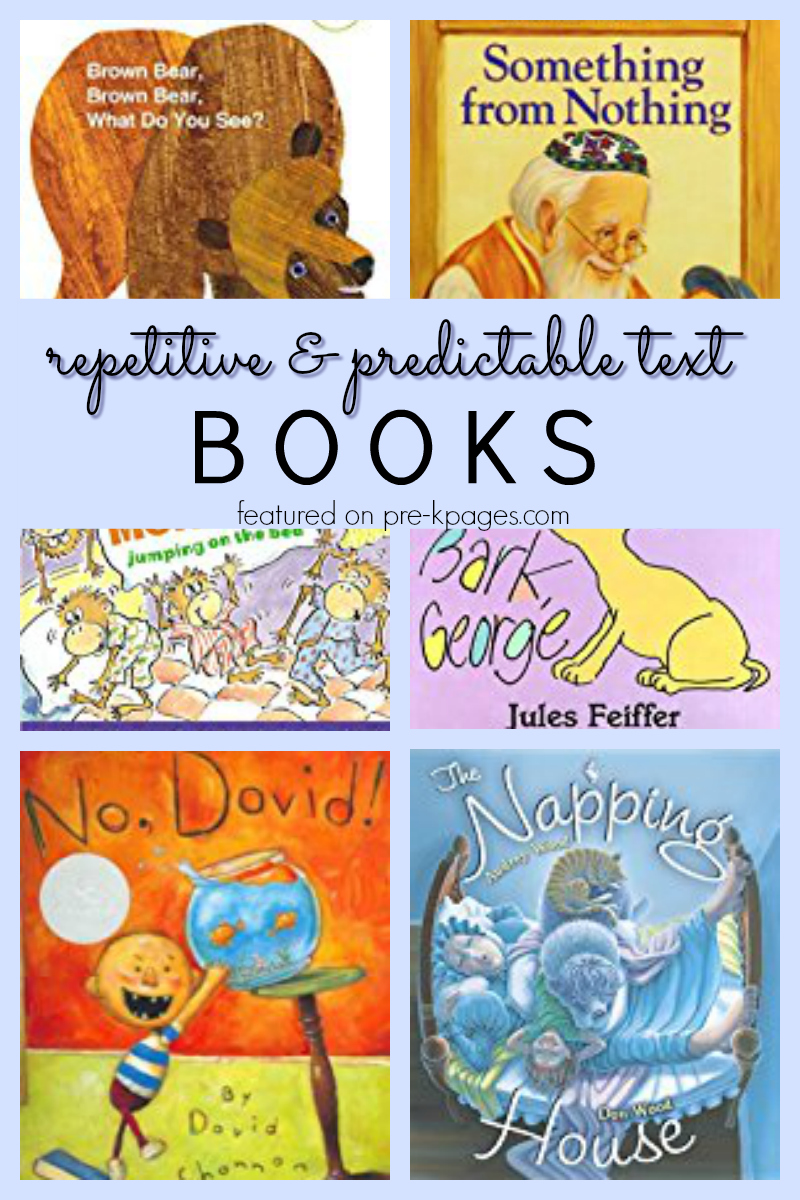 Books with Repetitive and Predictable Text
Brown Bear, Brown Bear, What Do You See? by Bill Martin Jr.
The repeated question, the predictable pattern, and the colorful illustrations by Eric Carle will guide children to read this book on their own in no time.
Bark George by Jules Feiffer
A mother dog keeps asking her puppy, George to bark each time he makes a different sound. Why? The doctor gets to the bottom of the problem. All children will enjoy this fun book.
Something from Nothing by Phoebe Gilman
When Joseph is born, Grandpa makes him a beautiful blanket. But, as Joseph grows older, so does the blanket. But Grandpa can fix it. This folk tale has great repetitive text and encourages children to predict what will be made next.
Mrs. Wishy Washy's Farm by Joy Cowley
The animals on Mrs. Wishy Washy's farm do not like baths so they decide to run away. The rhymes and text rhythm in this book will help children anticipate what text is coming next.
Pete the Cat: I Love My White Shoes by Eric Litwin
Pete has new white shoes. As Pete travels through his day, the shoes begin to change. But Pete keeps singing his song throughout the day. A contemporary favorite loved by all young children this one is a "must read."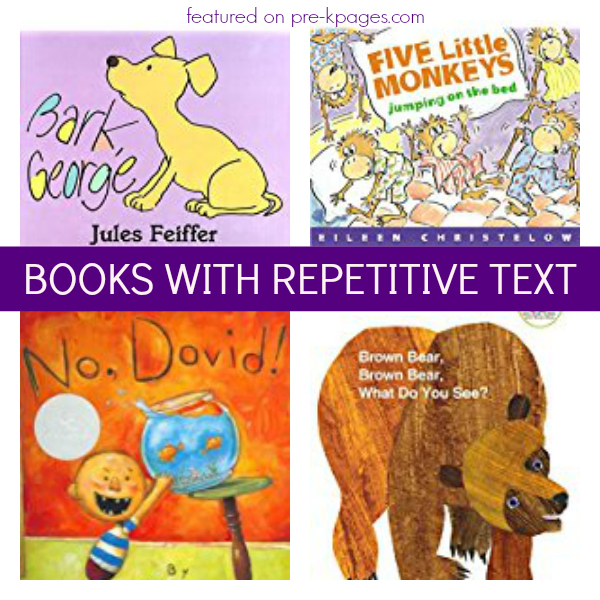 The Napping House by Audrey Wood
In this cumulative story, everyone is sleeping (or dozing or snoring or snoozing). But something happens that changes that. The repeating phrases will encourage children to read along after the first few pages.
Have You Seen My Cat? by Eric Carle
A boy is searching for his cat. He finds lots of different cats from around the world but none are his cat. The element of mystery in this book captures children's attention and keeps them engaged as they chime in and ask the questions.
Silly Sally by Audrey Wood
This fun tale about Silly Sally may get your children up and moving…as well as anticipating the text.
Five Little Monkeys by Eileen Christelow
The familiar rhyme and fingerplay is a book, too. Your preschoolers will love the familiar words, fun illustrations, and most of all – the sheer naughtiness of jumping on the bed!
No, David by David Shannon
Early readers love David and his books. Simple repetitive text and hilarious illustrations make this book a favorite for children of all ages.