Printable, Electronic Pre-K Report Card
The electronic report card was designed to make filling out report cards easier for Preschool and Pre-K teachers.
With the electronic report card there are just 3 easy steps to follow and your report cards are done, never fill out report cards by hand again!
Each report card is 2 pages per student and includes an electronic comments section and a space for parents to sign.
Electronic Report Card for Preschool and Pre-K
What makes the electronic report card different?
Fillable Class List: Type student names directly into the document.
Magic Wand: Just type student names in the class list, then click the magic wand and watch the magic happen! The report cards instantly populate student names on each report card for you!
Comment Fields: 7 comment fields with multiple comments to choose from! Just click the dropdown arrows, then select your preferred comments! No more writing comments by hand!
Personalized Comments: After you choose your preferred comments, select "personalize" to automatically populate all your comments with student names!
This is the ultimate report card for Pre-K and Preschool!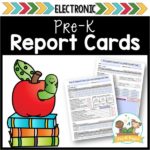 Editable report card for Pre-K and Preschool. Quickly and easily do report cards without spending hours writing by hand!
Report Card Frequently Asked Questions
What if I have more than one class or more than 24 students? Just save the document with a new name and now you have another set of report cards!
What happens next year? Just open the document and save with a new name, then erase the old names and start over.
What happens if I send report cards home more than once a year? Easy Peasy! Just save the first set with a specific name, such as "report-cards-oct-2015″, then save again the next time with another name such as "report-cards-jan-2016″ etc.
Report Card Skills
What skills are covered in this report card?
Letter Identification: Upper and Lowercase
Phonological Awareness: Letter Sounds, Rhyming, Syllables, Onset-Rime, Segmenting Phonemes
Stages of Writing
Early Literacy Skills
Numeral Recognition: 0-20
Math: One-to-One Correspondence, Patterns, Sorting
Color and Shape Recognition
Physical Development
Social Emotional Development
Report Card Comments
Report Card comments section includes comments for the following areas:
Interpersonal
Following Directions
Interest in Learning
Behavior
Respect
Intrapersonal
Self-Regulation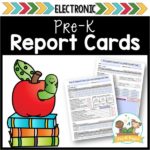 Editable report card for Pre-K and Preschool. Quickly and easily do report cards without spending hours writing by hand!
Please read the Product FAQ's before you make a purchase. All products are sent via email as digital downloads, nothing will be sent via postal mail.
You can find the Pre-K Assessment Packet HERE and the Pre-K Progress Report HERE.
Important Report Card Info
Can I buy the report card and use it for my entire school or district? Your purchase of any document from Pre-K Pages is for one single user (teacher). To use the electronic report card (or any purchased document) for more than one user you will need to purchase multiple copies, one per teacher. For more than ten users please contact me for a multiple user license quote.
The report card isn't working, what should I do? After you receive the link to your report card via email, download and save the document to a safe location on your computer. Then, navigate to the location where the document was saved and open it in Adobe Reader. Your version of Adobe Reader must be current to use the document properly. If you are experiencing difficulty with the magic wand or other advanced features this is an indication you have opened the document in 'preview' mode, which ​does not support the advanced features offered in this product. You must use Adobe Reader to open the document or the advanced features will not be fully functional.
Can I change, add, or delete the skills assessed on the report card? No, the document is not editable.
I don't teach Pre-K or Preschool, can you make a custom electronic report card for me? Maybe. Please know that the skill required to create an electronic document of this sort requires many hours of highly skilled Javascript coding. If your school or district is willing to make the investment please contact me to receive a quote.
More Teaching Tips from Pre-K Pages