Young children develop math concepts by playing and exploring. Using numbers and counting quantities will help children develop concepts through hands-on experiences. This homemade game can help preschoolers develop math concepts while playing a game together.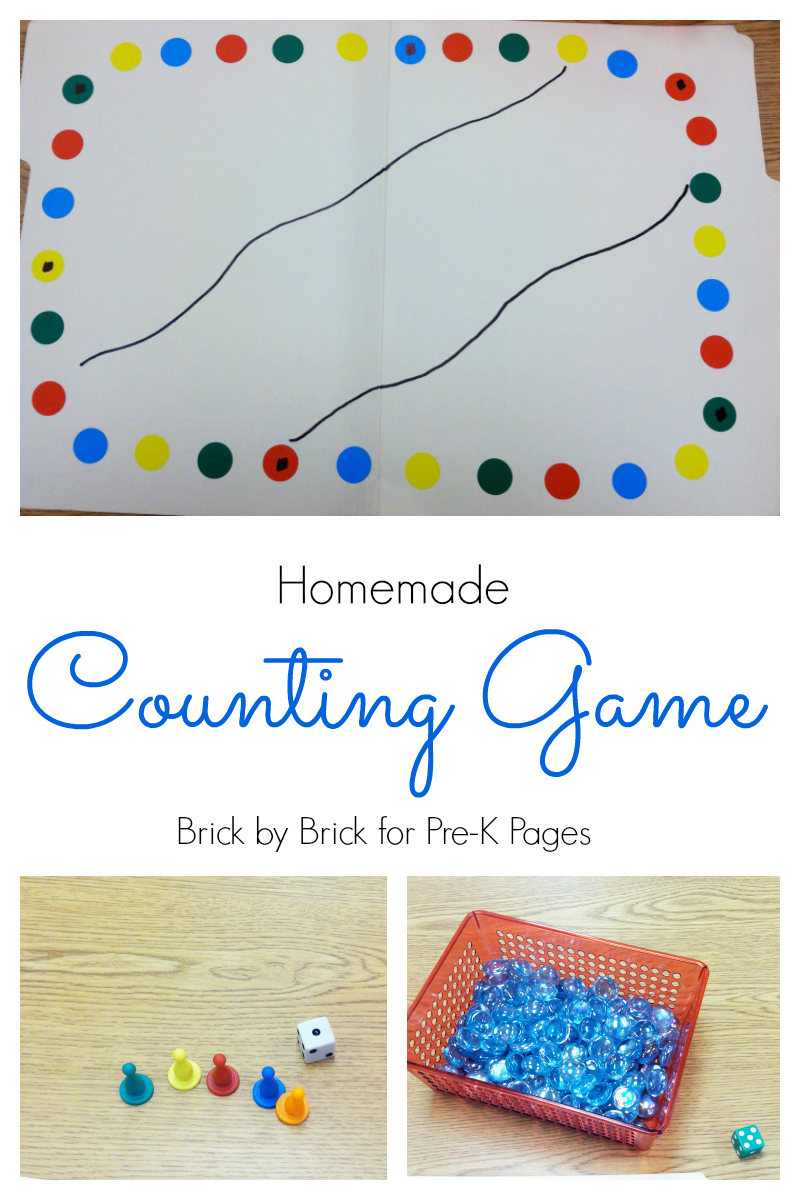 Building Concepts
This preschool math game reinforces several different math concepts:
Subitizing – subitizing is recognizing quantities without counting; using a cube with dots develops these skills as children begin to recognize the number of dots rolled without counting all the dots
One to One Correspondence – "one object, one number" – children can learn that, to get the correct quantity, they must assign one number per object, without skipping objects or counting them twice
Number order – practicing counting a quantity helps reinforce the order of numbers
Quantity – children learn that the quantity, the amount of objects, is the real meaning of a number ("four" means that many items)
In addition to number concepts, playing the game together reinforces taking turns, working together, and social interaction. Plus it's just fun!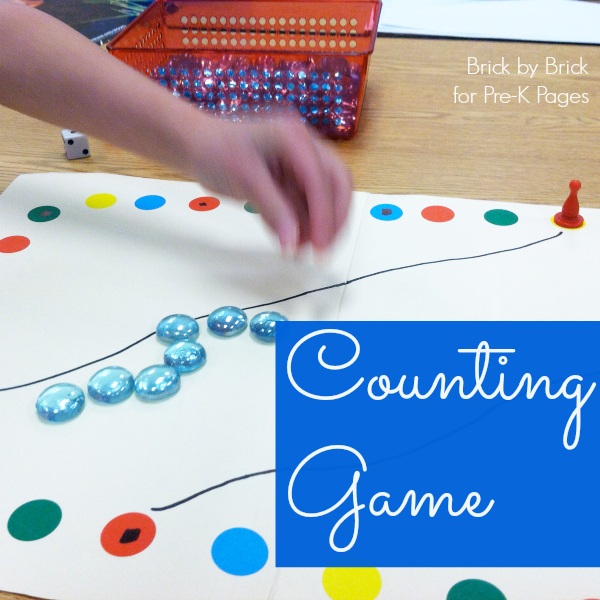 Making the Counting Game
Gameboard
Making the gameboard is easy and uses items you probably already have on hand. For the board itself, I used a file folder. I have lots of these on-hand from discarded files; the folder is thick so it makes a sturdy base; and it folds easily for later storage. Use heavyweight paper or construction paper as an alternative.
Place circle stickers around the folder to make a gameboard track. (You can draw the track spaces or glue colored paper instead.) On some of the spaces, draw a square. Make your squares about every 3-4 spaces. At first, I only put a few squares on the game; I added more squares after we played the game once. You want several opportunities for children to count objects.
In the middle of the board, draw an area to place the counters. We were filling a "river" so I drew two lines to resemble the sides of a river. You could draw a square, circle, or other shape instead.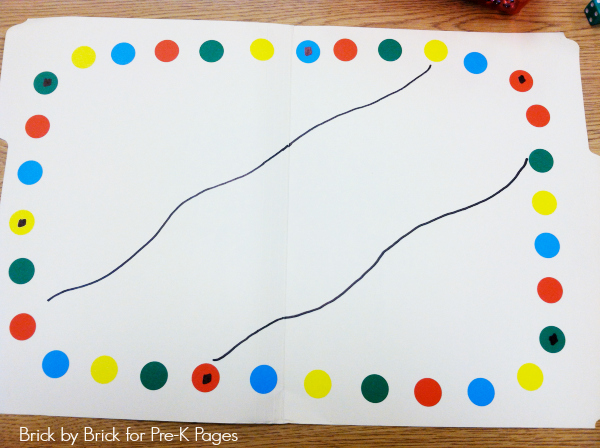 Other Game Supplies
Game pieces – something for children to move around the board; I used game pieces from an old discarded game; other ideas are Lego bricks, plastic drink lids, small figures, or buttons
Dot cubes – we used 2 cubes of different colors; you can get by with just one cube (see below for more information about this)
Counters – something for children to count and add to the board; we used floral marbles; other ideas are animal counters, pompoms, small cars, or leaves
Note: I have 5-year-olds, so smaller \dot cubes and floral marbles were not an issue. For younger children, use large foam cubes and counters that are age-appropriate for them.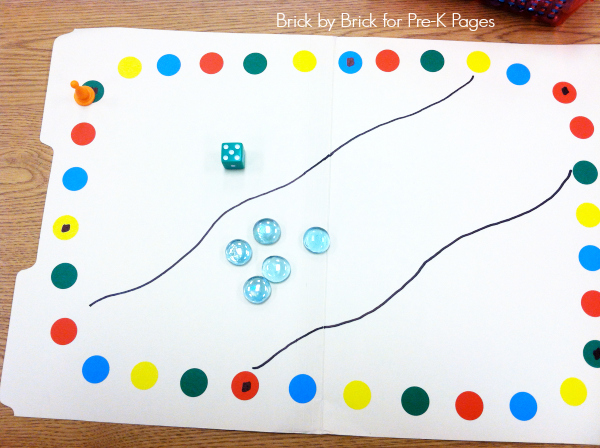 Playing the Counting Game
Each child can choose a game piece and place it on the board (any space).
The first child rolls the white cube. Note the quantity rolled. Help children identify the quantity, so they will begin to quickly recognize each configuration (subtizing!).
Invite the child to move that many spaces around the track. Help a child count one number for each space. Also, you may need to help a child understand that she starts counting on the next space, not the space her piece is already on.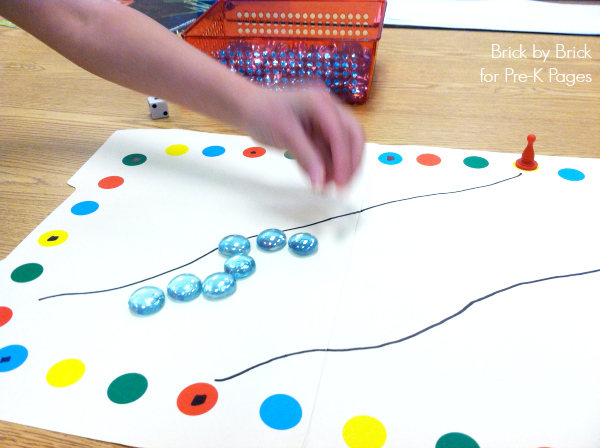 If the child lands on a space with a square, she rolls the green numbered cube and places that many counters in the river. Count the number of objects together as she places them in the river.
Help children keep track of turns as they play. The game is finished when the river is full (all the counters are in the river).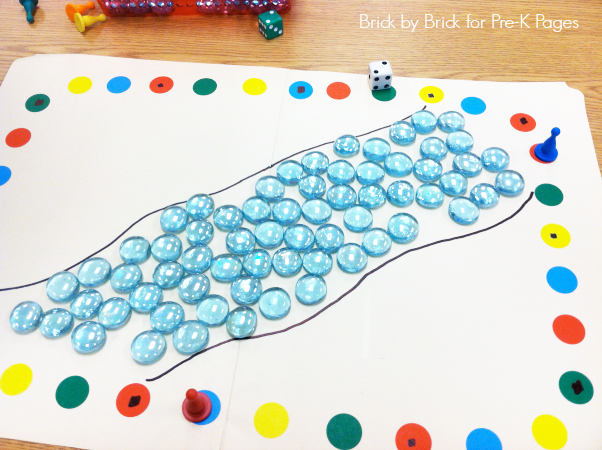 Variations and Ideas
1. We used two dot cubes of different colors. This helped the children keep track of what to do. Land on a square and roll the green cube to count marbles. You could play this game with just one cube and use it for both moving around the board and counting marbles. However, that could cause some confusion during the game. (Whose turn is it? Do I move or count objects?)
2. We used a game piece for each child. You could use just one game piece and every child moves the same one around the board. Our kids liked having their own pieces to move around the board.
3. You could make colored cards to move around the board and only use the cube to roll and count.
4. Make the game fit whatever theme you need. Use foam flowers to plant or pick for a spring theme, for example.
5. You can start the game with the objects on the board and count to remove them. For example, fill the river with floral marbles. When you roll the green cube, take off that many marbles and put in the basket.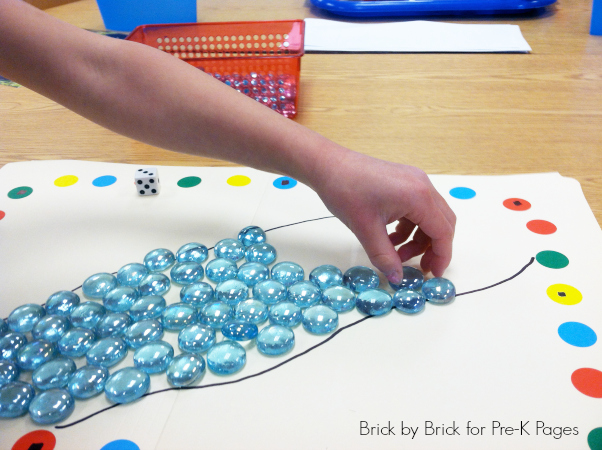 I played this game for a long time with one girl. We filled up the river. She wanted to continue to play, so we kept going, taking the marbles off the river and putting them back in the basket.
Overall, play the game so children will have fun. They may think of different variations to this game, too. Look for ways to follow their ideas.
Concepts about numbers can easily be developed as children play with these ideas. Practicing counting with small objects and practicing counting spaces in moving on a gameboard are two ways for children to "play" with counting. This easy-to-make board game can help your children build important math concepts.
BIO: Scott Wiley, an early childhood educator for over 25 years, is editor for Pre-K Pages. He blogs at Brick by Brick, exploring the connection between play and learning. His kids enjoy playing this trail game over and over. Connect with Scott on Twitter, Facebook, and Pinterest.
More Counting Game Ideas—
Fire Truck Counting Game
Gingerbread Man Counting Game
Mouse Counts: Counting Game
Dog Bone Counting Game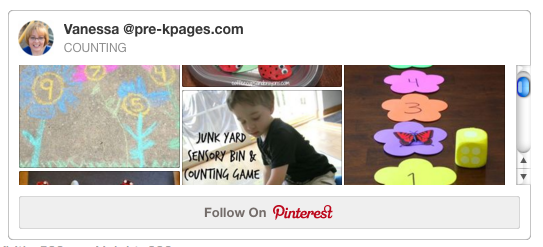 Follow my Counting Pinterest Board for more great ideas!