This classic butterfly craft is a must for all preschool classrooms! Not only is this a classic kids craft, but it's also super easy to make and uses supplies you probably already have on hand.
Your kids will have a blast making their very own butterflies for a spring or insect theme.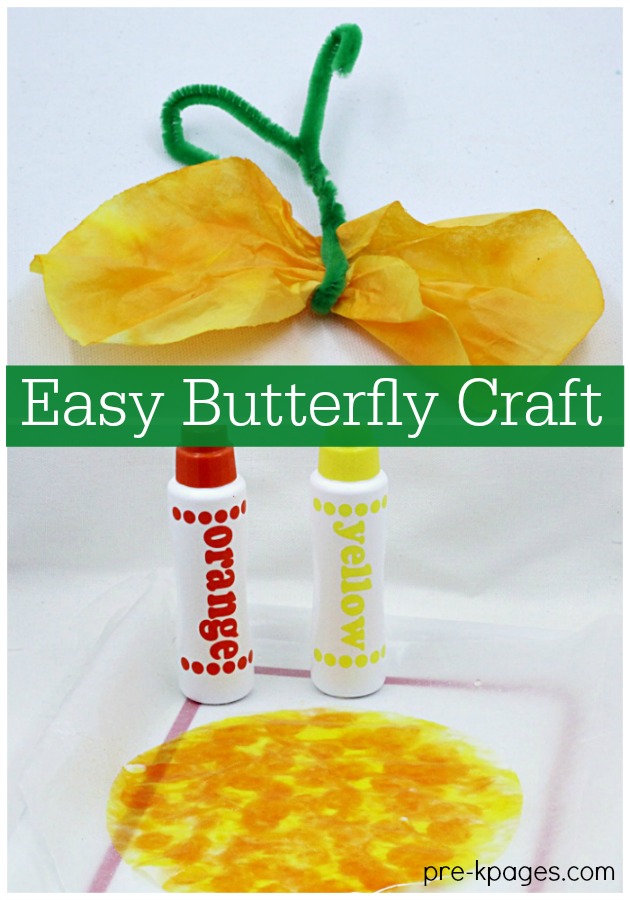 Coffee Filter Butterfly Craft
Introduce your kids to the concept of butterflies by reading a few books about these fascinating insects first.
Here are a few of my favorite titles to share with preschoolers: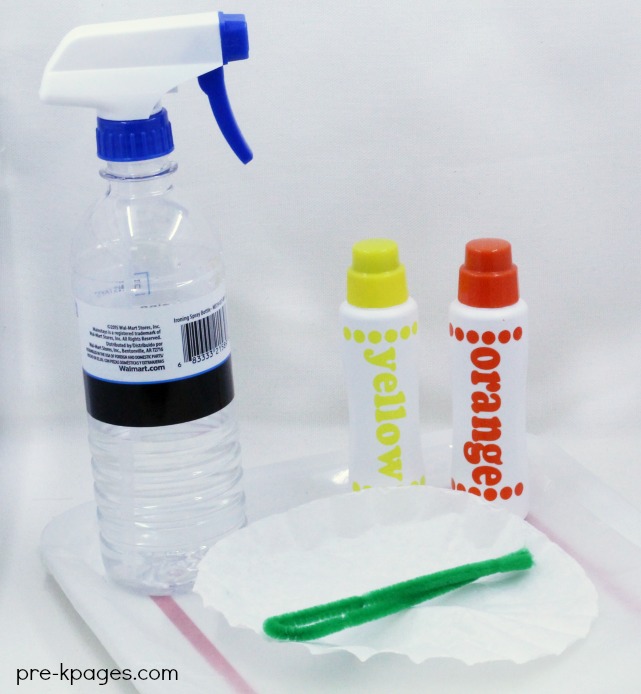 Coffee Filter Butterfly Craft Supplies
Here are the supplies you will need for your butterfly craft.
round coffee filters (dollar store)
green pipe cleaners or chenille stems
regular Crayola markers or Do-A-Dot markers
water spray bottle
wax paper
brown paper lunch bags
Easy Butterfly Craft for Kids
First, tear off a sheet of wax paper for each child in your small group. Then, give each child a coffee filter and invite them to flatten it on their wax paper.
Next, invite kids to use regular markers or Do-A-Dot markers to decorate their coffee filters.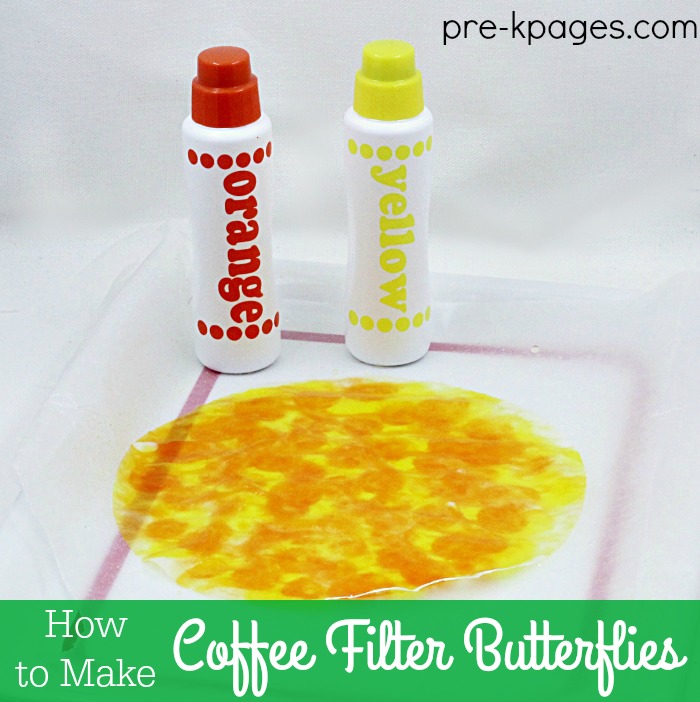 After they have decorated their coffee filters, invite each child to spray his or her coffee filter a few times with the water bottle.
Make sure the wax paper is beneath the coffee filter or the color will bleed through to the surface below.
Allow the coffee filters to dry for an hour or two. When dry, twist a green chenille stem around the middle of the coffee filter to create the butterfly shapes.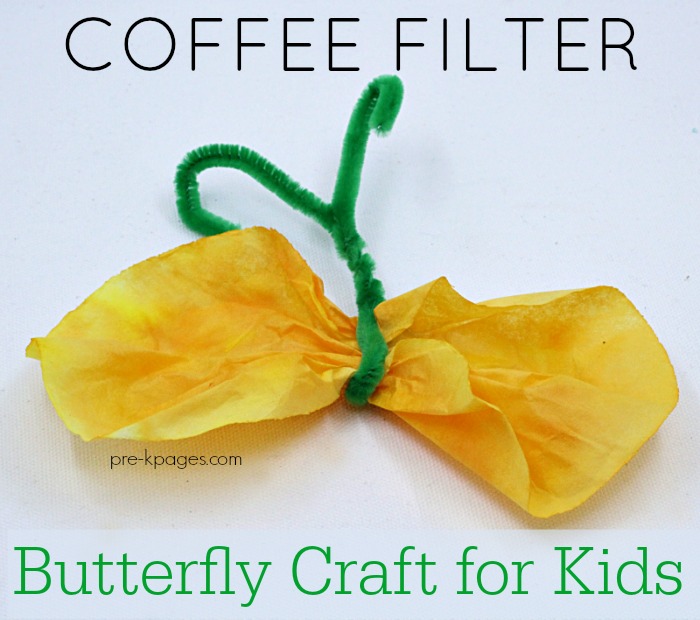 After the butterfly is complete, invite kids to place their butterfly in the brown paper bag and twist the end closed to represent the chrysallis.
You can read The Very Hungry Caterpillar again and kids can remove their butterflies from the paper bags when you get to that part in the story, or you can sing a butterfly song. My favorite butterfly song is The Butterfly by Dr. Jean.
More Butterfly Craft Projects
Want more butterfly activities? Good news! I've teamed up with some of my favorite bloggers to bring you the latest Kids Activities. This week we are focusing on insects and bugs. Throughout the year, we will join forces to share all sorts of ideas with you- from crafts to sensory play.
Ladybug Playdoh Math Counting Mats // Fun with Mama – This educational activity is great for toddlers and preschoolers who love playing with playdoh and can be used to fingerpaint too.
Get the Bugs Out Sensory Bin // Coffee Cups and Crayons – Challenge you kids to get the bugs out of this simple sensory bin and see how fast they rise to the challenge.
Butterfly Alphabet Puzzles // Modern Preschool – This butterfly alphabet puzzles is perfect to use as a busy bag at home or a learning center in a classroom setting to practice uppercase and lowercase letter recognition!
Bug Addition Cards // The Kindergarten Connection – These bug addition cards are a perfect way to get some addition practice for bug lovers!
Caterpillar Word Family Activity // Mom Inspired Life – This caterpillar word family activity is an excellent way to practice sorting words to their word family. It's great for bug theme lesson plans!
Bug Race Math Game // The STEM Laboratory – Kids will love practicing counting and addition with these playful bug race math games. They're perfect to use as math centers, homeschool activities or a ready to go afternoon game.
Ant Life Cycle: First, Next, Then // Liz's Early Learning Spot –  Use the ant life cycle to focus on writing first, next, then, after that and finally!
Collecting Bugs Addition Game for Preschoolers // Stay at Home Educator – What better way to enjoy the season, with an academic twist, than a simple bug themed addition game that's basic enough for preschoolers and perfect for reinforcing addition concepts in kindergarten!
Butterfly I Spy Game // Pleasantest Thing – Use pom poms with the same colors as the butterflies (yellow, green, blue, and pink) to add another sensory element to the game!
3D Ladybug Counting Game // M is for Monster – This is a great free counting activity that you can do at home or in your classroom!
DIY Clay Minibeast Tic Tac Toe // Adventures of Adam – Try this DIY tic tac toe game with these cute bug pieces.
Butterfly Life Cycle Hats // Playdough to Plato – This science project and art activity in one is a memorable way to help kids learn about the four stages of the butterfly life cycle: egg, caterpillar, chrysalis and (the most exciting of all!) butterfly.
Butterfly Count and Color Sort // Powerful Mothering – Use a butterfly hole punch to make these beautiful butterflies and then have your toddlers count and color sort them.
Visual Closure Activities Bugs Theme // Sugar Aunts – This is a bugs themed activity that can help preschoolers work on visual closure.
Spring Insects Skip Counting Puzzles // The Simplified Classroom – Your students can work on their counting with the spring insect puzzles.
Ladybug Spot Counting Activity // Play & Learn Everyday  – With a few household items, you can create this ladybug counting activity.
Days of the Week Caterpillar // Fairy Poppins – Preschoolers can work on days of the week with this free printable caterpillar activity.
Butterfly Memory Game // Teach Me Mommy – Recycle old lids to create this butterfly memory game.
(Not Shown) Toilet Paper Roll Butterfly Craft // Life Over Cs