Distance learning. Virtual teaching. Many preschool teachers are working with an entirely new way of interacting with young children. I've talked with teachers across the country and in my Teaching Tribe membership group. The number one question I hear about this distance learning is "How do I keep them engaged?" Keeping preschoolers involved in learning, especially group learning, has enough challenges when you are face-to-face with them. But now, interacting through a screen, the challenge seems huge. Let's think about what we do with preschoolers and how we can adjust our lessons to meet their needs in today's environment. Engaging preschoolers and making connections in distance learning involves some familiar areas, just handled a little differently.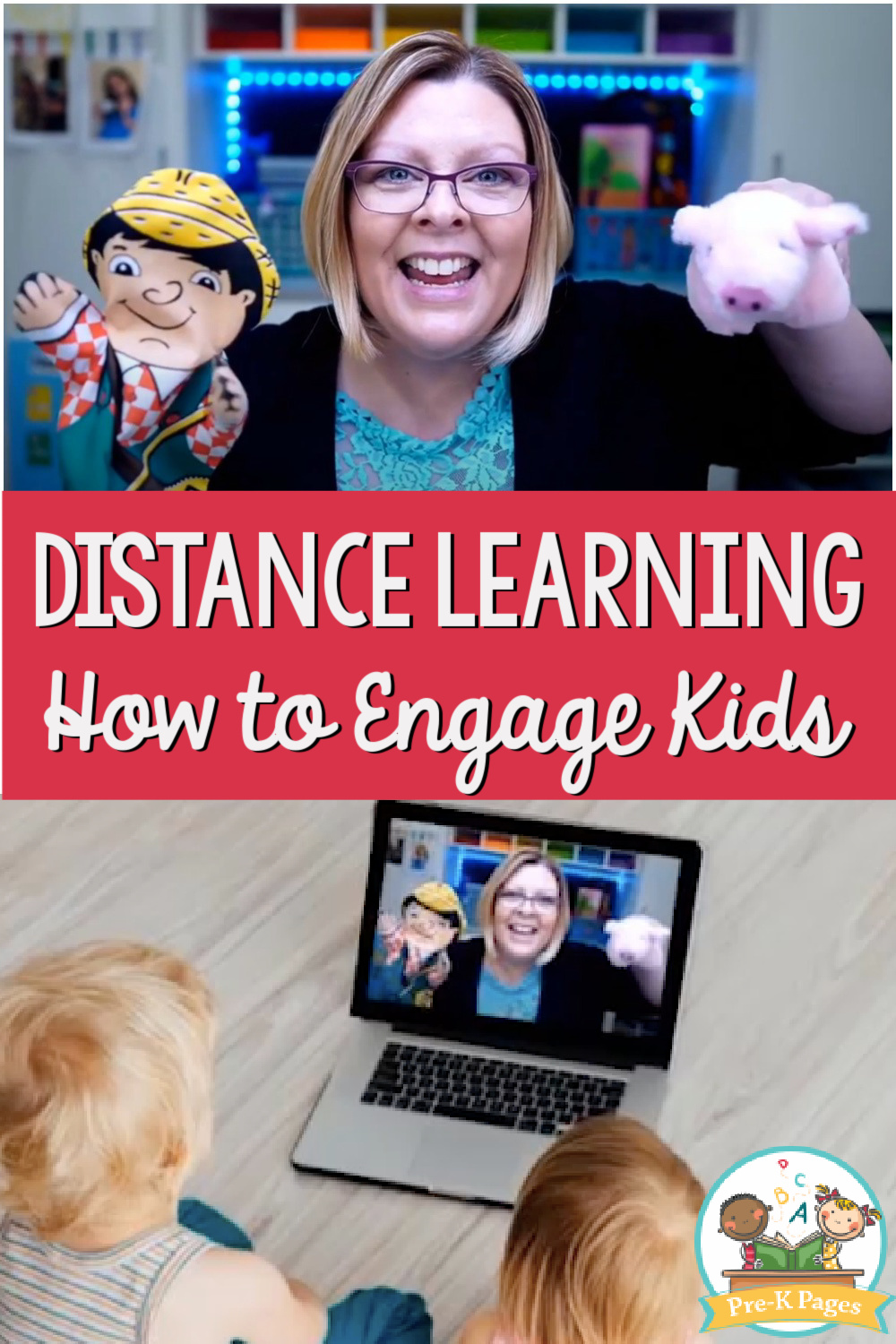 Interactive Screen Time in Distance Learning
The way you use the technology and lead teaching on the screen makes a difference. You can achieve student engagement when you use technology for its true purpose, which is to enhance communication. During your virtual lessons, young children need a connection with you. This makes the difference between passive screen time (the kids just sitting and watching) and interactive screen time (the kids active and engaged).
In order to be truly helpful for young children, your lessons must be delivered live for the maximum social emotional benefits. Because if you're doing a recorded version, then students are only watching and your lesson becomes passive screen time, which we don't want. I strongly discourage you from pre-recording your lessons because you'll lose that connection with your students. This is how you make virtual lessons warm and inviting instead of cold and impersonal.
Some teachers want to choose recorded lessons because then they can get them "perfect." They can re-record until mistakes or fumbles are edited out. But your preschoolers do not want perfect; they want you. Your class is a classroom family. They need interaction from you, as the leader of that classroom family, now more than ever. Like other families all over the world, you can make connections with technology. And, if you make a mistake, regroup and continue on – just like you do when you are teaching in-person lessons.
Of course, some schools don't leave the decisions up to the teachers so don't beat yourself up if you're being forced to record your lessons for asynchronous learning.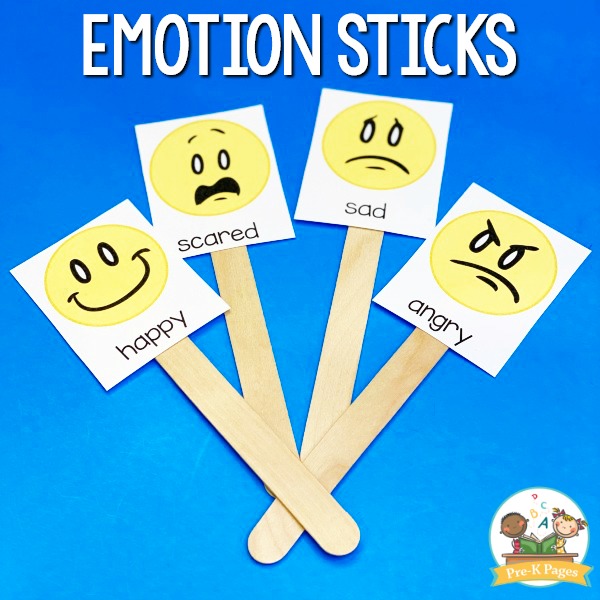 Emotion Check-in: How Are You Feeling?
Whether you are teaching preschoolers in person or virtually, their needs do not change. Preschool teachers still need to provide support for social and emotional development. The first thing you're going to want to do in any virtual lesson is to acknowledge the feelings and emotions of your students and provide them with the support and guidance to help them recognize these emotions. You can do this in a super low-tech way.
Send each of your children a set of emotion cards (around 4 different emotions). You can print and use cards from the Feelings and Emotions Kit, or print emojis that represent different emotions. Ask families to tape each card on a craft stick (or you can do this before sending home to your families). You'll also need a set of these emotion sticks for your lessons.
When you start your lesson, invite your preschoolers to do a little check in. Ask them to hold up a stick to show how they're feeling that day. If you have a smaller group, ask each child to hold up a stick to show how they're feeling. For larger classes, you can address them in groups: "Oh, I see that Sunny and Jacob and Christian and Melanie, are feeling happy today. I'm happy to be here, too. Hmm, I see Valerie and Matteo; they have a sad face today. Oh, my goodness, I hope that everything's okay." Then you can check in with them. You're getting kids to communicate and express and you can help talk them through things. An important part of having a good virtual lesson is promoting these social emotional skills.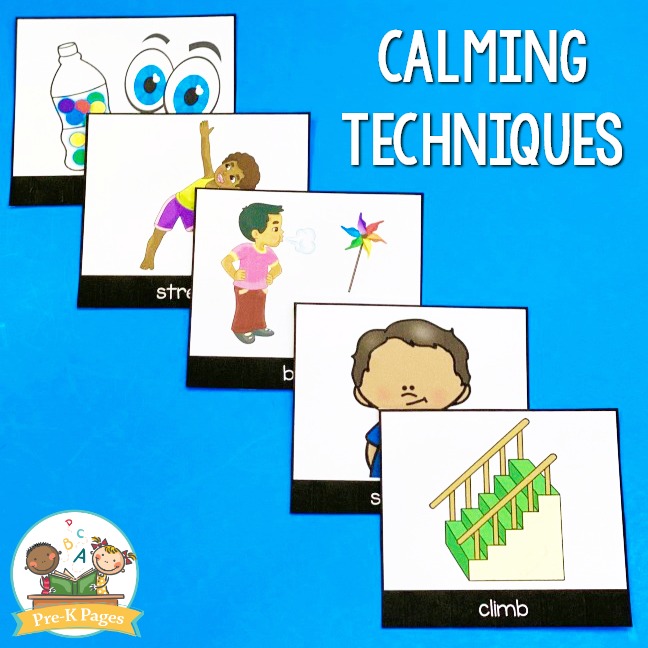 Emotional Supports in Distance Learning
Introduce and use emotional supports. Choose something a child can do at home without any particular equipment or materials (breathing, stretching, etc.) You can use cards from my Calm Down Kit or other pictures that show strategies. Say: "Valerie and Matteo, remember that we can breath in and blow out like we are blowing out a candle. When we feel sad, taking breaths can help. Let's do that together." Make sure that you have some strategies you can give kids to help them learn how to self-regulate. One of the most important goals in any early childhood programs is to help kids develop self-regulation skills. So we must make sure that we're incorporating feelings, emotions, social emotional learning into each of our virtual sessions.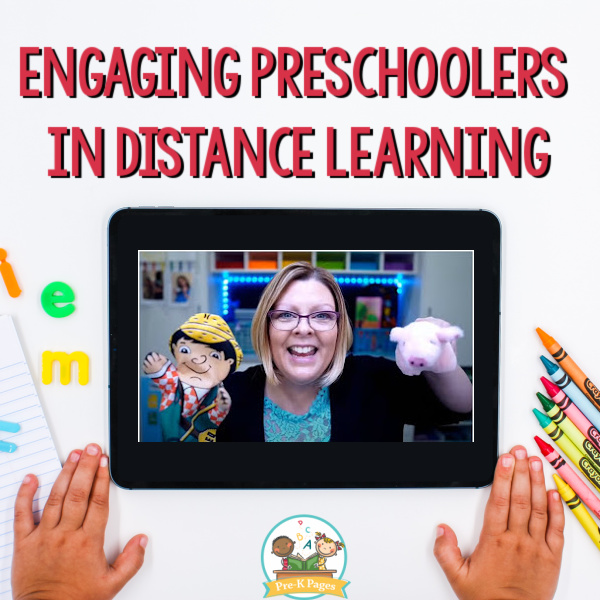 Parent Expectations and Success
We also have to explain to the parents the purpose of our virtual lessons. At the early childhood level, on-screen interactions are more about creating connections and feelings of stability and less about learning colors, letters, numbers, and shapes. If we truly want to support parents and students, then communication with them is key. You as the teacher must provide different ways for parents to communicate with you at this time. Many teachers do not want to give out personal phone numbers to parents and I understand why. To help communicate with parents, you may want to use the free app called Voxer. It's basically a walkie-talkie. Parents (or even kids) press the little green button just like you would in a walkie-talkie, and they talk. It's like a voicemail. It'll beep on your end, but you don't have to pick it up. You can listen to the messages and respond with a voice message to the child or the parent. It's very quick. It's very easy. I just love it.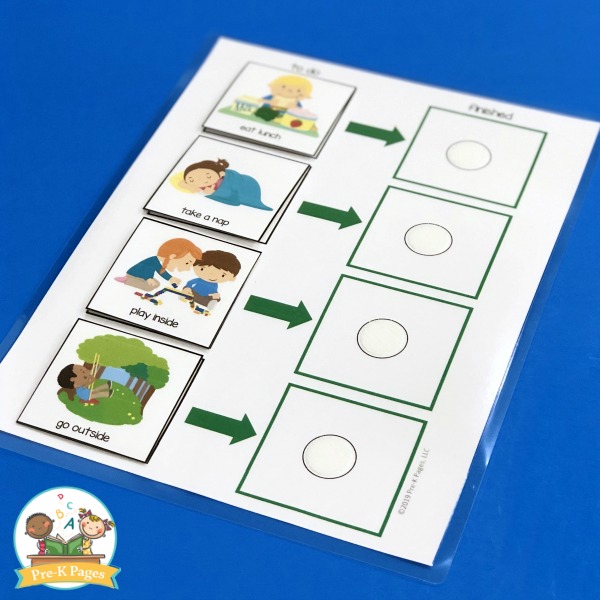 Consistent Routines at Home
Children need consistent routines at home just like they need consistent routines at school. Parents often don't have the same structure and routine at home that you have in your classroom at school. That's why "school at home" is often challenging. Help create success and reasonable expectations by helping parents know how to develop a regular routine at home. You may want to give them a tool to use–like my At Home Daily Picture Schedule. Whatever tool or strategy you offer or use, you can help preschoolers and parents maintain a regular routine (that includes your virtual lessons) and be successful.
If you focus on connecting with your students, you offer them very clear social emotional support right from the beginning of your lessons. If you help the parents create healthy routines at home, and if you have realistic expectations about teaching virtually, then your lessons will be much more effective and successful.
Looking for at-home lesson plans? You may be interested in this Alphabet lesson plan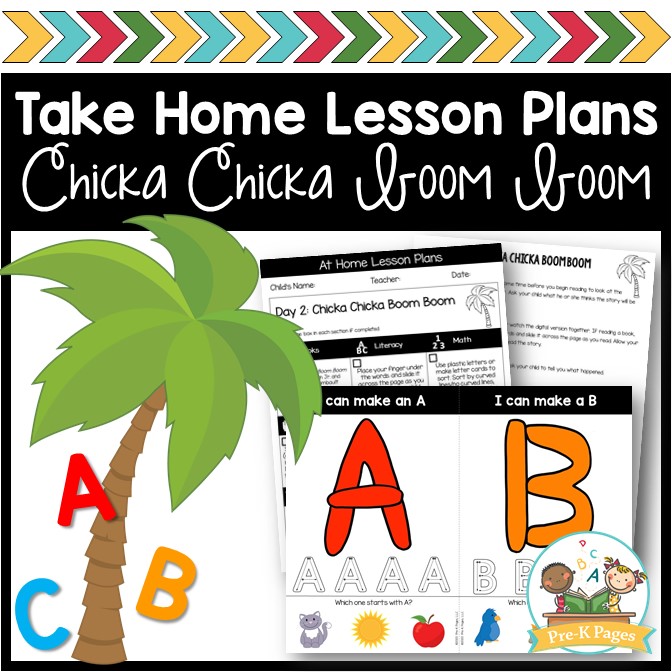 or one of the 14 other at-home lesson plans we have at Pre-K Pages.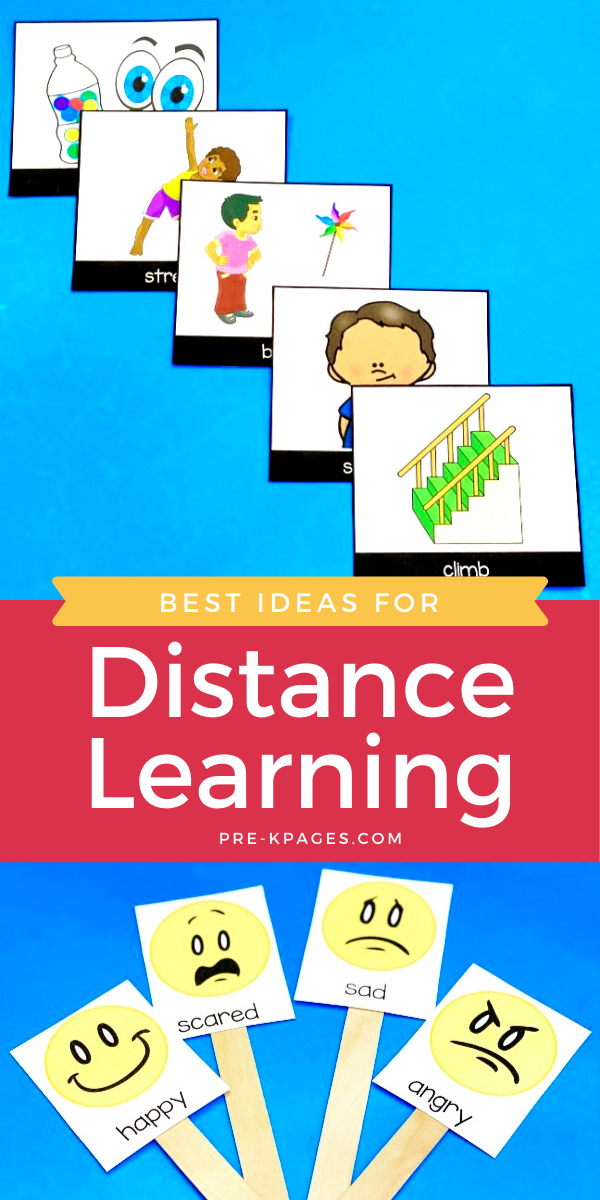 More Teaching Tips