This Easter themed cutting skills tray will provide your kids with plenty of fine motor practice. These activities will help your kids build fine motor skills in fun and playful ways, so they won't even know they're learning.
Try this fine motor tray with an Easter theme at home or in your Preschool or Kindergarten classroom. Many of these items are easily found at the dollar store.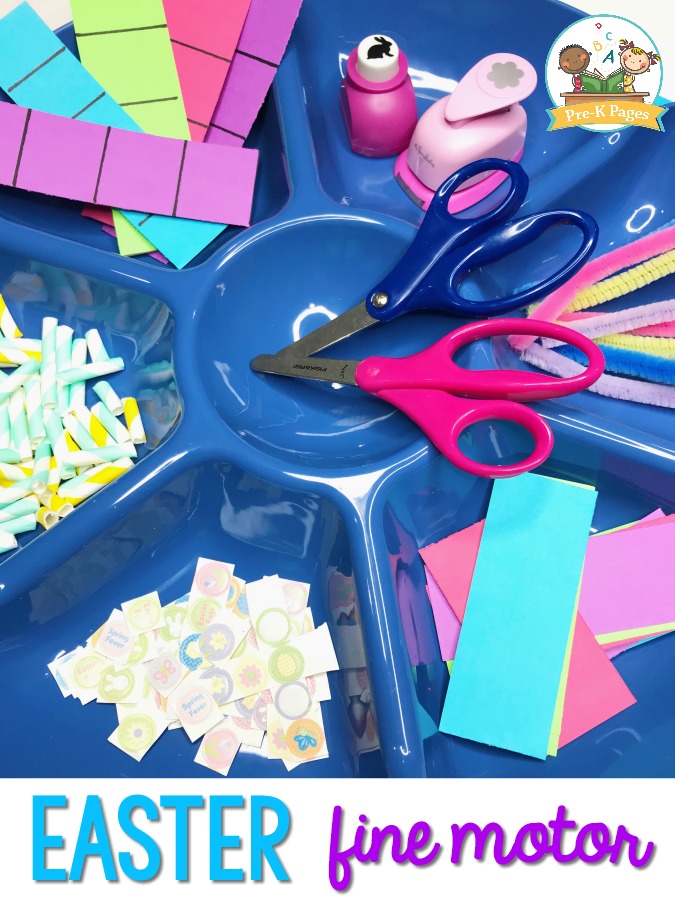 Easter Fine Motor Activities
The term fine motor skills, refers to the small muscles in the hands and fingers. Your students will eventually use these muscles for writing, tying shoes, and for manipulation of small objects.
Before young children can begin to grasp a pencil properly and write with control, they first have to develop strength and dexterity in their fingers and hands.
You can offer regular opportunities for your students to practice using these muscles in your classroom in fun and playful ways. Offering your kids engaging activities that encourage using their hands and fingers will keep them interested while developing those important fine motor skills.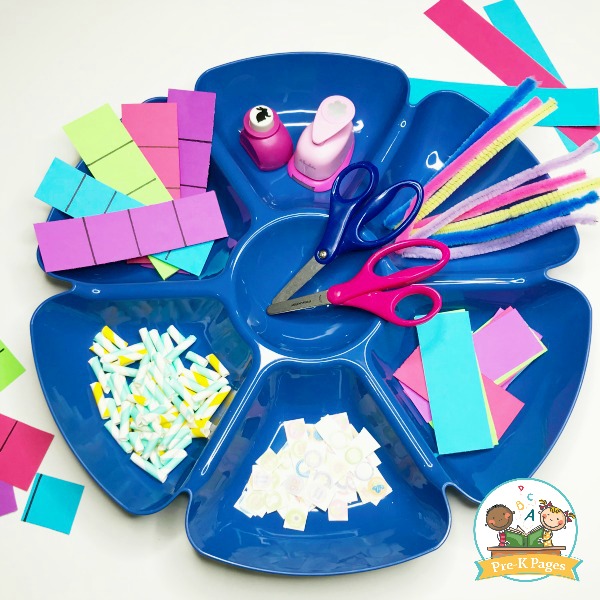 Easter Fine Motor Tray
Putting a fine motor tray together for your kids is very easy. You can use these chip-and-dip trays from the dollar store to present cutting practice to your students.
Place things like small ink stampers, paper straws, stickers in different sizes, scissors, and colored paper. Then, encourage your children to explore the materials independently.
You'll probably want to introduce the materials and some ways to use them first. Keep reading for more details about how to use the materials.
After introducing the materials to preschoolers, place the fine motor tray on a table in the morning as part of morning work. After all the children are familiar with the materials, move the tray to a center for regular use.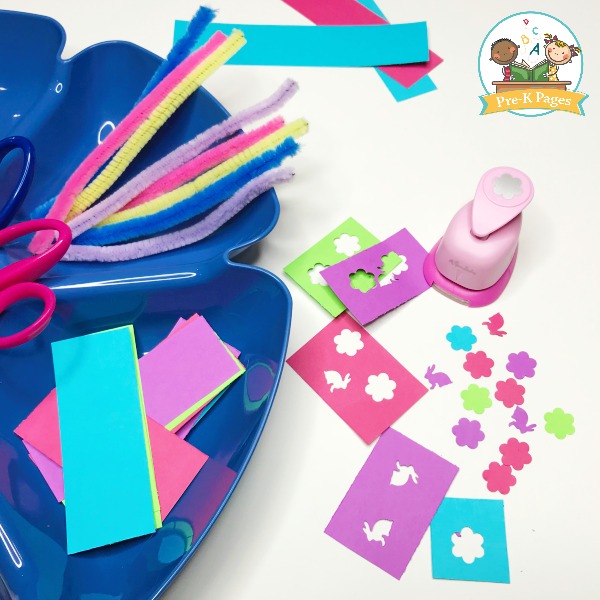 Paper Punches
Your kids will love using paper punches to practice fine motor skills!
Supplies Needed
Colorful Construction Paper
First, show your kids how the paper punches works if they're not familiar with them. Next, place the punches and paper in your tray and invite your kids to start punching out some seasonal shapes!
Add some glue and white paper to your fine motor tray and invite the children to glue the shapes on the paper for even more extra fine motor practice.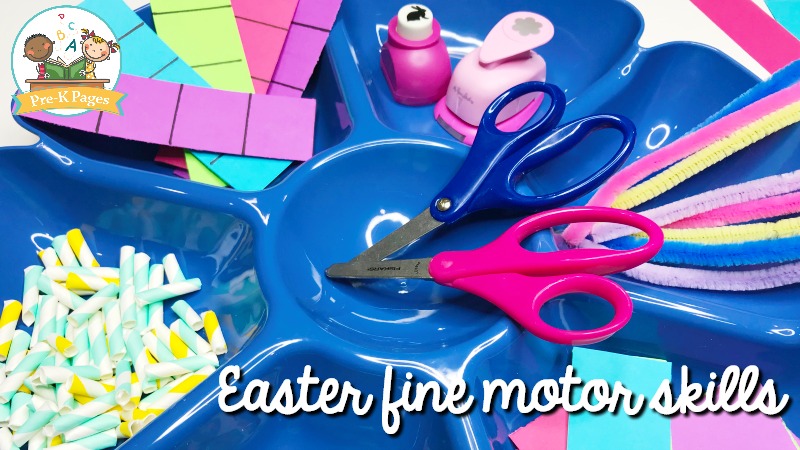 Scissors are a big part of fine motor skill development. Here are the different types of scissors I like to use in my classroom: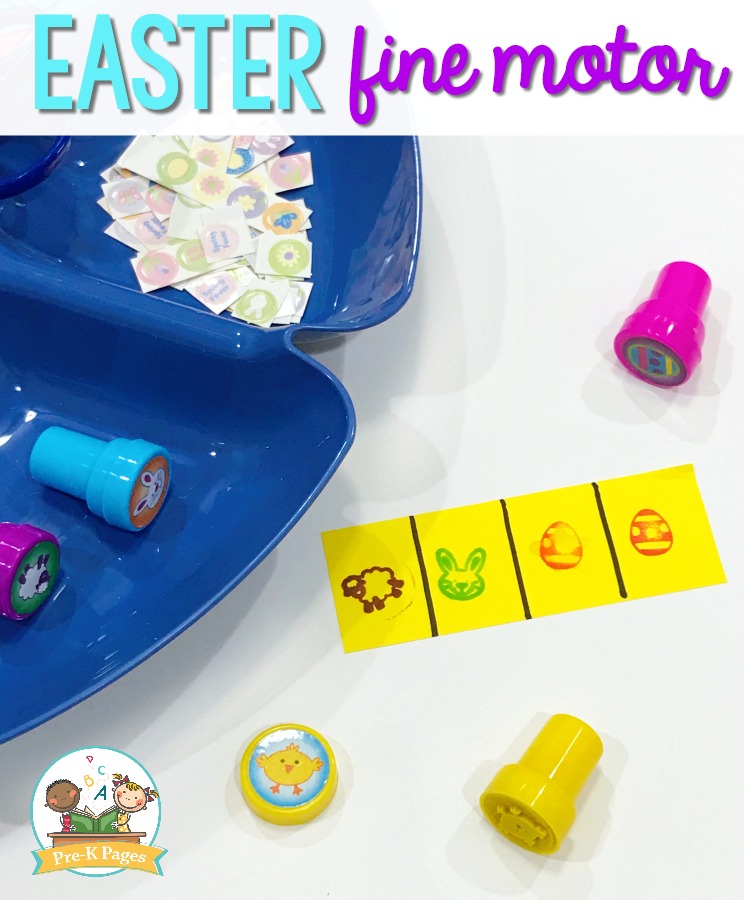 Stamps
Add some seasonal ink stamps for even more fine motor fun. Kids absolutely love using these seasonal stamps, you can usually find them at the dollar store.
Draw lines on colorful construction paper strips; make your lines about one inch apart. The space between the lines should be wide enough to fit a small sticker or a stamped image.
Then invite your kids to stamp or place stickers in between the lines. After all the spaces on the strip are filled, invite your kids to cut on the lines.
When they grasp the stamps or peel the backing off the stickers they are actually using the same muscles they will eventually need for holding a pencil.
More Easter Activities