Easter can be a time of spring fun. The collection of activities below encourage preschoolers to explore this spring holiday in a variety of ways, with games, music, movement, and thinking. These Easter activities can be a great part of a springtime theme in your classroom.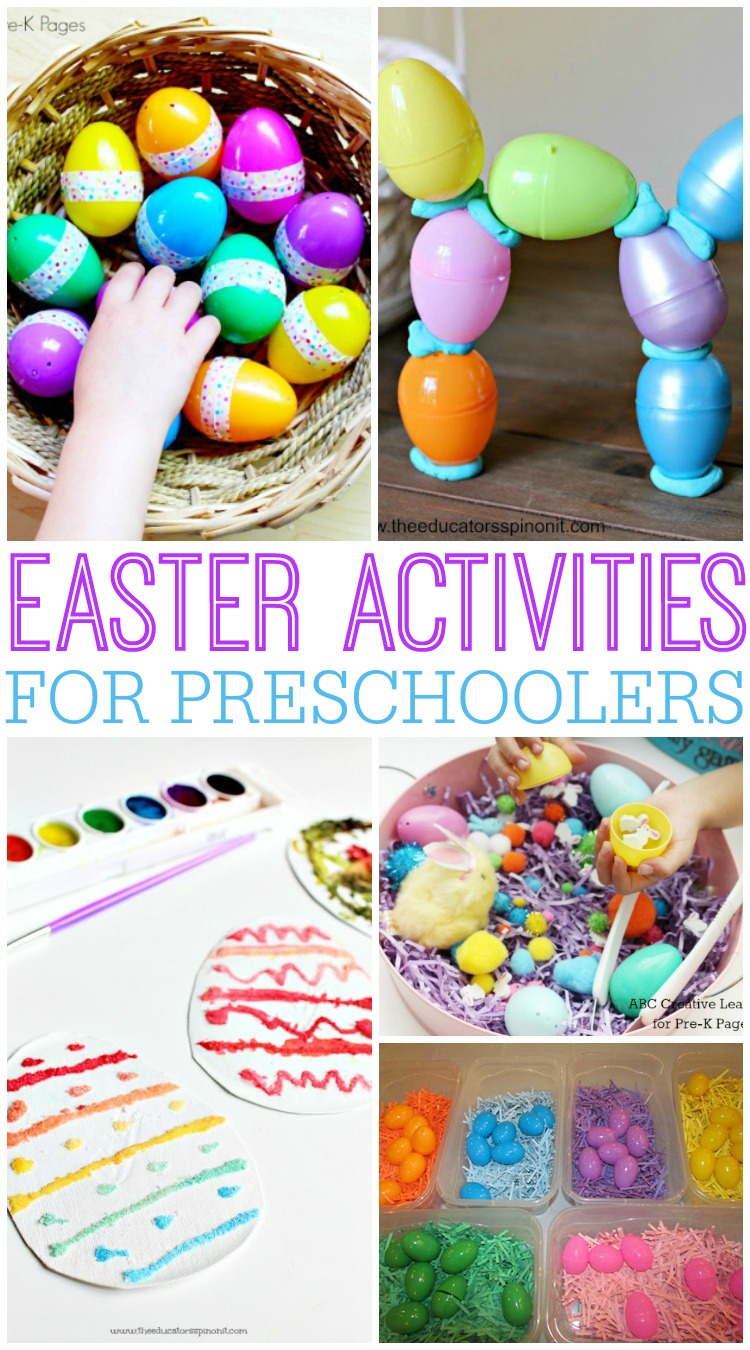 Preschool Activities for Easter
Spring Classification Science Activity (Pre-K Pages) – Put together an easy Spring classification activity for your classroom or home science center with just a few bags of plastic eggs. This is a fun way to introduce classification!
Bunny Castanets (Pre-K Pages) – Do you know how to do the Bunny Hop? It is a fun line dance that kids can do near Easter, in spring, or really any time of the year. Make this simple musical instrument and use it while you bunny hop!
Bunny Listening Game (Pre-K Pages) – This is a fun twist on a classic game that will have your preschool or kindergarten students begging for more! Even better, the Bunny Listening Game can be used in public or faith based programs- it's not just for Easter.
Bunny Treat Cups (Pre-K Pages) – These super cute treat cups will help make any teacher's life easier. Whether you're allowed to have full-blown classroom Easter parties or not, one of these ideas is sure to work for preschool or kindergarten!
Plastic Egg Music Shakers (Pre-K Pages) – Earth Day is a great time to talk about recycling and reusing (or upcycling) materials. Recycle plastic eggs after Easter and learn how to make upcycled plastic egg music shakers out of them. They are easy to make and you end up with the perfect little instruments for music time!
Printable Easter Bingo Game (Pre-K Pages) – Here's a fun game for your Easter celebrations at home or in the classroom. This bingo game printable is perfect for playing with small groups of young children. There's also a blank and white version included because I know how expensive ink can be!
Easter Sensory Bin (Pre-K Pages) – Easter is just around the corner, which means lots of bunnies, eggs, and chicks! I love all the pretty pastel colors and my girls love all the fun Easter crafts and activities like this easy Easter Sensory Bin.
Easter Slime (Little Bins for Little Hands) – Easter slime for holiday sensory play! There's nothing better than whipping up a quick batch of our simple slime recipe! Easter will be here before we know it, and this slime is awesome sensory play.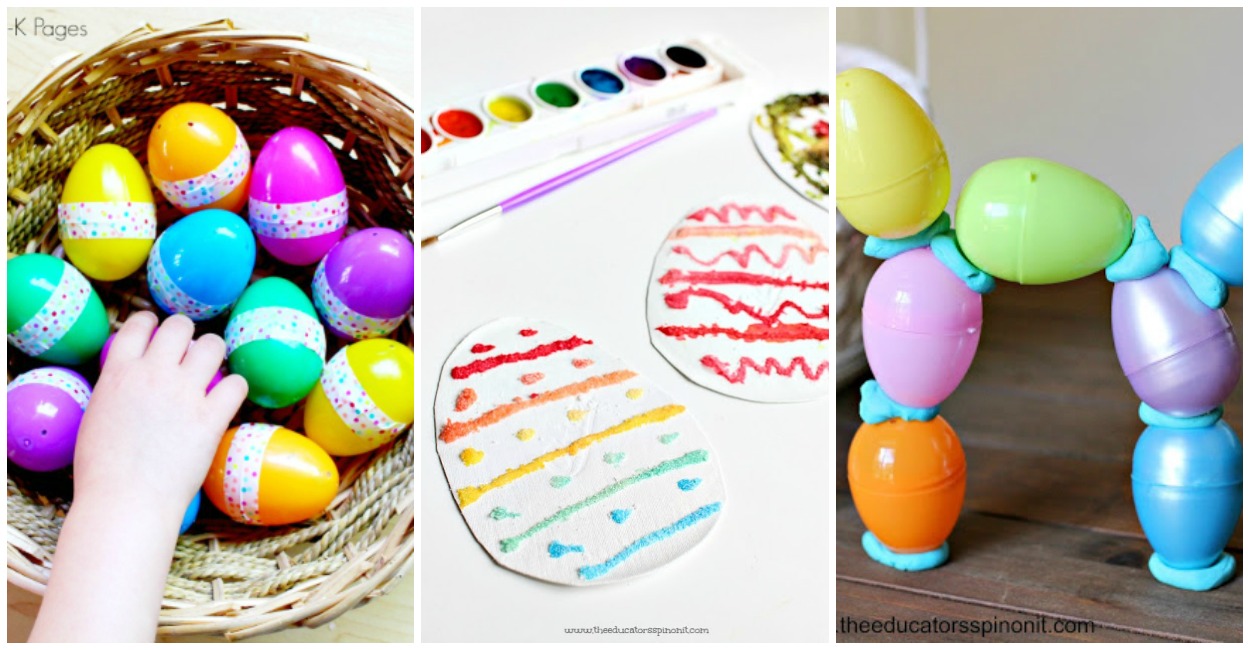 Easter Activities for Preschoolers
Easter Bunny Song (Let's Play Music) – The Easter Bunny Song can be sung either when going on an egg hunt together, or as a circle game at an Easter party.
Reverse Easter Egg Hunt (Crystal and Company) – In this activity, you find things to fill your eggs with! All you need is a nice day!
Easter Play Dough Mats (Prekinders) – Print these colorful play dough mats and place in sheet protectors to use again and again!
Easter Egg Parachute Game (Teach Preschool) – Head outdoors and play this simple Easter egg parachute game!
Make Your Own Colorful Easter Grass (Teach Preschool) – All you need is some construction paper and a shredder!
Spring STEM Activities for Kids (Educators' Spin on It) – Now is the time for spring STEM activities for kids! Bring science, technology, engineering and math time into your springtime learning stations.  Easy to set-up experiments and activities for preschoolers ages 3 and up.
Jelly Bean Sensory Bin (Stir the Wonder) – To celebrate Spring and Easter I put together a little Jelly Bean Sensory Bin. I used colorful jelly beans for the sensory material and added some plastic eggs, plastic egg cups and a little chick. Peep! Peep!
For Easter activities that use plastic eggs, see Preschool Easter Activities Using Plastic Eggs.
More Easter Ideas