This Easter playdough activity tray is super quick and easy to set-up at home or in your classroom. But don't be deceived by the simplicity of this activity, it actually supports the development of many crucial skills that will help your kids be successful in school – and life!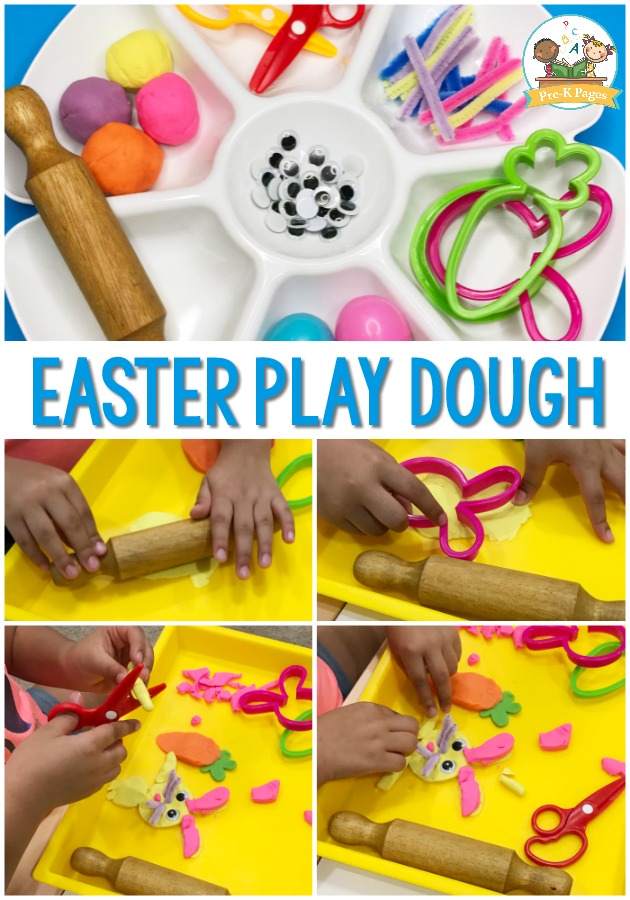 Play Dough Supplies
Here are the supplies you will need to set-up this fun activity in your classroom.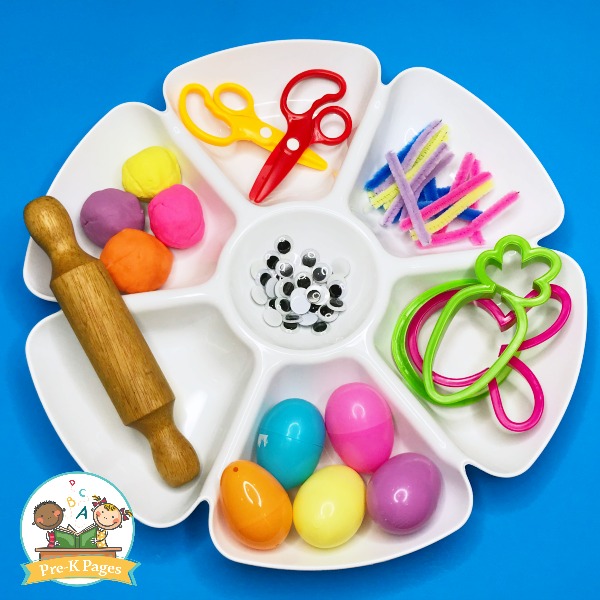 Easter Play Dough
Start by stocking your play dough center with the necessary supplies. These chip and dip trays are perfect for organizing and introducing play dough activities, each section can hold different supplies.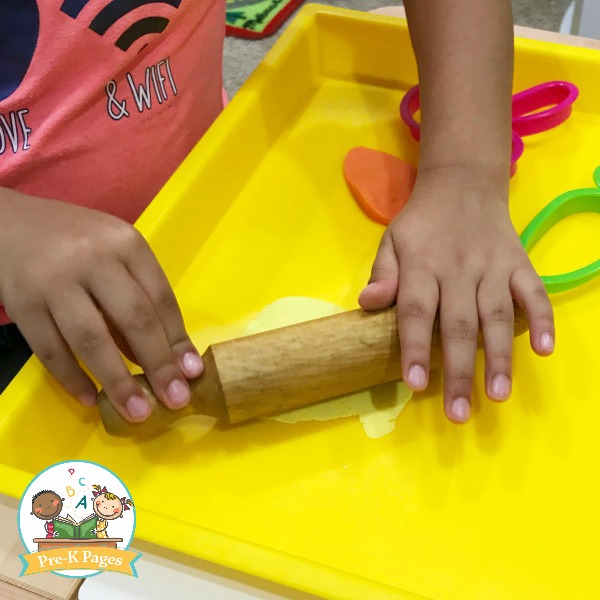 Rolling Pin
The best thing about play dough trays is that they are open-ended experiences, your kids can choose which materials to use and how they will use them.
Some kids like to roll the dough and start using the cookie cutters right away, while others may enjoy squishing the dough in their hands or building a 3-D person, animal, or structure with the dough. This is great for working on their fine motor skills.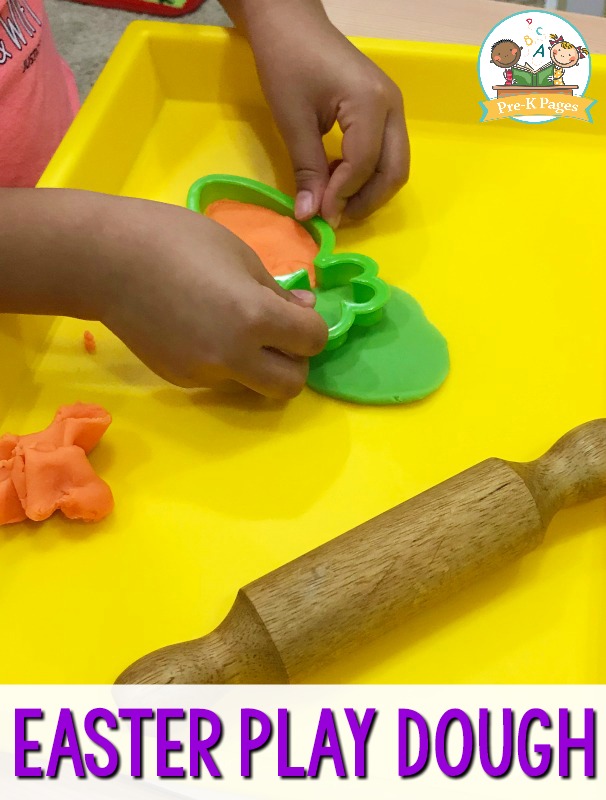 Cookie Cutters
These seasonal cookie cutters are from a local Dollar Tree store. Your kids will love using spring colored dough to create carrots, rabbits, eggs and other seasonal shapes.
They'll also have fun filling the plastic eggs with dough!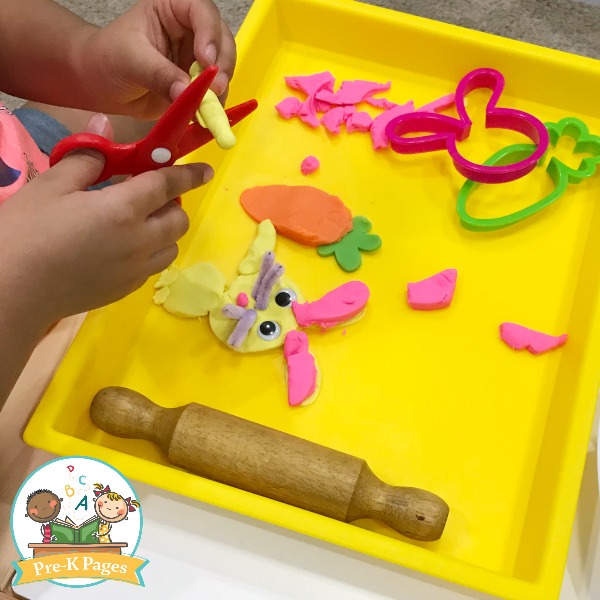 Scissors
Rolling the dough with their hands and then cutting with dough scissors is super fun, but it's also great for developing fine motor skills.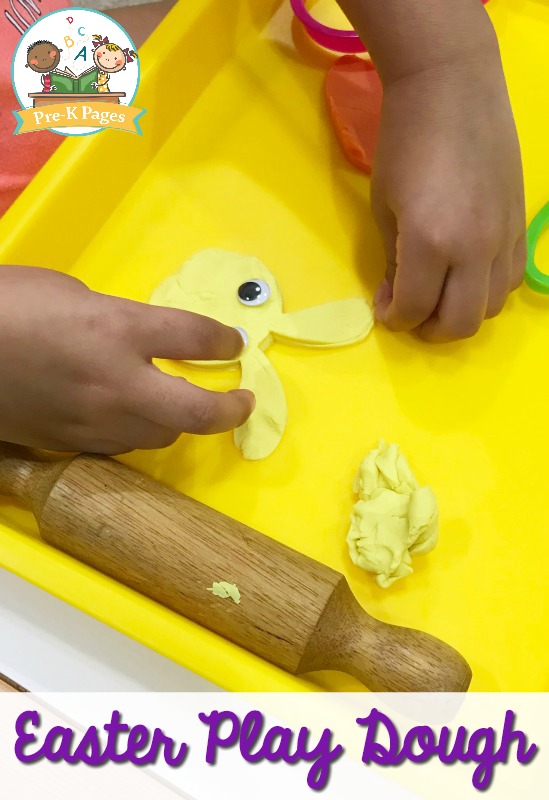 Your kids will love using wiggly eyes and cut up chenille stems to decorate their creations!
At first glance, this may just look like a fun Easter activity to keep your kids busy, but it's actually a powerful learning experience in disguise!
When kids are using the dough, rolling pins, scissors, and cookie cutters, they are actually developing fine motor skills. Fine motor skills are the small muscles in their hands they will eventually need for holding pencils and writing.
More Easter Activity Ideas
Easter Sensory Bin for Preschool– This Easter sensory bin is super quick and easy to set up at home or in your classroom.
Easter Play Dough Counting Mats-A set of free Easter play dough counting mats to help your kids develop number sense and fluency within ten. Includes 10 printable color mats for you to use in your play dough center.
Easter Fine Motor Activities for Preschool-This Easter themed cutting skills tray will provide your kids with plenty of fine motor practice. These activities will help your kids build fine motor skills in fun and playful ways, so they won't even know they're learning.